If you want to have some fun in New York City during summer, and enjoy some amazing art, you don't need to go far away from the city center. Legends of urban art are painting murals at Coney Island Art Walls, as part of the new art installation series – Coney Art Walls. Just one-hour ride by train from Manhattan and you will find yourself on Coney Island, vivid Brooklyn neighborhood, where you will see some of the best street and graffiti artists in the world. Shepard Fairey, Ben Eine, How and Nosm, Daze, CRASH – they have already completed their works, while Coney Island Art Walls is prepared for some great murals yet to be created in the coming days.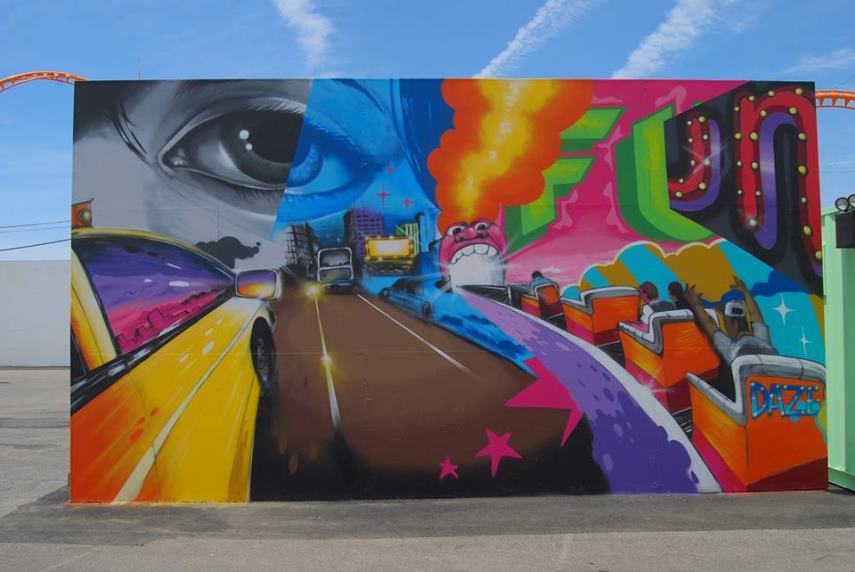 Coney Island Murals - Summer 2015
A handful of graffiti and street artists were invited to take part in the new art installation series, Coney Art Walls. The project is curated by Jeffrey Deitch (a leading art advisor and former director of the Museum of Contemporary Art in Los Angeles) and Joseph J. Sitt (CEO of Thor Equities). Deitch and Sitt gathered some of the most prominent graffiti and street artists in the world to create more than 20 wall murals for Coney Art Walls. Artists who have completed pieces include How and Nosm, Daze, CRASH, Lady Pink, Jesse Ward, Futura, IRAK, Ben Eide, Skewville and Shepard Fairey, with Lady Aiko and Lee Quinones finishing this week. Some 20 artists are on the way, including Kennny Scharf, Icy Signs, Miss Van, Buff Monster Kashink and many more. This amazing public art wall project takes place in the middle of Coney Island where murals are created along two-sided walls. These two-sided walls are located inside and outside the famous Coney Island compound, and the artists are sharing the space with food vendors, picnic tables and a stage for music performances.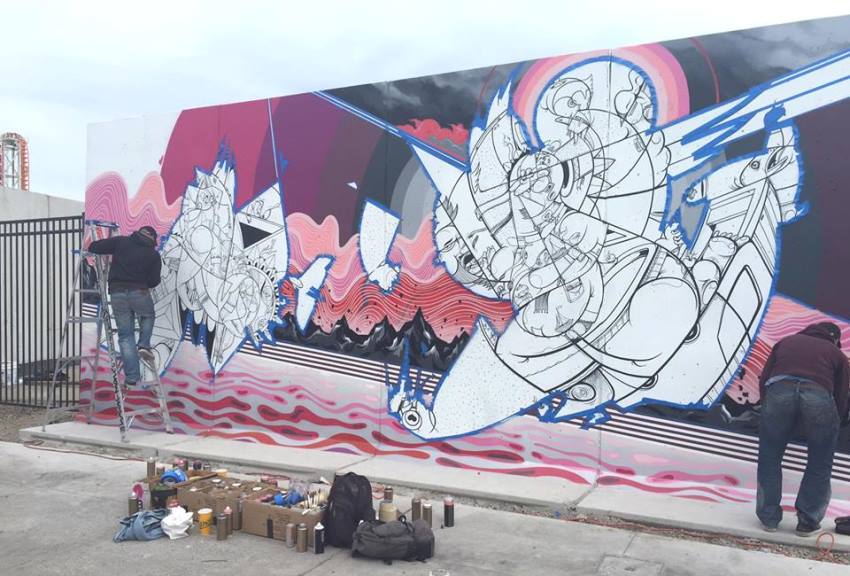 Shepard Fairey, Ben Eine, How and Nosm, Daze and CRASH at Coney Island Art Walls
The artist lineup is simply amazing, with many big names predominantly associated with New York's 1970s and 1980s graffiti scene. Twin graffiti duo How and Nosm created a piece full of artistic caricatures, with red, black and white-based imagery decorating the large canvas. Daze created a vibrant collage-like mural, while his fellow New York graffiti legend, CRASH made an amazing painting celebrating the summer season. And, let's not forget the legends – Ben Eine and Shepard Fairey who have created truly amazing pieces.
What's your favorite mural created for Coney Island Art Walls? Do share your opinion on our Facebook Page.
Sign up for My Widewalls, and follow the latest news from the world of urban art!  
Featured Image: Crash - Coney Island Mural (photo (c) Jaime Rojo, courtesy of huffingtonpost.com)
Images in slider:
Shepard Fairey - Coney Island Mural (courtesy of hypebeast.com)
Ben Eine - Coney Island Mural (courtesy of Ben Eine's Instagram profile)
All Images used for illustrative purposes only.