The browsing, selection and purchase of goods and commodities have become one of the defining activities of modern urban life. In this consumer culture, shopping has become a crucial ritual for shaping and transforming our identities. Artists have always been fascinated and intrigued by the consumer culture and the way it shapes our society. Yet, this relationship between art and the distribution and consumption of commodities has always been a complicated one.
It was the mid-1950s when the art world got a new movement which, oddly, both celebrated and criticized consumption choices and mass (re)production. The movement in question, better known as Pop art, saw familiar imagery and products around us as an inspiration – famous brands, paparazzi photos of celebrities, the visual language of advertising. As the post-war era was marked by the inevitable period of prosperity and the rise of neoliberal capitalism, a particular consumer lifestyle started to emerge in the United States. In the society that promoted the lifestyle of leisure and consumption, material objects and consumer goods crept into the art world as never before. Immersing themselves completely into the mundane living experience, Pop artists created something that they thought was nowhere to be found within museums and galleries: artworks talking about our everyday lives and experiences. It was all about capitalism, the unlimited market, sex, spending money, having it all, and always wanting more.
This presence of well-known corporate symbols and mass-produced goods in modern art reflected the commercialization of popular culture. Common objects of our wealthy society were taken out of context and scrutinized for their symbolic value. By celebrating commonplace objects and people of everyday life, pop art aimed to elevate popular culture to the level of fine art. Incorporating various aspects of the mass culture such as advertisements, comic books or industrial labeling, Pop artists created kitschy combinations of commercialized and recognizable elements. Pop Art represented the modern consumer landscape by portraying still lifes as visions of the good life. While American Pop Art was more interested in blurring the boundaries between 'high art' and 'low culture' by appropriating popular imagery, Pop Art in the UK was much more critical towards this consumer culture that was being exported across the continent.
Still, the subtle irony that followed Pop Art, as well as its indirect criticism of social circumstances, have resulted in the ambivalent assessment of their attitude towards consumer culture. While some artists wanted to call attention to mass banality and spiritual nakedness of consumer goods, others were simply appropriating this imagery because they were fond of it, not as referential symbols that scream with meaning. Thus, critics disagree whether Pop Art represented a critique or a celebration of consumer culture. Whether critical or celebratory, Pop Art certainly illuminated the materialism that dominates the capitalist society.
At first perceived as the American phenomenon, the consumerist lifestyle has soon spilled over to the rest of the world through globalization and the rise of the free market economy. Unlike Pop Art's playful and often ambivalent attitude towards the consumer culture, the generation of artists that came after took a more decisive and hostile stand towards it. Since advertising has always played a crucial role in perpetuating mechanisms and values of consumer culture, many of these artists have made it the center of their practice. For example, Ron English has introduced the concept of billboard hijacking where he appropriated the mass media messages and imagery to create subversive and political statements. Today, many contemporary artists explore and criticize the idea of consumerism in a variety of ways. Employing various visual and conceptual strategies to question consumerism, artists such as Gabriel Kuri, Josephine Meckseper, Irina Korina or Martin Basher explore various aspects of commerce and exchange such as models of trading with it as in selling and buying, the labor that generates these goods, global distribution networks, social and economic structures that support it, the notion of value or the role of goods consumption in construction of our identities. Rather than criticizing the consumption on a superficial level, they tend to deconstruct this phenomenon from the inside out.
As the consumer culture is shaping our society more than ever, we present you ten related contemporary artworks that tackle this matter in the variety of ways. Without further adieu, proceed to the article!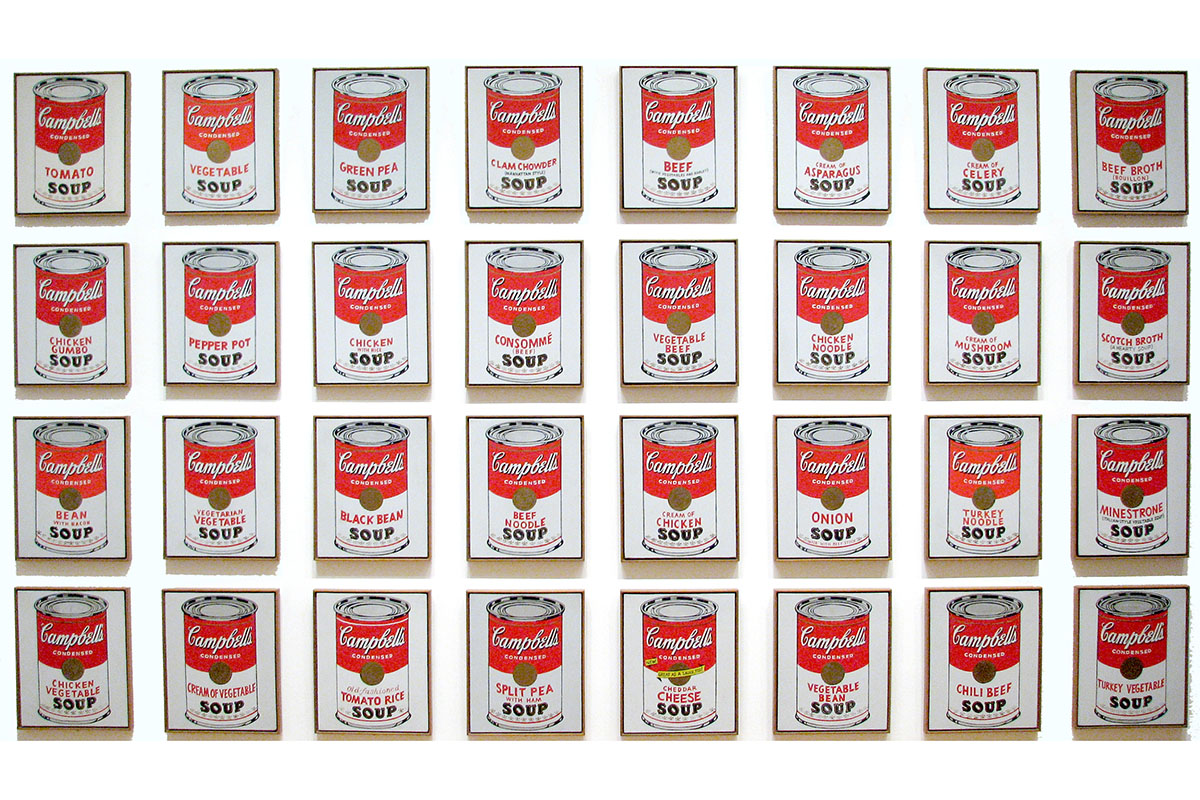 Andy Warhol - Campbell's Soup Cans, 1962
Just imagine the world of Pop art without Andy Warhol. Or his Marilyn Monroe paintings. Or, for that matter, his Campbell's Soup Cans. Consisting of 32 canvases, all looking the same yet depicting different variations of the soup, the artwork brought an entire shelf of these cans straight from the supermarket and onto our walls, presenting it as a piece of fine art. Apparently, it was gallery owner Muriel Latow who suggested to Andy Warhol to make the series, as well as his legendary dollar sign paintings. After she asked him what he loved most, the Pop genius replied "money" and mentioned that he drank Campbell soup every day for lunch for almost twenty years. There you have it, the backbone of consumerist culture art - paint what you love!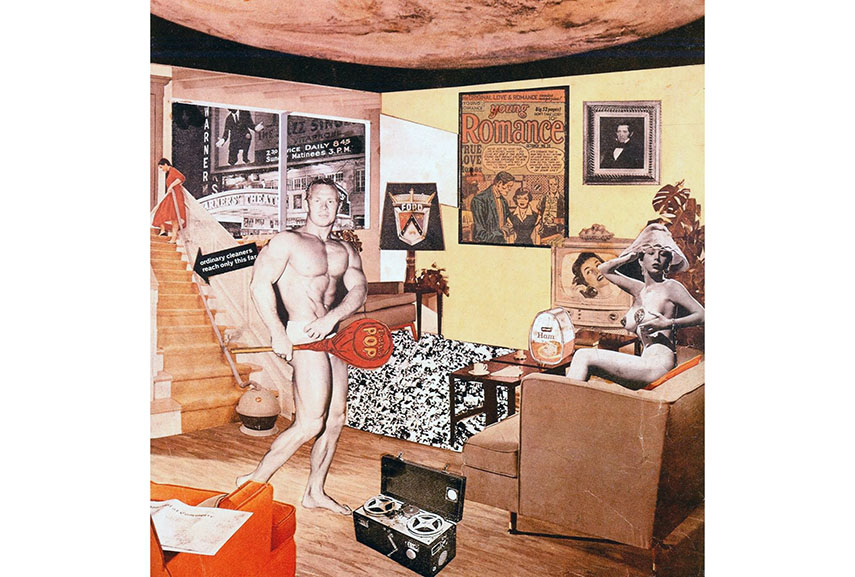 Richard Hamilton - Just what is it that makes today's homes so different, so appealing?, 1956
As Pop art originated in the United Kingdom, it was only logical that the first iconic artworks came from its pioneering artists, such as Richard Hamilton. His 1956 Just what is it that makes today's homes so different, so appealing? collage was one of the first artworks to comment on the conditions of modern life, depicting a fantasy of an ideal scenario that everyone supposedly wished for. With images taken mainly from American magazines and re-appropriated in the name of art, the collage consists of a modern-day living room, a body builder and a burlesque dancer suggesting the perfect bodies, a tv as something every house needs, a bold use of color and much more, for a proper ovation and critique of consumerism.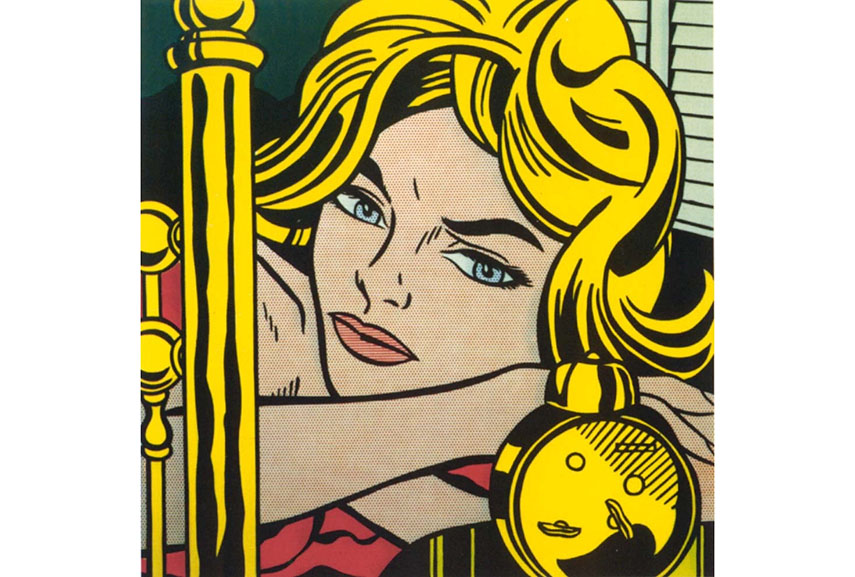 Roy Lichtenstein - Blonde Waiting, 1964
Another father of Pop art, Roy Lichtenstein is an inevitable part of our selection, and among his many comic book-based works, I chose the 1964 Blonde Waiting. While many of Roy Lichtenstein's works tackle the relationships between men and women by telling their story and thoughts, this particular painting is a true example of a relatable image, the one you look at and instantly feel connected to, due to its commonness - a girl sitting at home, waiting for her prince to call her. It doesn't matter who this woman is (as she could be anyone, and that's precisely the point), because what matters is that her current state of mind matches those of many in the modern society, regardless of the fact that she is just a figure made of black lines and red dots.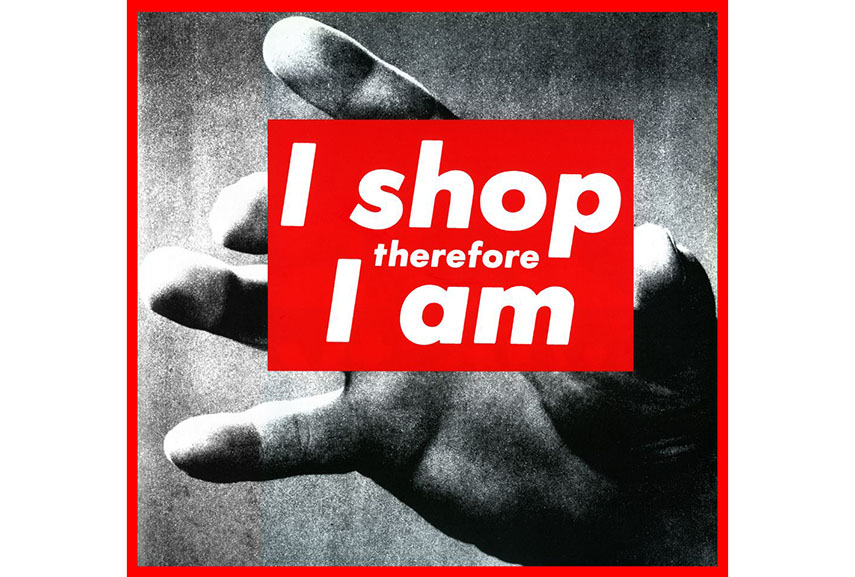 Barbara Kruger - Untitled (I Shop Therefore I Am), 1987
You may not know her name, but you sure know her art. It is the black and white photographs usually containing a writing in red, covering walls, billboards, buses, trains, buildings and institution walls worldwide. A prolific feminist and conceptual artist, Barbara Kruger creates tongue-in-cheek graphic design pieces, one of the most famous being the 1987 Untitled (I Shop Therefore I Am). Very much up-to-date with the latest happening within consumerist culture and the news of the world, she issues commentary that sometimes gets adopted as the mantra of the very group it targets, in this case the compulsive shoppers. A fine advertising line, ready to hit t-shirts and shopping bags, had it not been a critique of capitalism and its social vacuity.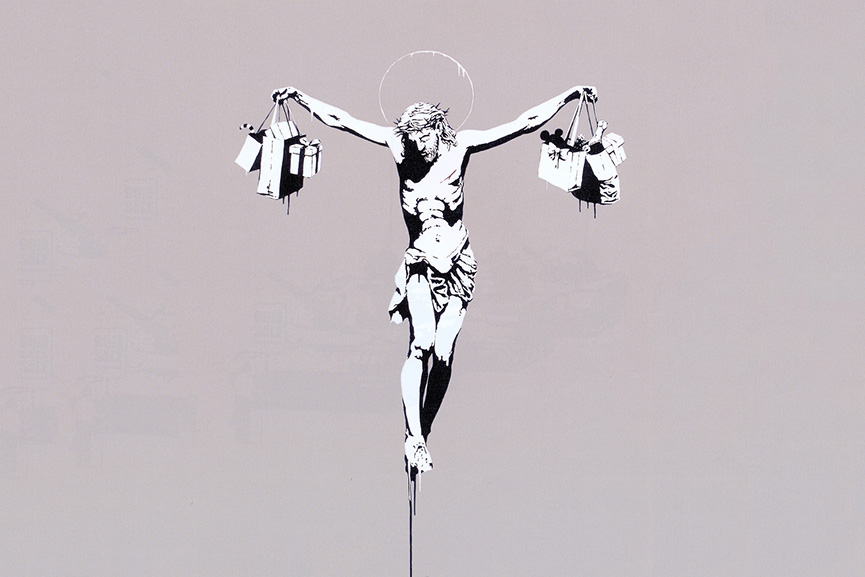 Banksy - Jesus Christ with Shopping Bags, 2005
Sometime around Christmas 2005, Banksy went around to produce the Jesus Christ with Shopping Bags stencil and screen print, as a can-it-be-more-clear call-out on consumerism. In the work, we see a worn-out Jesus on an invisible crucifix, carrying shopping bags full of goodies in each hand. This is surely not the first time that Banksy draws our attention to the real meaning of things such as holidays or just consumerism culture (you know about Dismaland, right?), yet this work carries a special force with it, as it has to do with religion. When did obsessive shopping for things we don't need replace the true spirit and values of Christmas, such as compassion, love, forgiveness? One might think that this is what Jesus ended up dying for.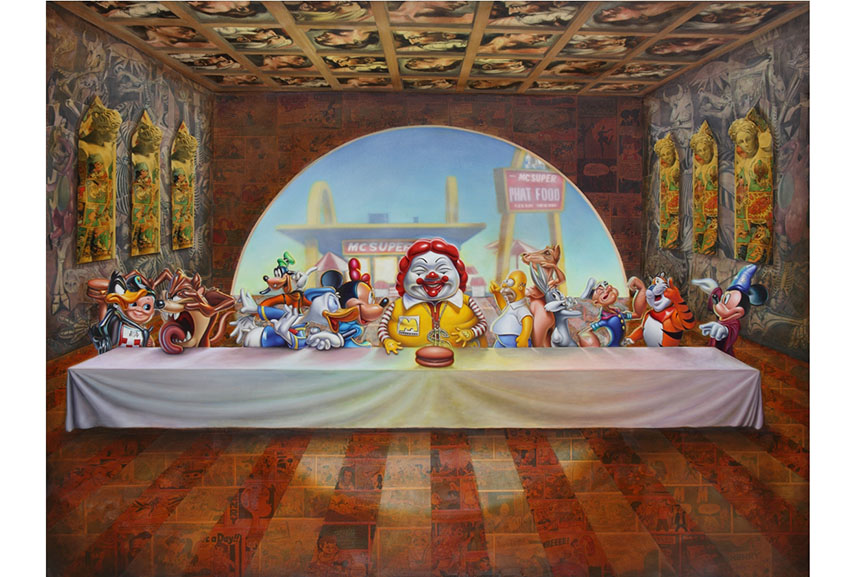 Ron English - Super Supper, 2010
For many, when thinking about Ron English, the first thing that comes to mind is that Hulk-like baby, but for this particular selection, I chose one of his interpretations of famous paintings. Super Supper, created in 2010, draws inspiration, or pays homage if you will, to The Last Supper of course, only Jesus is the fat Ronald McDonald and his disciples are various cartoon characters we all love and grew up with, including Popeye and Homer Simpson. Ron English often describes his works as "mash-ups of high and low cultural touchstones", which is what characterises the entire POPaganda series of works. When it comes to other known paintings, the artist did his own version of The Starry Night, The Scream or The Son of Man.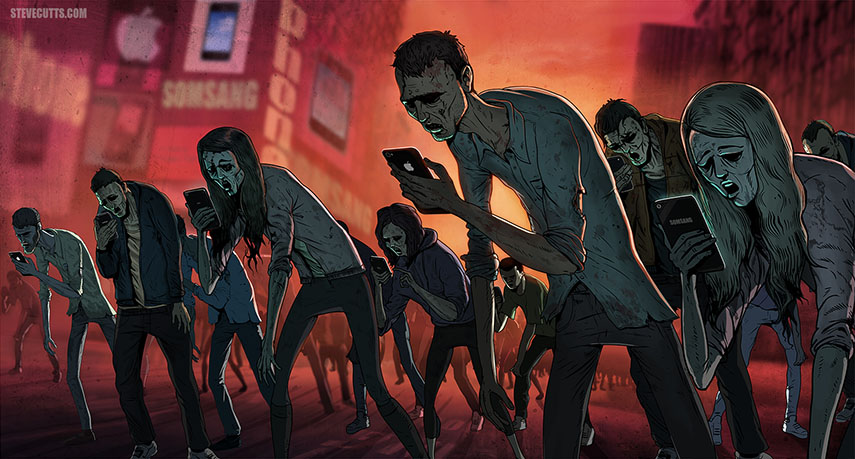 Steve Cutts - Social Media Zombies
If you're bothered by the fact your friends always stare at their cellphones when you meet, you'd be happy to know that they'll be doing the same even after they become zombies. At least that's the bright future predicted by illustrator and animator Steve Cutts, in one of his illustrations. It is the end of the world, but everyone cares more about posting a status about it on Facebook via their iPhones (are there any other kinds anyway?) than looking around them. Almost all of Steve Cutts' oeuvre is consumerist culture art, be it illustrations or animated movies, masterfully executed through programs like Photoshop or Cinema 4D. Some of his topics include obesity, pet ownership and comic books superhero obsessions.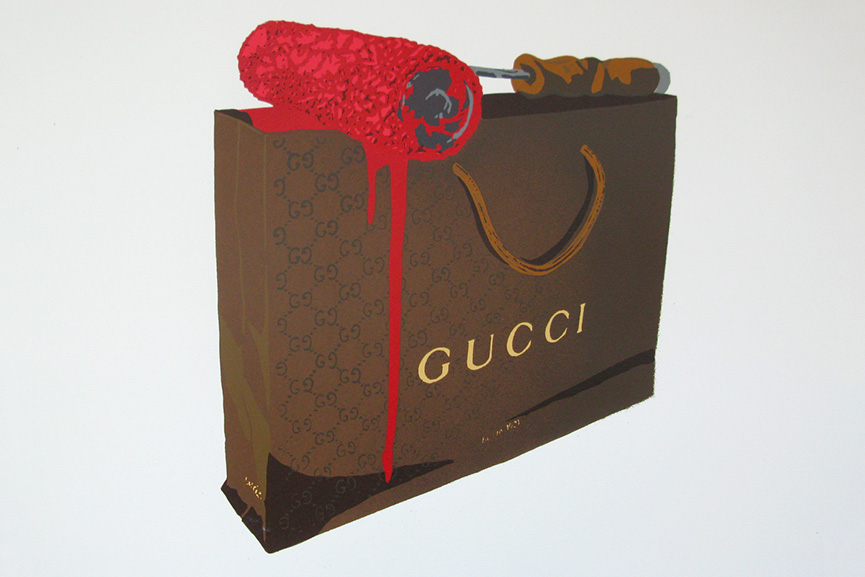 Dotmasters - High Roller
Known for trashing the consumerism - quite literally - Leon Sessix, better known as Dotmasters, just won't leave pop culture alone. His favourite victims? Giant clothing brands like Chanel or Nike, which he loves to pack up in a black dumpster bag and dispose of, or use them as a dispenser for his spray cans and paint rollers, like in the case of High Roller. Using typical English humor, The Dotmaster also likes to play with dollar bills, embellishing them with pop drawings of a recurring face like Mao's, reinterpret famous artworks like the Mona Lisa or Michelangelo's Creation of Adam. Even famous British actor Bill Nighy is a fan of his work, having posed with one of his works on the streets of London.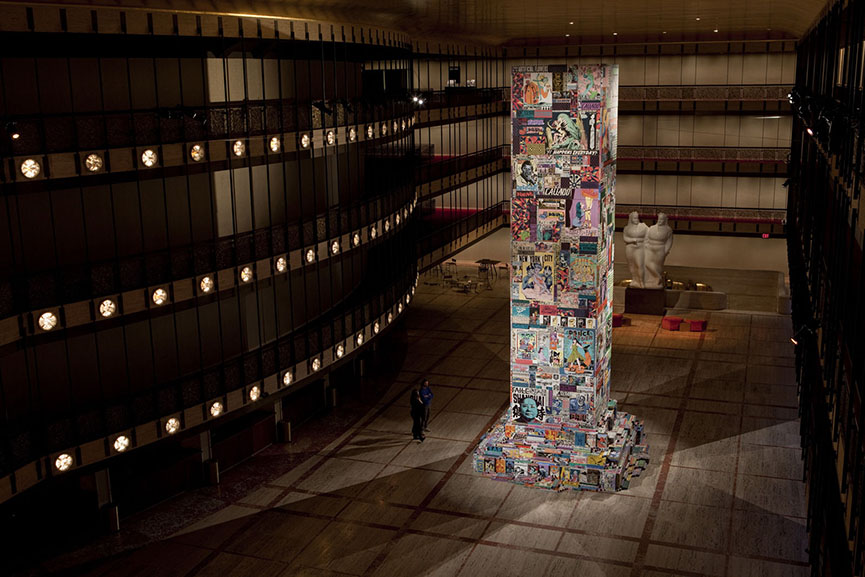 Faile - The New York City Ballet Tower, 2013
For five months, the Faile duo has studied the archives of the New York City Ballet in order to produce a massive tower made of visual vocabulary and set in the atrium of the modernist Lincoln Center. Contributing to the notions of cultural appropriation yet again, Patrick McNeil and Patrick Miller introduced the dancers in a whole new light, covered in tattoos, belonging to skater culture, surrounded by graffiti and the images of Mao and Prince Charles. Although they don't really have anything to do with ballet, they managed to bring it closer to street art fans, and millennials in general. This installation was followed by another piece, The Art Wheel. During their presentation, the tickets to see ballet were reduced to $29 and they came with an original art piece made by Faile.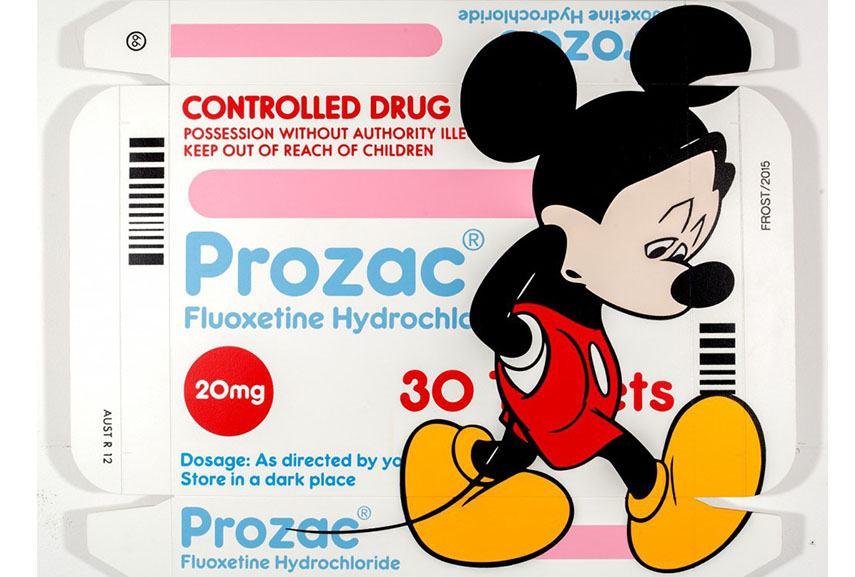 Ben Frost - Store In A Dark Place (Mickey on Prozac), 2015
Australian artist Ben Frost, much like his Canadian colleague Denial, likes to combine elements of popular culture to create new dialogues, In the case of one of his latest works, Store In A Dark Place (Mickey on Prozac), we have a sad Mickey Mouse character painted over a disposed pharmaceutical packaging of Prozac, one of the most-prescribed antidepressants in the world. Known for his confrontational and controversial collages oversaturated with images from all spheres of life, these works are quite simple and visually more clear, as other pieces from the series see Mr. Burns from The Simpsons on a pack of viagra, or the witch from Hansel and Gretel gracing a Botox box. We can't wait to see more of this intriguing artist.
Fan of Consumerism and Pop art? Sign up for My Widewalls and enjoy the series of it for free!