The contradiction of Aboriginal art is that it is both timeless and contemporary at the same time. This duality challenges the Western understanding of the progress of culture and ideas. Since Aboriginal culture is the oldest continuous living culture in the world, its artwork has existed for 40,000 years and is rooted in the human pre-history. Through songs, rituals, dances, storytelling, symbols and meaningful patterns that are being passed on, Aboriginal groups have managed to preserve their culture for thousands of years.
When a group of elder desert men first started to paint their cultural heritage using paper and canvas, that was the birth of the movement that much influenced Aboriginal communities and Australian art in general. For the majority of Westerners, this was the first encounter with the Aboriginal culture at large. Having a timeless connection to the pre-history and the first inhabitants of the Australian landscape, Aboriginal art has also been perceived as an innovative and iconic art form inherent to Australia.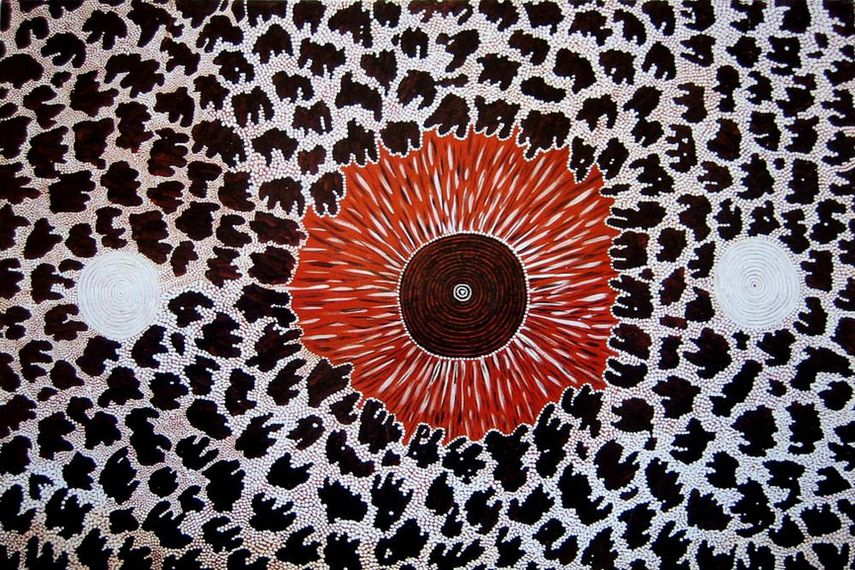 The Origins of Aboriginal Contemporary Art
The first desert works emerged in Papunya in 1971. A white Australian teacher and art worker Geffrey Bardon who was working in a remote community in Central Australia started an art program with children and elder men in the village. When elder men started to translate their knowledge of traditional folklore onto canvas, this was the birth of the contemporary art movement. Soon after, eleven men have formed a cooperative called Papunya Tula Artists and the movement started to generate a widespread interest across rural and remote Aboriginal Australia.
Over a subsequent decade, as many Aboriginal communities contributed to their specific culture and knowledge, these differences developed into different pictorial languages and regional styles emphasizing their diversity. These initial works that include pieces by now famous Aboriginal artists such as Clifford Possum Tjapaltjarri and Kaapa Tjampitjinpa, are today considered as the foundation of the contemporary Aboriginal art movement and are accounted as very valuable. The art critic and writer Robert Hughes has described the rise of contemporary Australian Aboriginal Art as "the latest great art movement of the twentieth century".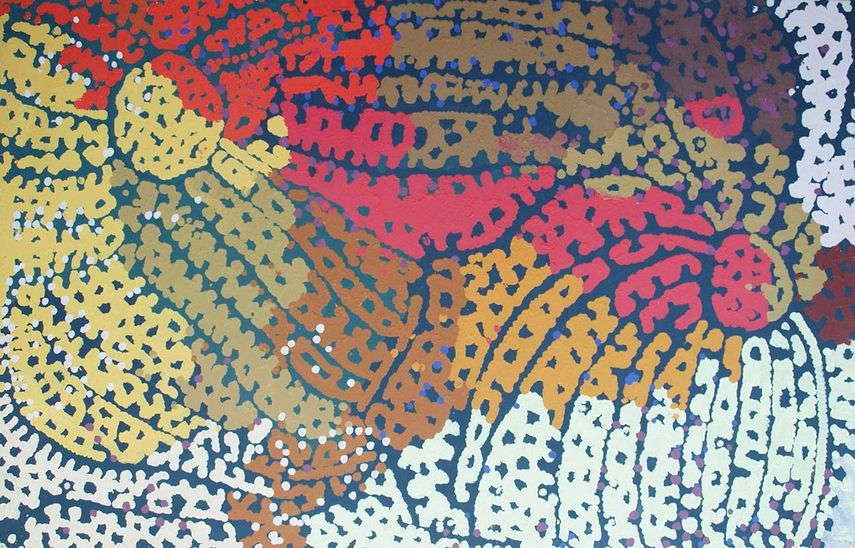 The Symbol As a Language
Since Aborigines didn't have a history of writing, they have a long tradition of communicating their stories and heritage graphically through symbols. This ancient iconography has transferred into contemporary artworks. Often reflecting the spiritual traditions, cultural practices and sociopolitical circumstances of indigenous people, stories and symbols vary widely among the diverse Aboriginal cultures. They range from ones derived from the hunting and tracking background portraying animals and humans with marks they leave or certain clan patterns to aspects of their 'Dreaming'. The Dreamtime is a translation of the Creation time for Aboriginal people, and it provides their identity and the connection to the land. Artists often need a permit to paint certain traditional stories, and this right is inherited.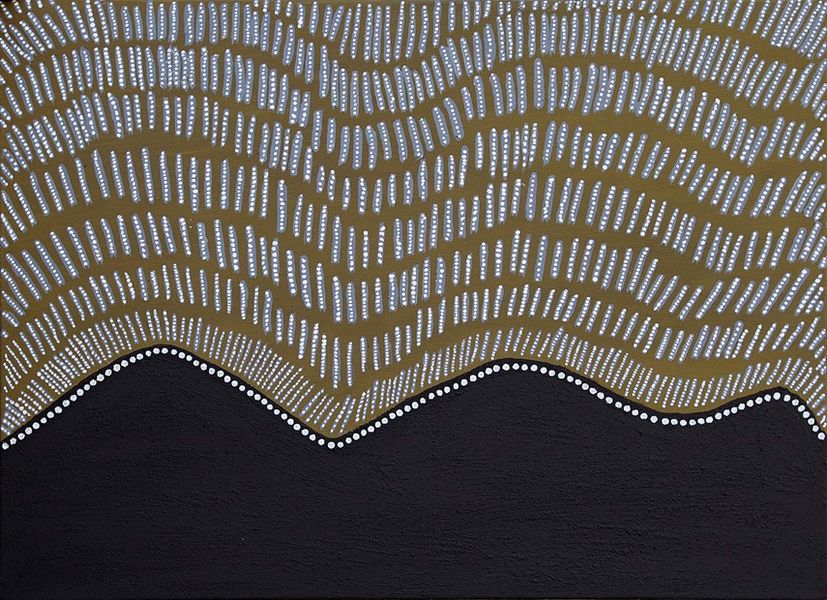 The Aboriginal Art Today
Contemporary indigenous artists have won many of Australia's most prominent art prizes not only reserved for indigenous art. Also, Aboriginal artists have represented Australia in the Venice Biennale in 1990 and 1997. Today, Aboriginal art is internationally acclaimed and recognized as fine art. It ranges across a wide variety of mediums from works on paper and canvas to fiber, glass and printmaking. Rooted in traditional iconography, the works are often remarkably modern in design and color.
Some of the most prominent names include Clifford Possum Tjapaltjarri, Kaapa Tjampitjinpa, Emily Kngwarreye, Lorna Napurrula Fencer, Christine Napanangka Michaels, Rover Thomas and Gloria Petyarre. There has been a number of Aboriginal artists, such as Michael Cook, William King Jungala or his daughter Sarrita King who have developed a unique contemporary style combining their Aboriginal heritage with practices and techniques closer to the Western contemporary art. Albert Namatjira, one of the pioneers of Contemporary Aboriginal art, produced western style landscapes different to the traditional Aboriginal art style.
On the other hand, there is a number of artists who ethnically and culturally identify as indigenous, but have adopted global art practices and recognizably Western style. Labeling them as Aboriginal artists have caused political controversies and raised questions on conventional notions of what Aboriginal art is.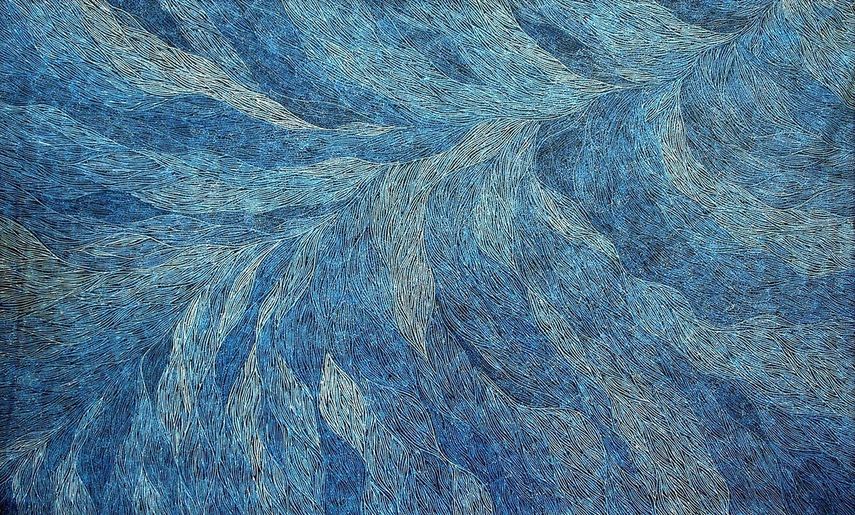 Labels and Controversies
It has been widely discussed whether the indigenous art has been commodified by the West and the commercial art world. It has been even suggested that using terms as 'Aboriginal art' is intrinsically racist in terms of labeling Aboriginality as 'other' compared to the Western norm.  Many contemporary artists who happen to be of Aboriginal descent refuse to be categorized and labeled simply for their ethnicity. This issue has gained great publicity when in 1990s Australia's most renowned international artist Tracey Moffatt refused to present at the exhibition exclusively Aboriginal, and more recently when acclaimed contemporary artist Richard Bell was awarded the National Aboriginal & Torre Strait Islander Art Award in 2003. It seems that it might be the time that the Western community develops a more sophisticated understanding of the diversity of artists of indigenous descent.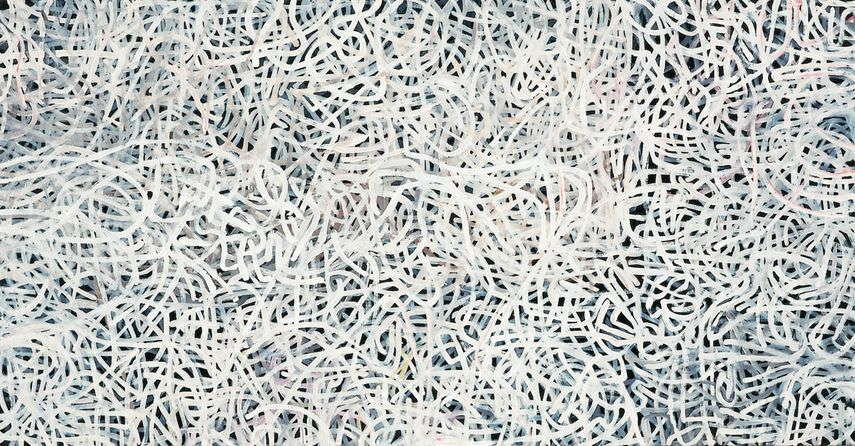 Aboriginal Art in the Art Market
In 2007, the painting Earth's Creation by Emily Kngwarreye became the first Aboriginal artwork sold for more than $ 1 million. Only a few months after, an epic work Warlugulong by Clifford Possum was sold for $ 2.4 million in Sotheby's auction in Melbourne. After the initial boom, the market for these works started to struggle due to the issues with authenticity, ownership, exploitation and Australia's cultural heritage regulation.
On the other hand, the first-ever sale of Aboriginal art at Sotheby's London in June 2015 was a huge success showing a sign of renewed interest in this movement. With five works being sold for over $100,000, the auction brought in over $ 2 million for 75 lots. As the price of the pieces is rising again, buying Aboriginal art could be a wise investment. When choosing a piece, the great importance should be placed on the style, medium, and status and age of the artist.
Editors' Tip: Aboriginal Art (World of Art) by Wally Caruana
This book is an important introduction to the diversity of Aboriginal art and a comprehensive study that of the work of Australia's indigenous artists from all parts of the continent. A culture so rich and 50,000 old, Aborigines have created works steeped in the tradition and produced in a variety of contexts, from the sacred and secret realm of ceremony to more public spheres, and in media that include painting, sculpture, engraving, constructions, weaving, photography, printmaking, and textile design. Mapping the latest developments across each of Australia's geographical regions, this updated version of the book brings some twenty new illustrations highlight the impact of urban living, the growth of local art centers, and the rise of women artists―all testifying to Aboriginal art's continued dynamism and vitality.
Featured image: Gloria Petzyarre - Bush Medicine Leaves, via japingka.com. All images for illustrative purposes only.