Hashimoto Contemporary is continuing its 2021 exhibition program with a show curated by Dasha Matsuura and featuring contemporary abstraction. In the Abstract brings together works by Abel Macias, Ellen Rutt, Rachel Strum and Madeleine Tonzi.
From geometric shapes to the suggestion of surreal forms, each of the artists brings a fresh perspective to contemporary abstraction.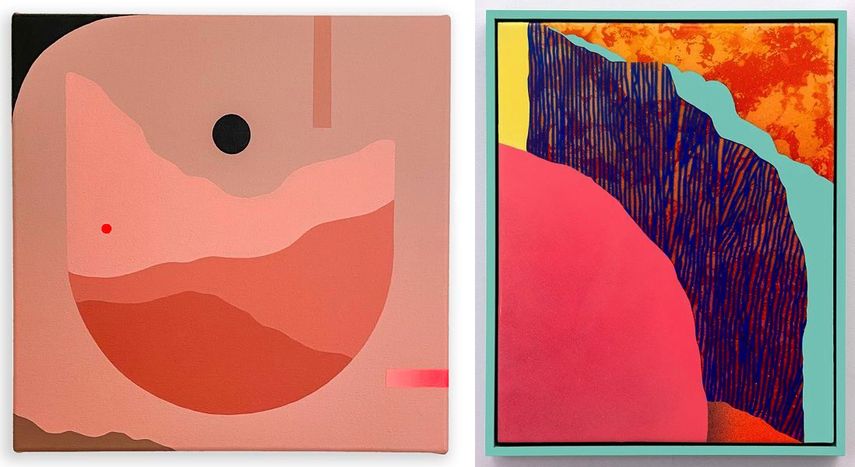 The Practice of Madeleine Tonzi and Rachel Strum
An Oakland-based painter and muralist, Madeleine Tonzi investigates memory and place and the relationships we form with the various environments we experience, seeking to capture the essence of ephemeral moments. Her vivid abstract representational landscapes, both organic and architectural, seem to float across blush toned planes dotted with surreal architectural structures. Her aesthetics echoes the desert landscape of New Mexico where she was born.
On the other hand, Rachel Strum, a New York-born and Los Angeles-based contemporary artist, manipulates space and color as her visual language, exploring the relations of abstract and representational, elusive vs. tangible, and the realms that exist in between. Resulting from the fleeting curiosity and subliminal observations of our sociocultural connections to nature and beyond, her works blaze in a riot of color and texture, creating a cosmic depth in each color field. Working with multiple mediums, she makes colorful layered works that sway back and forth between figurative and abstract.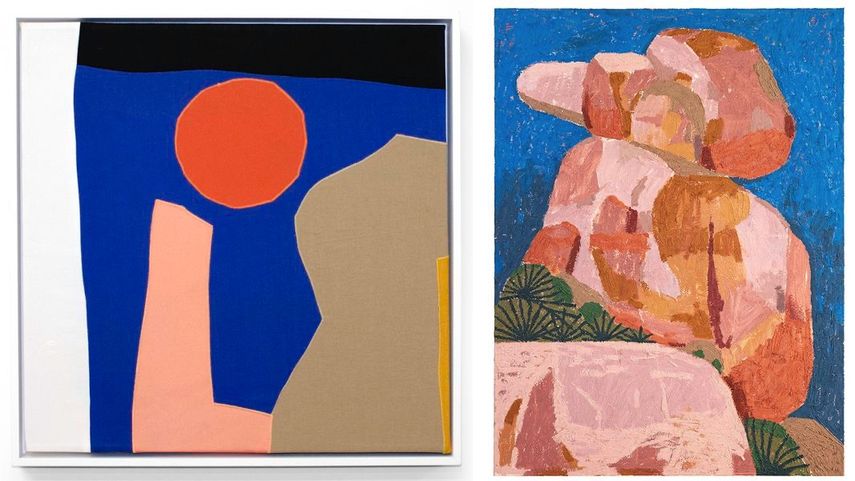 The Practice of Ellen Rutt and Abel Macias
A Detroit-based multidisciplinary artist, Ellen Rutt is known for making bold, mixed-media paintings, installations, murals and wearables. She works with reclaimed and scrap textiles, engaging the tradition of quilting to create fluid patterns and bold compositions. Through her practice, she always seeks to facilitate a conversation between materials and movement, places and process.
Lastly, Abel Macias is a painter, illustrator, builder, object maker, art director, and visual problem solver known for curious, playful interiors, illustrations and art objects. Rooted in Mexican folk art and influenced by street art and everyday objects, his work is characterized by an uplifting clash of color and pattern, with loose landscape references.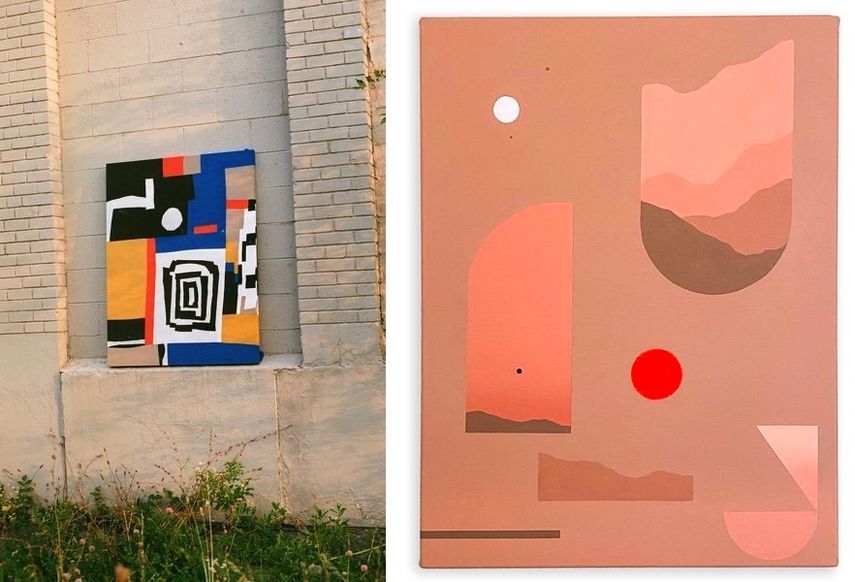 The Group Show at Hashimoto Contemporary
The exhibition In the Abstract will be on view at Hashimoto Contemporary in San Francisco from February 6th until February 27th, 2021. The gallery will be open by appointment only, which can be scheduled here. A live walkthrough of the exhibition and an artist Q&A on Saturday, February 13th on Instagram live.
Featured image: Rachel Strum, Installation View. All images courtesy Hashimoto Contemporary.