In recent years, augmented reality has entered the art world, enabling artists to cross boundaries and expand their field like never before. The medium allows for immersion and engagement with the artwork on an entirely different level.
The UCCA Center for Contemporary Art is currently hosting a special exhibition dedicated to the medium in collaboration with Acute Art, the world's most extensive augmented reality platform. Titled Mirage: Contemporary Art in Augmented Reality, the exhibition will bring together diverse works by Nina Chanel Abney, Darren Bader, Cao Fei, Olafur Eliasson, KAWS, and Alicja Kwade.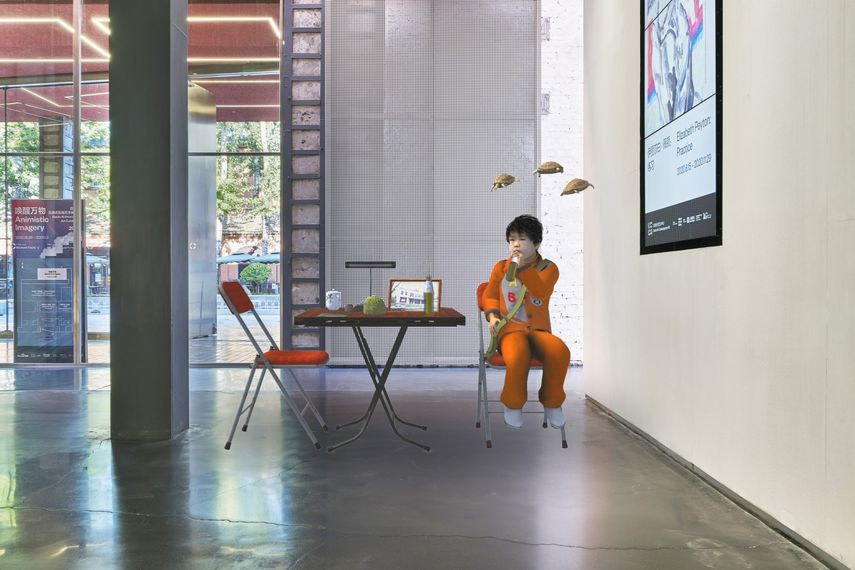 Mirage
The first major institutional project of its kind, the exhibition considers new modes of arranging artworks in space and sharing art with viewers, making them at once present and invisible to the naked eye. The exhibition coincides with an exhibition in UCCA's Great Hall, Immaterial/Re-material: A Brief History of Computing Art, which explores how artists have actively engaged with digital technology as a medium from the 1960s to the present day.
The Acute Art Artistic Director Daniel Birnbaum highlighted that the museum is known "for its experimental approach to new possibilities in art."
In collaboration with Acute Art, the exhibition represents a new chapter in the conversation between art and technology.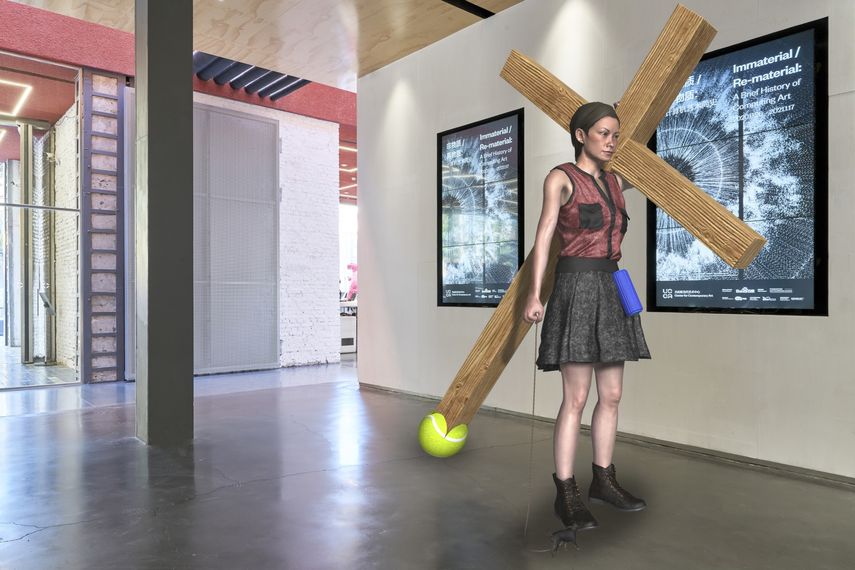 Featured Works
The exhibition brings together diverse works, ranging from digital sculptures to cartoon-like characters and animated scenes suffused with narrative drama. The works reach out to different realms of contemporary culture, from street art to online memes.
The display includes KAWS' COMPANION (EXPANDED) (2020), the artist's recognizable character hovering just inside the museum's entrance and at Stey-798; Nina Chanel Abney's Imaginary Friend (2020), a character inspired by cartoon fairy godmothers, levitating by a pillar opposite the museum's front desk; Darren Bader's LOVE (2019) from the series Mendes Mundi, the work referencing spirituality, located close to the entrance to UCCA Store; Olafur Eliasson's Uncertain Cloud (2020) from the series Wunderkammer, raining down on another KAWS' piece, and Solar Friend (2020), floating above the terraced seating just inside UCCA's entrance; two of Alicja Kwade's works from the AR-BEIT series; Cao Fei's The Eternal Wave AR: Li Nova (2020), an extension of her larger science fiction film project Nova that returns viewers to the museum's surroundings.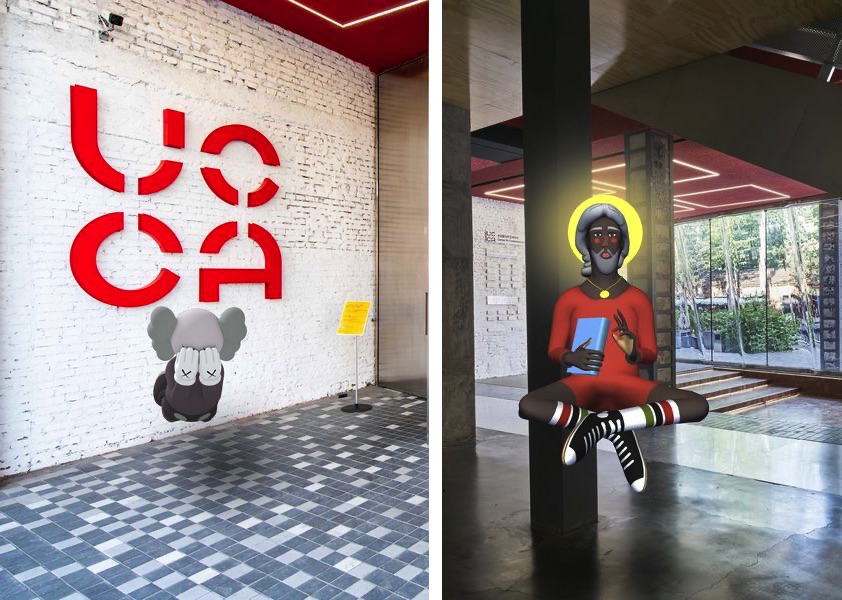 Augmented Reality at UCCA
The exhibition Mirage: Contemporary Art in Augmented Reality will be on view at UCCA Center for Contemporary Art and at hotel and apartment community Stey-798, located just outside 798 Art District's western entrance in Beijing, until February 10th, 2021.
Artworks will be viewable through Acute Art's app. They recommend the use of an iPhone X or above, or Samsung Galaxy S8 or equivalent, equipped with an up-to-date operating system, to access its app. UCCA is pleased to provide advanced smartphones from the iPhone 12 product range for use within the museum so that all visitors have the opportunity to experience the artworks.
Featured image: Olafur Eliasson - Solar Friend. Courtesy of the artist and Acute Art.