Continuing the mission to garner institutional exposure and recognition for New Contemporary Art Movement, its history, founders, key players, and artists, Thinkspace Gallery will present yet another exhibition that showcases new and exciting contemporary artwork from this steadily expanding field. In fact, this massive group exhibition serves as a survey of its flourishing, handpicked by the team behind one of the most prolific and respected galleries. Taking place at The Fort Wayne Museum of Art, it will be the gallery's second installment brought to the venue to date. The exhibition will also celebrate the impact of the movement's most enduring media platforms, Juxtapoz Magazine.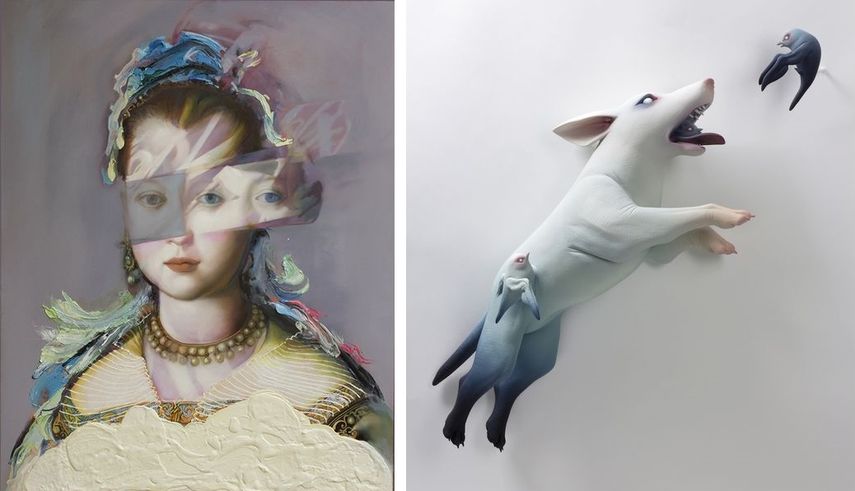 The Contemporary Art Movement
Encompassing everything from Street Art and Muralism to Pop Surrealism and Hyperrealism, the New Contemporary Art Movement is now widely considered as the largest and longest running ones in history. Largely self-sustained through a network of alternative cultural platforms, primarily outside of the mainstream and institutionally vetted art markets including social media, blogs, zines, underground collectives, galleries, and urban and alternative spaces, put quite simply the New Contemporary Art Movement is art for the people. As one of its most visible and active proponents, Thinkspace Gallery has helped to bring these works to a wider international audience. As co-founder and curator of the gallery, Andre Hosner explains their mission is "to continue to knock on the door of the establishment until more listen, more take notice, more start to add these artists to their permanent collections, and start to give the movement the attention it has earned and deserved."

Juxtapozed
Celebrating the legacy made possible by the famous Juxtapoz Magazine, the title of the exhibition is drawn from the magazine's name. Founded in 1994 by Robert Williams, Craig Stecyk, Greg Escalante, Eric Swenson and Fausto Vitello, the publication fosters and supports the art of the underground, shaping the movement itself and preserving its continued relevance. Providing an alternative voice and narrative to the dominant New York-centric discourse of contemporary art, Juxtapoz has served as a platform for an entirely new generation of artists who were latching on to a populist visual vernacular. The Juxtapozed group exhibition will feature works by the New Contemporary Art Movement most famous proponents including Aaron Nagel, Amy Sol, Brian Viveros, Daniel Bilodeau, Erik Siador, Fuco Ueda, Jeff Gillette, Jolene Lai, Kelly Vivanco, Martin Wittfooth, Ron English, Shepard Fairey, Telmo Miel and Sergio Garcia, among others. It will also feature murals and installations from Cinta Vidal, Icy and Sot, Laurence Vallieres and Meggs.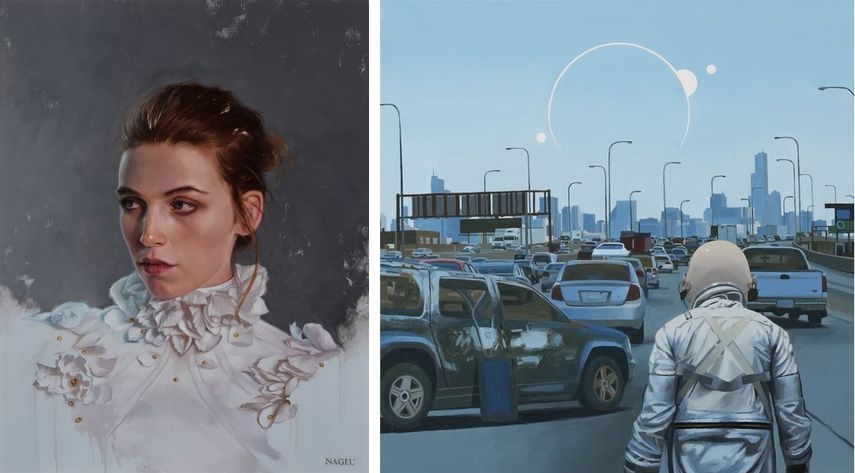 Contemporary Artwork Curated by Thinkspace Gallery
The exhibition Juxtapozed is curated by Andrew and Shawn Hosner with Gary Pressman and Josef Zimmerman. It will be on view at The Fort Wayne Museum of Art in Fort Wayne, Indiana, United States from April 22nd until July 9th, 2017. The opening reception will be held on Friday, April 21st from 7 to 10 p.m. The show will coincide with the SLANG Aesthetics! exhibition of works by Robert Williams, celebrating the work of one of Juxtapoz Magazine's most iconic trailblazers.
Featured images: Scott Listfield - Traffic (detail); Left: Stephanie Buer - Lincoln Heights Jail / Right: Lauren Brevner - Lola; Left: Dulk - The Tortoise and the Hare / Right: Juan Travieso - Expiring #8; Ian Francis - Flag Based Warfare. All images courtesy of Thinkspace Gallery.