Other than being the world's largest democracy, India is also probably the most diverse society on earth, so it comes as no surprise that contemporary Indian art reflects a strong cultural and ideological variety. Due to rapid globalization, this art scene is becoming increasingly visible on an international level; but India's art market was not yet able to make the leap into the world's elite.
About ten years ago, the International Herald Tribune published an article[1] with a rather optimistic headline that said "India's Art Market is Booming." After a few years, it was clear that this boom, if we can even call it that, was not able to last, so the market simply deflated from a national financial crisis.
Fast forward to the current day - in February 2018, following the conclusion of this year's edition of India Art Fair, similar optimistic stories seem to be surrounding the ever-rising Indian market. Since more and more of these stories were surfacing in recent days, we felt obliged to take a closer look and inspect the current state of contemporary Indian art and the market surrounding it.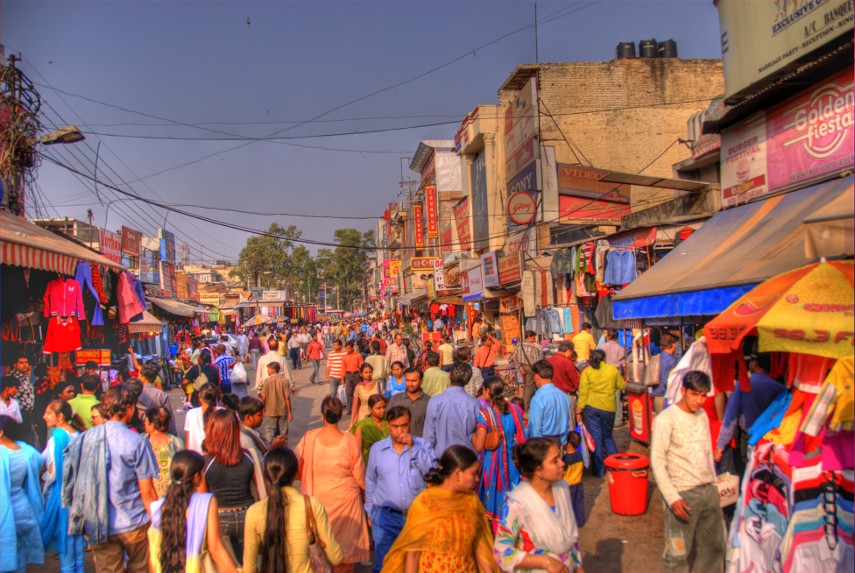 Looking at the Numbers of the India Art Market in 2017
As always, taking a glance at the numbers reveals a lot about the state of a single art market, albeit they can be a bit misleading from time to time due to the industry's constant state of flux.
According to the analysis firm ArtTactic's South Asian Art Market Report 2018, the regional Indian market grew by 13% in the year of 2017, with a total value reaching the $223m mark.
Furthermore, numbers show that gallery sales were stronger than auctions in 2017, accounting for just over $104m ($81.1m of which came from Indian galleries). Despite a stuttering 2017, it's nice to see that the auction market is recovering from its recession crater - at least according to the numbers.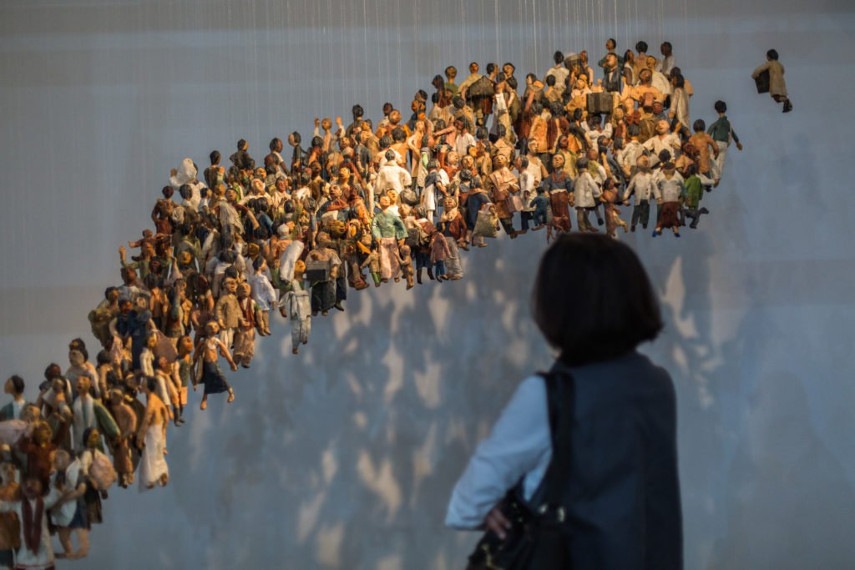 Did Contemporary Indian Art Market Give Us Any Reasons For Optimism?
One of the main reasons why India's art market boom might not be a flash in the pan this time around is the growing number of international museum shows of work by artists from the region. These shows are fetching record numbers in terms of visitations and prices, so this should reflect well on the contemporary Indian art market down the line.
Regionally speaking, India's art dealers have shown an initiative to animate younger local buyers with hopes of kick-starting a new way of approaching art sales. Furthermore, India's art market is putting a lot of resources to embracing technology, mostly in order to meet the challenges of the online art market world.
Collectors' approaches to buying and treating art seem to be changing for the better as well - fewer and fewer individuals are treating artworks as an alternative asset, instead entering the market with a healthy mindset not warped by the last market boom.
Finally, while India's cultural sector still lacks a critical mass of major institutions, more and more signs are appearing that the scene's infrastructure is growing in the right direction. This is in no small part due to non-commercial events, like the Kochi-Muziris and Pune biennials, and the Serendipity Arts Festival in Goa.
A sneak peek report into India Art Fair 2018
Successes of India Art Fair and Local Galleries
The tenth edition of the India Art Fair concluded recently and it was deemed a total success. The fair was dynamic in nature, well-organized, littered with good artworks and sales went through the roof of even the most optimistic expectations. With that in mind, the organizers expect to see at least similar results from the next year's event.
In an ArtTactic survey of 63 South Asian galleries, 48 of which were from India, the surveyors noted that sixty-two percent of the Indian galleries reported an increase in sales in 2017. It should be noted that these successes came to realizations despite the government's dramatic demonetization effort[2] implemented at the end of 2016 to fight India's informal salary system. This was the main reason why many were caught off guard when the 2017 numbers of the contemporary Indian art market became a thing of public knowledge.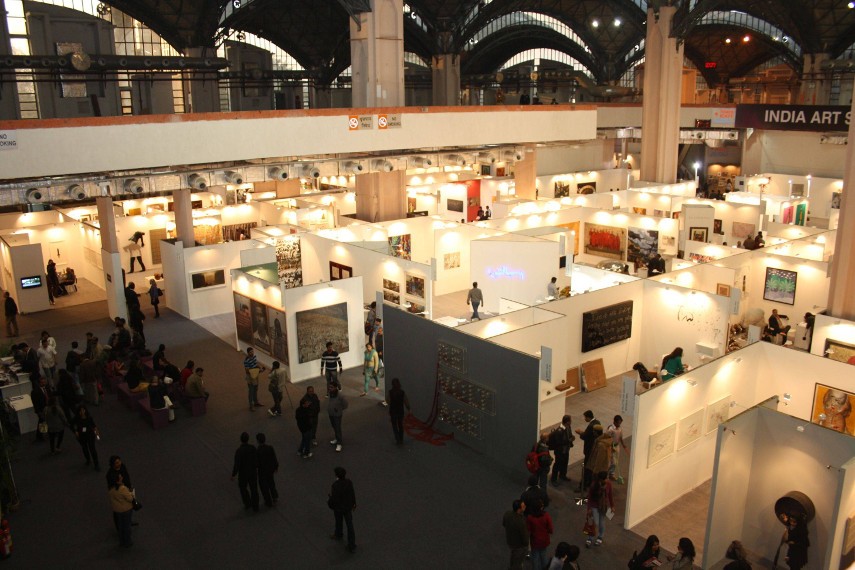 Too Tough a Place to Do Business?
Despite all the advances and evident efforts, the fact of the matter remains that India is simply not an ideal location for investing a lot of money when it comes to art - at least not at this point. Slow customs procedures and excessive bureaucracy are strong deterrents to foreign investors while they also keep stagnating local businesses. Sure, nobody expects India to enable a Hong Kong-like setting or build the next Geneva freeport, but some radical changes need to be made if the contemporary Indian art is to take that next step.
Arvind Vijaymohan, the chief executive of the art advisory and data firm Artery India, seems to agree:
Historically, India hasn't been the easiest market to navigate, primarily on account of poorly managed processes and administrative hurdles. This, however, is evolving and has cleared a fair distance.
We should also note the more deeply rooted problems. There's still the general aversion for subjects like nudity that needs to be addressed as soon as possible. Indian public also feels averted to general representations of negativity, and local collectors are still instinctively expecting high discounts on every single purchase. These kinds of restrictions can really limit one's ability to form a good setting for an international art community.
Indian Fine Art Market - Brief Survey From a Year Ago
Will Contemporary Indian Art Market finally Blossom into its Best Version?
The main reason why people are still so skeptical about a potential boom of the Indian art market is that we've already heard this story before - back in 2007, India was counted among the leading countries experiencing rapid economic growth that was expected to be accompanied by an increased quality of the cultural scene. What soon followed was a spectacular crash and India has remained a largely uncharted territory for international heavyweights of the art world ever since.
At the end of the day, maybe there are no shortcuts to building a more meaningful contemporary art market, no boom that can get you over the top. You can't just go online or organize a few pop-up shows and expect the rest of the dominoes to fall on their own. But, even if we take this by far more pessimistic point of view, these recent sources of hype might be signs of steps taken in the right direction, so some really positive changes might be lurking just around the corner.
In other words, there's still a lot of work to be done before contemporary Indian art scene starts to look even remotely like an attractive international art market. Will it be able to eventually get over this hump, only time will tell.
Editors' Tip: Myths and Symbols in Indian Art and Civilization
A landmark work that demystifies the rich tradition of Indian art, Myths and Symbols in Indian Art and Civilization analyzes key motifs found in legend, myth, and folklore taken directly from the Sanskrit. It provides a comprehensive introduction to visual thinking and picture reading in Indian art and thought. Ultimately, the book shows that profound Hindu and Buddhist intuitions on the riddles of life and death are universally recognizable.
References:
Kolesnikov-Jessop, S., January 25, 2007, India's art market booming - Culture - International Herald Tribune, The New York Times [Feb 23, 2018]
Gilchrist, K., September 1, 2017 , India's demonetized currency finds its way back into the system — but can we still call it a success?, CNBC [Feb 23, 2018]
Featured image: Exterior IAF © Andy Barnham, 2018. All images used for illustrative purposes only.