Situated at the meeting point of Europe and Asia in one of the great cities of the world, Contemporary Istanbul offers a platform for the city's thriving art scene, growing art market and collector base, as well as an access point to the best contemporary art from the wider region. The leading art fair in the region now returns to the city this September, overseen by the new artistic director Anissa Touati.
Contemporary Istanbul 2019 will bring together galleries from all around the world. The fair will also present a series of special projects, including the Plugin, Sculpture Park, Artist in residence, and much more. Ali Güreli, Chairman, Contemporary Istanbul, explained that the fair will take a steering position in the coming month marked by vibrant days of contemporary art in the city, continuing to gather momentum by continuously renewing its objectives.
In addition to the inner workings of the fair, we are very much committed to the promotion of Istanbul and Turkey. Beginning in September and continuing during the next three years, there will be significant improvements to the artistic and cultural infrastructure of the city and CI sees as part of its above-mentioned mission, to promote these positive initiatives worldwide.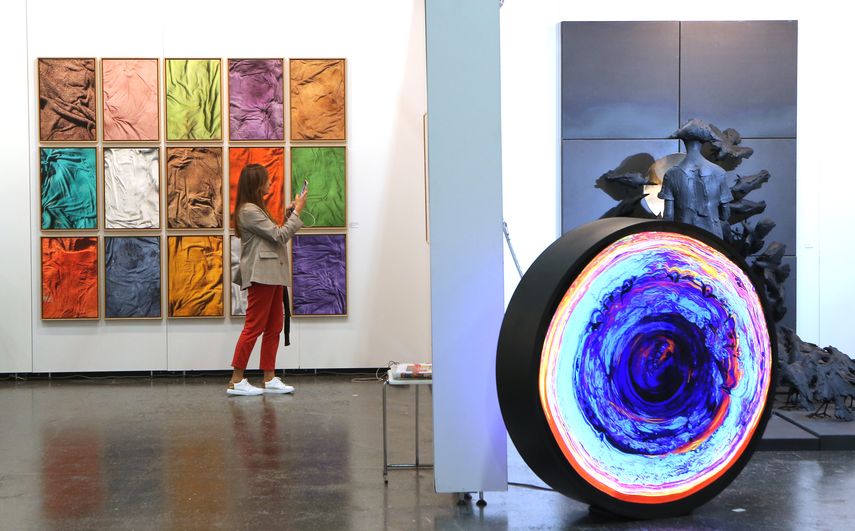 Participating Galleries at Contemporary Istanbul 2019
For its 14th edition, Contemporary Istanbul will feature 74 galleries from 22 countries, 510 artists and more than 1,400 artworks, offering global reach to the flourishing local scene and market. Continuing to build the fair's reputation for innovation, this edition will also see the expansion of the Gallery Support Program, which assists galleries with participating in the fair. The Artistic Director Anissa Touati explained that this year's program will reflect on the question of Mediterraneanism, exploring the unification of the basin.
The fair will welcome many returning galleries, such as Marlborough Gallery from New York, Barcelona, Madrid and London; Mark Hachem from New York, Paris and Beirut; Galerie Michael Schultz from Berlin; Project Artbeat from Tbilisi; Mobius Gallery from Bucharest; The Pill from Istanbul; and Pi Artworks from Istanbul and London; but also the newcomer ones such as HIGH ART from Paris; Galerie Krinzinger from Vienna; BARRO from Buenos Aires; LOVAAS Projects from Munich; LC Queisser from Tbilisi; and Zawyeh Gallery from Ramallah.
The List of Galleries
The Program
The accompanying program of Contemporary Istanbul 2019 will be rich and diverse, featuring a range of special projects.
The fair will present the Recent Acquisitions exhibition curated by Hasan Bülent Kahraman, which will showcase newly acquired artworks selected from 42 private collections based on the theme of things, words, signs: this and the other.
Dedicating a section of the program to new media and digital arts, the fair present Plugin, an exploration of the ways in which new media can be presented within the conventional format of an international art fair, encouraging visitor interaction with the works on view. Curated by Esra Özkan, director and curator of bang, the exhibition will present fifteen artists, including Farhad Farzaliyev, Azerbaijan; Jessica Boubetra from France, Orkan Telhan from Germany, Alex Guevara from Peru, Aykut Cömert from Turkey and Pınar Yoldaş from the USA.
The latest addition to the fair will be the Garden of Eden, an open-air sculpture park on the Lufti Kirdar Terrace bringing together works by ten artists, including Mikayel Okanjanyan from Armenia, Elsa Sahal from France, Ugo Schiavi from France and Guido Casaretto from Italy.
A special section featuring Art Platform will highlight artist-run-spaces, project spaces and independent curators, such as P.E.T. Projects from Athens; Studiocur/art from Paris, Ta(r)dino 6 from Baku, Motto from Berlin, and This is Blitz from Valletta.
This year's Artist in Residence program will host Pakistani artist Waseem Ahmed, who has been conceptualizing new work, which will be shown at the Gowen Contemporary booth, curated by Alexandra Pace, founder and director of This is Blitz, Valletta.
Further special projects at CI in 2019 include the premiere of a new digital work, DeepCity: Urban Environments in the Era of Surveillance Capitalism by Turkish artist and architect Güvenç Özel as well as a series of talks bringing together collectors, artists, and stakeholders in collaboration with Art-O-Rama. Touati commented:
I look forward to collaborating with Art-O-Rama, on our talks program titled Mediterranean Mindset, which will take place in Istanbul and Marseille, and which will be moderated by Salma Tuqan, Deputy Director, Delfina Foundation.
The Location of Contemporary Istanbul 2019
Practical Information
Contemporary Istanbul 2019 will take place at Istanbul Congress Center (ICC) and the Convention and Exhibition Centre (ICEC) from September 12th until September 15th, 2019. At First Sight Preview will take place on September 11th, from 1 to 4 p.m., the Preview will take place from 4 to 7 p.m., while The Vernissage will take place from 7 to 9 p.m. The VIP Hour will take place on September 12th and 13th, from 11 a.m. to 12 p.m.
The doors of the fair will be open to the public from 12 to 8 p.m. on Thursday and Friday, from 11 a.m. to 8 p.m. on Saturday and from 11 a.m. to 7 p.m. on Sunday. The ticket for the preview hours will be 300 TL (≈$51), for weekdays 100 TL (≈$17) and for weekends 120 TL (≈$20).
For more information, visit the official website of the fair.
Featured images: Contemporary Istanbul 2018. Photo courtesy Tolga Adanali. All images courtesy Contemporary Istanbul 2019.