For thousands of years, people have been practicing the craft of designing or creating textiles. First emerging from a necessity to fill basic needs, different cultures around the world took it to another level by developing methods of making artistic, creative and beautiful cloth that laid the basis for what we call textile art. The practice that involves weaving, knitting, pressing or knotting together individual pieces of natural or artificial fibers, textile making tradition spans global cultures as one of the earliest human technologies. Apart from providing shelter and warmth or holding goods, textiles also served decorative purposes and held an important place in arts and crafts of various cultures around the world.
Before the 19th century, all yarn, thread, and cloth were made by hand and it took a great deal of time and effort to gather fibers from plants or animals to make into yarn. The Industrial Revolution brought a revolution of textiles technology and the methods and materials used to make them expanded enormously. In the 20th century, artists began to use textiles in new contexts and fabric and string as a medium have provided almost infinite possibilities in modern and contemporary artistic practices.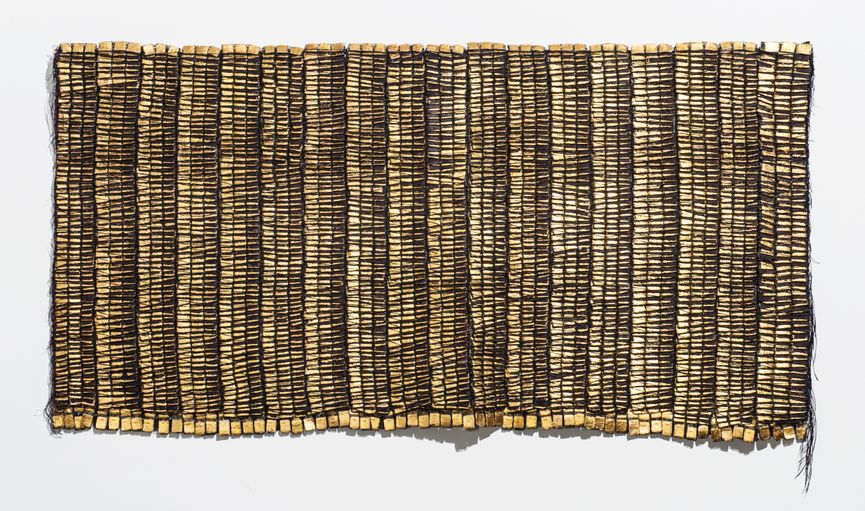 Ancient Textile Arts and Crafts
Textiles have been a fundamental part of human life since the beginning of civilization. In the early Islamic period, they played a significant role in the society. With a highly sophisticated manufacture, complex designs and costly materials such as silk and gold- and silver-wrapped thread, textiles were treated as luxury goods in the Byzantine and Sasanian traditions. In the 17th century, Persian aristocracy used rich textiles for clothing, as well as for decorating walls, floors, and furniture in their magnificent palaces. Their woven silk textiles inspired by poems and miniature paintings have served as a great inspiration for contemporary designs. Focused mainly on kilims and different wall hangings, Turkish textiles produced during the Ottoman Empire were among world's finest ones. Turkish fabric-weaving also provided a medium for the arts of embroidery, hand-painting and block printing. The silk tradition in China dates back to around 3639 BCE, and it involves elaborately patterned jin brocades, complex gauze weaves, and intricately embroidered textiles. With artistry and technical accomplishment that still amaze modern viewers, the demand for Chinese silk textiles was very high in many distant lands of the time. Japanese textiles were a badge of social status and they signified one's age, rank, gender, social, political and religious affiliation through motifs, color and garment shapes. The history of textile is also interwoven with the history of international trade, as items such as the Tyrian purple dye, Chinese silk and other luxury fabrics were important trade goods among countries. The history of textile is very rich and complex and traditions such as weaving, tapestry making, fabric dying, embroidery or quilting are ancient. Today, artists are using these methods to create new and exciting works.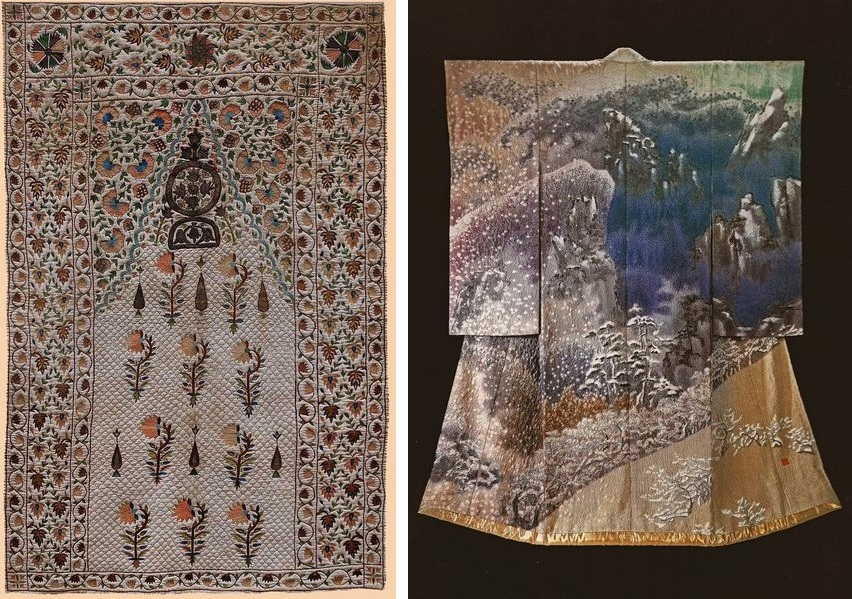 From High Art to Feminine Craft and Vice Versa
The Industrial Revolution completely changed the production and consumption of textiles in nineteenth-century Europe. As textiles could be produced more quickly and cheaply, they became available to a large portion of society. Various textile and fiber arts and crafts such as sewing, weaving, embroidery or quilting, penetrated average households as activities mainly reserved for women. As often part-time and casual activities done at home, these crafts were identified with domesticity and women's creativity and thus devalued and described as non-productive. What was regarded as a high art form practiced by both men and women since ancient times was demoted to a "feminine craft" that was characteristic of an attractive and thrifty wife.
The reintroduction of textiles and fiber in "high art" began with the Feminist movement in the 1960s and 1970s. They have reclaimed this realm to include artistic practices that had traditionally been relegated to the lower status of "women's work". Judy Chicago has founded the first feminist art program in the United States and collaborated with many creatives working with textile and fiber arts. Her art installation Dinner Party from 1979 was one of the first acclaimed art pieces that included needlework and fabrics and it functioned as a symbolic history of women in Western civilization. Other ones who have contributed greatly to this shift were Gunta Stölzl, a German artist who played a fundamental role in the development of the Bauhaus school's weaving workshop; Anni Albers, an artist who created weavings and came to define pictorial textile art; Sheila Hicks, an artist who blurred the boundary between painting and sculpture with her woven and textile works; Faith Ringgold, best known for her painted narrative quilts; Olga de Amaral, a Colombian artist known for her large-scale woven abstract works covered in gold and/or silver leaf; Elaine Reichek, an artist addressing issues such as the craft and art divide, the nature of women's work, and the interplay of text and image through embroidery, and Alighiero Boetti, best known for his Mappa series that includes the embroidery work of Afghan craftswomen. All of these practitioners and many others started bringing textiles and fibers into new contexts and exploring social and conceptual implications of their usage, paving the way for generations of textile and fiber artists to come.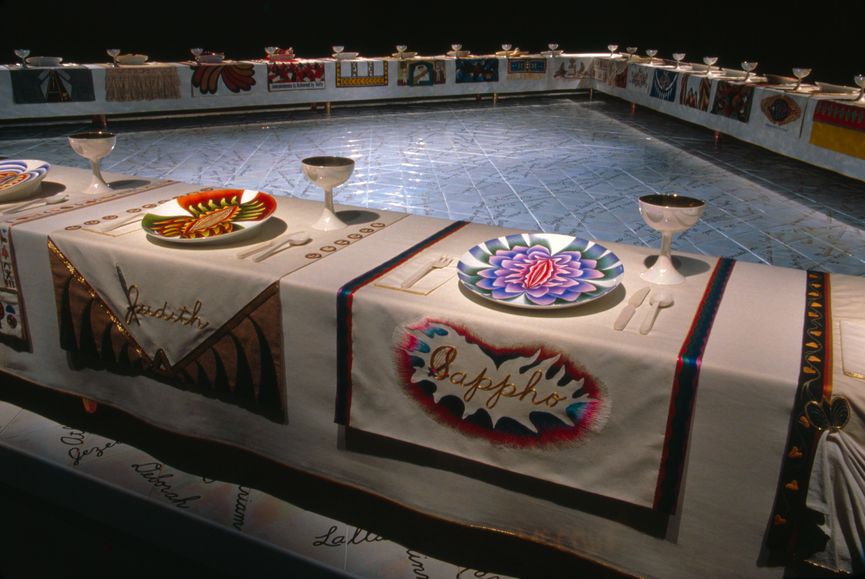 Contemporary Textile Art
Ever since the 1980s, textile arts have been developing new forms and language involving many creatives along the way. Influenced by postmodernist ideas, textile and fiber work has become more and more conceptual. Various creatives are now experimenting with techniques, materials and concepts, completely pushing the limits of the medium. These re-born practices such as embroidery art, weaving, quilting, crochet and many others, have placed a new focus on the work that confronted social and political issues such as gender feminism, domesticity, women's work, and identity politics. Yet, not all fiber artists are feminists or even concerned with the political and social connotations of fabric arts. They simply employ textiles and threads as a painting and sculpting material.
Today, contemporary pieces explore a variety of textile and fiber practices and techniques that provide a myriad of possibilities. The Portuguese artist Joana Vasconcelos frequently incorporates crafts like knitting and crochet into her art to explore ideas of womanhood, nationality, and family. Using embroidery, yarn, and wool, the Peruvian artist Ana Teresa Barboza creates landscapes and various other imagery that exist between tapestry and sculpture. Mimicking the flow of waves or grass, her pieces seem to tumble its embroidery hoop. Exploring the assertive manifestations of the interplay between public and private ways of being, the Korean-American artist Mimi Jung creates constructions and woven wall pieces. Approaching the modern discourse of the self through the practice of weaving, she explores the personal solitude as a fragile state. The Berlin-based artist Nike Schroeder creates stunning embroidered illustrations both intricately composed and unfinished at the same time and more abstract works that involve threads that emulate the appearance of dripping paint. Throughout her practice, she explores the idealized beauty of the female form. The Chinese artist Lin Tianmiao explores the relationship between tradition and modernization through installation and textile works. In her works, she incorporates materials and objects typically associated with women. All of these creatives and many more continue to build the important legacy of different fabric arts reinventing the medium in various ways.
Editors' Tip: Textiles: The Art of Mankind by Mary Schoeser
As the most ubiquitous, diverse and consistently creative art form on the planet, textiles have been present in different cultures for several centuries. This comprehensive study comprises more than thousand images showcasing the diversity, beauty, simplicity or complexity of this art practiced all around the world. Offering an insight into the role that textiles have played in different societies, she juxtaposes historical and contemporary examples highlighting the skill and creativity. In this richly illustrated book, you will see the variety and allure of textiles, including histories of private collections. This emphasizes the importance of context for appreciating the exquisite detail of fabric and cloth. The book also features an extensive resource section with valuable information about museums and textile associations around the world.
Featured images: Joana Vasconcelos - Trafaria Praia, 2013, via installationmag.com; Nike Schroeder installation, via artsyforager.com; Mimi Jung installation, via sightseen.com; Ana Teresa Barbosa Embroidery, via lefilconducteurinenglish.wordpress.com. All images for illustrative purposes only.