Along with the 26th edition of its sister fair Art Miami, CONTEXT Art Miami fair will take over 250.000- square-feet Miami's Wynwood Arts District by the storm! To make this year's Miami Art Week even more exciting, the event has developed an impressive line-up of international exhibitors and carefully planned accompanying program, consisting of a series of solo artist projects, curated spaces and special projects. After the enormous success of the 2014 edition, which attracted more than 14,000 collectors, curators, artists, designers and connoisseurs during the preview and over 82,000 visitors over the course of six days, CONTEXT Art Miami fair 2015 continues to be a primary destination for serious collectors, offering important works of arts. To do so, there will be more than ninety international exhibitors, which will provide a promotional platform and cultivate a meaningful relationship between galleries, artists, curators and collectors.
CONTEXT Art Miami Floor Plan
Special Fair Projects
To highlight this year's special projects there will be four curated shows, involving a number of galleries and artists from different places around the world. The first is ART FROM BERLIN - The Galleries Association of Berlin (LVBG), which will offer an insight into the city's versatile scene through an exhibition installed in the BERLIN LOUNGE. Taking part are five local spaces, each bringing three names. Another show is SOUND POSITIONS, curated by professor Christoph Cox, dedicated to the work by an international selection of 12 emerging and established sound creators. WAYPOINT will present a film series debut from Wet Heat Project and the Division of Fine Arts & Cultural Affairs at the Miami International Airport. Entitled We Make Passage, the film documents the encounters between Miami-based art makers and people working at the MIA. It will be screened on December 1st at CONTEXT's special project space, along with the artworks created for the project, as well as at WAYPOINT's large-scale video screen at the airport. Last but not least, there's the Galleries Association of Korea, with its ten spaces and thirty creatives.
When it comes to special solo exhibition, be sure to visit the following booths and their respective artists: Dubner Moderne with Viviane Rombaldi Seppey; Knight Webb Gallery with Juliane Hundertmark; Mugello Contemporary with Mr. Herget; Paralelo Gallery with Isabelle Borges; Salamatina Gallery with Marc Andre Robinson; Sandra Lee Gallery with Jung San; Tezukayama Gallery with Satoru Tamura.
As part of an extensive program featuring leading art experts and engaging the audience in talks, discussions, educational programs and panels, CONTEXT Art Miami has partnered with ONE ART NATION. These will take place daily at the fair's cafe. Some of the highlights of the program include a panel dedicated to home design focusing on the display of collectible art, the trends among the next generation of collectors, the way an artwork's condition can affect its value, a discussion dedicated to Street art, from vandalism to gentrification, and a talk dedicated to Miami art scene.
List of Exhibitors
The Participants
This year's CONTEXT Art Miami will present as many as 95 international spaces and projects from 20 countries and 53 cities. At the fair, there will be the works of more than 540 emerging and established names from 60 countries, carefully selected and curated by an advisor/curatorial committee. Among them, New York gallery Anna Zorina with the work of 16 creatives, Black Book from Denver, bringing along names like Alexis Diaz and Ben Eine, Fabien Castanier with the Miaz Brothers (on view as we speak at their space in Bogota), Mark Jenkins, Speedy Graphite and JonOne, among others. Alex Gross and Kevin Cyr, along with two other artists, can be found at Jonathan LeVine, more than twenty creatives will take over the booth of Munich's Heitsch Gallery, while at Miami's m+V Art, check out David Hayes and Ramon Laserna. Finally, N2 Barcelona is coming with eight names, among which Evan Roth, David Moreno and Valentina D'Amaro.
The Map of CONTEXT, Art Miami and Aqua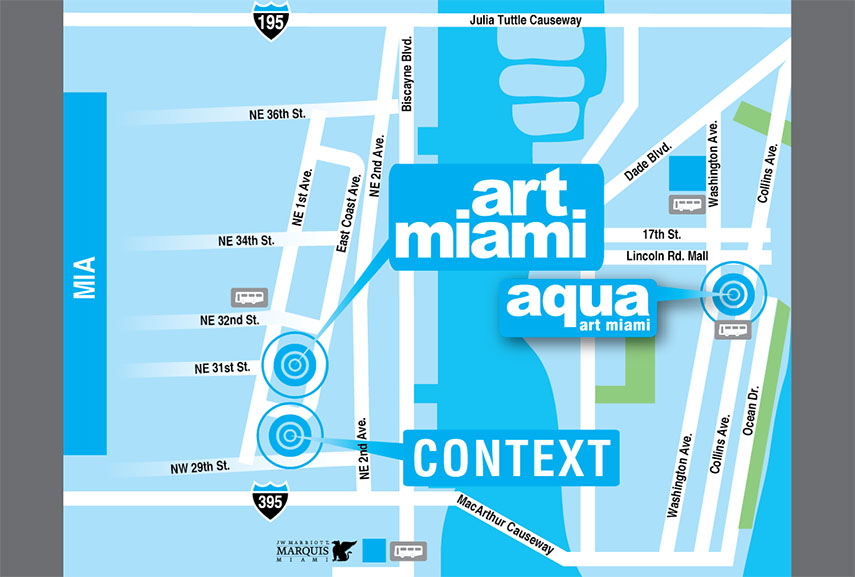 CONTEXT Art Miami - Practical Visitors Information
CONTEXT Art Miami fair will take place in Miami's Wynwood Arts District from December 1st through 6th, 2015. The Press and VIP Preview are scheduled for December 1st from 5.30pm to 10pm (for CONTEXT, Art Miami & Aqua VIP card holders and members of the press). Fair hours will be from 11am to 8pm every day; until 6pm on closing day. Ticket prices range from $40 for One day pass (admission to CONTEXT only), $85 for Multi-day pass (admission to Art Miami, CONTEXT and Aqua), $25 for seniors over 62, and $15 for students between 12 and 18 years of age and groups of 10 or more. Entry is free for children under 12 if accompanied by adult. For more information, visit the official website.
Featured artwork images in slider: Rune Guneriussen - Quality of Present Interaction, 2014. C-print, dibond, laminate. Edition of 5, 150x198 cm / 59x78 in. Courtesy Waltman Ortega Fine Art; Atlas of common places, 2015. Mixed media on paper, Variable dimensions. Courtesy Galeria Enrique Guerrero; Robert & Renato Miaz - Woman I, detail. Acrylic on canvas, 64 x 51 in. Courtesy Fabien Castanier Gallery; Left: Umberto Ciceri - Hypretrait n.950 - FEMALE. 12 pieces, 51 x 51 xm each. Courtesy White Room and Liquid Art System / Right: Juan Carlos Rivero-Cintra - Metafora de la Memoria No. 31, 2014. 130 x 85 cm. Courtesy Beatriz Esguerra; Ik-Joong Kang - Happy World Letter M telephone and Reel, 2012-2015, detail. Mixed Media on wood, 47 x 47 in. Courtesy Kang Collection. All images provided by CONTEXT Art Miami.