Every fairy tale begins with lightness and darkness. The story then takes us on a journey, a path of self-discovery, where we must fight and prevail even though we are all the time staring death in the eye. Using symbolism and 'modern' iconography the paintings of artist Copyright are mini-narratives that reflect our journey and the inner rationalization of life that exists and guides all of us. His paintings, his urban tales, reflect on the notion that every action has a reaction and are metaphysical reflections of the duality of inner feelings and life's elements.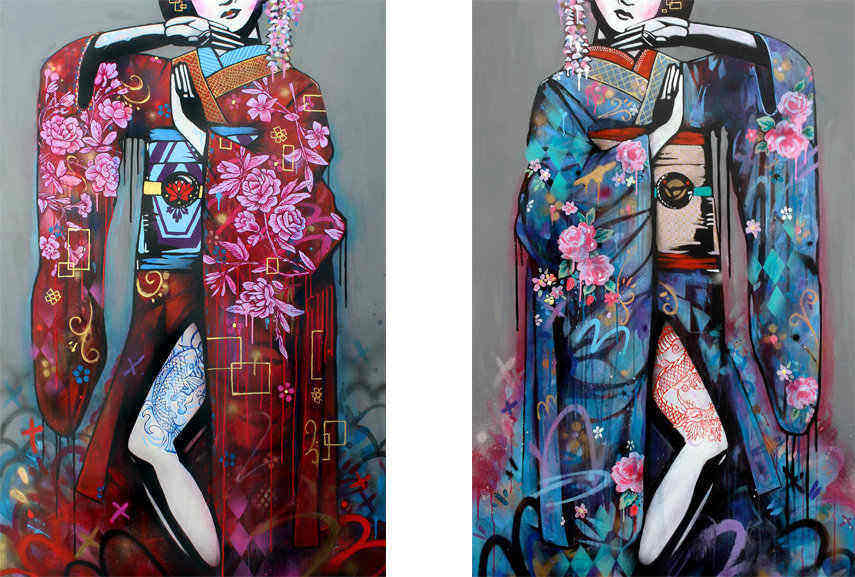 The Beginning for Copyright Artist
For years, the UK streets were painted with pink roses, Copyright's trademark. The beginning in street art never left the artist and he continued his work with the fusion of street art, graffiti and more traditional styles. Advancing from his beginning, Copyright often takes the composition and the atmosphere of renaissance art, playing with timeless subjects in a new vs. old iconography. Experimenting and using different techniques in his approach to painting, creating depth with the spray can, texture with the use of a paintbrush and the print style with the stencil, Copyright creates paintings that could be viewed as symbols of the eclectic nature of our present.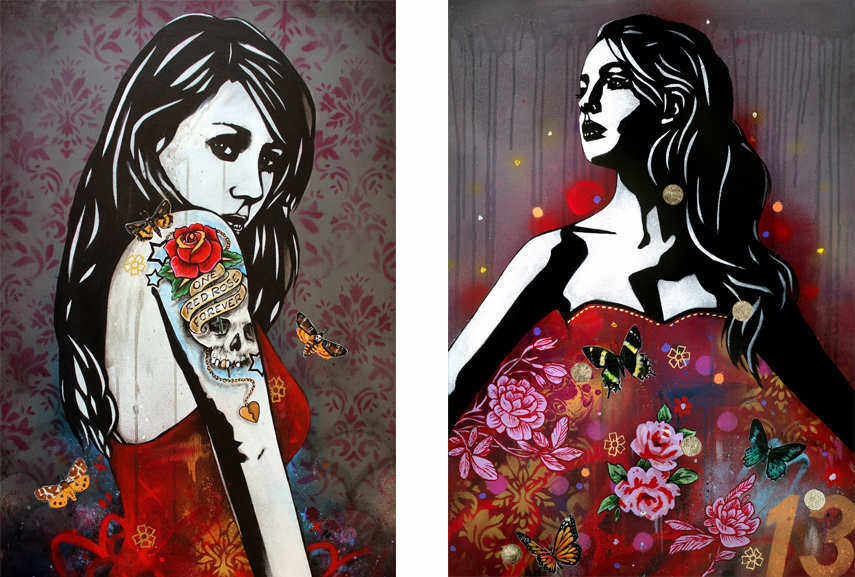 The Princess
Even thought the artist represents the ideal from the modern world and culture, he does it with a twist. Often using imagery of simple beauty portrayed by flowers, butterflies and beautiful women his paintings showcase the idealization and the contradiction of unapproachable and illusionistic beautiful princess portrayed in fashion, music and popular culture. His highly stylized and unique style has proven popular and the artist received invitations to design the cover from Reload Magazine, Harper Bazaar, Teen Vogue and Modart, among others. His images must always be viewed with one thought in mind- that there is always an opposite of what they showcase.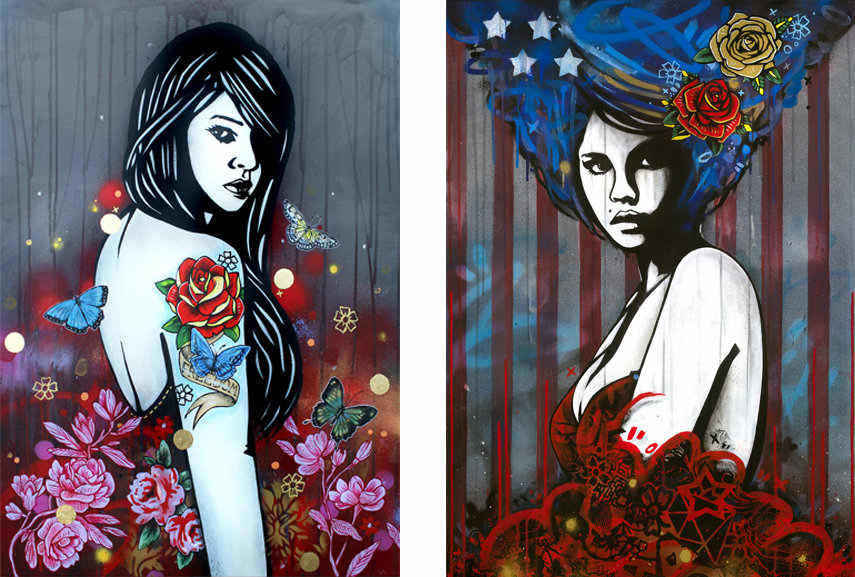 Copyright's Fables at Vertical Gallery in Chicago
Over the last decade Bristol, UK based artist Copyright has been invited to show his work worldwide, including sell-out solo shows in London and Tokyo. His debut USA exhibition Fables, Vertical Gallery proudly presents from March 5th – 26th, 2016. The public will get a chance to meet the artist during the opening reception Saturday, March 5th, 6-10pm.
Focusing on the acceptance of different dualities in life, Fables is an introspective exhibition depicting themes of life, death and birth. By embracing the joy of life or overwhelming feeling of loss, Fables is an urban fairytale that reflects life's journey. The story told is one of beauty and acceptance of light and darkness, joy and sorrow. His beautiful women are female warriors that will always fight and be ready for a new journey that will create a new fairy tale.
All images courtesy of Vertical Gallery in Chicago. Featured images in slider : American Princess Print Ed 50 (detail); Icon 2.