Bartek Swiatecki, better known as Pener is a Polish graffiti artist, active since 1996. When he started tagging his name at the age of 15 across his home town of Toruń, he probably was not thinking about having solo exhibitions. Well, there it is, his 8th solo exhibition called Cosmogramma at Inoperable Gallery in Vienna.Pener's exhibition is a result of the continuous practice of mixing abstraction and traditional graffiti. Being a part of the Graffuturism movement, Pener is dealing both with studio and street art work, and he is participating and enjoying in Poland's prominent spot in the latest urban art achievements.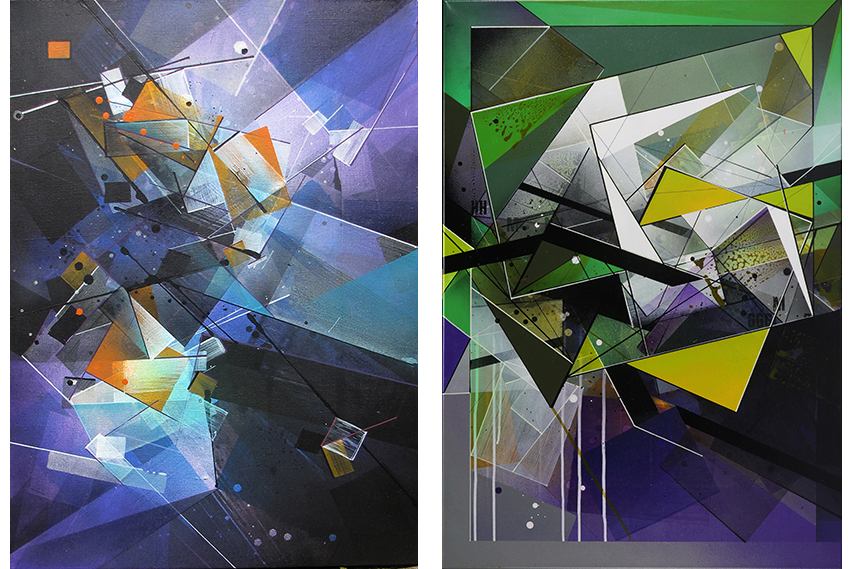 Pener and Cosmogramma
The letters from the beginnings of Pener's art practice seem to be dissolved into a different cosmic reality. The works are engaging the viewer into the more subjective dialogue with only glimpses of codes needed for deciphering the message. His experiments seem like a great endeavor, sacrificing the previous world shaped by the letter, but still having some ghosts of it remain as a reminder. For that reason, we cannot leave out his graffiti art background story. Still, his dynamical art is not only limited to canvases, but Pener brought it back to the walls of the cities around Europe and Poland, bringing them back to life with the design that has deep references in futuristic architecture, and with the geometric dynamics of the Futurism movement itself.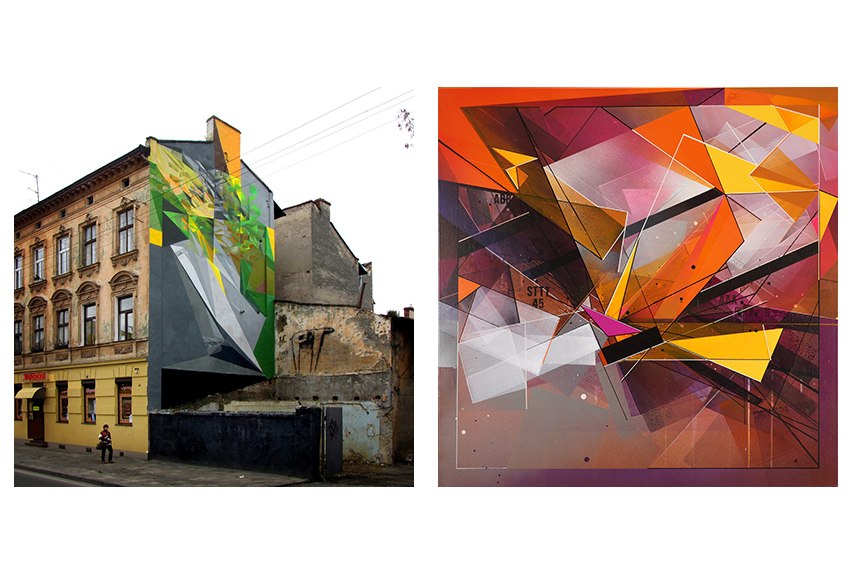 Graffuturism of Pener
Stylistically Pener's canvases cannot be seen only through the geometrical values and measurements intertwining on the canvases. It is much more than colorimetric value of a certain painted field. You can see the process of the graffiti art typography melting in front of your eyes, forming shapes with a message and emotion, suggesting what might have been there, what have the words might have said and maybe give a clue on why are they still disappearing. In the world where the communication has become more direct but mediated, we are facing Pener's idea of more vague but immediate communication.
Pener's Cosmogramma at Inoperable Gallery
At Inoperable Gallery, you'll be able to see Pener's canvases that serve as a sequel to his Deconstructions series also found in his self-published book in 2013. Besides practicing street art for almost twenty years, Pener does not lack formal education, since he has graduated from the Faculty of Fine Arts in his hometown and since 2008 he has taught drawing and painting at the School of Art in Olsztyn. Pener and Inoperable Gallery seem like a perfect match, since the Vienna's gallery is specialized in dealing with contemporary urban culture with a focus on street art.
Opening event for Pener's Cosmogramma at Inoperable Gallery in Vienna is at 19h on Thursday May 7th, 2015. The exhibition is open for visitors from May 8th until the June 27th 2015.
Be sure not to miss any event never by signing up for My Widewalls NOW!