The contemporary moment is suffocated with various social and political problems which affect the whole humanity one way or another. It is characterized by an ongoing process of globalization which has brought various positive things, but negative as well. Especially the indigenous people living in remote areas around the world became exposed to it because of their different living practices.
A number of contemporary artists deal with this specific theme, yet when it comes to the field of street art there is Cranio, a prominent Brazilian author. For quite sometime this prolific figure has been producing vivid and socially charged works, and the latest series titled Jungle will be displayed at the Vertical Gallery.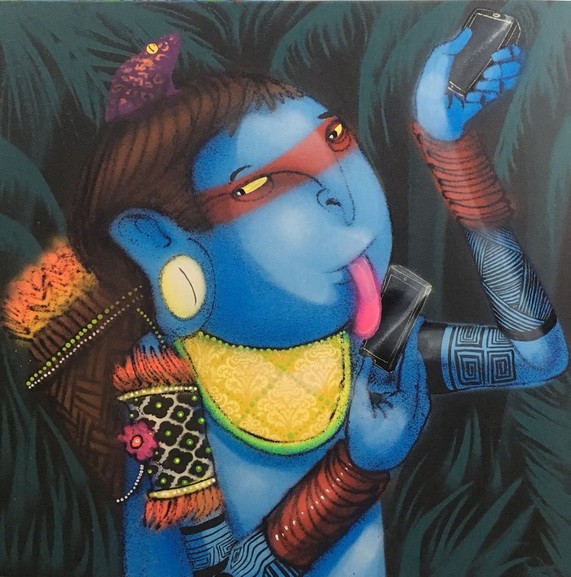 The Activist Potentials of Cranio's Art
Fabio de Oliveira Parnaiba, also known as Cranio, is a contemporary street artist present on the local and international scene for two decades now. His first works were released on the streets of his native Sao Paulo and as the time passed by he managed to establish recognizable figurative style embellished with humor.
It can be said that Cranio creates hybrid pieces somewhere on the verge of fine and street art. By combining personal experiences and current issues from local and global context, the artist creates staggering and bold works which reflect his interest in topics like consumerism, political corruption, and environmental disaster.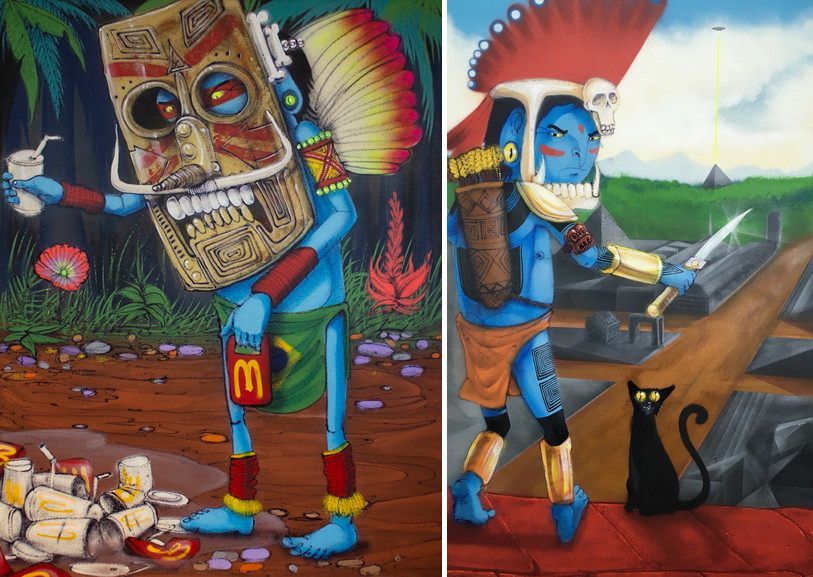 The Story Behind The Jungle
Cranio's trademark is blue Indian figures which inhabit his world and logically they represent the indigenous people of Brazil. They are depicted in a state of confusion or disorientation which is indeed their true position in a contemporary world.
By contrasting the spiritual blue Indians and contemporary issues, Cranio tends to support this community and show how their traditional lifestyle is endangered.
The artist deliberately makes these compositions humorous in order to enhance the effect and warn how the indigenous people are being presented and exoticized.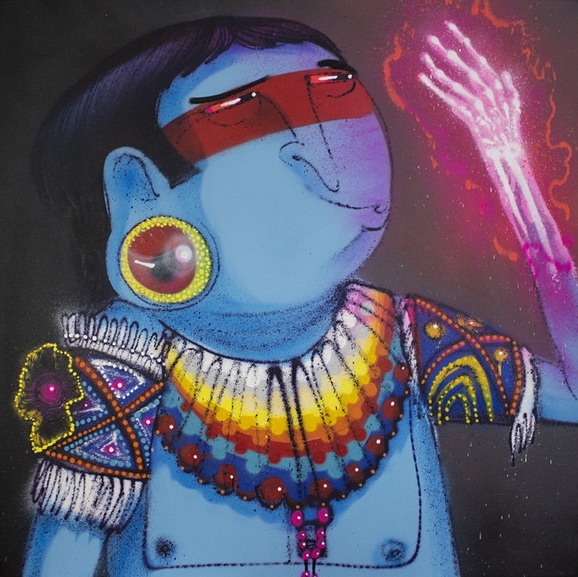 Cranio at Vertical Gallery
Cranio's rising success is an effect of the iconic murals he painted in cities across the globe, so it is not unusual that he is considered as one of the biggest pop-contemporary artists on the global scale.
Aside from that fame, it is apparent that these works are driven by the artist's need for immediate dialog around the important questions of human and environmental issues, so undoubtedly they can be perceived as his own tools for social struggle.
Chicago's Vertical Gallery decided to host his latest solo exhibition titled Jungle featuring a brand new selection of paintings and drawings.
The opening reception is scheduled for 4 August from 6 to 10 pm, and the public will have an opportunity to see the show until 25 August 2018.
Featured images: Cranio – Chuva vida da selva, 2018, detail. Spray on canvas, 120 x 100 cm; Guerreiro, 2018. Spray on canvas, 70 x 70 cm. All images are courtesy of Vertical Gallery.