The Brazilian artist Cranio is best known for his distinctive and trademark characters of tribesmen, living off the spoils of selling off their land.
Emerging from the desire to show indigenous people from Brazil and all the troubles they're facing in the unforgiving contemporary world, these characters can now be found in a range of situations that provoke the viewer to think about issues like consumerism, identity, corrupt politicians and environment.
The artist is now bringing his Blue Amazonians to Amsterdam in an exhibition at Vroom & Varossieau. Titled Dreams of Heroes, the show presents a new body of work that places these superheroes into an Amazonian fantasy world.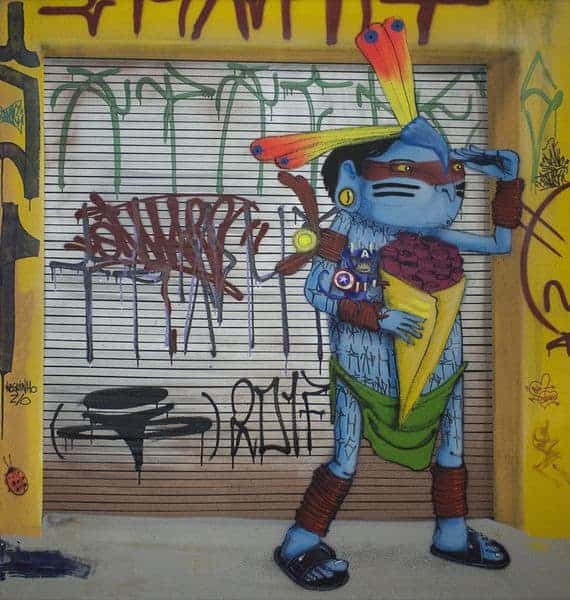 Dreams of Heroes
Incorporated in a variety of situations, Cranio's Blue Amazonians shed some light on the problems that the indigenous people of Brazil face in the modern world.
In this latest body of work, his distinctive indigenous tribesmen interact with the superhero realm in everyday situations. Employing his characteristic sense of humor and a keen eye for detail, he presents us the fantasy world of the everyday person – a world where anything is possible and everyone can be the hero.
The viewers will also have an opportunity to see a very special collaboration between Cranio and Dutch-Ecuadorian photographer Cris Toala Olivares who focuses on underrepresented people in order to tell the world their stories.
Cranio painted his Blue Amazonians in two photographs that Cris took in Ecuador in 2014, creating a multidisciplinary work that crosses the boundaries between both photography and Street Art.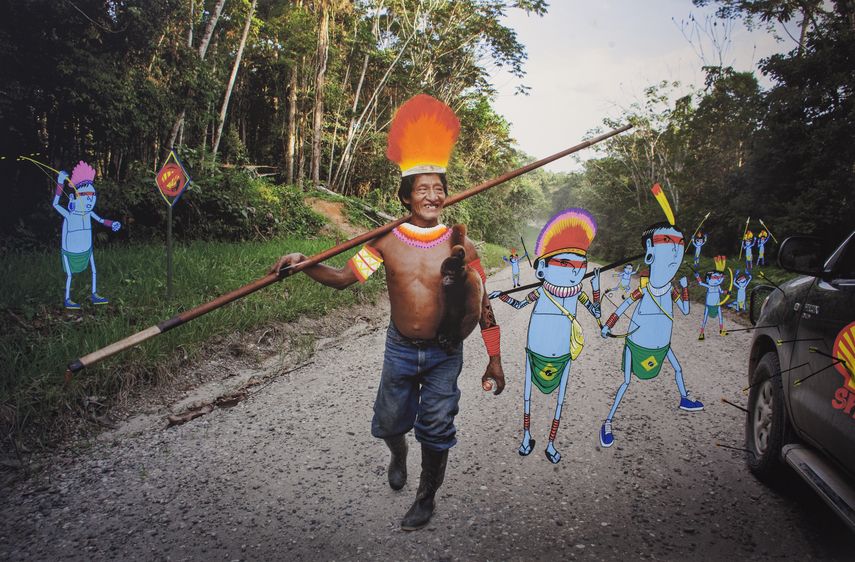 The Practice of Cranio
In his art practice, Cranio finds inspiration from life, the streets, cartoons and the famous surrealist Salvador Dali. Using a stereotypical image of Amazonian people, he depicts them wearing Nike sneakers, having smartphones or eating fast food.
By placing the characters in funny and curious situations, the artist creates a stark contrast between the spirituality of Blue Indians and the contemporary world they are facing, raising questions about ourselves and the society we live in.
Playing with textures, colors and contrast, he creates humorous works that are full of life and detail. Always working on developing and improving his techniques, he has never lost the style he is best known for.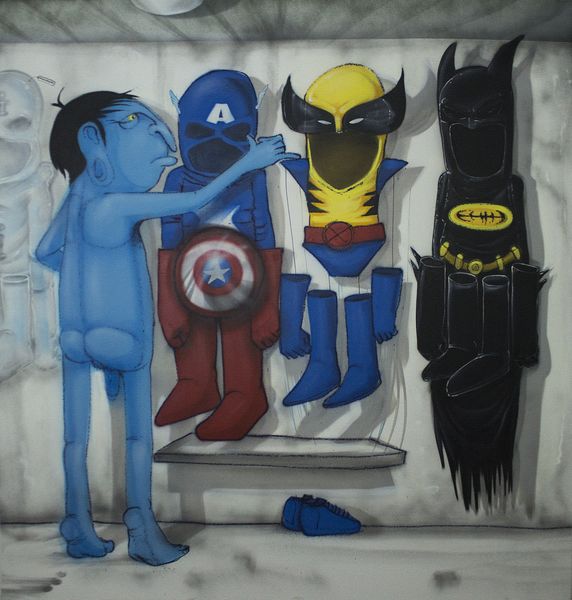 Cranio Art Exhibition at Vroom and Varossieau
These vibrating characters of Cranio always pass a message of important concepts we often forget in our lives. This latest body of work, depicting his distinctive characters in a fantasy superhero realm, will be shown to the public for the first time at Vroom & Varossieau.
The exhibition Dreams of Heroes will be on view at Vroom & Varossieau in Amsterdam from November 16th, 2017 until January 7th, 2018.
Featured image: Cris Toala Olivares x Cranio. All images courtesy of Vroom & Varossieau.