Brazilian artist Cranio returns to Spain for the second time for a show at Montana Gallery Barcelona, after his visits to Miami, San Francisco and London. The Catalan art space has previously hosted an exhibition of works by Peeta, who also ended up being our artist of the week for some great reasons. As for Cranio, he previously participated in a group exhibition of over 100 artists at White Walls and was part of a collaboration show of Pez at London Westbank Gallery, together with Sickboy and Cope2.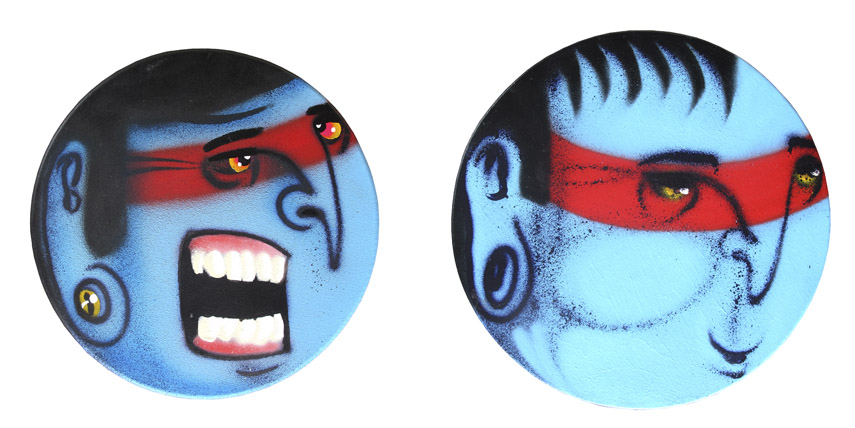 The Art of Cranio
Cranio was born Fabio Oliveira in 1982 in Sao Paulo. His art provokes the viewer to contemplate on the contemporary issues such as consumerism, identity, corrupt politicians and environment. Through his street art, he draws inspiration and pays homage to internationally known cartoons and the art of the famous Surrealist painter Salvador Dali, among other things. Over the years, Cranio's technique improved and his contexts expanded, but his artistic style remained the same, unique and easily recognizable. His goal has always been to bring art to the whole population, using contemporary language.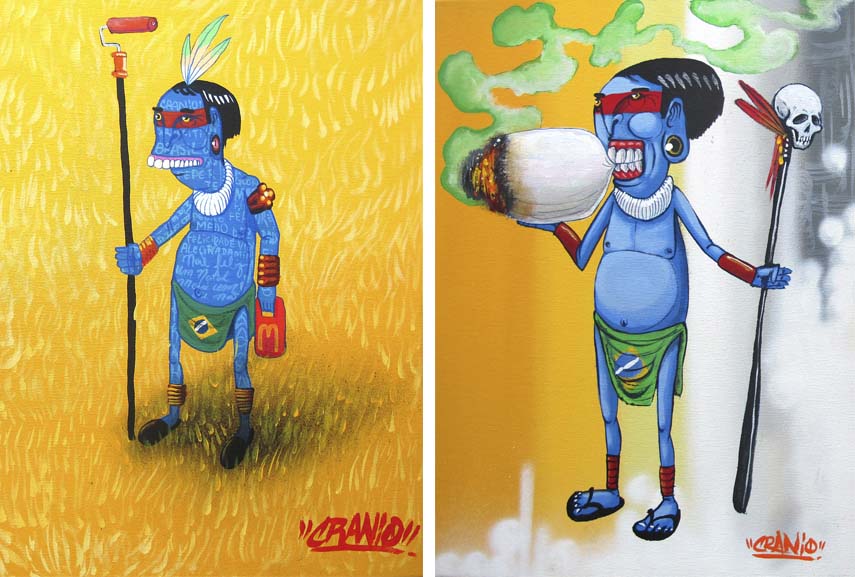 Amore$ at Montana Gallery Barcelona
The exhibition at Montana Gallery Barcelona will feature large-format canvases and small drawings made by the Brazilian artist, all reflecting the artist's everyday life situations and impressions. Touched by the events which affected his homeland Brazil, Cranio mixes them together and transforms his views of them in a positive tone and using a simple voice that reaches far. Topics like ethnical issues, the idea of a family, passion, the sorrows and joys of his people, art and the media, as well as the lack of water, for example, are all re-visited by Cranio's witty blue characters who speak the truth playfully, but loud and clear. His latest pieces of art carry a message against globalization and the exploitation of the Amazon rain forest.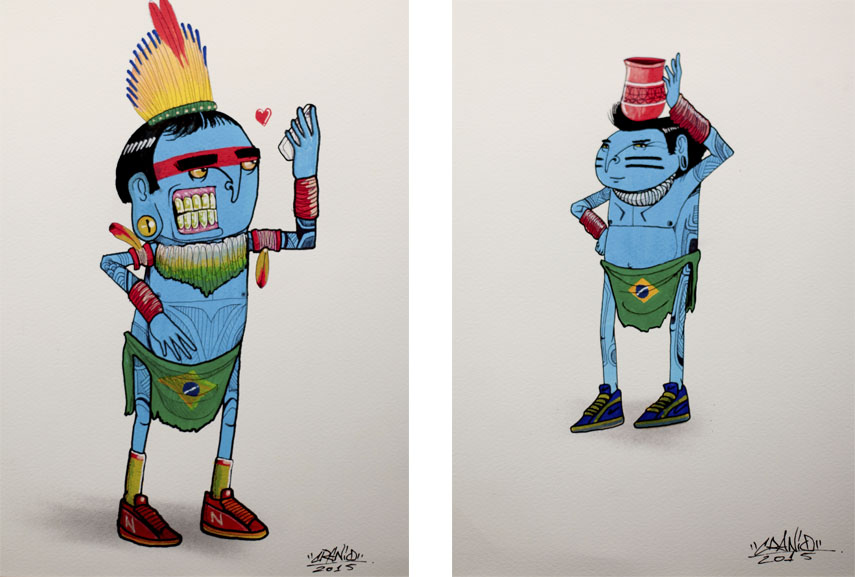 The Big Brains
Cranio got his nickname while in school, as "cranio" means "skull" in Portuguese. He started doing graffiti in 1998, taking notes from other local street artists. His artworks aimed to lighten up the walls of his city, considered the capital of graffiti by many. Last year, Cranio collaborated with the Swedish car brand Volvo, for which he contributed his trademark graffiti. For the 2014 World Cup, Cranio was commissioned by Nike to do art for a group exhibition in Rio de Janeiro about the Brazilian Football Team. However, he was also one of the opponents, having painted against World Cup on the streets.
The exhibition of works by Cranio, entitled Amore$, will be on view at Montana Gallery Barcelona from April 10th until May 22nd, 2015. The opening will be held on April 9th from 8pm.
Sign up for My Widewalls for more amazing street art!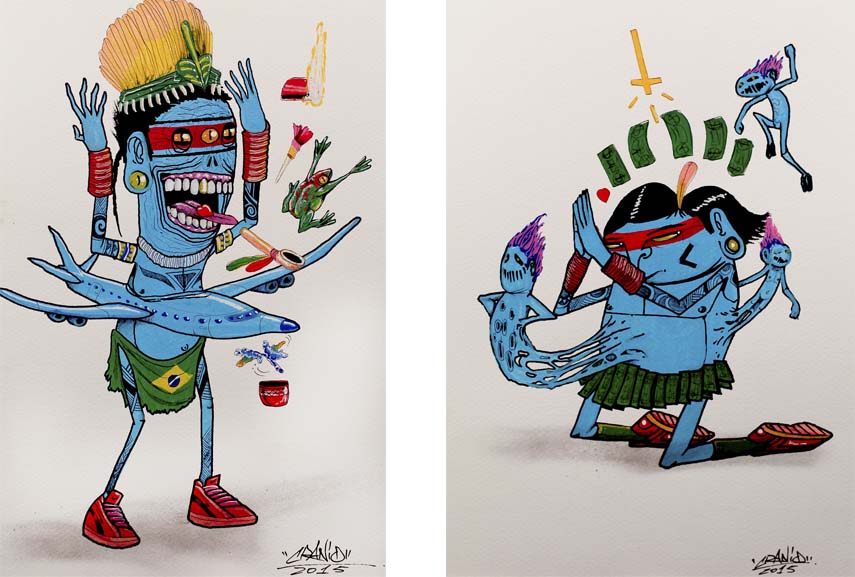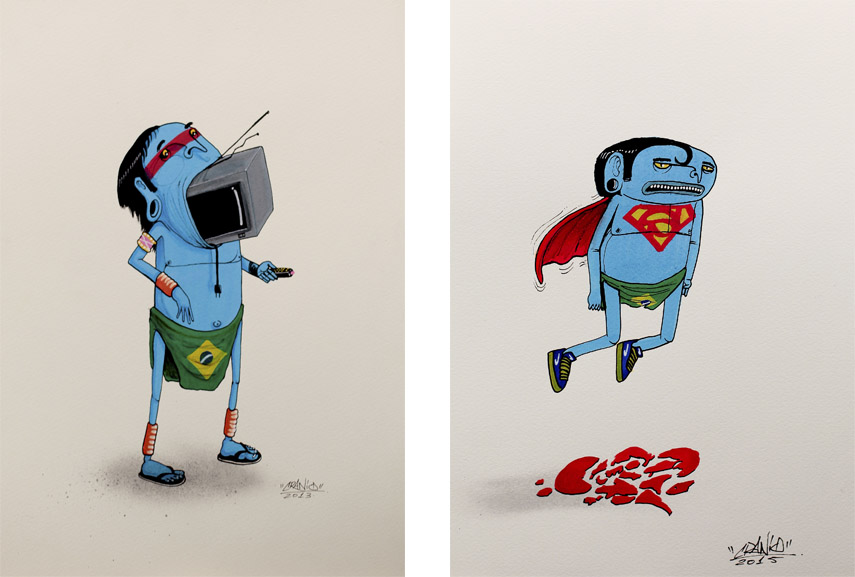 Featured images in slider: Cranio - Lovers, 2015. Spray on canvas, 250x170cm, $4370
Cranio - Bribe, 2015. Spray on canvas, 167x157cm, $3450
All images courtesy of Montana Gallery Barcelona