Amsterdam-based Vroom & Vaorssieau art space organizes a Cranio exhibition – a show featuring works by Brazilian street artist Fabio Oliveira (better known simply as Cranio). The exhibition is titled Amazonian Diet, while the works will bring some of the unique Brazilian spirit to the gallery, during the days when Brazil itself is going through turbulent political, social and economic period. In the past few weeks, we wrote about activities of Vroom & Varossieau – we wrote about the exhibition of Laser 3.14 titled Press Here for Some Counterculture (that was on view until May 15), and about the gallery's participation at the first Parisian urban art fair. Now, the time has come for Cranio's colorful artworks.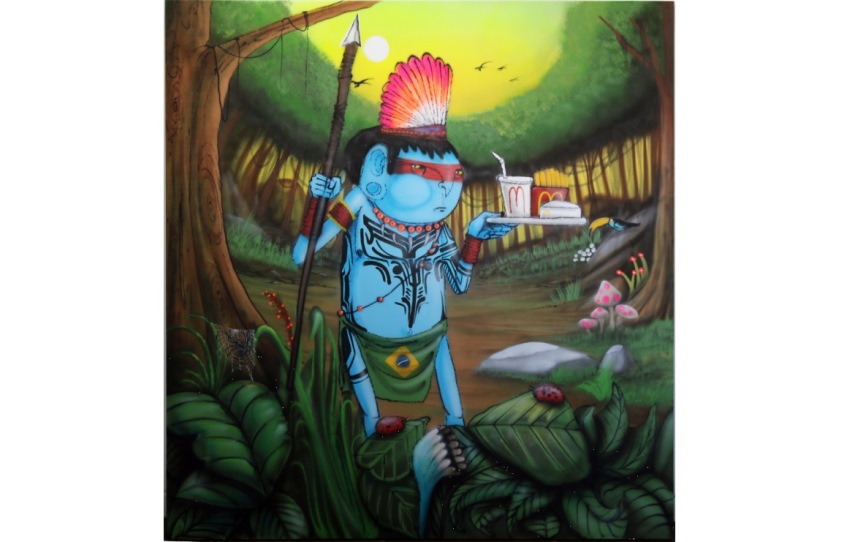 The Art of Cranio
Fabio Oliveira, or simply Cranio (which actually means "Skull") is a Brazilian street artist, born in 1982. Cranio grew up in Northern Sao Paolo, where he began his artistic practice. In 1998, Cranio started to work on the walls of his hometown, creating pieces with spray. He transformed the grey walls into beautiful, often quite colorful works, almost always characterized by high level of creativity, as well as with good humor. Although his style and technique have evolved over time, together with the themes he is dealing with, Cranio remains loyal to his original style. He is inspired by every-day life, cartoons, but also by famous Spanish artist Salvador Dali. His trademark blue Indians appeared as a consequence of the artist's will to represent the indigenous people from Brazil. And these Indians are always presented in funny and curious situations, however raising the important question of their position in contemporary Brazilian society. As one British collector said once: Cranio has developed a unique and significant group of characters who are not only vibrating, but also please to be seen. Furthermore, the images created by him always pass a message of important concepts we often forget in our lives. This set of qualities is what makes his art excellent to appreciate and great to think and philosophize about.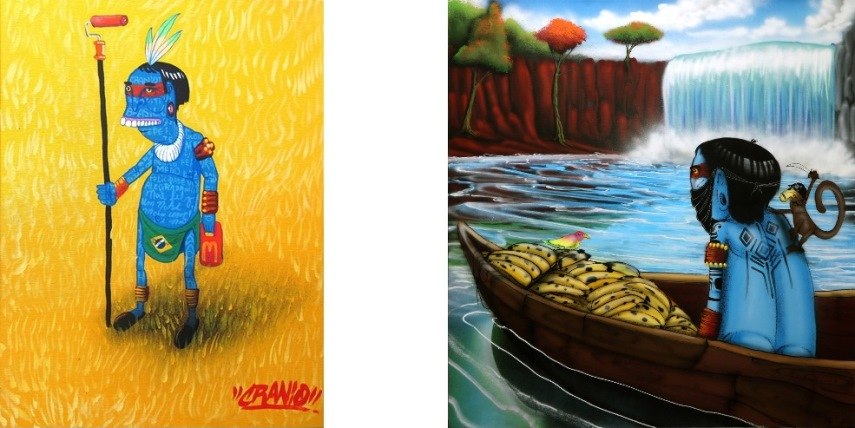 Amazonia Diet
The exhibition Amazonia Diet will feature Cranio's unique colorful works – colorful canvas, drawings, but also a large sculpture of his typical blue Indian character. But, one can also pose the question: Is there something behind Cranio's colorful works, with trademark blue Indians in funny situations? As we already mentioned, these blue Indians appeared as a result of artist's search to represent Brazilian indigenous people. By presenting indigenous people with McDonald's food in their hands, with Snickers chocolate, the artist provokes viewers to contemplate about issues such as consumerism, but also about environment issues, and corrupt political system that certainly affect the position of indigenous people of Brazil.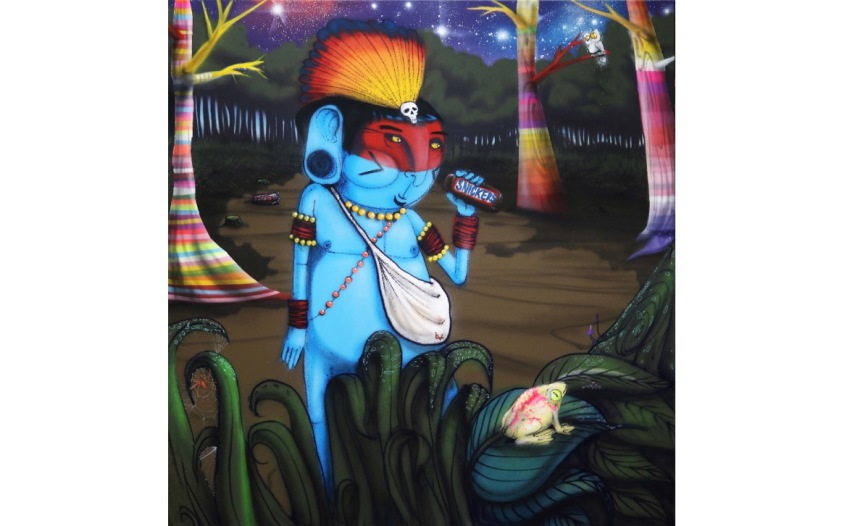 Cranio Exhibition at Vroom & Vaorossieau
As we already mentioned, Brazil is facing a quite turbulent period, with the upcoming Olympic Games, political and economic crisis. But, with all these news coming from Brazil, the questions about the position of Brazilian indigenous people are still marginalized. In the heated debate about Brazil's future, Cranio intervenes with a body of work that raises many questions about issues that are marginalized or neglected in these debates about Brazil. Both aesthetically and conceptually rich, the artworks that will be presented during the Amazonia Diet exhibition should definitely be seen. So, be sure not the miss the show! The Cranio exhibition will be on view from May 25 until June 26, 2016 at Vroom & Varossieau in Amsterdam (located near Museum Square in the heart of the Oud-Zuid district).
Featured Image:  Cranio - Falesias, detail, spray on canvas . All images courtesy of Vroom & Varossieau.