It is a sunny February day in Madrid, Spain. We're on our way to check on the mural-painting progress by Cranio, one of Brazil's - and the world's - most prominent urban artists.
On a big wall of Colegio Asunción Rincón, he is painting a lively piece, featuring three of his now famous Blue Indians, and while it was still half-way done when we arrived, it was already quite a complex piece, filled with the usual, yet every time original, symbolism and detail.
It was exciting for us to meet Cranio - as someone who got his nickname for being smart and who learned everything he knows about art and its creation on his own, he already had quite a reputation. Born Fabio de Oliveira Parnaiba in São Paulo, the artist began by covering the gray walls of his city using spraycan, improving his technique and elaborating on his style every step of the way.
Cranio's inspiration comes from life, cartoons, Salvador Dalī and of course the indigenous people from his native Brazil, which manage to fit in around the world, connecting the planet in unity and happiness.
At Urvanity 2018 in Madrid, Cranio's works were presented by Vroom & Varossieau, and aside from the mesmerizing large-scale pieces, their booth was also filled with smaller drawings, which the artist had done in collaboration with a very special someone in his life. It was a busy few days for him, but we're glad he managed to find a few moments to chat with Widewalls.
Cranio at Urvanity 2018
Widewalls: Let's start with the mural you painted on a school in Madrid, for Urvanity. As usual, your work is full of symbolism. Can you describe the mural to our readers?
Cranio: This mural has three shamans, who together symbolize protection, bringing balance and spreading peace. The shaman is considered one of the most important figures within the Brazilian indigenous tribes of Tupi-Guarani origin, used to refer to the figure of the counselor, healer, sorcerer and spiritual intermediary of an indigenous community.
I don't do drafts before painting the murals, I feel the environment and I create in the moment. I mixed my work of Brazilian identity with the ludic world, because it was the result of what I lived while I was painting.
The wall is inside of a school, they were delighted and amazed to have a mural there, the whole neighborhood congratulated me, I thought a lot about my son and I painted the mural thinking about this community.
Widewalls: Back at the Urvanity fair, you're exhibiting with Vroom & Varossieau. What can you tell us about those artworks? We hear you had an assistant for a few pieces.
Cranio: In these works, which are from Dreams of Heroes, where I bring some of my childhood, I play with the super heroes and present a few drawings and a canvas in collaboration with my 6-year-old son, Pedro. Bringing a reflection on the path of generations and reflecting on what is to be a hero.
Widewalls: What's it like to work with your son? Do you see him become an artist one day?
Cranio: Working with my son is amazing, everything happens very naturally, because I'm always painting, and he loves being in the studio with me.
He enjoys painting, I have several paintings painted by him alone, and we have many collaborations too, but I do not want to impose it as his professional destiny. His work went to an exhibition for the first time at Dreams of Heroes, which certainly was the perfect theme for him to attend.
Widewalls: What are your thoughts on Urvanity this year? Is this your first time in Madrid?
Cranio: The fair was really awesome. The best galleries and international urban artists. The show is growing and gaining strength, and Vroom & Varossieau is sure to attend next year.
It was my second time in Madrid, the first time I was on vacation in 2014, back then I painted a character in La Tabacalera.
Widewalls: You also painted a quick piece outside the LASEDE venue of Urvanity, and it's a portrait of a particular superhero. Why him?
Cranio: Batman is the only superhero that does not have superpowers. This makes me identify myself even more with him because he is a superhero very similar to ordinary citizens who seek justice.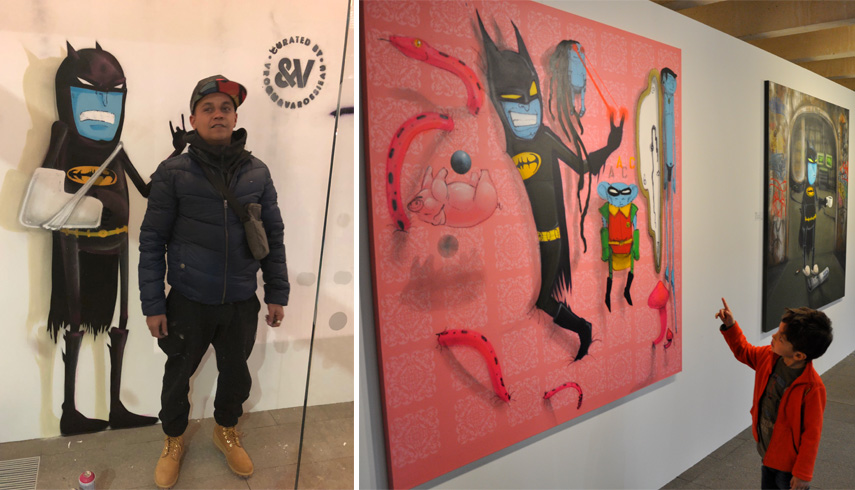 Honoring the Brazilian Identity
Widewalls: It is obvious that the blue Indian characters continue to inspire you. How do you come up with ideas of how they will look like, what they will do in your murals, where these murals are going to be?
Cranio: The blue Indian is my creation and my artistic identity. It was created several years ago, in my artistic quest to find a Brazilian identity in my work, and to represent my country through my art, but also represents all of us, contemporary society, living today in a "concrete jungle" in search for survival.
And to survive in this jungle nowadays is what makes my work seek and present situations of our daily life, relating this connivance with the capitalist and consumerist world and the relation of man and nature.
Widewalls: What's next for Cranio? Any exhibitions and/or projects coming up?
Cranio: I have some more exhibitions in 2018, besides that a few international fairs with Vroom & Varossieau. You can check the news following @cranioartes on Instagram!