Although modern times saw us develop an idea that our art is something unbound by any set of tangible rules, the truth is that we still condition the way we observe art to some extent.
This is just a side-effect of the way we are mentally constructed - we need to have certain parameters in place in order to sufficiently understand and categorize things around us.
One of these artistic axioms we'll be taking a closer look at today is the premise that appreciating paintings, with all their subtleties and details, requires a good source of illumination. After all, observing a painting is a visual experience and surely looking at it means that we need something to cast light on it, right? Well, if we were to ask Crisco that question, we're not sure he'd entirely agree.
Cristoforo Scorpiniti is the real name of Crisco, an Italian artist based in Bologna who looks to push the boundaries of how we perceive paintings. He challenges the idea that you can only appreciate a painting in full light with his artworks that, although lovely to look at in daylight, really come to life when the lights go out!
Crisco achieves this by using glow-in-the-dark paint to embellish his works, a practice that basically allows him to create two paintings within the same composition that, depending on whether the piece is in the dark or not, conceals one of the narratives. The works transition from day to night scenes as the surroundings get darker, allowing you to see things the gleam hides.
Scorpiniti usually depicts landscapes with this technique because the glowing paint really works best for natural scenes with presentations of trees, animals and vast starry skies.
Crisco art is all about journeys, introspection and personal growth. It focuses a lot on its ability to inspire the viewer, to give him some new-found strength and prepare him to meet the challenges of the world head-on - just like the already beautiful painting blossoms as it's introduced to dark, so does the viewer change and adapt to the surroundings, becoming something more than he was initially despite the obstacles placed before him.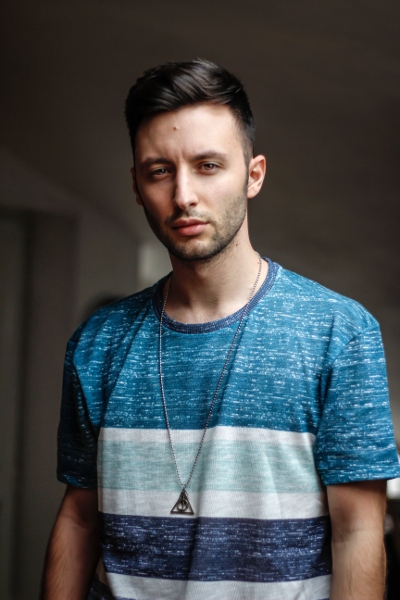 The Origins of the Practice
Widewalls: Can you tell us a little bit about your beginnings as an artist? Would you say you're mostly self-taught or were there sources that shaped your method to some extent?
Crisco: About 5 years ago, I started my artistic career as a self-taught artist. I have always admired many artists, even the most famous ones, and I tried to get the best from them - to learn how to compare myself with them and to get some moral lessons as well.
To be artists, we must involve our soul first, and then the technique we know best.
Over the years, I have experimented with various artistic techniques, in order to find my way.
Widewalls: Can you take us through your creative process a little bit? Is it spontaneous at all or do you prefer to plan ahead?
C: It depends - many times, in order to make ideas happen, you have to plan ahead first.
But often, especially when it comes to my most beautiful works, I never plan anything ahead; I follow my heart and I give my ideas life on canvas as they come to me.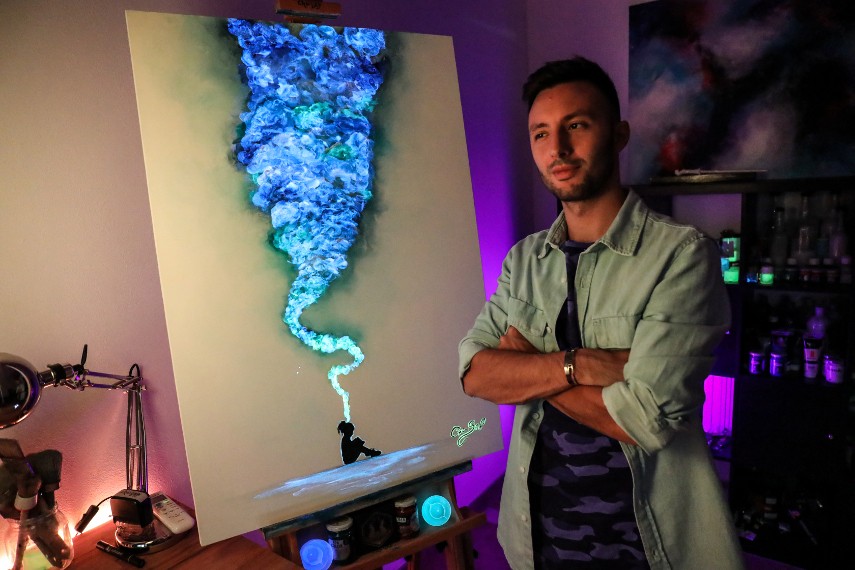 The "Glow in the Dark" Technique That Makes Crisco Art Possible
Widewalls: Besides painting on canvases, you also apply your designs to instruments. Where do these pieces fit into your overall body of work, how different are they in comparison to your other artworks?
C: The idea of paintings created on musical instruments has always fascinated me, and I always thought it would be very cool to make one.
The instrument makes the painting even more special thanks to its sinuous shapes.
These two combined make the idea compelling.
Widewalls: How much symbolism do the colors of your works carry within them? We suppose this is one of the backbones of your art, especially since the majority of your works have different colors depending on the amount of light present in a room.
C: The intensity or the color I use emphasizes the mood, while the silhouette defines the idea in a rather clear way, sending a message straight to the observers themselves!
Youtube Video - Crisco Art Painting "bring me to life" That is Glowing in the Dark!
What Crisco Glow Paintings Stands For
Widewalls: If we were to look beyond the astonishing visuals, would we find a common theme or a narrative that underlines all your artworks? Something all of them share?
C: Yes, there is a logical process in all this. The theme/message that connects the works is light, intended as a sign of hope…
As you could see, they tell moods and uncontaminated landscapes.
I love nature and I always draw inspiration from it.
Widewalls: What are the messages you wish to send and the reactions that you hope to provoke from those who view your art?
C: My aim was always to amaze the viewer, to try and create an indelible memory; as I said before, I always try to leave a message of hope and positivity.
Even at times of uncertainty, we should find a Light that guides us.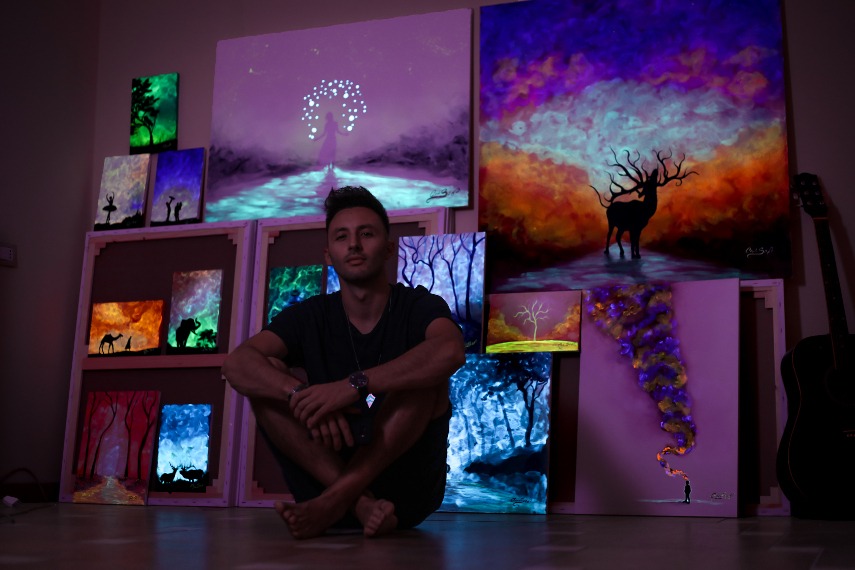 Looking Back as Well as Ahead
Widewalls: If you were to highlight just a few milestones that marked your career so far, what would you choose?
C: I think the desire and perseverance to believe in my dream day after day is a fundamental milestone in my path.
Widewalls: Can we expect some stylistic changes from you down the line? Obviously, you've enjoyed a lot of success with your work so far, but are you still willing to experiment and break new ground if necessary?
C: My style is constantly evolving, as I always look to improve and to amaze myself too. This always proves to be an inspiration.
Widewalls: Are there any notable projects you have lined up for the future? Is there something we can look forward to in the next couple of months or so?
C: I have a thousand ideas and projects in mind for the future, many of which I have already started this year with the creation of @criscoartfactory, a new laboratory that allows me to expand my ideas such as that of the glow in the dark pendants.
I am ready to amaze you with new and numerous works in 2018!
Featured images: Three photos of Crisco in front of his artworks; Crisco Art Kit. All images courtesy of the artist.