At a time when individual rights are being contested and those on the fringes of society feel ever more marginalized from mainstream political and social narratives, Barbican London aims to explore the relationship between photographers and alternative communities. Titled Another Kind of Life: Photography on the Margins, their upcoming exhibition will include rare crossdresser photography, along with photographs of prostitutes, hustlers, bikers, junkies, eccentrics, circus performers, street urchins and tearaways, gang members, back-street peddlers and survivalists. Presenting the outsider as an agent of change, the exhibition is part of their 2018 Season, The Art of Change, which explores how artists respond to, reflect and can potentially effect change in the social and political landscape.
Touching on themes of gender and sexuality, drugs and addiction, youth culture and minorities of all kinds, the show will feature the work of 20 photographers – from street photography to portraiture, vernacular albums to documentary reportage - including Paz Errazuriz, Pieter Hugo, Mary Ellen Mark and Dayanita Singh. Perhaps the highlight of the exhibition is a collection of photos from Casa Susanna, a secreted-away New York compound for the crossdresser community of the 1950s and 60s.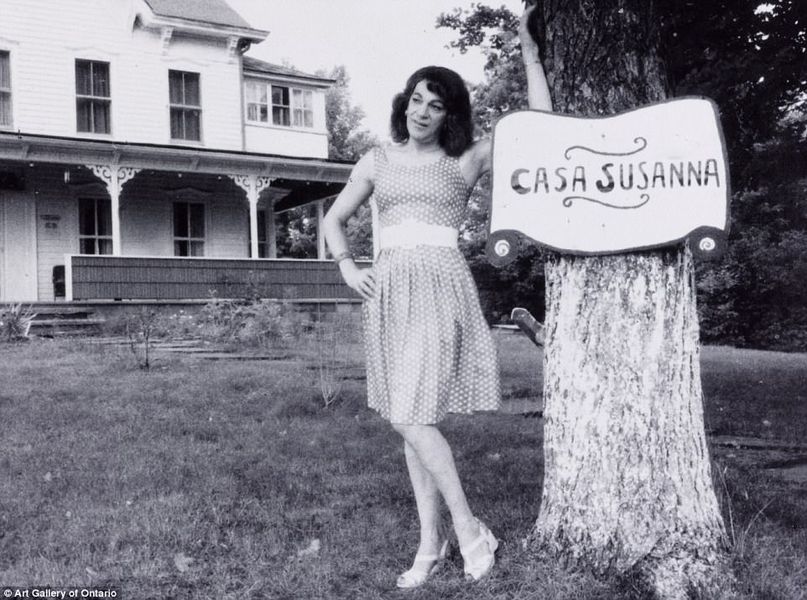 Casa Susanna - A Little-Known Refuge
A little-known refuge for heterosexual transvestites in the 1950s and early 1960s in the Catskills, New York, Casa Susanna was run by Tito Valenti, a court translator also known as Susanna, and his wife Marie, a New York wigmaker. Comprised of 150 acres of land, big house and lake for swimming, it was a perfect place for men to express their femininity without reproach or judgment. With one foot in the mainstream and the other in the margins, guests of Casa Susanna were ordinary businessmen, accountants, librarians or pharmacologists during the week, on the weekend becoming fashionably dressed women playing bridge, drinking cocktails, posing for photographs and doing other rather ordinary things.
Many of these men were heterosexual and married to women with children, and at this retreat, they could improve their makeup and deportment skills as well as have fun and make friends. Whatever secret fantasies they had, at Casa Susanna, they could meet other people who had similar ones and realize they were not alone. In those days, when gender roles were so narrowly defined, the crossdressing could cost them their marriages, their jobs and their freedom. In this place that cultivated normalcy, they could give proof of an existence they knew was real but felt they had to suffocate in the North American society of the time. The most importantly, they could be joyously happy.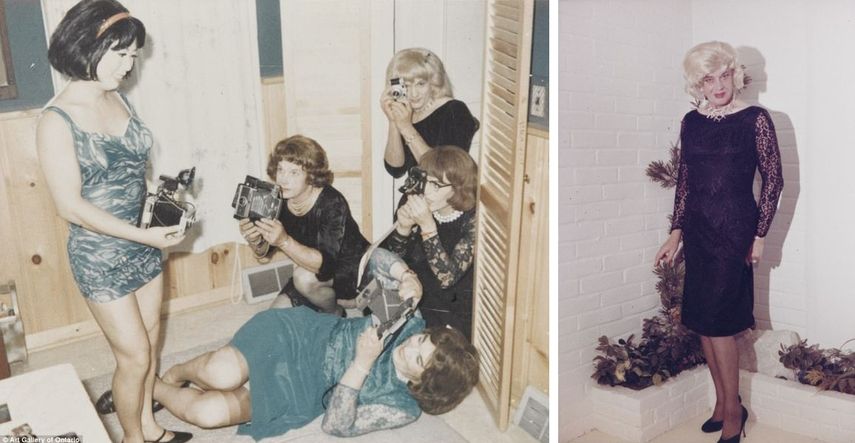 A Fortuitous Discovery
Today, the photographs are all that remain of Casa Susanna. These were found by chance around a decade ago, when an antique dealer Robert Swope discovered a hundred or so snapshots and three photo albums in a box at the 26th Street flea market in Manhattan. Providing an insight into the life of this community, these images were not campy, but mostly very ordinary. These striking vintage snapshots show a group of men dressed as women, beautiful and homely, posing with gravity, playing cards, dancing, eating, drinking and chatting. They looked like small-town parishioners, like the lady next doors, or the typical middle American housewife. They formed this secret society only to be ordinary, like a mirror held up to a convention. They constantly took photographs of each other as an affirmation of who they were.
Stunned by these pictures and recognizing what they had, Swope and his partner Michel Hurst gathered them into a book titled Casa Susanna, which was published by Powerhouse Books in 2005. In 2015, they were purchased by the Art Gallery of Ontario, which recognized them as a rare early example of photography used to explore gender identity - "tender fragments of queer lives lived," according to the AGO curator Sophie Hackett. The 341 photographs are now part of its permanent collection.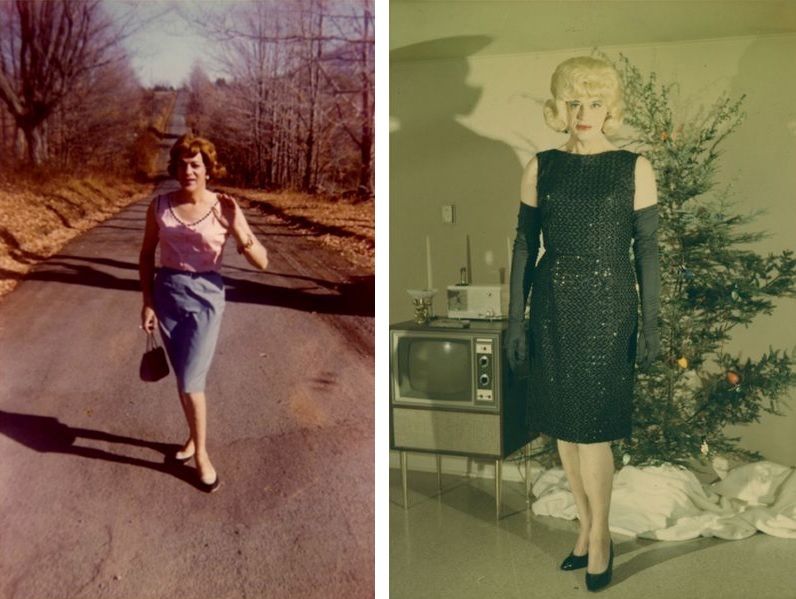 Crossdresser Photography at Barbican London
"Casa Susanna was a place of refuge where they could be utterly free and away from prying eyes," said the curator, Alona Pardo, for the Guardian. "These people in their everyday lives could not walk around New York City as cross-dressers. This was a place where they had fun." As the images from Casa Susanna show, gender is a quality that's so undifined and personal for everyone, gay or straight. More than 100 images from the resort will go on display, as part of the wider exhibition at the Barbican London that explores the lives of individuals and communities operating on the margins of society from America to India, Chile to Nigeria.
Reflecting a more diverse and complex view of the world, the exhibition features images captured by photographers working from the 1950s to the present day. Driven by both personal and political motivations, they sought to provide an authentic representation of the marginalized communities, actively engaging with the subject they were capturing. As Prado states, the exhibition will also include rare images of Yakuza criminals in Tokyo, child homelessness in Seattle and male sex workers in Pinochet's Chile. "What unites all of these bodies of work is how the photographers transgress the insider-outsider relationship. These are all artists who have sustained engagement with the communities or the individuals they have gone on to reveal to us."
The exhibition Another Kind of Life: Photography on the Margins will be on view at the Barbican Art Gallery in London from February 28th until May 27th, 2018. It is one of a number of events for the Barbican's 2018 season, The Art of Change, that will present bold artistic responses to vital global issues including feminism, climate change and human rights, providing a platform for voices currently underrepresented in the arts.
Editors' Tip: Casa Susanna by Michael Hurst and Robert Swope
Some time ago, while at a New York flea market, inveterate collectors Michael Hurst and Robert Swope discovered a large body of snapshots: album after aged album of well-preserved images, taken roughly between the mid-50s and mid-60s, depicting a group of cross-dressers united around a place called Casa Susanna, a rather large and charmingly banal Victorian-style house in small-town New Jersey. The inhabitants, visitors, guests, and hosts used it as a weekend headquarters for a regular "girl's life." Someone—probably "Susanna" or the matriarch—nailed a wonder board on a tree proclaiming it "Casa Susanna," and thus a Queendom was born. Through these wonderfully intimate shots - perhaps never intended to see the light of day outside the sanctum of the "house" - there is an evident pleasure of being here, at Casa Susanna, that is a liberation, a simplification of the conflicts inherent in a double life.
Featured images: Images from the Casa Susanna Collection of the Art Gallery of Ontario Purchase, with funds generously donated by Martha LA McCain, 2015 © Art Gallery of Ontario.