Between September 3 and 9, Denver's CRUSH WALLS offered as many as 77 art happenings. There was a little something for everyone, as both locals and out-of-towners were invited to experience a different kind of definition of urban art. From live mural paintings, charity exhibitions and art talks to urban sculptures and print launches, the Festival celebrated the splendor of the RiNo Art District by inviting a roster of international artists while at the same time keeping close to its roots.
Much of the 2018 CRUSH WALLS spirit came from its executive director Carlo De Luca, the man behind Montreal's Station 16 gallery, which now also has a branch in Colorado's capital. A keen connoisseur of urban art, he recognized the event's potential and was drawn by its connection to its own people. We talked to him about how CRUSH came to be, and what it can become very soon.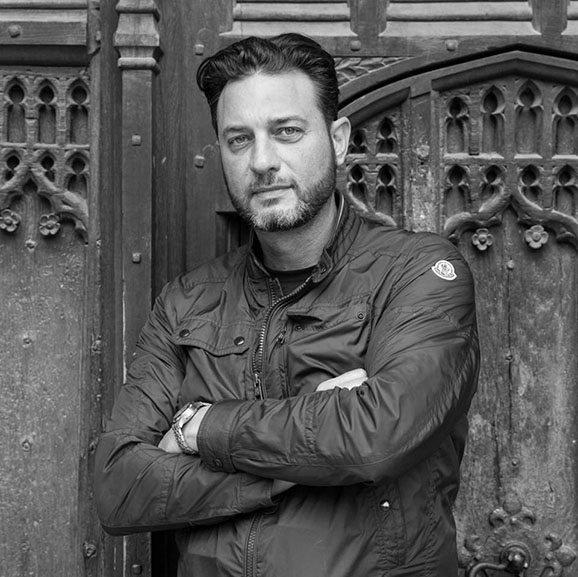 CRUSH WALLS 2018
Widewalls: What did the visitors experience at this year's mural performances program?
Carlo De Luca: CRUSH stands for Creative Rituals Under Social Harmony. Bringing people together through an enriching art experience was at the heart of Crush Walls 2018. We also curated off-the-wall events with a host of experiences allowing everyone to experience art — no matter people's background or profile.
We built a program that's more diverse than ever — I'm talking artistic approaches, disciplines, artists, activities, and so on. People encountered all kinds of interdisciplinary artistic events, ranging from live artist battles to art talks, film screenings, walks and workshops. Urban artists have diversified their practice; they're entering galleries, museums, artist-run studio spaces and venues that acknowledge street art and graffiti as an important art form.
And for the first time this year, the festival connected both East and West sides of RiNo. It stretched across 30 blocks, a landmark increase from last year's 10-block event.
Widewalls: The line-up for the invited artists this year is quite impressive! Is this these artists' first time at CRUSH? How is their practice matching the vision of the festival?
CDL: It is! I'm quite impressed myself, to be honest. It's a first for all of the invited international artists. The enthusiasm that's building around the festival is turning the eyes of major artists who see it not only as a happening but as an art community epicenter to which they wish to contribute. The invited artists this year have been carefully chosen for their precise involvement with community, passionate irreverence and thought-provoking practices (Cryptik, Nomad Clan, Shepard Fairey, to name a few).
Half the local artists are returning, many of which have been with us for many years, some of them even since the very first edition. We've always put forward inclusivity, openness, local art. It is CRUSH's vision since the beginning and it's fundamental to us, it's our roots. Local artists are especially important; we have over 70 local activations this year. Since the very beginning we've favored a free approach — artists come here and they're in charge, they just do what they do best.
This year, we've added a curatorial side to the experience. We want to foster diversity in artistic practices and go beyond mural art: we have musical performances, sculpture (Laurence Vallières, LYFR, Laura Phelps Rogers), ceramics (Jonathan Kaplan, Nan Kitchens), pastings (Endangered Activism, Diane Allison, The Big Picture curated by Mark Sink), even yarn bombers, Ladies Fancywork Society!
Widewalls: What are the highlights that you'd like to point out from this year's CRUSH?
CDL: CRUSH brought this year an array of off-the-wall events in an attempt to offer a variety of experiences related to urban culture. There was a week-long art blast at the Juxtapoz Clubhouse, a massive art takeover in an industrial warehouse featuring installations of urban artists from different countries.
Satellite exhibitions throughout RiNo galleries and exhibit spaces featured works of artists from this year's lineup, offering a more intimate look into the world of these creative minds. These exhibitions [took place] at Dateline Gallery, ATC DEN, The Urban Cyclist and more, and there was a special exhibition of invited artists Smithe and Poni from Mexico, curated by Galeria Balneario in Zeppelin Station.
In collaboration with the MCA Denver, we were also very excited to present Special Topics in Urban Art duo talks between Canadian artist Laurence Vallières and Endangered Activism, and between Portuguese artist Add Fuel and Jason Garcia.
Finally, SECRET WALLS, the world's first live illustration battle where two teams of artists have 90 minutes to paint their walls against the pressure of the clock came to CRUSH this year. [It was] a rare opportunity to watch freestyle work unfolding right before your eyes!
Widewalls: What are your thoughts on the local urban art scene and its involvement with the festival?
CDL: Denver has become an incubator for creative talent and creative economy thanks to the determination of some of the city's and Colorado's best street artists. As they've worked on their own ambitious projects within the district, it's not only created a deeper sense of community and connection within RiNo, but has also highlighted Denver's own unique potential.
This year, CRUSH WALLS has had the chance to build an artist committee comprised of a dozen locally involved artists and art world stakeholders who have volunteered to help us select a roster of Colorado artists from 250 applicants to the festival. Their input, testimonies and thoughtful insights have greatly helped shape this year's local activations and build on the festival's legacy while bringing fresh perspectives from a variety of backgrounds.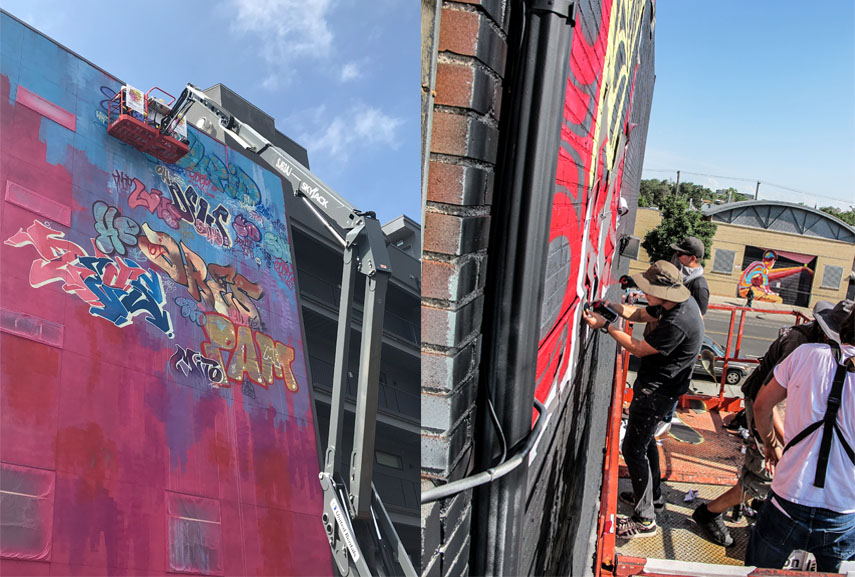 Getting Involved with Denver and its Community
Widewalls: Can you tell us the story of how you personally got involved with CRUSH?
CDL: My involvement with CRUSH really sprouted from an "urban love story" between Montreal and Denver. What started off as a collector's interest in the work of a Montreal artist quickly became a fruitful collaboration between members of The Source in Denver and the Station 16 gallery I run in Montreal.
Last summer, we invited the founders of The Source to experience Montreal's MURAL festival – a renowned urban art event. They instantly connected with the city, struck by the strong festive street culture Montreal shares with Denver. In return, my team and I also went to visit the Mile-High City. We were won over by Denver's creative vision of urban development focused around art and community.
After this inspiring cultural exchange, I was introduced to the RiNo Art District and the opportunity to direct the curation and execution of the Festival this year.
Widewalls: What makes Denver so special, when it comes to urban art?
CDL: Denver's unique character comes from different factors. The massive art takeover that represents RiNo's alleys is absolutely unprecedented. With its challenges and successes, it's the result of many years of synergy between striving local artists and open-minded creative entrepreneurs who believe that investment in art is investment in the future.
Whereas other cities experience a clash between street art and graffiti, Denver's urban art scene has nurtured a cooperative nature where walls belong to everyone, and the graffiti tradition still has its place among new practices of street art. It is wonderful to see artwork collaborations between graffiti artists and illustration-focused muralists come to life. It's a unique harmony that represents the importance of urban culture as a legacy for Denver.
Widewalls: Where do you see CRUSH in the next few years?
CDL: We're moving towards more and more diversity. I'd like to include more art forms, and diverse artistic angles, practices, disciplines. We're also aiming at including other RiNo neighborhoods, less frequented ones. This year, we expanded to RiNo West and it's a part of the city we'd like to explore even more in the next few years.
We want to build something long-lasting, integrated and driven by the community. We want to continue uniting people through creativity. And that goes hand in hand with strong cultural partnerships, increased visibility, and creating bonds between the local and international art communities.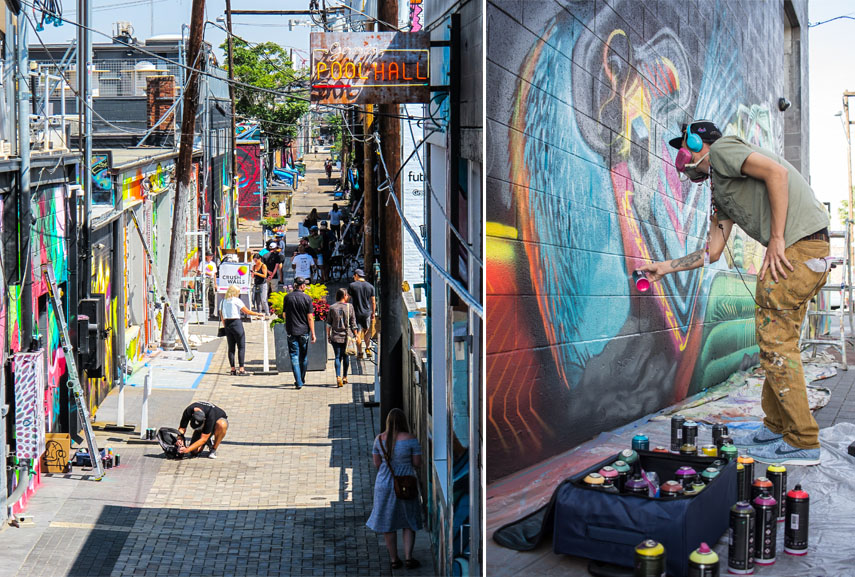 All images by Instagrafite and Jasmine Coleman, courtesy CRUSH WALLS.