The nature of urban art is reflected in the situational influence of the surroundings on the artist himself. However, it is not solely the space itself which bears significance, but the body of meaning which is inscribed in the notion of cultural space. Thus, the creative process of urban and street artists is many a time shaped by the symbolic values of tradition, heritage, mythology and legendry of a certain culture. This graces an art piece with inspirational aesthetics. Curiot is an exceptional paradigm for this kind of creative process.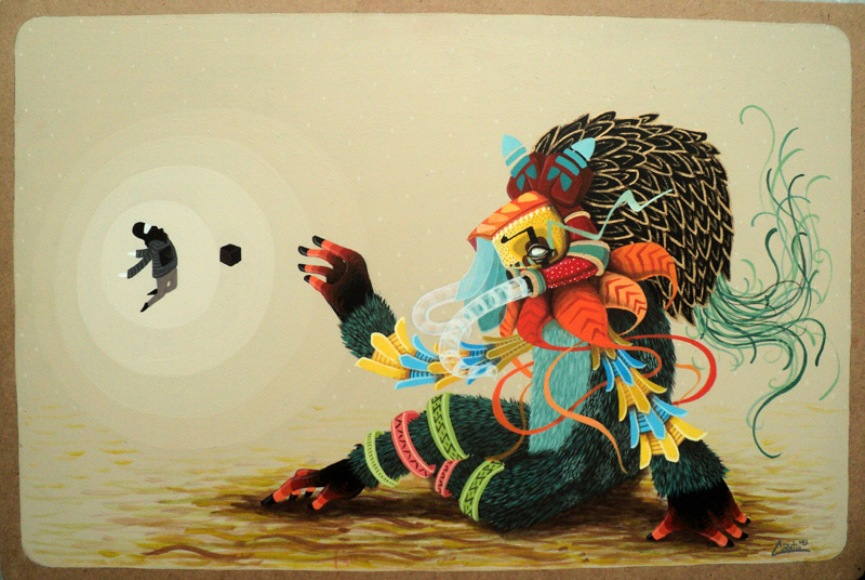 The Art of Curiot
This artist creates with the inspirational influence of his cultural heritage. Growing up in United States, Curiot decided to move back to Mexico and for a decade now he has been reacquainting with the ancient cultures, folklore and the craft work of Mexican culture. It is the bright an colorful imagery of mythology and the figures and scenes of legendry in his homeland which shaped the creative process of the artist. Curiot's paintings address the nature of the postmodern society and the material pleasures of the possible dystopian future through the investigation of the distance man is creating from nature. One of the successful exhibitions Curiot was a part of was called Unknown Elements. This was a first collaboration with Nosego, and the works of two artists were blended in a mesmerizing result. In December 2013, they had even created two exceptional murals, one inside the Thinkspace Gallery and another large public one in Compton. One of the most fascinating dimensions of Curiot's work resides on the devotion to detail, which the artist holds to be an important aspect of his process even when creating large scale pieces. It is the artist's devotion to totemic imagery and the world of spirits which reside in the mythological plain which deliver a specific aesthetics to the art of Curiot.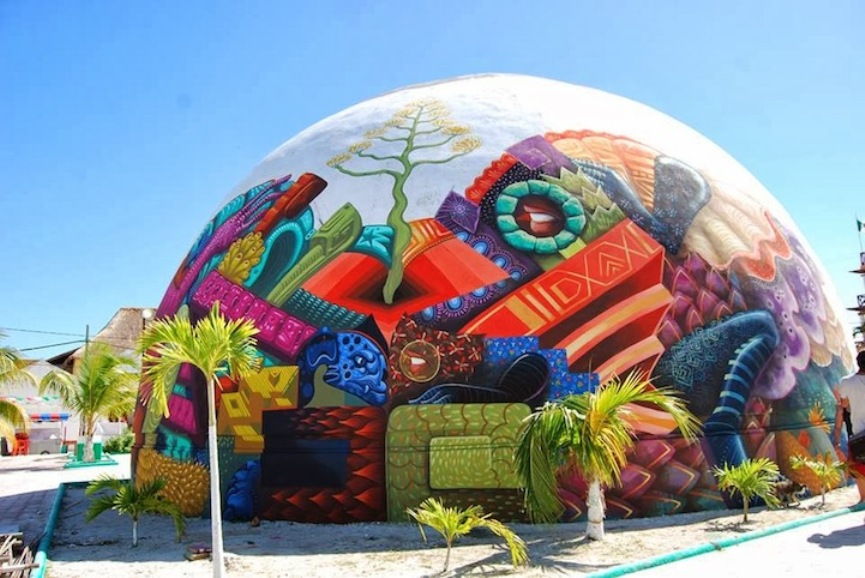 The Moktulen Kingdom
This exhibition will show a body of work by Curiot which conveys the imagery of surreal creatures, evoking the Mexican heritage of the artist. The energetic and powerful visual hybrids are a product of a creative process which incorporates the contemporary imagery with the vibrant elements of ancient culture. One of the oldest antagonistic motifs – man versus nature – is executed beautifully in the art pieces of Curiot, rendering work which articulates the traditional and legendry elements with the contemporary issues of an uncertain future. The Moktulen Kingdom exhibition will be on show during the period from September 13th to October 4th 2014, at Thinkspace Gallery.