There is a picture of Cy Twombly taken in Rome by Robert Rauschenberg in the late Summer of 1952. Twombly, then 24-year-old, was on a travel scholarship visiting Europe, for the first time, and North Africa with Rauschenberg, whom he had met two years earlier at the Art Students League in New York.
In the picture, Twombly stands next to an enormous sculpture of a hand pointing its index finger at the sky—one of the fragments of the Colossus of Constantine.
The young man stands between the ruins, as hypnotized by the iconic gesture of the marble, his gaze absent. More than 1600 years stand between him and the immovable hand of the Roman Emperor and yet the two are extremely close…
Twombly's first trip to Rome would influence his whole life and career.
After returning to Italy several times in the following years, the artist married an Italian aristocrat, Luisa Tatiana Franchetti, and moved to Rome in 1959.
The artist, who had been interested in ancient Greece and Rome since his youth, had found fertile ground for his research. By then, his distinctive visual language based on graffiti-like scribbles had already been formed.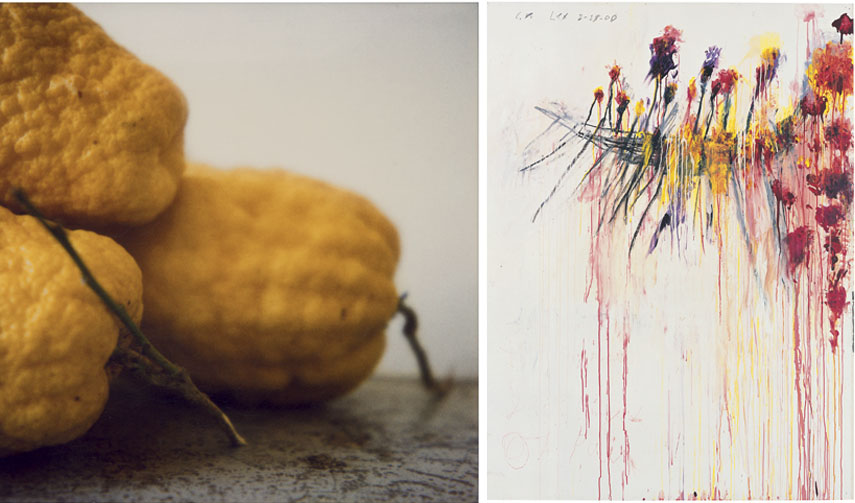 The First Comprehensive Retrospective in Europe
The current exhibition at Centre Georges Pompidou in Paris is probably the first comprehensive retrospective of the artist in Europe, and it is a shame that it won't travel to other museums.
The exhibition effortlessly displays some 140 works – including paintings, works on paper and photographs – organized around three major series of works, starting with Nine Discourses on Commodus (1963), based on the grim figure of the Roman Emperor Aurelius Commodus, to then develop Twombly's Fifty Days at Iliam (1978), inspired by the reading of Alexander Pope's translation of Homer's Iliad and ideally concluding with Coronation of Sesostris (2000), influenced by Egyptian mythology.
While Twombly gradually became an essential figure in the Italian art world, during his lifetime his art was often little understood back in the U.S.
His commitment to classical mythology and ancient history as well as his decision to base himself in Rome rose quite a few eyebrows in contemporary American art circles.
In 1964, when Nine Discourses on Commodus was exhibited for the first time at Leo Castelli Gallery, New York, critics – amongst which Donald Judd, champion of Minimalism – lamented the artist's abandonment of the then burgeoning New York art scene. The series, dominated by a grey background onto which Twombly painted swirls of yellow and red, nodded to existentialism, reminiscent of the tormented paintings by Francis Bacon.
The exhibition was, in Judd's words, "a fiasco."
Indeed, Twombly's interests couldn't have been more distant from the incipient American movements of the time: on one side, Minimalism, with its sterile aesthetics and programmatic refusal of any narration; on the other, the problematic celebration of contemporaneity and consumerism embraced by Pop artists.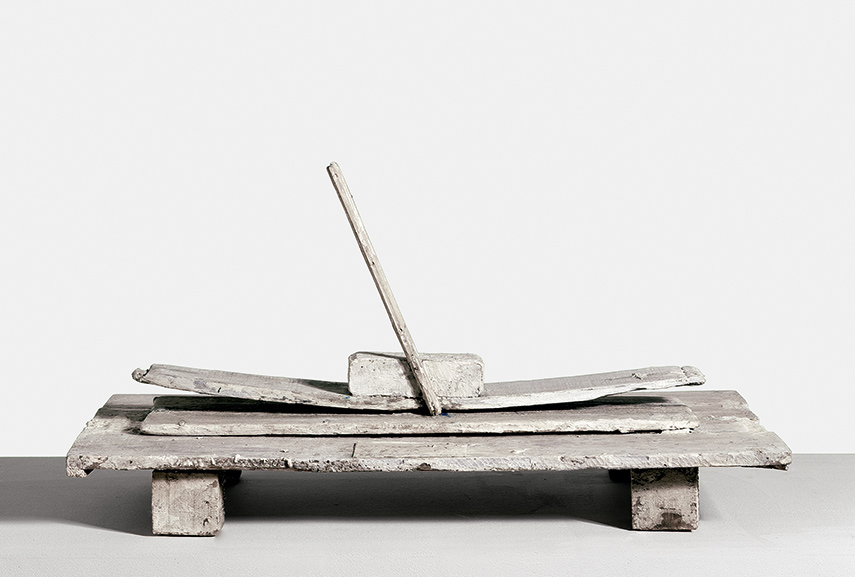 Gods and Heroes of the Past Come Back as Groups of Signs, Marks and Lumps of Paint…
Twombly kept on looking at the past, at the transcendental contents of classical mythology as well as at the historical figures that would claim to be descendants of that very mythological time.
Gods and heroes of the past come back as groups of signs, marks sometime organized in letters, lumps of paint; like in the triptych Ilium (One Morning Ten Years Later), (1964-2000), one of the highlights of the exhibition. Here the characters populating Homer's narration look more like scattered notes than shaped sentences. Like the hieratic hand from the colossus of Constantine, they return to light as fragments. Yet Twombly's works never feel unfinished or incomplete. A particular integrity is to be found in every fragment, unearthed from the past.
Approaching the study of Greek mythology, scholar Jane Harrison once described the Olympian Gods as, "a bouquet of cut-flowers whose bloom is brief, because they have been severed from their roots". According to Harrison, in order "[to] find those roots, we must burrow deep into a lower stratum of thought, into those chthonic cults which underlay their life and from which sprang all their brilliant blossoming".
Flowers never interested Twombly too much.
Always digging his hands into the moist soil of time, the artist spent his whole career looking for those hidden roots.
Featured image: View of the Nine Discourses on Commodus series by Cy Twombly, 1963. Guggenheim Bilbao Museo, Bilbao. © Cy Twombly Foundation.