Station 16 Gallery in Montreal prepares its space for an amazing show – Nothing Exists, a solo show featuring Cyrcle. This Los Angeles-based duo made of artists David Leavitt and David Torres is always busy. They are working and creating all the time, judging from the images of murals and street interventions coming from around the globe. Just recently, Cycle and Tristan Eaton created a wonderful mural in Williamsburg, New York; they also recently worked in Culver City, California, where they created a mural for the beautiful Lebasse Project. And the  list goes on and on. But, prepare yourself for some new stuff – Cyrcle has a solo show, entitled Nothing Exists, at Station 16 Gallery, Montreal, Canada. The exhibition marks Cyrcle's return to Montreal after their participation in the 2014 MURAL Festival.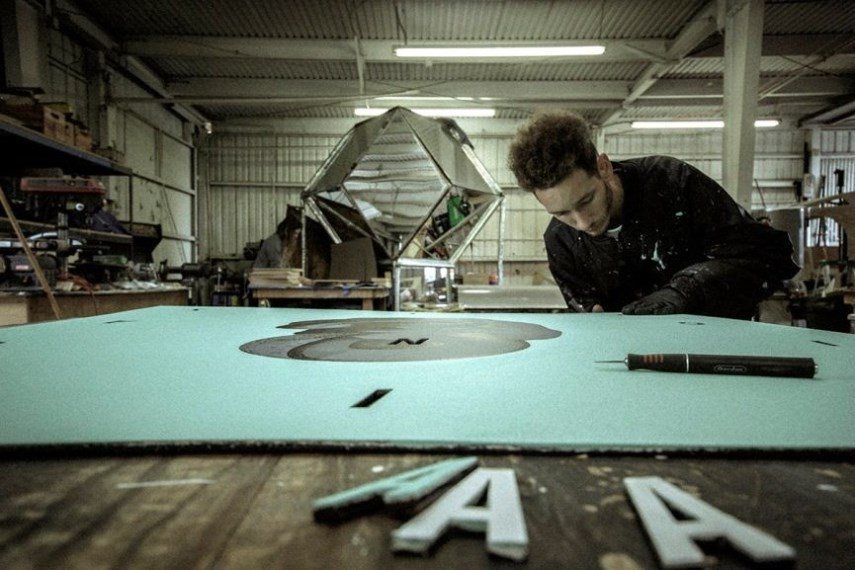 See Blind, Hear Silence and Feel the Truth: The Art of Cyrcle
Cyrcle collective was born in Los Angeles, California in 2010. The Cyrcle was originally made up of three artists, David Leavitt, David Torres, and Devin Liston, on October 8th 2010. Today, Cyrcle works without Devin Liston. They usually explore themes of religion, science, and duality. Through simple words and forms, their work examines complex notions of human existence. Often utilizing muted color palettes and bold typography, Cyrcle communicates vague, yet thought-provoking messages to their audience. Although sometimes it may not be noticed at first sight, this art duo is examining deep philosophical questions, such as eternity, death, joy, misery. We could say that they are interested in all existential themes that are part of philosophical discussions and debates. Cyrcle dissects and discusses such existential themes through Nothing Exists (the title of the exhibition at Station 16), encouraging the viewer to "see blind, hear silence, and feel the truth."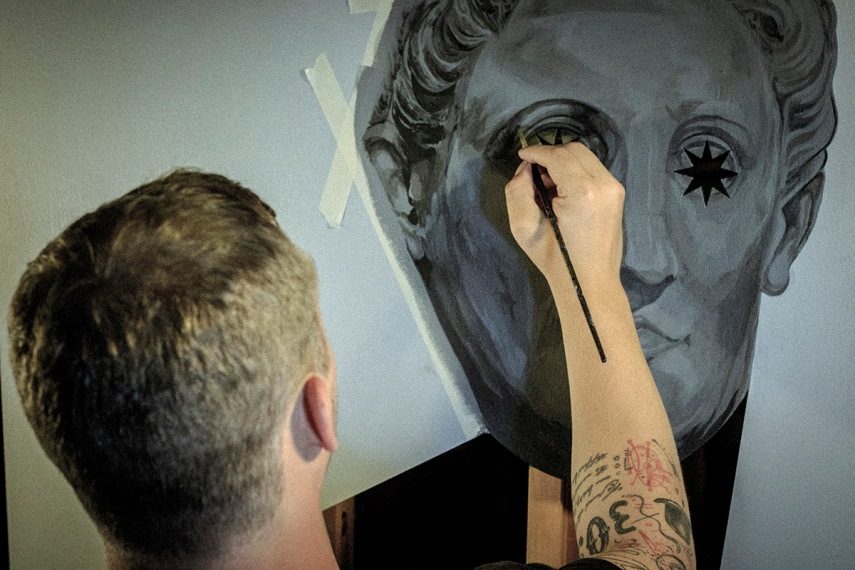 Cyrcle: Nothing Exists
As we already mentioned, Cyrcle is interested in deep philosophical contemplation, including those concerning universe, space and time. The questions these artists are dealing with are also the main subject of physicists' preoccupation. Where is the end of the universe? Does Nothing exist or not? What does "nothing" look like? The exhibition at Station 16 Gallery presents an original body of work that explores the space between all that matters. As Cyrcle explains, Nothing Exists is a philosophical quandary, a statement comprised of absolute polarities, in which its meaning is inherently dependent on one's perception. Somewhere between something and nothing exists a space of uncertainty. This moment is immeasurable, yet more substantial than that which is tangible. The more we understand that nothing is something, we realize that nothing exists.
NOTHING EXISTS! from CYRCLE. on Vimeo.
CYRCLE: Nothing Exists at Station 16 Gallery
Located in downtown Montreal, Station 16 Gallery showcases the work of local and international graffiti and street artists. This time, the gallery organizes a truly amazing show. Use this opportunity, and see the latest body of work by amazing street artist duo. The exhibition Nothing Exists with latest works by Cyrcle will be on view from June 4th until July 4th, 2015, at Station 16 Gallery in Montreal.
Sign up for My Widewalls, and be informed about latest developments in the world of street and contemporary art!
Featured Image: Cyrcle - Nothing Exists
Images in slider: Cyrcle-Nothing Exists (detail)
All Images courtesy of Station 16 Gallery.