For some Friday the 13th, also known as Black Friday, is just a normal day, but for many it has become a superstitious day of fear with accidents waiting to happen. There is no clear reason for Friday the 13th being unlucky and it should be noted that in Hispanic and Greek culture it is Tuesday the 13th that is considered unlucky, while in Italy it is Friday the 17th, each with their own reasons. The most popular belief behind Friday the 13th being a day to fear comes from 13 people being present with Jesus for the last supper on a Thursday before his crucifixion on the Friday, while the number 13 is often considered unlucky on its own for the same reason, but is also linked to the day that the Knights Templar were tortured and killed and to an ancient repressed lunar cult. In the United States alone, it is estimated that between 17 and 21 million people fear Friday the 13th, with many disrupting their normal routines to avoid going out. Another Black Friday the 13th is almost upon us, so in celebration and for all those that will stay in bed, we have decided to take a look on the dark side.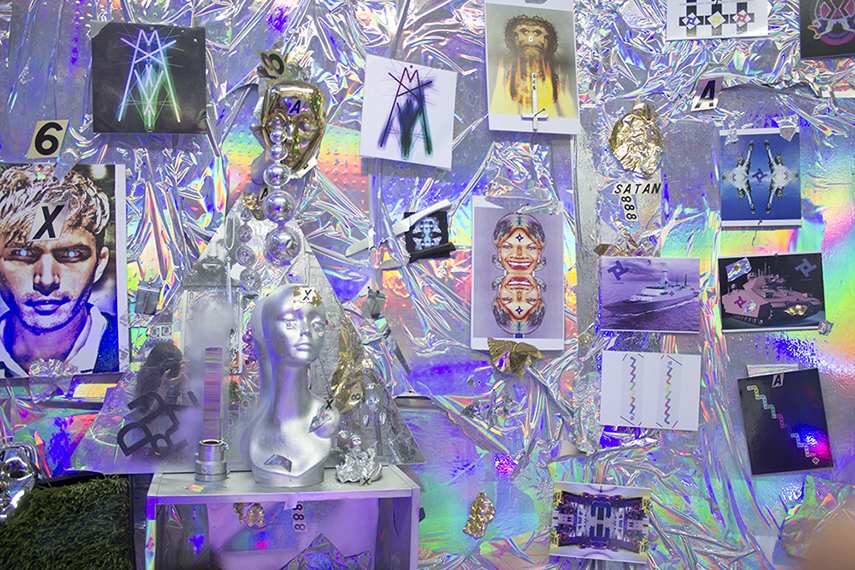 The Dark Side of Art
The history of art is no stranger to those artists that explored the dark side of life, from artists such as Pieter Bruegel the Elder, William Adolphe Bouguereau, Hieronymous Bosch, Francisco Goya, Salvator Rosa through to more contemporary artists like Andy Warhol with his images of skulls and electric chairs. The themes of exploring the dark side of human nature have also filtered into what we now know as the modern day urban and street art scene, with a number of street artists incorporating dark imagery into their street art that includes well-known names on the scene like Banksy, Tristan Eaton, Ludo, Cleon Peterson and Swoon. Death and the unknown have always been rich areas for artists to explore, those things we know are there but have little or no control over which can be explored further in the Death in Street Art article.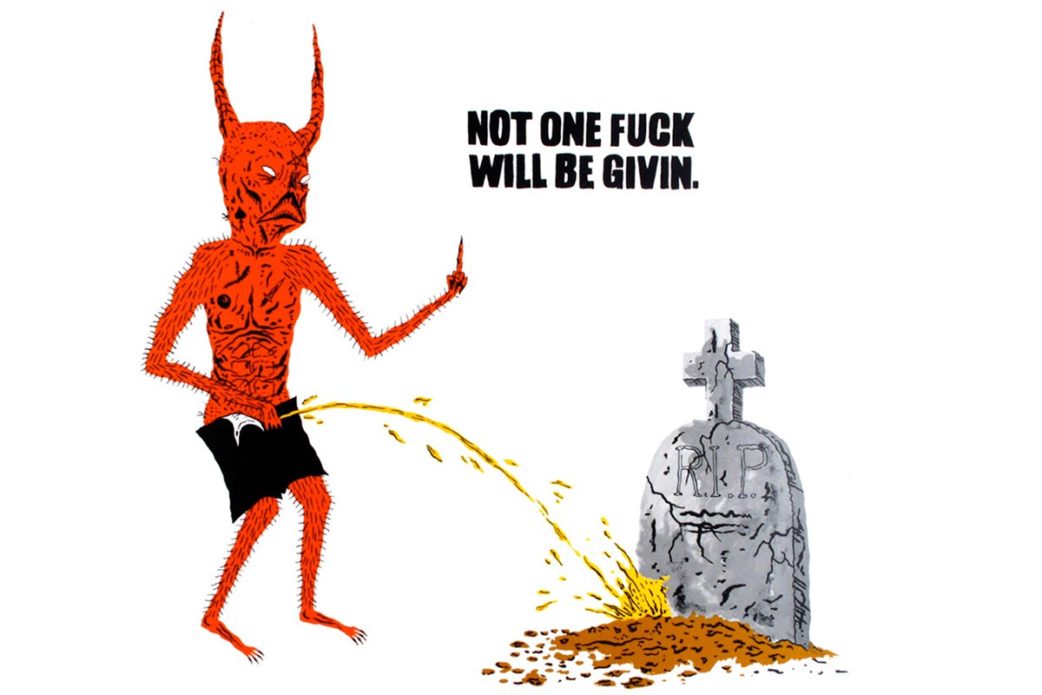 Satanic Influence in Street Art
Themes of death and religion have resulted in both fantastic and disturbing imagery in art through the ages with angels, demons and creatures of the night appearing in many forms. If one accepts that Friday the 13th does indeed come from the last supper with Jesus and that God does exist in some form or the other, then it goes without saying that one must believe in the opposite forces of Satan. The Satanic influence on imagery in street art is perhaps a little less well documented than other forms of street art, but dig around in those dark corners and you will find a number of artists creating art works based on the themes of Satan and the occult that deserve recognition. Before we delve deeper perhaps check out the devilish works of Neck Face in Drinkin' on the Job and the works of Bom.K.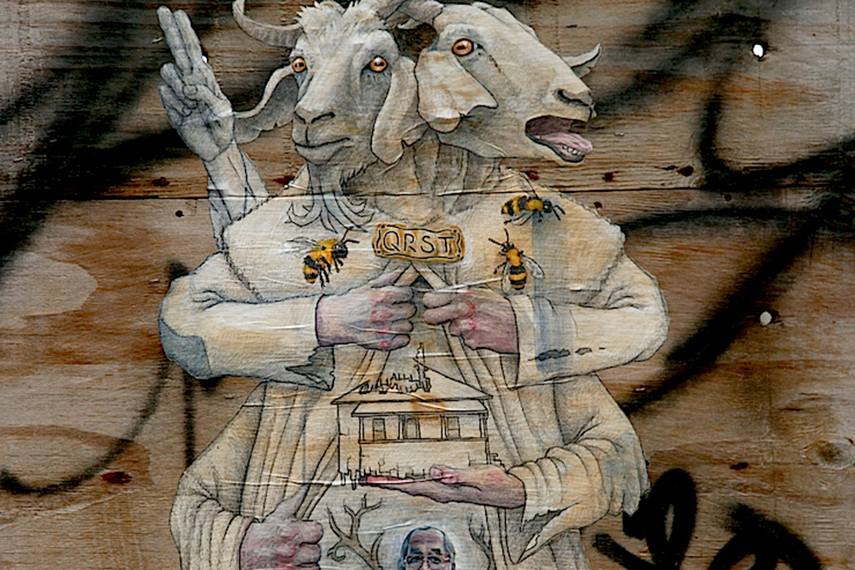 Daemons of Street Art
If you are one of those people who are unlucky on Friday the 13th, you may find yourself down a dark backstreet with one of the daemons of street art. The reasons for these street artists using satanic or occult imagery in their works varies greatly, if you look at someone like I-LIB (I lurk In Bushes) you will find an artist genuinely immersed in an alternative lifestyle, ensconced in magic, rituals, the occult, witchcraft and alchemy to create artworks that challenge the beliefs on love, hate, life and death. Monsieur Qui (Éric Lacan) has gained a reputation for his wonderfully dark creations that often feature wild animals, skulls and occasionally satanic goat heads, while his piece Satan's Slaves features just those words. The artwork of Monsieur Qui though is not purely satanic, he sets out to portray those images that man has projected his fears onto, hence the dark imagery, read more in Interview with Éric Lacan and All Monsters are Human. Over in Philadelphia Harlequinade, a loose collective comprised of Doug Nox with various artists, weirdos, witches and warriors are busy enchanting their urban neighborhood with raw magical power. Harlequinade seem to be another group who are immersed in their magic world, creating stunning public artworks that they view as guardian spirits that will affect the metaphysical energies in their locations and deter violent spirits. There are a range of other artists using Satanic/occult and dark style imagery within their works for a range of reasons, either beliefs, for subversive uses or just to make people think about what is happening around them, such as the subtly disturbing shadows of Herbert Baglione to the controversial and hard hitting works of Lushsux. Other names to look out for include Baer, QRST and Septerhed.
Demonic Sculptures & Satanic Gallery
The world of sculpture is not without its demonic side either, who can forget the 9ft high red devil that appeared mysteriously overnight in Vancouver, complete with large erect penis. Whatever the reasons were for erecting the statue remains a mystery, but the removal of the so called Penis Satan caused much debate and a petition was started to have it put back. On a more serious side, The Satanic Temple hired classically trained sculptor Mark Porter to create a statue of Baphomet with two children, with the aim of having placed alongside a monument of the Ten Commandments on the lawn of the Oklahoma State Capitol. The stunning sculpture raises some serious moral issues about the placement of 'religious' monuments and how everyone's belief systems should be equally respected in a free society. Finally a mention should go to the magnificent Lucifer (Morningstar) wax sculpture by Paul Fryer in The Holy Trinity Church in Marylebone, Westminster. Though no longer used a church, the juxtaposition of Lucifer being suspended in the middle of a church certainly raises lots of questions, though Fryer himself declined to offer an explanation of the work. Check out more in Stations of the Cross.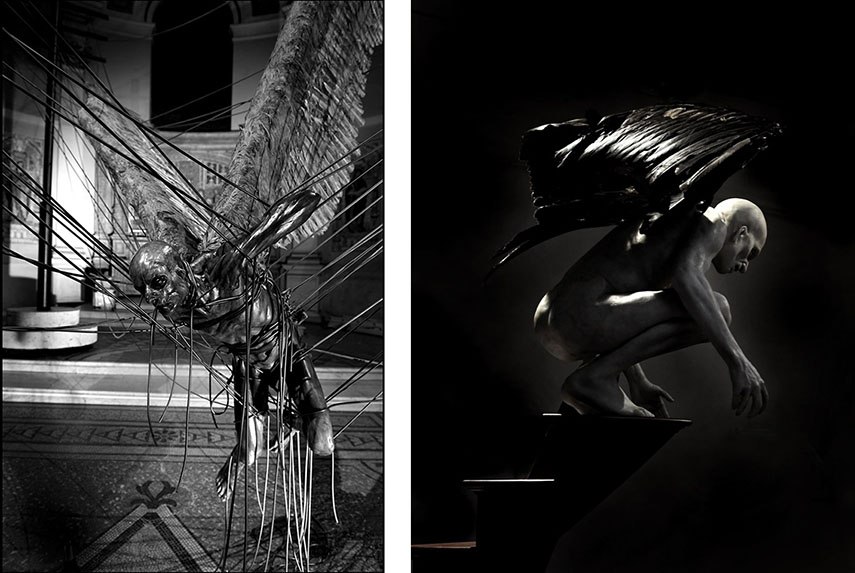 The Official Art Gallery of Satan
No Friday the 13th would be complete without a visit to the Official Art Gallery of Satan! The gallery in question is Vector Gallery located in New York and is run by visual artist and electronic musician JJ Brine. Some have compared it to Andy Warhol's Factory, while local residents are somewhat unhappier with the occult theme and proud images of Satanism and Charles Manson. It may appear to some to be purely an art stunt, created to attract attention to the artists but, the fact that they hold religious ceremonies at the gallery indicates they are slightly more serious about their satanic images and lifestyle. As with all things satanic, one has to decide if the imagery is for real or being used purely for artistic purposes, at the end of the day it is down to you, the viewer, to interpret these symbols and meanings as you wish. Vector Gallery were behind the Usher's Unusual Charger article!
For all your satanic street art sign up to My Widewalls today!
All images courtesy of the artists and as credited.