When Gauntlet Gallery started the Daft Punk inspired art exhibition series in 2013 very few people believed that it will turn into an annual event. Now three years latter the idea not only survived but extended significantly. This year over 40 participants are selected to exhibit their works at the upcoming group show in Gauntlet Gallery in San Francisco. Titled DP3, the exhibition will include artworks inspired by Daft Punk's videos, their robot-like appearance and otherworldly visual effects from their live performances. Artworks vary in styles and mediums and include paintings, prints, sculptures and many other art forms.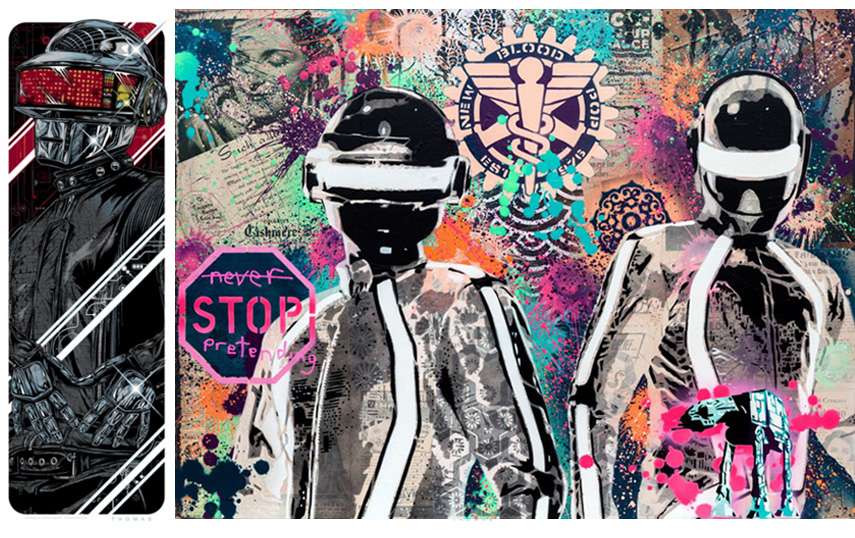 ReDiscovery of Daft Punk
The idea of a group show dedicated to Daft Punk group show dates back to 2013 when the duo released their eagerly awaited new album after an eight-year pause. Once released Random Access Memories had won five Grammy awards, including Album of the Year and song of the year with the iconic dance hit Get Lucky featuring Pharrell Williams. In order to celebrate the occasion the gallery had invited artists from all over the globe to participate in the first ever Daft Punk dedicated exhibition titled ReDiscovery. With their unique visual style and trademark glossy helmets the duo has always attracted the attention of art loving audience. Artworks referencing their visual imagery and musical virtuosity started flooding into the San Francisco gallery. The turnout was great and works numerous thus Gauntlet Gallery decided to make the Daft Punk tribute art show a yearly event and staged Daft Punk Deluxe exhibition the following year.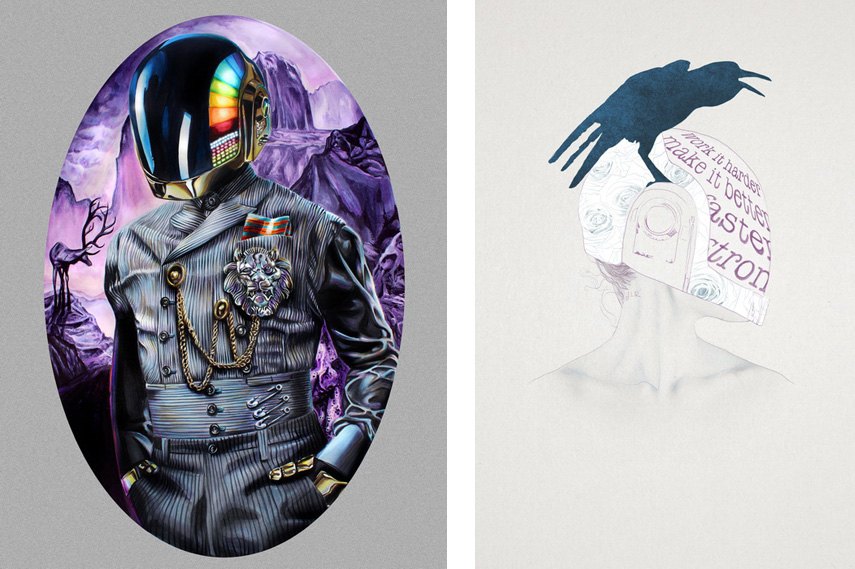 Third Year Edition: DP3 Exhibition
DP3 is the third edition of Gauntlet Gallery group show dedicated to the French electronic music duo. This year's Daft Punk exhibit will consist of works created by over 40 painters, sculptors, digital and screen print makers. Each one of them has created an original work of art that honors one of world's most renowned DJ's and live music performers. And they have been astonishingly creative! Artist Hoang Tran depicts the duo's Sound and Color in his small scale Crayola crayons sculptures while the emotions of Daft Punk's music is wonderfully portrayed in the Alessandro Pautasso's Embrace. Even Duft Punk matches are included into the installment.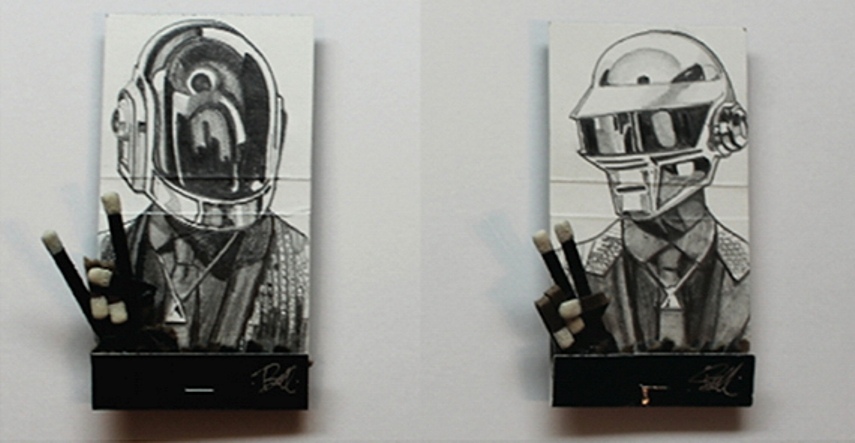 Daft Punk Inspired Art at Gauntlet Gallery
DP3 exhibition will open on Saturday, August 15th with the opening reception that will be held from 7 pm till 10 pm. Group show dedicated to the electronic duo whose "musical talent is matched only by the extraordinary visuals of their live performances", as stated by the gallery, will undoubtedly attract both art lovers and music fans. Daft Punk inspired art exhibition at Gauntlet Gallery in San Francisco will run through September 5th, 2015. Following the success of the previous exhibitions DP3 promises interesting pieces and lots of fun. Hopefully, the group show will continue to develop and progress in the years to come.
Before you crack up Daft Punk music and go dancing (you know you want to) sign up for My Widewalls for FREE!
Featured images: Kaz Oomori - Daft Punk
Left : Sam Gilbey - All Ends With Beginnings  / Right : Matthew Wade - Slumber Party
Left : Allessandro Pautasso - The Embrace / Right : Hoang Tran -Sound and Color
All images courtesy of Gauntlet Gallery