As one of the most popular artists in the world currently, Damien Hirst is having a solo exhibition at Galerie Koch in Hannover, Germany. If you haven't spotted Damien Hirst's spots yet, well, maybe you are not that much of an art lover as you may consider yourself to be. Why? Because Damien Hirst is one of the greatest and the most talked about British contemporary artists, and because he has a long-term relationship with colorful spots, which eventually became his most famous serial artwork so far. The second best-known is the series of paintings with butterflies as a central figure. The art series called The Wonder of You is showcasing butterflies as various metaphors for sensations in human life. Hirst is really fascinated by them, as they symbolize a life itself, a beauty and evanescence. The upcoming show is titled Damien Hirst: The Wonder of You, Spots & More, and it will present the artist's very best art pieces.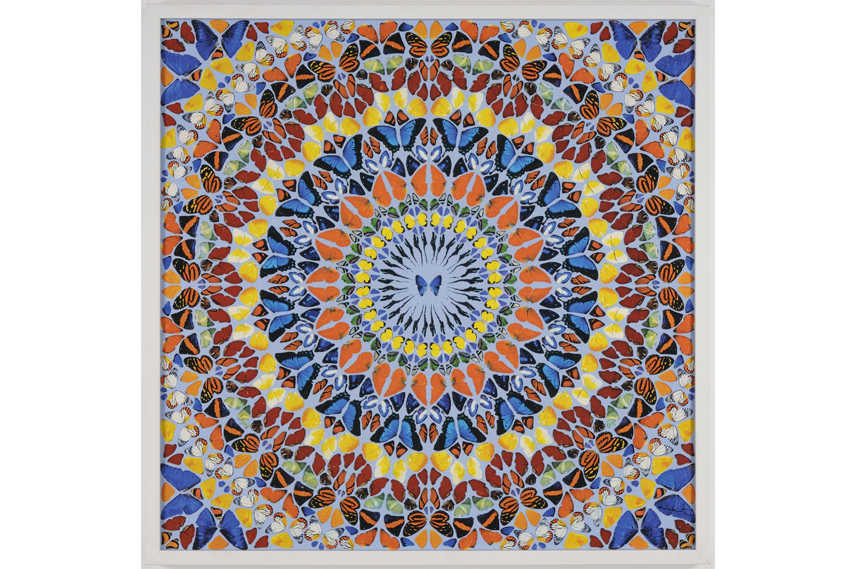 Unique Masterpiece: Happiness
The star of the show will definitely be Hirst's artwork called Happiness. It is one-of-a-kind unique masterpiece that combines two of his beloved inspirations – spots and butterflies. In addition, this collage is featuring some of the pharmaceuticals as well. There are syringes and needles incorporated, and some real paracetamol tablets and polyurethane blood and resins, too. It is part of a unique edition, which consists of 35 signed and numbered pieces. Each edition is framed in a white wooden box frame with plexiglass. This complex art piece is standing alone as a contrast to his other artworks, rather minimalistic with sharp geometrical forms and formal orientation.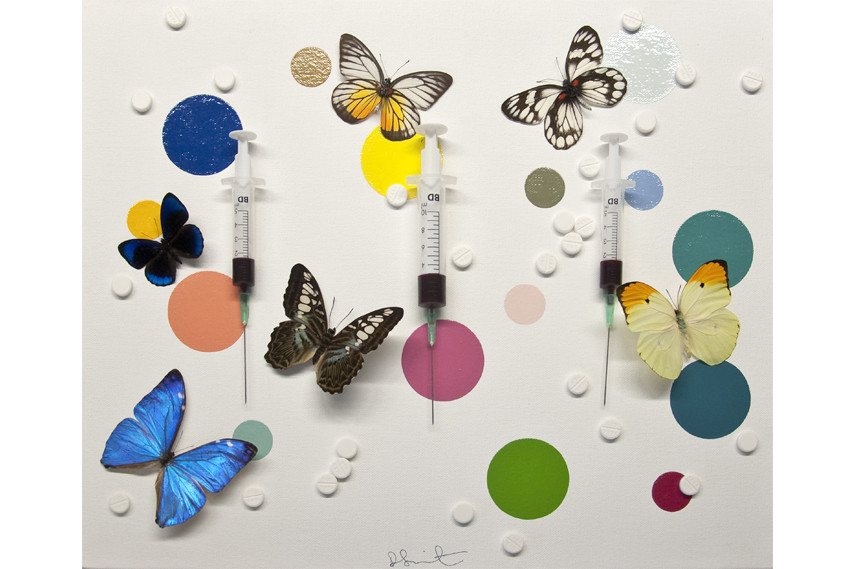 Bright and Colorful Images
Damien Hirst simply believes in art, as he believes in life. Actually, he is frequently confronting life to death in his work. It is mainly visible in his artwork called The Physical Impossibility of Death in the Mind of Someone Living, which shows a tiger shark preserved in formaldehyde and presented in a water tank made out of glass and steel. What this artwork is saying basically could be translated into the advice on living our life in full, just swimming along as we do our thing the best we can. Be yourself, be distinctive, be smart, and don't let those sharks around you eat you alive – seems like it is declaring. Hirst's reflections on life and death are visible throughout his entire art opus. But with such bright and colorful images, Damien Hirst is, without a doubt, praising life in its purest forms, even when he stays intrigued by our mortality.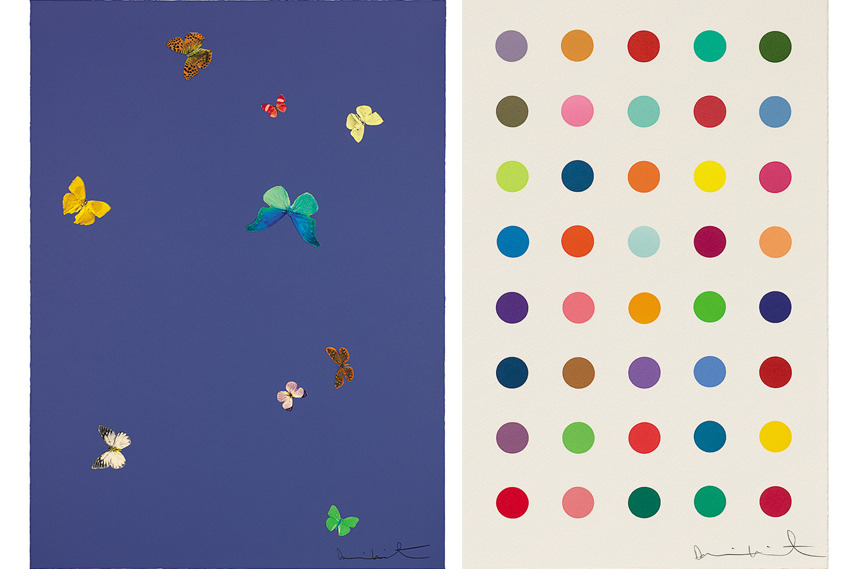 Damien Hirst Exhibition in Hannover
The exhibition Damien Hirst: The Wonder of You, Spots & More at Galerie Koch is going to be on a display from April 23 to May 21, 2016. It will be the rare opportunity for all of the art lovers and art collectors who appreciate his work to come and see some of the best-known artworks in person. And for those who are not quite yet familiar with his work, that will be a chance to see for themselves why Damien Hirst is so popular worldwide. There has got to be a reason why this artist won the Turner Prize in 2009 for contemporary art, and why Tate Modern in London organized a retrospective of his work in 2012, don't you agree? For the show in Hannover, the price range for Hirst's artworks will vary from EUR 3200 to EUR 58000.
Featured image: Damien Hirst – Happiness, 2008 (detail). All images courtesy of Galerie Koch.