Known for his unique brand of dark surrealism, Dan Quintana creates eerie, dream-like environments and mysterious subjects that culminate in intriguing compositions filled with symbolism. On the other hand, Stella Im Hultberg plays with varying qualities of opacity and translucency to create works that vary in tone from dreamy and ethereal to bold and delineated. The work of these two talented artists will soon be on view at SPOKE Art Gallery in two concurrent exhibitions. Titled Tidepools, the exhibition by Dan Quintana will present a series of oil paintings inspired by tide pools and their extreme conditions, showcasing his exceptional technique and attention to detail. On the other hand, the exhibition Mago by Stella Im Hultberg will include paintings and drawings exploring her Korean heritage and traditional folk stories.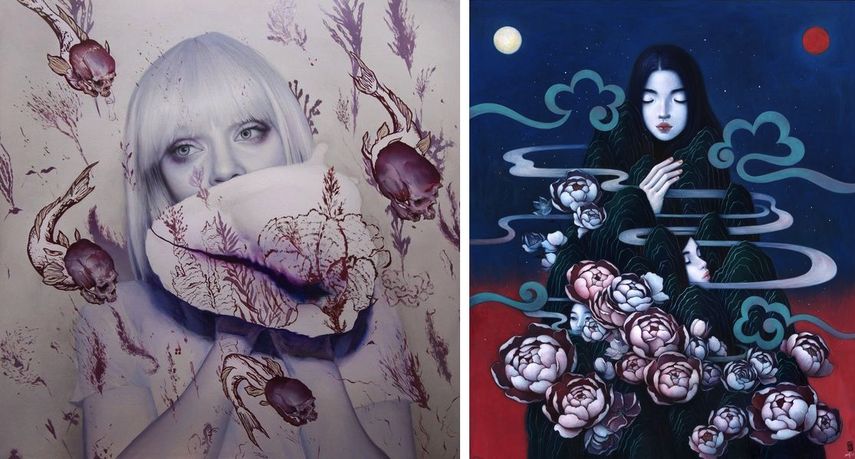 Tidepools by Dan Quintana
Uncovered by the retreating tides, tide pools are often teeming animals and plants which must adapt to environmental extremes to survive. While these organisms must avoid the dangers of their own habitat, they are simultaneously dependent on its constant fluctuations for sustenance. The line between life and death is thin, and survival depends on the ability to adapt rapidly. This balance between the forces of life and the realities of death are the focus of the latest body of work by Dan Quintana. His dreamy compositions feature other-worldly female figures, confrontationally gazing back at the viewer with a deep, glowing gaze. Loose transparent layers are juxtaposed with tightly composed figures, obscuring forms and creating ethereal worlds which evoke darkness.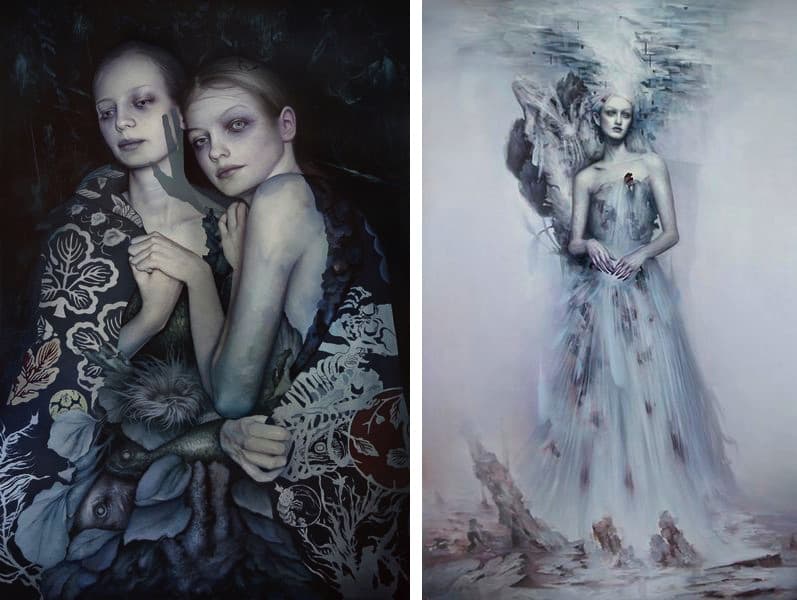 Mago by Stella Im Hultberg
Inspired by Korean myths and the artist's experience with motherhood, the latest body of work by Stella Im Hultberg explores her changing role both as a daughter and mother through exploration of the figure and flora, at the same time incorporating elements of traditional textiles and craft. According to Korean mythology, Mago is the mother of mothers and the root of creation, while her daughters and goddesses So-hee and Gung-hee are the ones who birthed humanity. In this intimate interpretation of folklore, the artist interweaves personal icons like the peony, representational of her mother. Her figures, positioned in dream-like and weightless landscapes, portray the duality of vulnerability and quiet strength. Charged with contemplation, life and potential, the painting Mago depicts the namesake deity as the mother mountain with her daughters.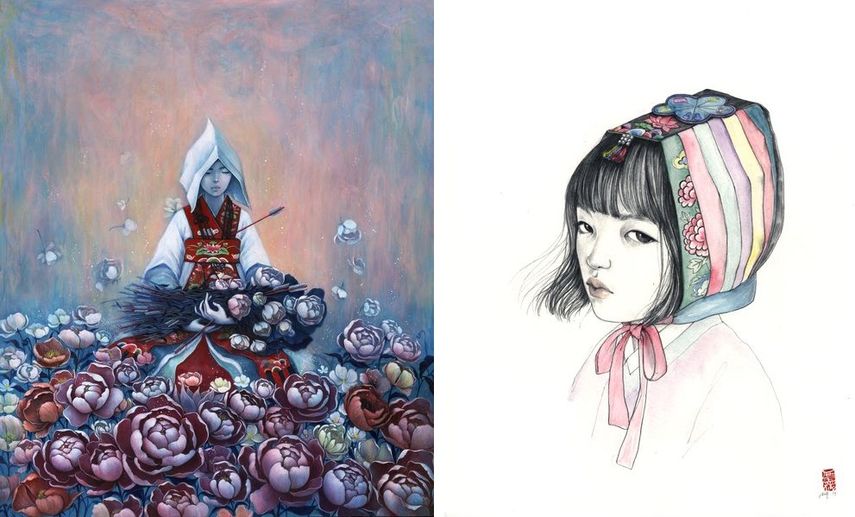 Dan Quintana and Stella Im Hultberg Exhibitions at SPOKE Art Gallery
While Quintana's work challenges the viewers to delve into their own subconscious, inviting them to complete the narrative, Im Hultberg's calls for an exploration of the rich world of Korean folklore. The exhibition Tidepools by Dan Quintana opens at SPOKE Art Gallery in New York City, while Mago by Stella Im Hultberg will be on view at their space in San Francisco. Both shows open on August 31st and are on display through September 23rd, 2017. The opening reception for both exhibitions will be held on Thursday, August 31st, from 6 to 9 p.m., and both artists will be in attendance.
Featured images: Stella Im Hultberg - Rite of Spring (detail); Dan Quintana - Krill Em All (detail). All images courtesy of SPOKE Art Gallery.