A Melbourne-based artist, Daniel Agdag is known for producing intricate, fantastical models of machines out of cardboard. Attempting to draw attention to complexities of the everyday, he aims to reveal gears and systems hidden deep inside the objects.
On the other hand, the work of John Jacobsmeyer mines the subcultures of American geekdom in sci-fi/fantasy and gaming culture. Through painting and printmaking, he explores these alternative worlds that feed fertile imaginations of teenagers all around the world.
The work of these two artists will be brought together in two upcoming exhibitions at Jonathan Le Vine Projects. Titled Stories I Haven't Written Down, the exhibition by Daniel Agdag will feature his latest body of work, including flying vessels inspired by Agdag's mother. On the other hand, the exhibition Great Feats and Defeats by John Jacobsmeyer deals with imaginative experiences that analyze contemporary digital modes of representation.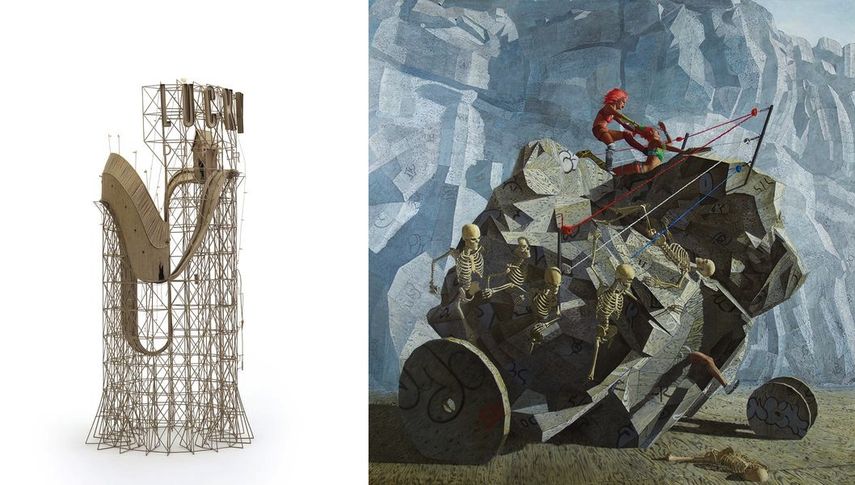 The Practice of John Jacobsmeyer
Inspired by the subculture of the American geeks, John Jacobsmeyer creates oil paintings that depict a world made of plywood where competitors push the limits of human capability. Referring to clubhouses of his childhood that were the pre-digital virtual reality, the artist represents wooden interiors, engulfed by the intricate patterns and tones of timber.
Ever since Jacobsmeyer was a child and visited his grandparent's pine cabin during summer vacations, he has had a unique fascination with wood. Over time, the nostalgic fantasy life in the woods has been replaced by the seductive narratives of video games.
In his latest body of work, he attempts to answer the question if plywood clubhouses were made in order to bring video game narratives into the real world, how would that look? However, these artworks are created on a base of aluminum, implementing a complex technique of layering translucent paint to create hyperreal wood environments.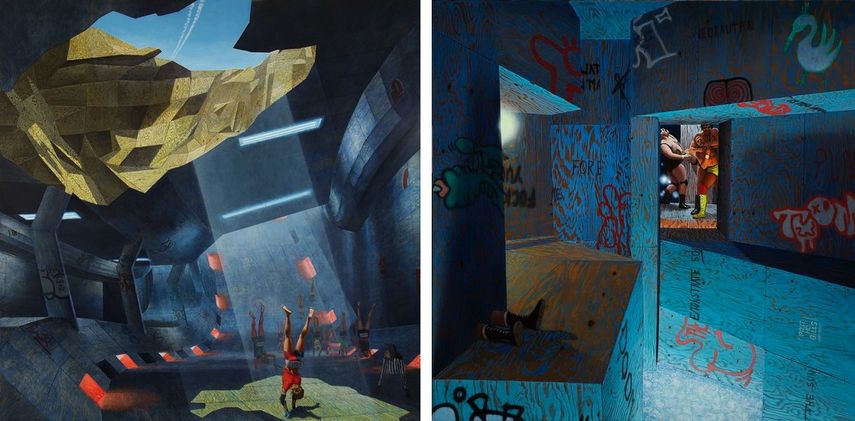 The Art of Daniel Agdag
The meticulous sculptures of Daniel Agdag explore his daydreams of what lurks inside our most basic structures. Feeling that these days most people are not curious about how our daily machines work and how dependent we are on them, he highlights the complex gears and systems that keep them going. He wants to put the intricacy of these complicated machines into the forefront of people's minds.
Spending a great deal of time observing and absorbing structures, Agdag analyzes their peculiar details and functions. In a process he describes as "sketching with cardboard", he redesigns these components until they are deemed suitable for their purpose.
Inspired by his mother who immigrated alone from Europe to Australia, he created several sculptures of flying vessels that romanticize the feeling of being alone in the sky, reflecting the uncertainty of what adventures may come.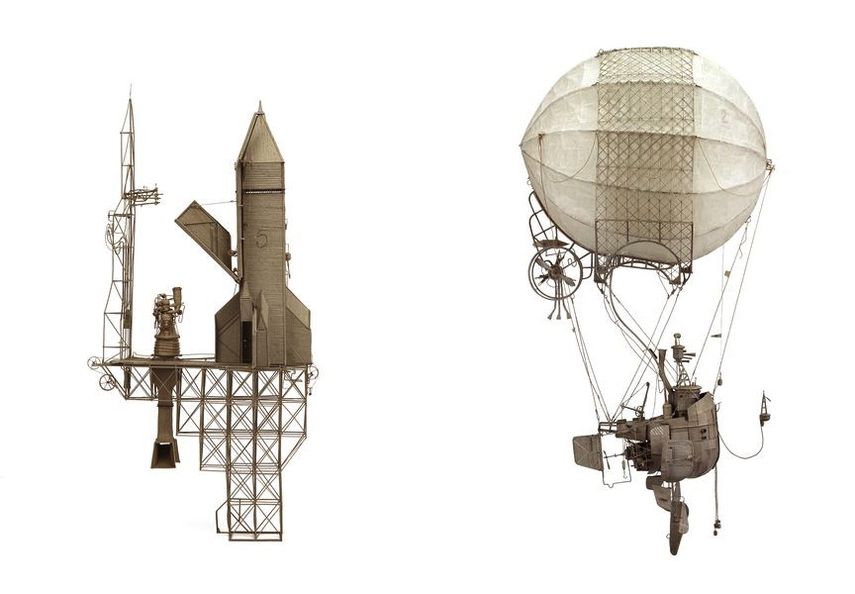 Two Shows at Jonathan Le Vine Projects
While John Jacobsmeyer evokes his fascination with the virtual world, the Daniel Agdag exhibition, which is his debut solo show in the United States, reveals the most amazing feats of human engineering that are kept hidden and disguised.
The exhibitions Stories I Haven't Written Down by Daniel Agdag and Great Feats and Defeats by John Jacobsmeyer will be on view at Jonathan Le Vine Projects in Jersey City, NJ, from February 17th until March 17th, 2018. The opening reception for both exhibitions will be held on February 17th from 6 to 8 p.m.
Featured images: Daniel Agdag - The Chapel (detail); John Jacobsmeyer - 5k (detail). All images courtesy of Jonathan Le Vine Projects.