For the Hamburg born artist Daniel Harms, art wasn't something he planned on becoming his profession. After moving to Berlin in 2007, Harms trained to become a retail salesman but several years later he joined a band and started living a rock'n'roll life. However, after surviving a serious accident he was forced to quit music and art became an important aspect of his life. His girlfriend, an artist herself, encouraged Harms to take on painting. It quickly became his passion and outlet for his inner emotions and development. Although a self-taught painter, Harms' work attracted a lot of attention and gained critical acclaim. After Redux and Hold Tight, his third big series of works entitled Falsche Helden oder Mutige Irre. The idea for the title comes from Stanley Kubrick's film 'Full Metal Jacket' and, according to Harms, characterizes the quoted masters, who during their lifetime where mistakenly seen as eccentrics, only gaining recognition as geniuses after their death. The show is on world tour and, after Istanbul, arrives in Berlin.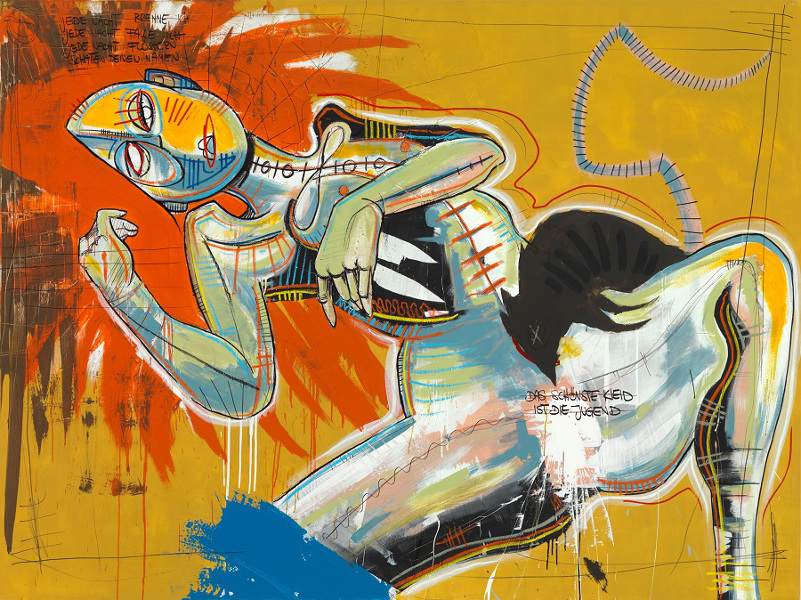 Remastering the Masters
For his latest series, Daniel Harms was inspired by eight old masters, namely Bacon, Beckmann, Caravaggio, Goya and Picasso, along with Pollock, Rubens and Schiele. His artistic process used for the exhibition the artist calls "remastering" – he deconstructs the originals and then 'remasters' both the content and the form into a new truly original piece of art. This way, by using the collage-technique, Daniel breaks already familiar conventions to form his new personal expressive style. However, Harms carefully chose this technique in order to move away from the possible copying allegations. Every single one of his works is authentically Harms' and an original. Also, each work bears the mark of his own personal struggle with inner conflicts and show the process the artist has undergone.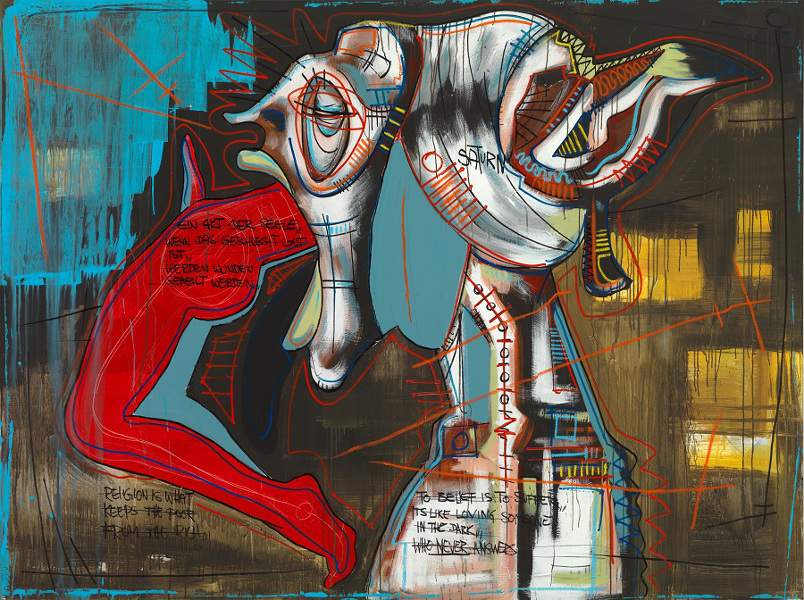 On View Until January
The exhibition Falsche Helden oder mutige Irre that opened December 5th at Berlin Art Project will portray Daniel Harms' perspective on some of the most significant works in art history. For example, Picasso uses the age-old concept of the Minotaur in his art by showing it as a dominant figure in the man-woman-relationship. Harms, however, adopts the motive, but depicts the Minotaur facing away from the woman, withdrawn, defiant and almost childlike. This places the motive in a modern-day context and displays how one traditional theme can be transformed in the artist's inner mind.
Falsche Helden oder mutige Irre will be on view until January 18, 2015 at Berlin Art Project.
If you like the art of Daniel Harms and would like to keep up with his upcoming projects, sign up for My Widewalls today!