On the occasion of Daniel Richter's travelling mid-career retrospective Lonely Old Slogans, currently on show at the 21-er Haus in Vienna, I met with the German painter, who is also a professor of "painting inside an extended space" at the Viennese Academy of Fine Arts, to talk about the presentation of his body of work. Over the past three decades, his work has shifted from non-figurative to figurative painting; and from historically reflected motifs back to a painting practice that plays around with the limits of figuration. Invested in issues of the political, social and the media, Richter has nonetheless remained a single figure in the contemporary field of painting. This interview explores some of these issues in relation to his angst of dogs.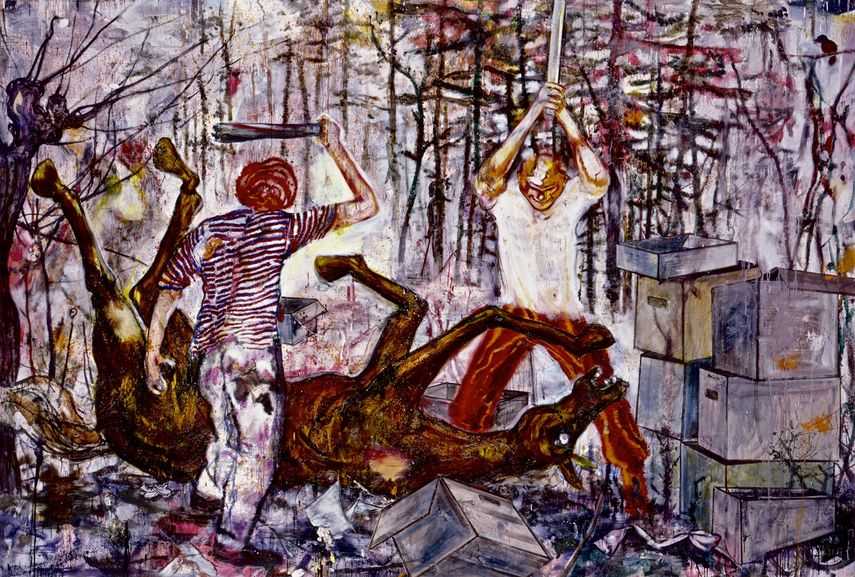 Lonely Old Slogans
Lisa Moravec: You are currently showcasing a selection of your works at your solo show in Vienna at 21er Haus. Could you start by telling us about how you chose the title of your mid-life retrospective?
Daniel Richter: The title of the show is the title of a painting that already exists (Fig. 1). Since the exhibition looks back to the past, the title supports the single works. It's slightly contemplative and provokes the idea that the old slogan doesn't work anymore. We all realize this.
LM: A picture that you included in the show and has remained in my mind shows a monkey dressed in a white tutu at the Alexander Platz in Berlin. How did the composition of the picture come about – why is there an ape in the foreground?
DR: The monkey slides to the left and attacks the human. This scene takes place at the Alexander Platz with its old architecture, dating back to the DDR. When I painted the picture, the place was assumed to constitute the junction between East and West Berlin. As I had my studio close by at that time, I passed it quite often and it embodied such a tristesse. Bad consumption. With this picture, I tried to reference this. Die Berlinese literature from the 1910s and 1920s adds to it. It is a picture in which the whole city operates as a stage, that is, of course, classical, but I tried to understand the current atmosphere and its history.
LM: And why did you paint an ape almost in its center?
DR: The monkey in a tutu embodies the domesticated animal that resembles us. We make fun of it, dress and train it for our entertainment. This animal is – like us – incalculable. The grumpy and latent aggressive atmosphere, which is in a way specific to Berlin, has prompted me to paint this. I am saying this with a bit of a distance today. When I painted it fifteen years ago, I conceived all of this much more unconsciously and unreflectively.
LM: Some of the other pictures at the 21-er Haus also show animals. In Das Recht (The Right, 2001, Fig. 3) and Halli Galli Polli (2004, Fig. 4) you painted horses and dogs. Some of these paintings were also included in the show Das Festival der Tiere (the festival of the animals) at the, now abandoned, Essl Museum in Austria in 2011. Focusing on animal motifs in your earlier body of work, on what level did you engage with animals –metaphorically or politically?
DR: Metaphorically, one can clearly see that this is not an attempt to be George Stubbs. These pictures belong to a group of works that I made over a period of four or five years. Eventually – it's similar to what I've just said about the monkey – there was a catalyst. In the painting, in which a horse is being struck dead (Fig. 2), the metaphor is hedged in with clauses, but it actually goes back to the idea when animals leave the zoo. One can time and again read that when a human commits an act of violence against someone, for example in zones of war, the cages break, or the zookeeper leaves the animals out, or a shell frees the animals. I find that this is a very interesting, disruptive and stimulating mental image because the domestication of the animal in a way reflects human domestication. When I made these paintings, I was interested in the ambivalence between representation and being, and what lies underneath it. Today, I am not very interested in that anymore…
LM: Why not?
DR: Because one progresses… I think it's a question of self-awareness or of psychologisation. Certain artists preoccupy themselves with specific themes throughout their lives. The best examples are perhaps [Lucian] Freud with the human body and [Francis] Bacon with the ambivalent observation of authority, sexuality, and violence. But the red thread that runs through my own body of work rather deals with the ambivalence of dittology and the over layering of information.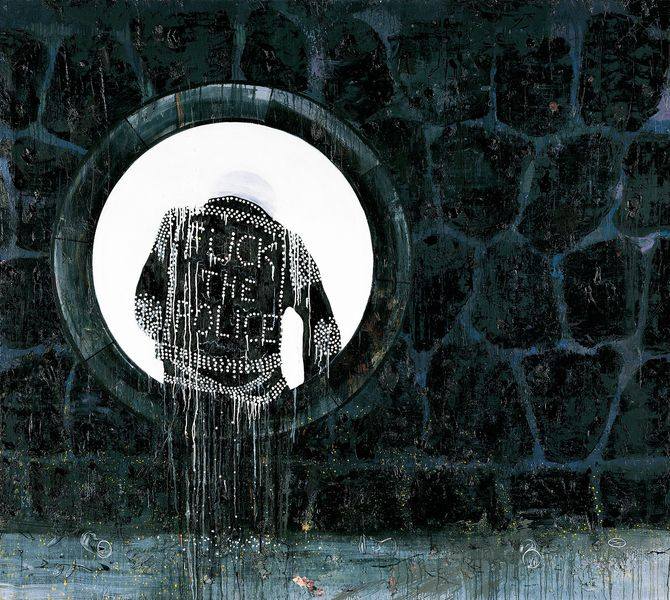 Freer Painting
LM: Your painting Halli Galli Polli (2004), in which a pack of dogs and eagles brutally attacks a rearing horse that spins around to free itself, refers to the breakdown of the Soviet Union in the early 1990s. As you said earlier, the ape in Zurberes (Fig. 2) emerged from a metaphorical-political background. I would say that Halli Galli Polli reflects this iconic system as well.
DR: Yes, that's exactly how one could say it.
LM: And what developed from this relationship?
DR: I was interested in painting images that explore "freer painting" – a freer approach with the stage that I had left behind me, such as the function of a room and the dealings with symbols, metaphors and bodies inside a room. Afterward, I was not interested in that anymore because it all appeared to be so predictable and I started to occupy myself with the romantic image – the Orient – and the transition from One Thousand and One Nights, and the magic carpet to the Al-Qaeda and the Taliban.  I was interested in the over layering of images, but I think that the romanticisation is not visible in my paintings – such as the mountain or the romantic image of man. But that is what interested me about painting at that time, and this is also what I am unsure about myself. This was not a doctorial work about the oriental image in the changing of time, but it was about painting, that just wanted to be painting.
LM: How do painting and politics come together in your work?
DR: I think that the notion of the political is a bit abridged. The social, the relation between codes and amongst people itself, the cliché – I was interested in all that. But I don't think that it's necessary to know how one positions oneself in relation to these. I find this is of no interest when looking at art. The most political art is not interesting, I think.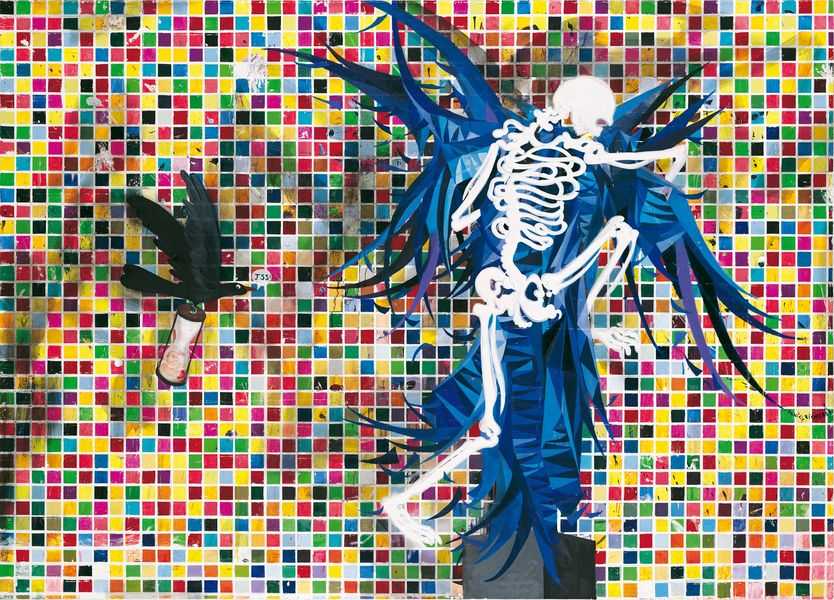 The Fear of Animals
LM: And your dark painting with the slogan "Fuck the Police"?
DR: That was supposed to be funny. Sometimes a mundane painting that radiates aggression can nonetheless be beautifully painted. These layers change and juxtapose themselves. One can see that I am afraid of dogs…
LM: I don't see that….
DR: You see, I see that very clearly.
LM: I would rather say that you are scared of horses, since the dogs are attacking it.
DR: I'm most afraid of humans and horses, and dogs – I have to confess.
LM: So, you fear almost everything that moves.
DR: The truth is that the largest part of myself comes about due to a civilized paranoia; one that I think is absolutely justified. That is why I like boring cities. In boring cities, one can relinquish oneself to the idea that people are civilized and that culture superimposes emotions. Many people conceive this as boring. But I perceive this as very calming, especially that in so many parts of the world people give vent to their feelings all the time – resulting in that they knock down their neighbors from one day to the next, that they rape their children, or that they are willing to humiliate themselves for money.
LM: I can only agree with that – smaller cities provoke a similar feeling inside me.
DR: But I find it rather difficult to describe in what way that reflects onto painting and how painting attempts to formulate absurdity, beauty or surprise. I am often thinking about this and I am interested in speaking about it. I am often annoyed by the self-mystification of many of my, also deceased, colleagues. When artists explain something about their work, the viewers receive a key to understanding it in a certain way, but it is only then that painting surprisingly begins. And it's probably wiser not to talk about this, since then it's entirely up to the viewers to reflect about the art. It's a contradiction that I'm trying to negotiate with myself. But as I said, colleagues who talk mystifyingly about their work get on my nerves. It's like being adamant that one is dumb.
This interview was conducted in German and translated into English by the writer.
The show Lonely Old Slogans is on at the 21-er Haus in Vienna until June 5th, 2017 and will then be exhibited in a different constellation at the smaller interior at the Camden Arts Centre in London. This will be Daniel Richter's first institutional presentation in the UK.
Featured image: Exhibition View Daniel Richter – Lonely Old Slogans; Photo: © Belvedere, Vienna, 2017