When first seen, the exquisite drawings of artist Daniel Zeller look like monochromatic topography maps of our world seen from above. In a way, it's what they are indeed, only the world in question is imaginary, complex and composed of ongoing contradictions which would not go together under ordinary circumstances. Thus comes the Immiscible Cohesion exhibition hosted by Pierogi Gallery in New York, a show which puts on display a whole series of these black and white ink drawings in their Gallery 1, accompanied by a sculptural work occupying much of Gallery 2, to complete the artist's quest to establish a relationship between his micro and macro worlds.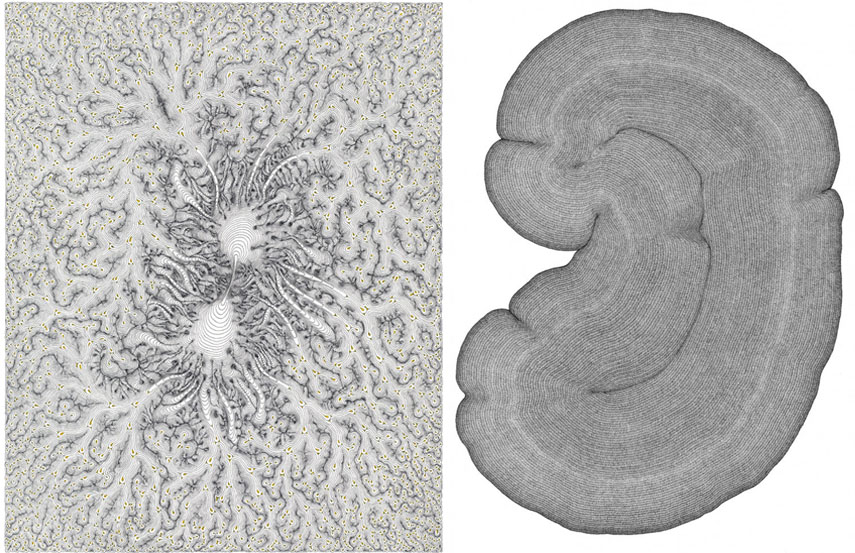 Immiscible Cohesion
Through his two-dimensional work on paper, Daniel Zeller insists on creating the "immiscible cohesion", the unlikely encounter between notions that normally would not be mixed, two substances that manage to unite in order to make a brand new landscape, terrain, organism. It's all about two distinctive parts making a whole - whether they attract or repel each other through a series of traces, marks, shapes, lines, forms and various details, they reveal an intriguing scenery set within Daniel Zeller's imagination, inspired by biology, topography, astronomy, the abstract. The delicacy and fluidity of these drawings testify to the fragility of these unfamiliar environments, composed of elements which remind us of rivers, mountains, seas and oceans, at times even anatomical drawings, dissections of brains, or maybe depictions of cut tree trunks.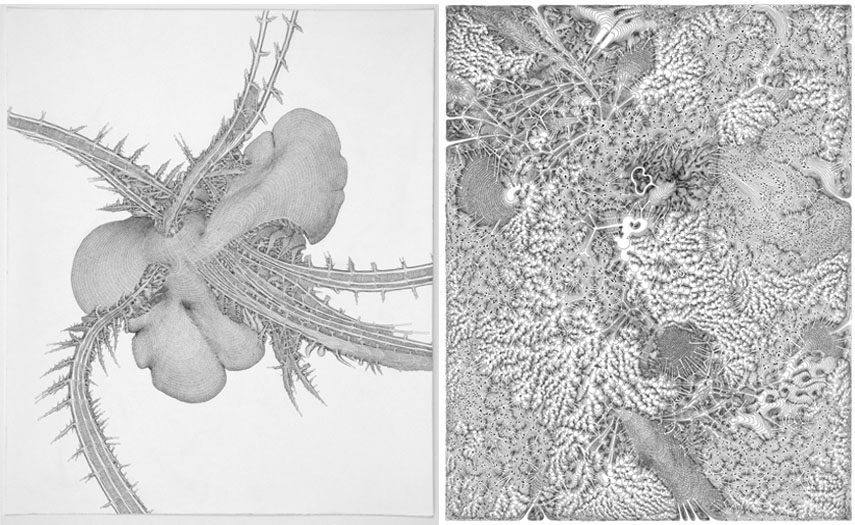 Inside a World of Juxtapositions
Daniel Zeller's academic studies of sculpture influenced his work greatly, having transmitted his visions of space onto his drawings as well. For the first time, his works on paper and one of his sculptural pieces will be presented together, offering a complete view of his artistic oeuvre, The sculpture, entitled Inference, reveals itself to be an armature-like architectural creation, containing a skin-like fabric on the inside. Its mysterious appearance leaves much to imagination, as it could be interpreted as a vessel, a tent, a shelter, a bomb, the things completely opposite from one another. Although each section functions individually, the work as a whole does not have a clear purpose, or a reason of existence for that matter.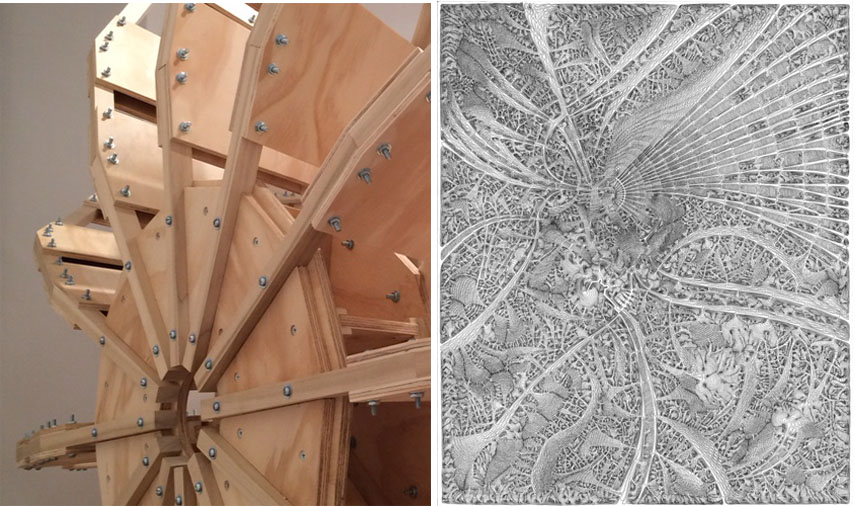 Daniel Zeller Exhibition of Drawings at Pierogi Gallery
Once the viewers are done being invested in even the smallest details within Daniel Zeller's composite drawings, they can move onto the exploration of a bigger picture contained in his sculpture - yet another one of his beloved contradictions, playing with the concepts of big and small, existing and non-existing, possible and impossible.
Immiscible Cohesion, the seventh solo exhibition of works by Brooklyn-based Daniel Zeller, will be on view at New York's Pierogi Gallery from October 16th until November 15th, 2015. The opening reception will be held on October 16th from 7pm to 9pm.
Sign up for My Widewalls and never miss another event!
Featured images in slider:
Current Remnant, 2015, detail. Ink on paper, 30 x 37 in
Inversion Plot, 2015. Ink on paper, 21 x 27 in;
SitA, 2015. Ink on paper, 30 x 37 in
Noncompliance, 2015. Ink on paper, 14 x 16.5 in
All images courtesy of Pierogi Gallery