Dario Puggioni is an Italian artist, who moved from Rome to Berlin where he currently lives and works. In his art, Puggioni experiments with the material character of surfaces by combining classical figure drawing with a more modern antagonist mood. His works are meticulously constructed and consist of various reactive materials – enamel, ink, acetic acid and oil on aluminum and copper. Where the layers of material constitute a surface on the 'skin' of the work, a process of peeling, decay and movement appears. The paint functions as the surface of the canvas as well as the living 'skin' of the portrayed bodies. Puggioni has won numerous international awards.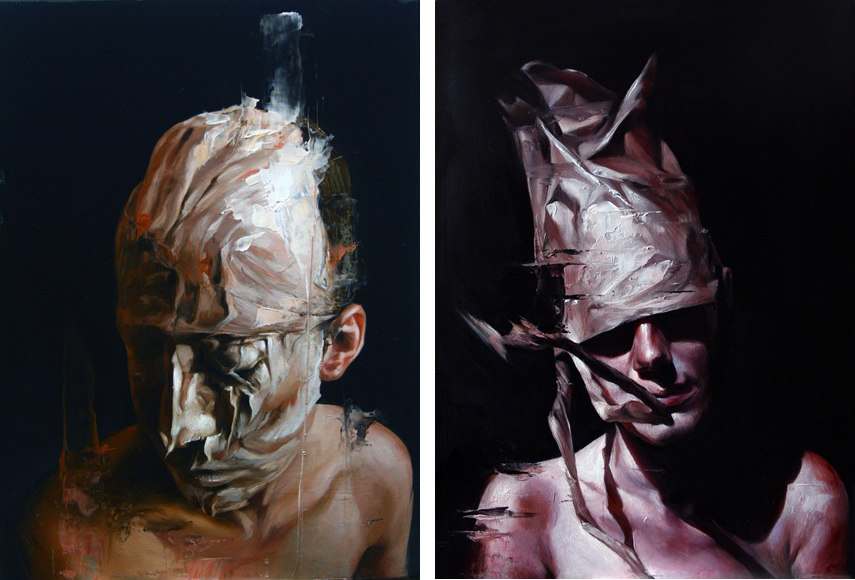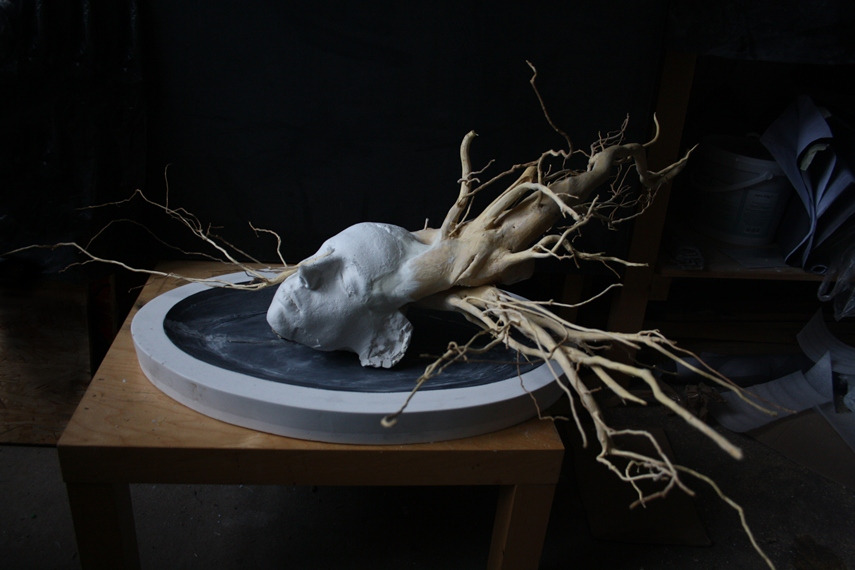 The Loss of our Sense of Hearing
Of all our senses, it is our sense of hearing which helps us to keep our balance and allows us to experience what is happening in the world around us. And it is this sense of hearing which is lost in Puggioni's work. The characters portrayed in his paintings, a mix between the atmosphere of the Flemish artists and David Cronenberg's films, emit no sounds. They are all going through the process of transformation - plant sprouts distort the faces and bodies of his characters, in some cases to a state in which their human nature becomes unrecognizable. This metamorphosis is happening slowly and without much ado, in the same way insects shed their heavy exoskeletons to emerge as completely different creatures. While the change is taking place, faces and bodies of men and women are perfectly still and calm as though they were in hibernation. Therefore, we can almost hear the silence surrounding them.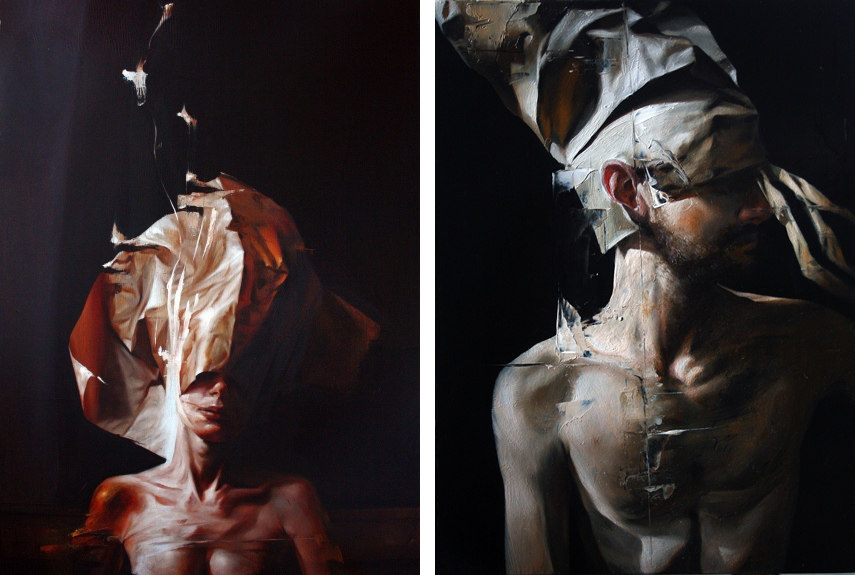 Dario Puggioni's Painting
In Dario Puggioni's work, the human figure, brightly highlighted against a dark background, is in the midst of a transformation. These transmuting bodies are cloaked in a veiled melancholy, in somber tones which shrink them to frail phantoms. Where the light slices the image, the eye tries to probe the shadowy folds that, further back, merge with the background where sight finally loses all points of reference. Lonely and grief-stricken, these silhouettes float suspended in poses of great tension, so much so that it seems the muscles and sheaths of nerves could tear through the very painting at any moment. The surface is heavily worked and filled out with paper and oil paint which, once they are spread on the canvas, create an animated and strong material impasto. The indifferent but tormented figures hint at a modern symbol of ancient martyrs in that they often seem immobile, tied or embryonic.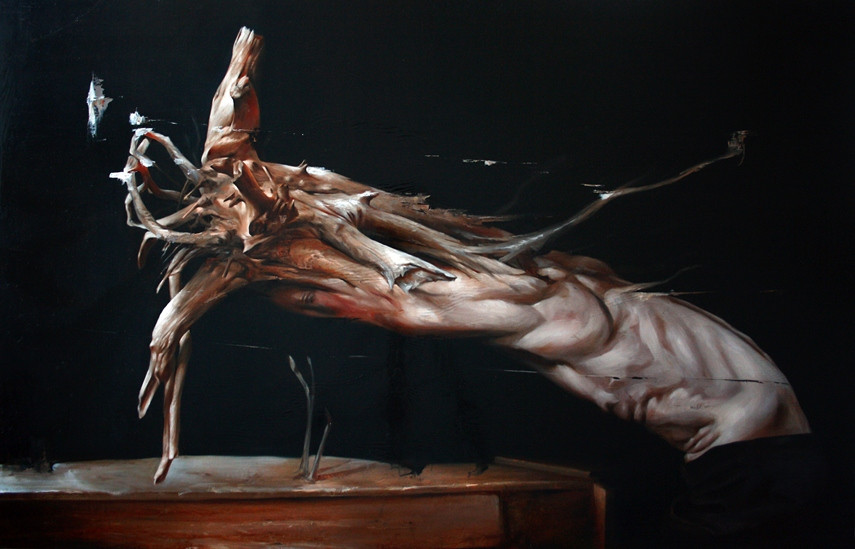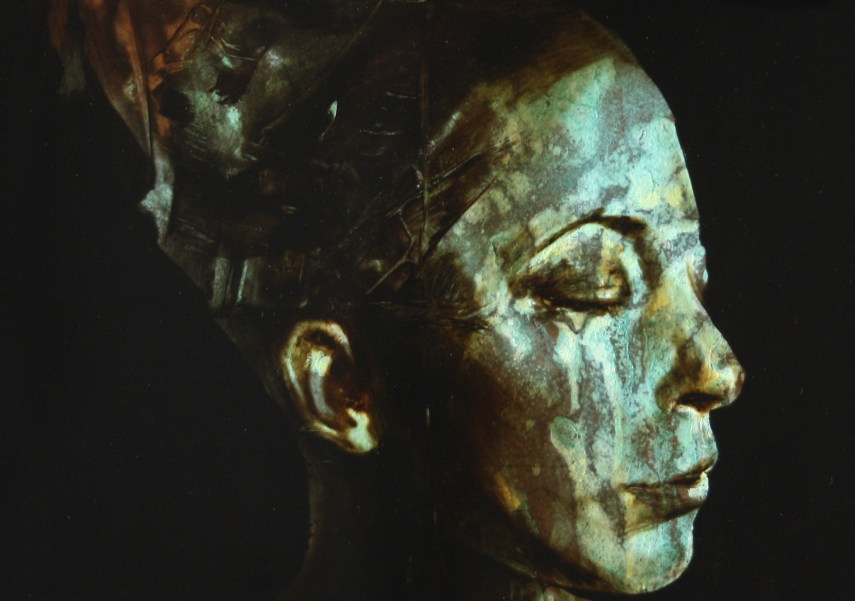 No Noise at White Noise
The White Noise Gallery has brought Dario Puggioni home to Rome for his first Italian solo exhibition. The gallery's lower ground floor experimental space used as a project room for site-specific installations, will be transformed into a three-dimensional representation of Dario Puggioni's work with hanging trees and sculptural elements. Here the visitors will also be able to recover their sense of hearing.
The Loss of our Sense of Hearing by Dario Puggioni at White Noise Gallery in Rome, opens on March 14th and runs through April 18th.
Discover more emerging Italian painters here.
Make sure you stay informed about more exciting shows and artists by signing up for My Widewalls!