For all of those of us who enjoy murky and grimed aesthetics in art, contemporary painter Nate Frizzell gives us reason to look forward to another such exhibition. Depicting everlasting relation and coexistence between human and animal, the artist tried to provoke one of the oldest arguments which so strongly states "Are we so different, us and the animal?" As a sort of tribute to popular Blues tune of the 1920's, his identically named exhibition Dark was the Night serves as examination of human/animal dynamic by occasionally rendering people with animal heads, or masks above their faces, thus connoting that we hide behind "primitive" version of ourselves. The faces are hidden so we can see ourselves, so that the artist himself is obscured from our view. His numerous collections of urban landscapes vs natural settings, humans opposing to animals and the new black backgrounds of this work versus his usual pop culture colors, offers stirring visual examinations of the current human condition. This exhibition will be held in Corey Helford Gallery in LA.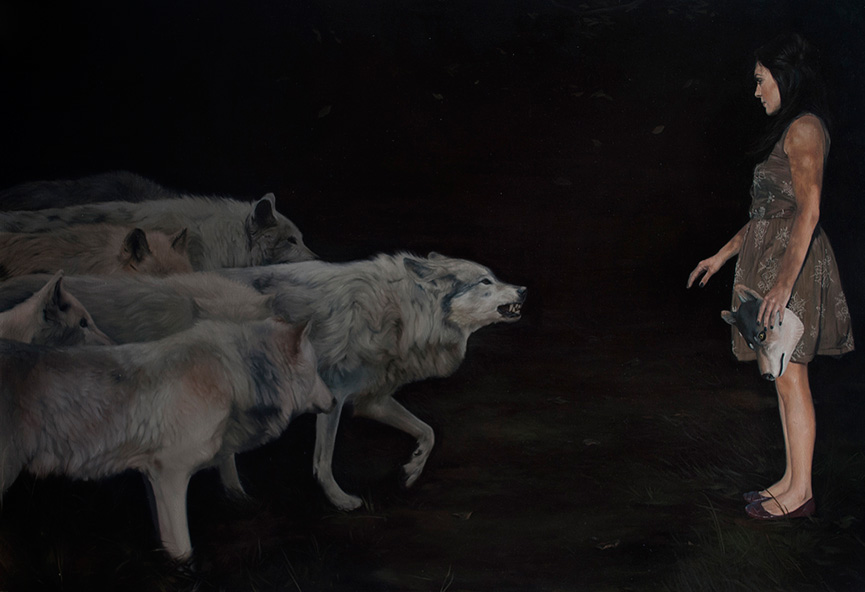 About Nate Frizzell and his new work
Born in Southern California Nate graduated at the Los Angeles' Otis College of Art and Design. He is a representation of a dedicated contemporary painter with bold and imaginative plots of playing humans and animals. In state of emotional turbulence, Frizzell portrays his most intimate stories to serve as an reflection of his own feelings. Frizzell's images have some level of attractive bizarre notion and his graphic design elements resonate within the New Contemporary scene. Frizzell had a few words about his new work: "I try to do something a little different with every show," says Frizzell, about his new work. "It's important to meto grow as an artist. I'm playing with the use of black and negative space...seeing how far I can push myself to mute my color palette and still put a little life into the paintings." Beautifully rendered portraits of everyday people in surreal yet emotional landscapes, Frizzell's subjects live in today's world — amongst graffiti, coyotes, and wearing Vans sneakers.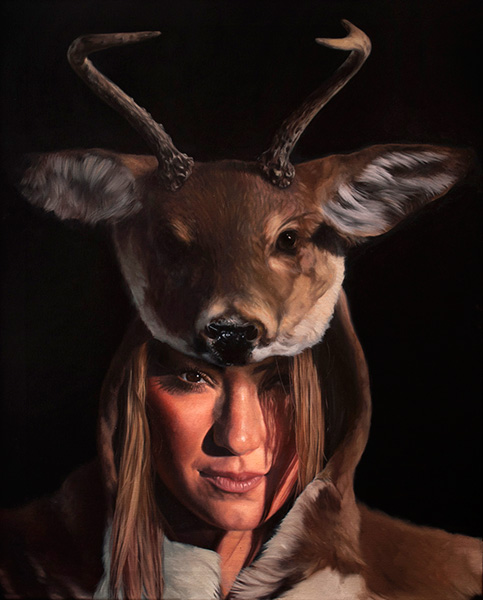 CHG Circa
Established in 2012 by Los Angeles gallerists Jan Corey Helford and Bruce Helford, CHG Circa is their exciting new art venue on Washington Blvd. After launching the extremely successful Corey Helford Gallery in 2006 in the Culver City Arts District, the Helfords opened CHG Circa as a platform to highlight figurative and pop surreal artists worldwide, including Kazuki Takamatsu, Sylvia Ji, Eine, Luke Chueh, Hikari Shimoda and many more. Corey Helford Gallery is internationally-renowned for its standout exhibitions, from "Letters From America" during the 2012 London. As such this gallery serves as perfect venue for Nate's exhibition that will run from November 15 till December 6.
If you enjoyed reading this post and want to find out more about contemporary art exhibitions sign up for My Widewalls today!