Relentless devotion to art and continuous visual exploration guide Dave Kinsey on his artistic journey, unveiling a natural and progressive maturation of his expression. Semi-abstractions he painted recently are certainly a step ahead from his mostly representational, although greatly surreal scenes typical of his previous body of work, as they testify the scale of contemplation invested in creative process. Reducing his composition to essentials, Kinsey retains the recognizable contrasting palette, but induces a novel feeling of harmony or serenity, perhaps due to his personal happiness, induced by the deliberate move into the mountains, which is affecting his work in more than one way.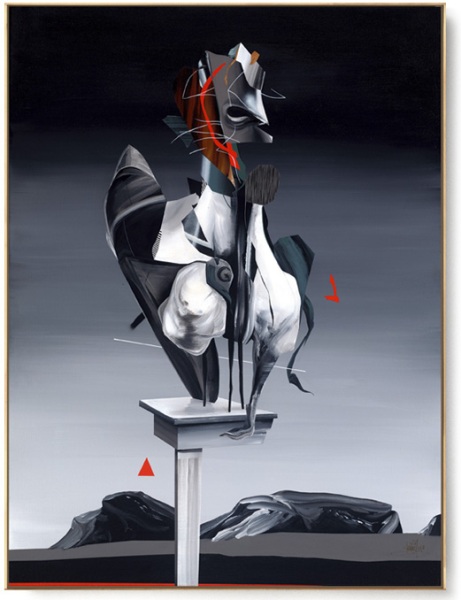 Quest for the Essence
Recent investigative and emotive painting series created by Dave Kinsey will be exhibited at the Library Street Collective gallery in Detroit at the end of September. Delving into the realm of thought further than before, the show is named Cushion of Memory, where works of profound artist's soul-searching and fantasizing about universal, collectively unconscious concepts. Allusive imagery, a known chromatism employed differently, and overt pictorial suggestions of natural formations, all disclose the impact the environment has on Kinsey's work, especially knowing his studio is based deep in the Sierra Nevada mountains. Stylewize, there is something of both De Kooning and Dali in Kinsey's canvases, if the two can ever be connected, perhaps in the execution of the incompletely defined characters, or their intentional distortion.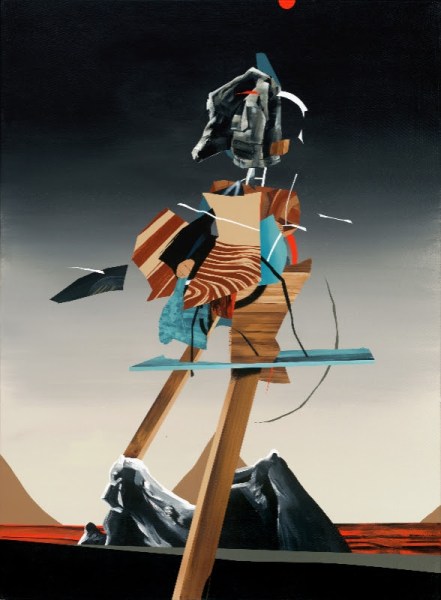 Dave Kinsey
A native of Pittsburgh, Pennsylvania, Dave Kinsey was first introduced to the possibility of artistic creation as a child, by his grandmother. The point of embarkation to into the waters of art was high school, and the involvement with the graffiti movement. Kinsey attended the Art Institute of Pittsburgh and Atlanta, and subsequently relocated to California in 1994, to develop his art and design career. In 2010, he moved into a studio in the Sierra Nevada mountain region north of LA, where he works detached to daily currents of urban life, enjoying freedom and a novel, philosophical approach to painting. Dave Kinsey creates in numerous media, conjuring works that intend to depict the core thread of human condition, echoed in symbolic, frequently abstracted, depictions of contemporary life. As a renowned artist, Kinsey exhibited internationally in various solo and group exhibitions, and he is the founder of BLK/MRKT design firm, a venture that sells fine art prints, clothing and occasional original artwork on display at the firm's BLK/MRKT Gallery, through which he collaborated with major clients such as Mercedes Benz.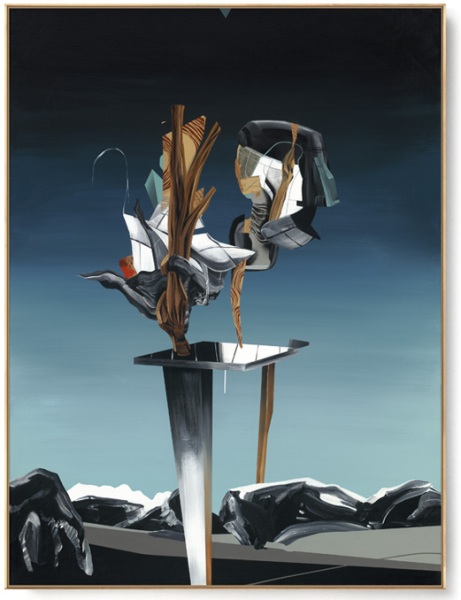 Cushion of Memory
Themes of the Cushion of Memory series follow the original path of Kinsey's work, but they are delivered in a different texture, the view is broader, while tones are somewhat calmer, all result of the natural setting they were created in. Opening on September 27 at the Library Street Collective, Detroit, the show will introduce a different spectrum of reflections that occupy the artist in this period of his creative life. The exhibition will run through November 8, 2014, enticing the observer to reminisce on the prevalent and timeless life-giving forces, seen free of any implicit symbology.