January 10, 2016 was a sad day for the global culture, music, art, society. People were shocked when they heard the news that one and only David Bowie had passed away. It was unexpected, as only a small circle of his family and friends knew about his illness. He was a true innovator; a remarkably unique and brilliant artist who even made an artwork with his death. Many would argue that the video of his song Lazarus was Bowie's way to say good-bye. Our global culture and art lost one of its greatest legends, but his legacy will live forever. David Bowie was an artist – there is no doubt about that, while his work influenced generations of artists. As we already mentioned, his legacy will live forever, which proves the new show at Stephen Romano Gallery from New York that is organizing an exhibition entitled Saint Bowie – a very special and historic exhibition both for the Gallery and all art lovers.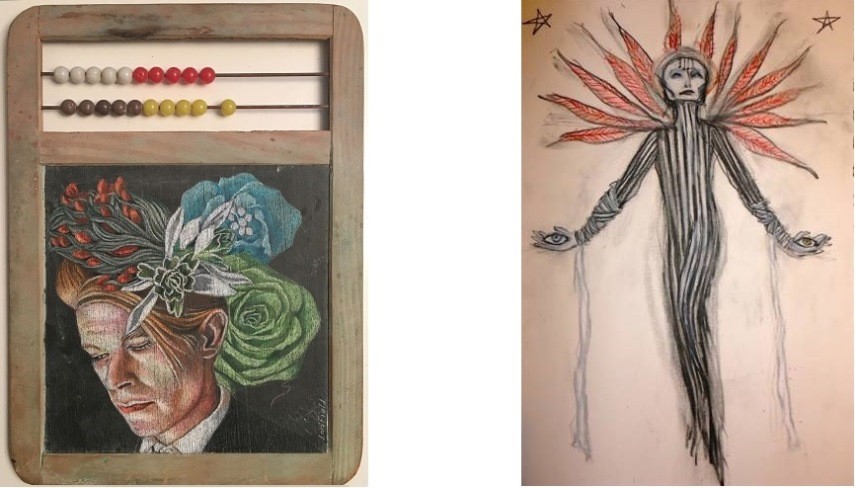 David Bowie in Art – Communing with Bowie on the Other Side
Maybe you didn't know, but Bowie was a huge fan of Modern and Contemporary art. David Bowie had an impressive awareness and knowledge of art which, for him, was "the only thing I've ever wanted to own". On the other hand, his music and his artistic innovations influenced a number of artists to create artworks inspired by this legend. Bowie's death left many speechless, shocked, completely unready to face a world where there's no David Bowie. Stephen Romano, the owner of the Stephen Romano Gallery was one of them. He got the idea for the Saint Bowie exhibition by watching the video Width of a Circle. Being a huge Mick Ronson fan, Romano began to think that Mich and David Bowie are both on the other side now, together. It would be great to communicate through a portal with them, wouldn't it?, Romano thought. He began to wonder what Bowie's legacy was going to be, and how overwhelmed he would be if he had a chance to see Bowie once again. So, he asked the artists to make a work bearing that in mind, that these artworks are objects to commune with Bowie with on the other side. Finally, so much love went into all of these artworks.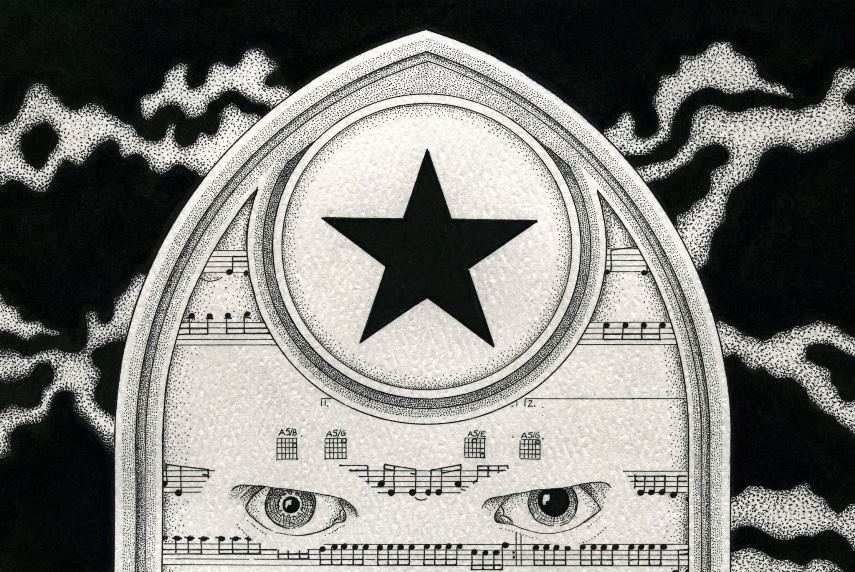 Saint Bowie
The artists were told about the exhibition only three-four weeks ago, and all of them made amazing artworks! For such a short period of time! This unique group exhibition will gather artists who made reliquaries, ex votos, Santos, sigils, altars, ephods, spirit photos and much more objects dedicated to communing with Bowie on the other side. The participating artists are: Dolorosa De La Cruz, Barry William Hale, Tine Kinderman, Caitlin McCormack, Lori Field, Natan Alexander,  Rene Pierre Allain, Colin Christian, Sas Christian,  Nyahzul Blanco,  Lauren Levato Coyne, Erin O'Shea, Lizz Lopez, Rory Coyne,  Inge Vandormael,  Travis Lawrence,  Chris Haas, Matthew Cox,  Ellen Stagg,   Donnie Green,  Matt Nolen,  David Van Gough, Kim Bo Yung,  Alexis Murray,  Nyugen Smith,  Craig LaRotonda and Steven Bradsha.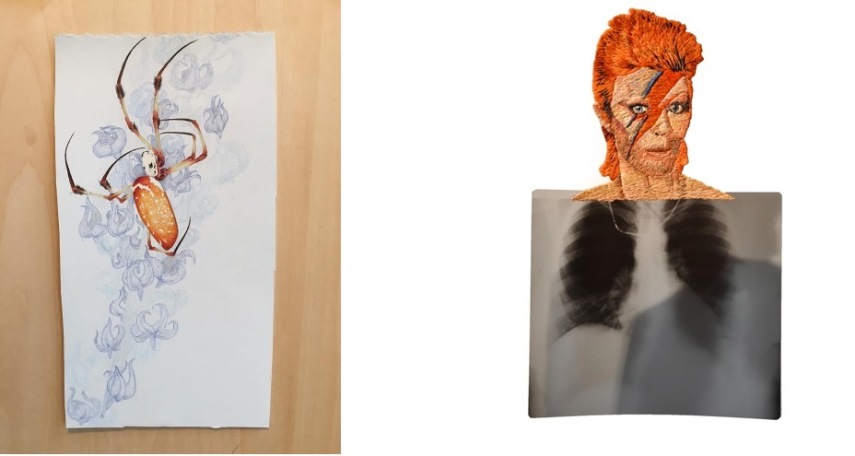 Saint Bowie Exhibition at Stephen Romano Gallery
This exhibition opens concurrently with Paul Booth: Selected Works – an amazing show of this renowned tattoo artist (the show will be on view until March 29, 2016) and with Matthew Dutton: Midnight Paracosm. The participating artists have created truly fascinating works; and it doesn't matter if you weren't Bowie's fan – if you are an art lover, you must visit the Saint Bowie exhibition. We were previously wondering what Bowie's legacy is. Come to this exhibition, and you will see one part of his legacy. The exhibition entitled Saint Bowie will be on view from March 2 until March 29, 2016 at Stephen Romano Gallery in New York City. The opening reception is scheduled for March 2, 5 - 9 pm; the artists will be present.
Featured Images: Buddy Nestor - We Are Made of Stars, detail 2016; Alexis Murray - The Queen of Life and Death, detail 2016. All Images courtesy of Stephen Romano Gallery.