Stirring and complex pieces of David de la Mano could be found in his native Spain, but also all across the world in countries throughout Europe, North and South America, and beyond. Having an easily recognizable aesthetics, his murals are hard to miss. He has developed a highly unique minimalist style characterized by the monochromatic use of black. Exploring every corner of social behavior, he translates it into intricate and poetic murals and canvases. Employing it as a narrative metaphor, he depicts anthropomorphic silhouettes of individuals and masses. As a symbolic reflection of the humankind and the human perception of the world, these characters gather together and unite in an eternal and recurring movement. Individuals become the mass driven by their dreams, ambitions, fears, vices, hopes, internal conflicts.
As his first solo show in Italy, David de la Mano will present a new series of exclusive works created in his recognizable black and white, minimalist aesthetics at Wunderkammern Milan. Titled Latitude, the concept of the exhibition is inspired by the writings of Gilles Deleuze. The exhibition proposes a reflection on the concept of latitude, regarded not only as a geographical term, but also as a situation of the body as defined by the French philosopher. Deleuze defines latitude as the state of the body's force to exist, its power "to affect and be affected". Following this concept, David de la Mano treats the latitude as an indeterminate point between origin and destination, between action and passive enduring.
To find out more about this new body of work and his practice in general, we sat down with David de la Mano for an exclusive interview. We had a chat about the concept of the upcoming show, the idea of motion as a recurring theme, man's relationship with nature, his collaborations, artistic process, and much more.
Scroll down for an exclusive David de la Mano interview!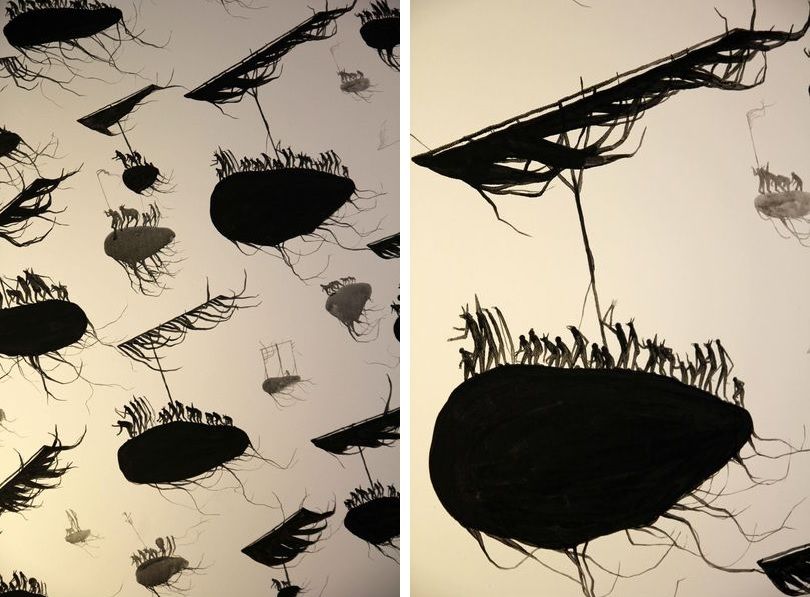 The Exhibition Latitude
Widewalls: Your latest body of work will be on view at Wunderkammern Milan. Can you tell us more about the concept of the exhibition?
David de la Mano: Latitude is a convention, like other things in our lives: languages, borders, religions, etc. In the show, I am talking about the places where we could go if we don't think in the same way as the past generations. I also paint a reflection of different borders and limits of our ways through the visual metaphors that could explain these better.
Widewalls: You use monochromatic anthropomorphic figures, both individuals and masses, as a narrative metaphor. How do you reflect the human condition and the humankind through this imagery?
DDLM: I am trying to see what it's happening in the world. I read the news about the important things that we live now, but I also look to the past history of humanity - the history of art and all the civilisations - to understand what it's happening now. This is very important for me and I suppose that finally, I don't know how, this also goes into my work. The "men" that I paint are the people that I see and the people that I imagine in my view of the world. I don't try to reflect the human condition, this is very difficult, I only try to see inside myself.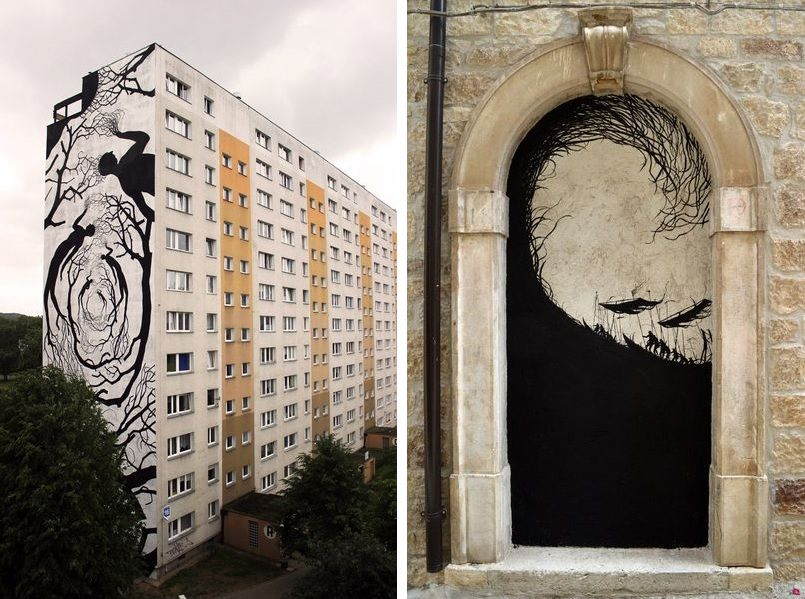 The Idea of Motion
Widewalls: The idea of motion is a recurring theme in your work. What kind of narrative are you looking to convey through this?
DDLM: The motion is present in our life today. My grandfather never saw the sea, he didn't move... For old generations the movement was very complicated. The world now changes and it goes so fast. I don't know if this is the best for the people but it's sure that a lot of people are losing themselves in this movement!
Widewalls: Man's relationship with nature is an important part of your practice. In a time when this relationship is becoming more uneasy, what issues are you concerned the most with?
DDLM: I'm positive and I think that with the passing of the years, more people believe in the respect of nature. We must try to do these small possible changes in our lives now. Obviously, if our politics does not change, this will be impossible.
Widewalls: You have collaborated with the artist Pablo S. Herrero on many murals as part of your ongoing project Movimiento Señora. Can you tell us something about this project and the creative exchange between you two?
DDLM: Yes, I studied with Pablo at the university a lot of years ago. We started to paint together in our city, in Salamanca. Not a lot a time of later, we have created the project: Movimiento Señora. It is like a philosophy of work where we choose to paint peripheral and/or marginals walls. Also, we talked with other artists that were working in these spaces and later on we painted with some of them. Pablo and me live in different countries now, but we try to paint some walls together when we see each other.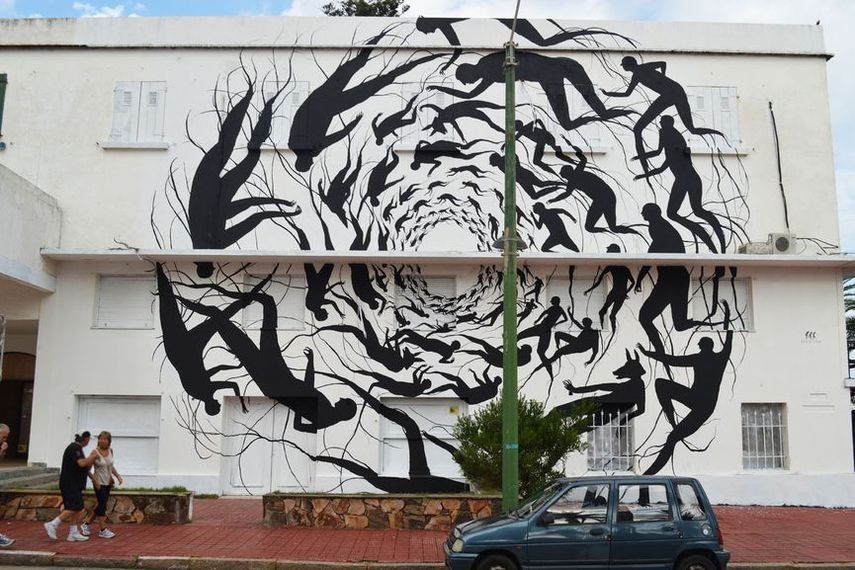 The Artistic Process
Widewalls: Your visual identity is consistent in both your street works and ones created in the studio. Can you tell us something about your artistic process?
DDLM: I always painted. After the studies at the university, I painted a lot on paper with the same technique that I'm using today on the walls and in the studio, but before, it was with coffee and ink. The first artist that I knew was Blu, the great Italian artist. Meeting him was very very important. I was a sculptor and an illustrator and it was very easy and natural for me to start painting. Soon, I started to paint the majority of my murals with black because it was, in that moment, a very fast way for me to paint. There are other reasons why I now continue with the use of the black color in the city. The artistic process is very simple now, it changes just a little. For the drawings on paper with ink, I try to paint directly on paper, and this is very important for me. For sketches, I use simple lines basically like a composition. And finally, for the canvas, I make small sketches and then paint directly. Small walls are painted with previous sketches, but the big walls need more preparatory work.
Widewalls: What are your influences, and whose work do you appreciate the most today?
DDLM: Art is a mirror where we could see ourselves. It's always amazing, and if you know the history of art you can have a better knowledge of these people. I love street art, it's amazing! About the influences, I try to work my own way. I have some influences but I'm not aware. In this moment a lot of great artists are doing amazing walls on the streets. Street art is now a professional work and this has a lot of positive sides, but also some negative ones.
Widewalls: For the end, could you share some plans and future projects in store for David de la Mano?
DDLM: In the future, I have projects in 2017 in Norway, USA, Ukraine, Germany, Italy... Then maybe some projects will proceed and some other won't... I will keep you updated! Thanks for your interest.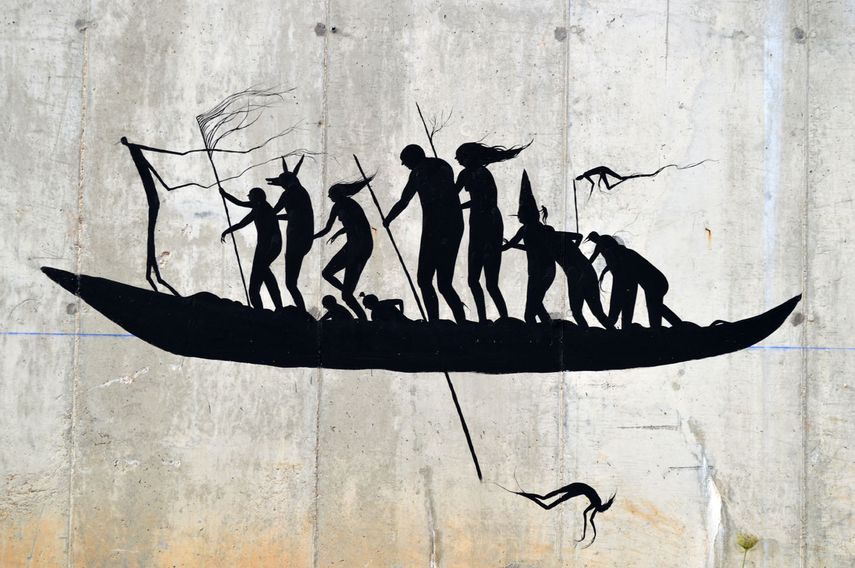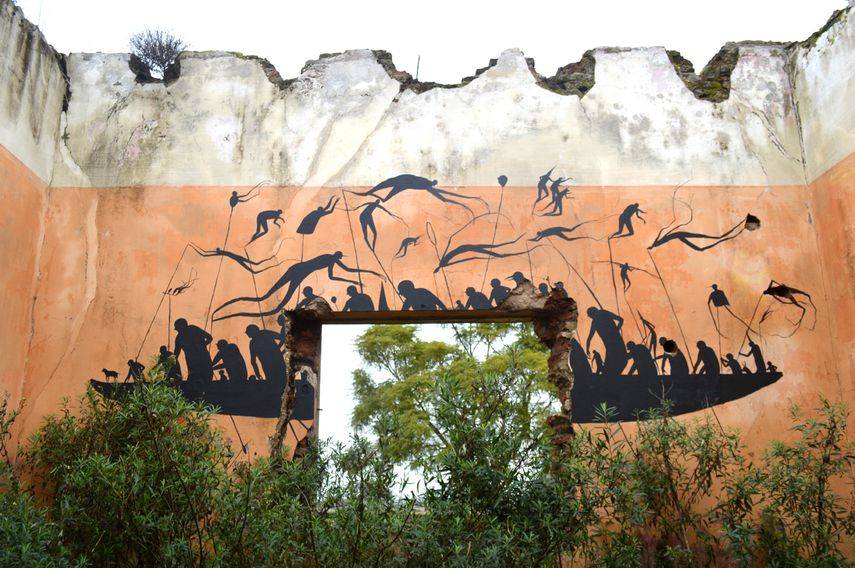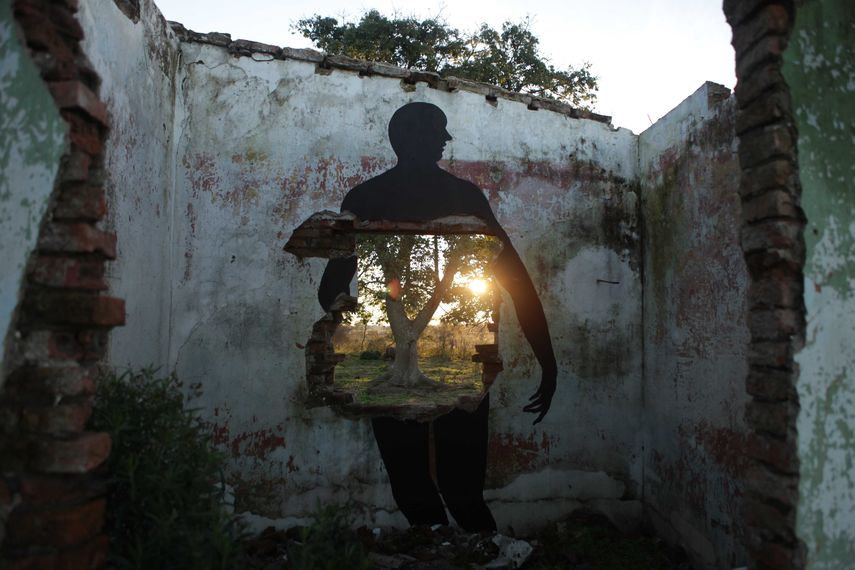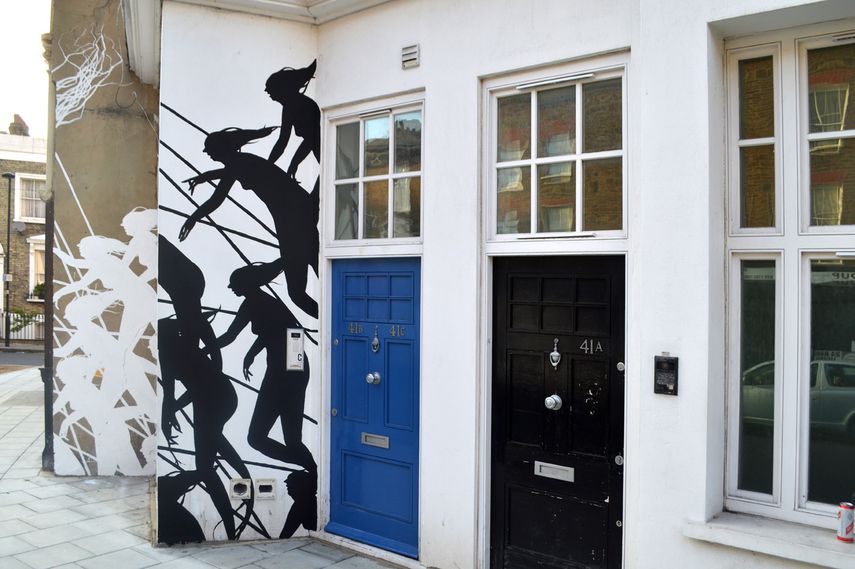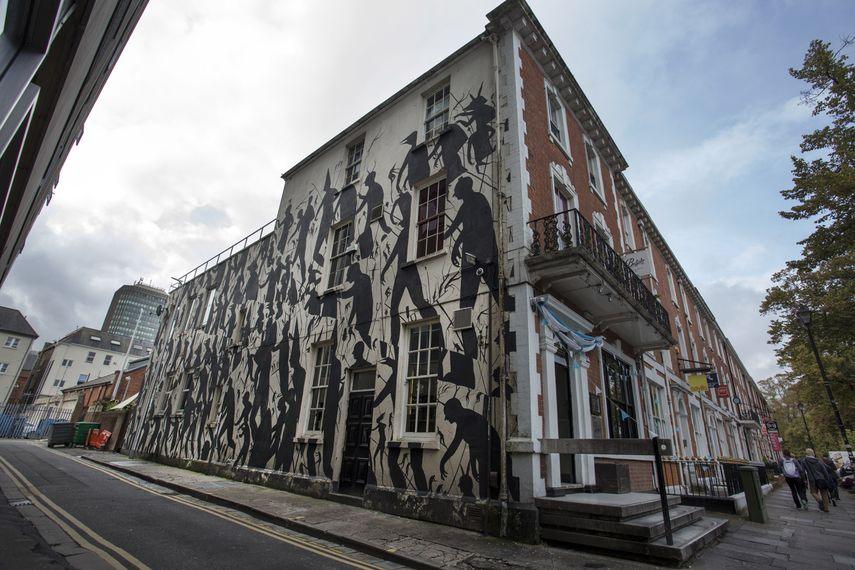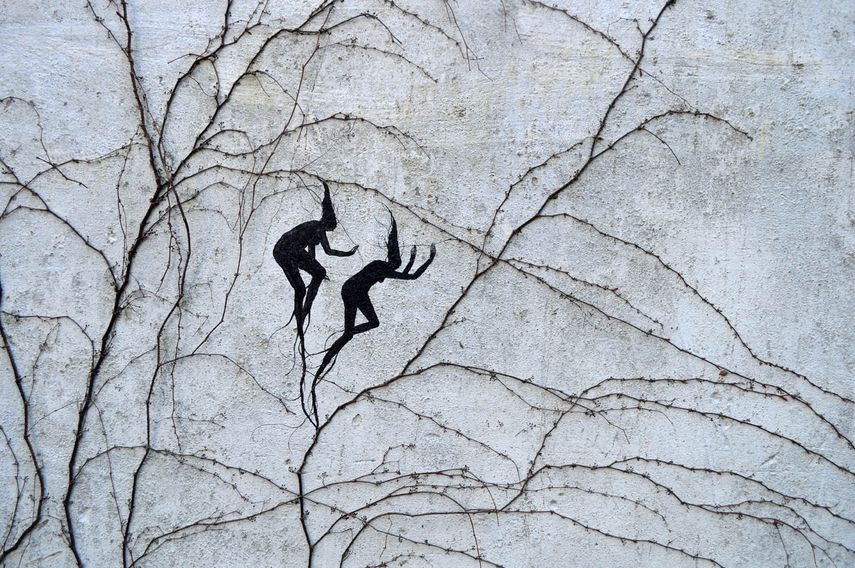 Featured images: David de la Mano, artwork details. All images courtesy of the artist and Wunderkammern Milan.