Constant bombardment of senses with often senseless and unapologetic commercials in combination with the never ceasing acceleration of urban life, plus the politically charged panic hypes cause more and more people to turn to nature, to healthier, more contemplative, traditional and peaceful lifestyle. Many artists are directing themselves in the same direction, despite of the fact that some of them are predominantly influenced by urban environments. Perhaps the marriage of urban life and inner balance is the key to bettering quality of contemporary living, where creatives come as a refreshment of our oversaturated, digitized visual realms. David Ellis and Kevin Earl Taylor both find their respective inspirations within the environment, as they portray metaphorical states of human spirit in the form of animals. Their joint exhibition at Subliminal Projects, entitled Spirit Animal, evokes deeply implanted roots of anima, equalled with animalistic nature on the primordial level, containing a lot of conceptual common ground with Anoint at The Outsiders and De Anima at Roq la Rue exhibitions opened earlier this year.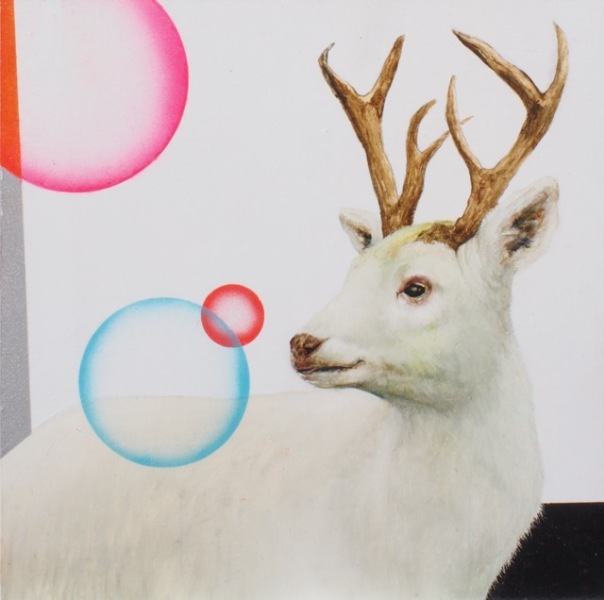 Embrace the Inner Animal
Coming from two different angles, both Ellis and Taylor sought out the way of reintroducing the nature that humans have been purposely abandoning for long, portraying allegorical variations of soul. Ellis composes his work with his signature flowing patterns, including himself into the imagery, while Taylor creates dreamy scenery, populated with wildlings we all know, but feel greatly alienated from. The common thread is the return to nature, as they both raise an important question of human behavior which seems to make ludacris plans without considering consequences on the plane we all initially came from. Physical and spiritual connection with the wilderness is awakened in their work, and as Ellis' approach is more symbolic, with his graphic lines and stylized beings, inviting the viewer to find the animal within; Taylor delves into surreal representation, suggesting the significance of the inner wild, outer nature and primal instinct.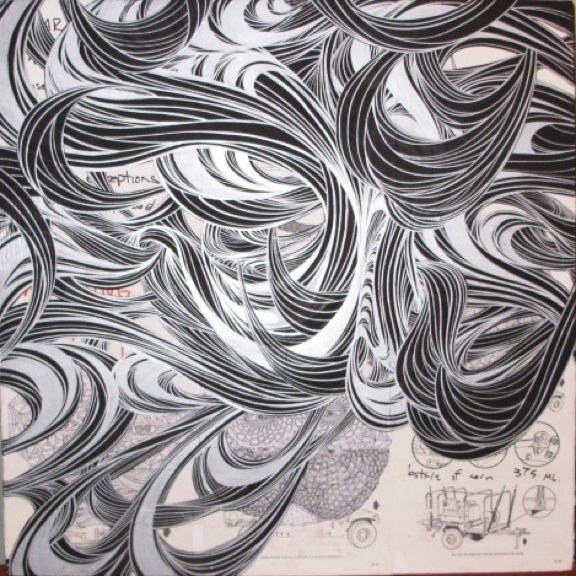 David Ellis
David Ellis is an artist originally from North Carolina, and a Cooper Union graduate. He first entered the public arena in the early 2000s, after he founded Barnstormers art collective, which was engaged in public art projects through small town American South. More recently, he was commissioned to create for Times Square Alliance, while his pieces make part of famous collections, such as Charles Saatchi, Margulies and Deutsche Bank. He exhibited in some of the most prominent art institutions, including PS1 at MoMA. Ellis is based in New York. David Ellis took part at Austin Sight and Sound week, and was one of the initiators of Made Corrections Project in a correctional youth facility in Lithuania.
Kevin Earl Taylor
Kevin Earl Taylor is originally from South Carolina, now based in San Francisco. He graduated from Savannah College of Art and Design in 1995, and he's been exhibiting nationally and internationally since. He mainly creates in oil paint, but also explores possibilities of other media, such as video and sound. He also works as an illustrator, and he designed many record labels and publications. Laws of nature are often the dominant concept in his oeuvre, to which we all are connected. His odd, populated surreal scapes parodize and evoke this connection and emulate the inner struggle of a man to return to the spiritual source, in spite of the constraints of technological age. Taylor participated in recent Cat Art Show in LA.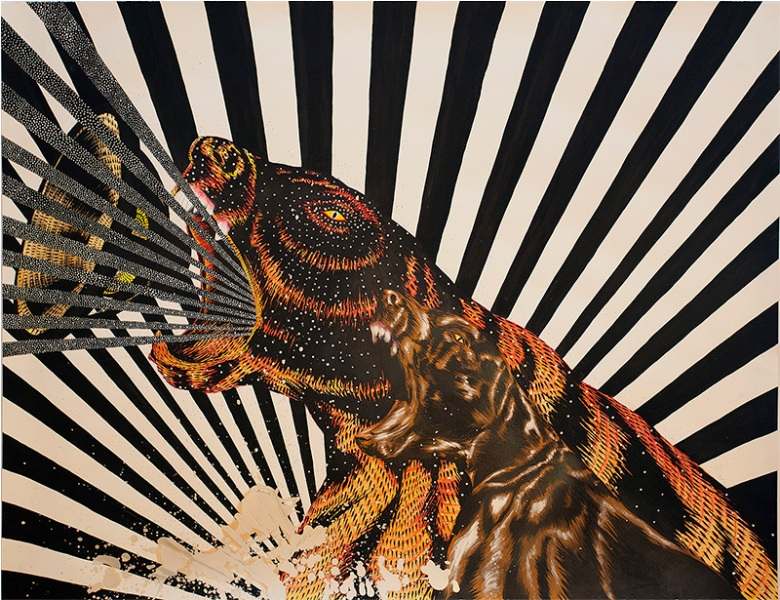 Animalistic on Show
Spirit Animal opens on September 13, at Subliminal Projects, and it's set on extracting all the hidden earthly traits from within the viewer, seducing him with natural rhythms and ways, making him both the predator and the victim in the most pristine sense. The exhibition will stay on view through October 11, 2014.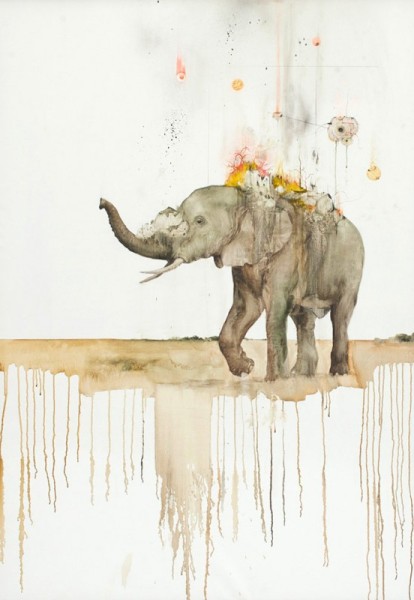 Other artists who build their visual expression around the symbolism and aethetics of animals, percieving them from completely different standpoints, are Roa, L7m, Nychos, Alexis Diaz and Adele Renault, to mention only a few.