A talented and emerging Chicago-based artist, David Heo creates vibrant paintings influenced by daily observations and personal experience, like a visual diary of social life in your 20s. Using subtle imagery, he reflects on the irregular rhythm of pleasure and leisure, fleeting moments and seemingly mundane relationships. Characterized by vibrant colors and synthetic materials, his work playfully presents themes ranging from the complexity of Asian-American identity within American culture to the misunderstood human interactions that one experiences during the night.
The artist's recent body of work will soon be on view at Vertical Gallery. Titled Honey and Smoke, the exhibition brings together a series of paintings and collages exploring the underbelly of social settings like bars and nightclubs. Delving into after-hours milieus where human interactions can suddenly and irrevocably erupt into animalistic violence, this body of work examines the dynamics of danger.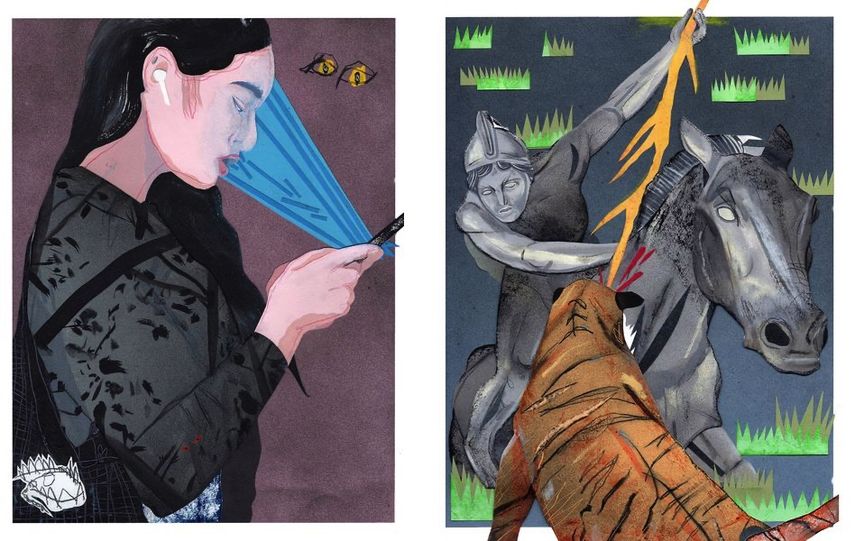 The Practice of David Heo
Born in Acworth, Georgia and based in Chicago, David Heo immersed himself in tattooing at an early age, forming the basis for his current hard edges, detailed imagery and bold color palette. Throughout his practice, he has been experimenting with a range of non-traditional materials, from crayons and house paint to construction paper. As he recalled, he didn't have the money to spend a lot on materials, and while thinking practicality, he managed to translate his work coherently.
The idea of using these materials came from that. But it also came from a place of familiarity — the materials I used as a kid.
Today, his practice is a mixture of personal narratives and being voyeuristic, reflecting his observations on moments of, casual intimacy, nightlife culture, pleasure and leisure and elaborate or mundane desires.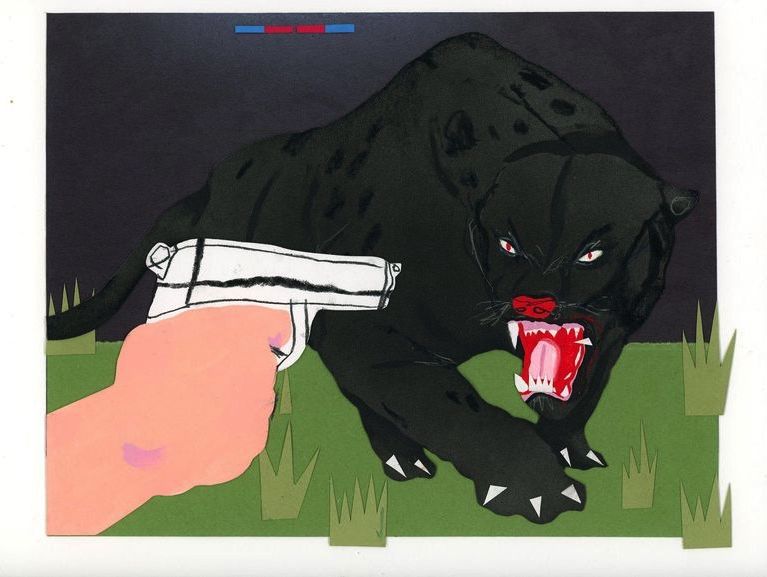 Examining The Dynamics of Danger
The body of work presented in Honey and Smoke is a continuation of the artist's observations and experiences from his own life. Although everybody likes to go out to bars and parties, Heo feels these spaces can also bring out the worst in people. His latest work explores all the scariest things that happen at night, revolving around these interactions that are translated metaphorically.
I'm throwing the viewer into an instance I found impactful, but it's not important for me or for them to know whether it's the beginning, the middle or the end of the story. What's important is that it was a moment that was either incredibly beautiful, frightening, or melancholic.
The exhibition title is drawn from the expression "Like bees to honey", flipping the expression into "To get more honey, you have to smoke out the bees," meaning you must be aggressive to get the things you want.
The bulk of my work for this show is about presenting those contradictions, contrasts and hypocrisies — this struggle within ourselves and the complexities of desire.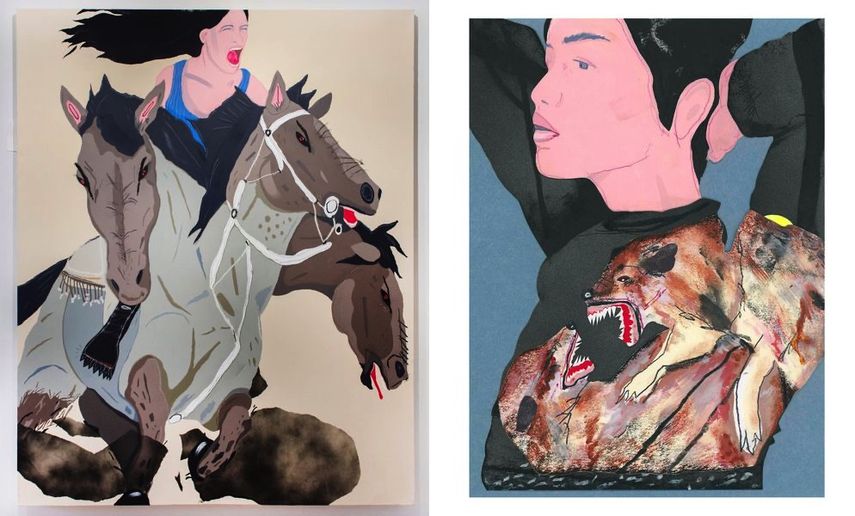 David Heo at Vertical Gallery
After mounting his first solo show in Chicago in 2017, David Heo exhibited in galleries across the city, as well as London and San Francisco and collaborated on a range of projects.
The exhibition Honey & Smoke will be on view at Vertical Gallery in Chicago from March 7th until March 28th, 2020. The opening reception will take place on Saturday, March 7th, from 6 to 9 p.m.
Featured image: David Heo - Have to Pick a Side, 2020. All images courtesy Vertical Gallery.