David Hockney might just be one of those artists you read about in history books and think: "they've done it all." Surely one of the most influential - and living - creatives of our time, the 78-year-old Brit has no intention of stopping either, as his upcoming show at the Royal Academy of Arts stands to prove. What's more, this show is not a 60-year-long career retrospective, such as the one scheduled at Tate Britain in 2017, nor is it an exhibition dedicated to landscape, like the one he had there in 2013. Rather, it will showcase a brand new project undertaken by Mr. Hockney, which he has been developing for the past two and a half years. It is the artist's most ambitious project involving portraiture and the first body of work produced since 2013, when he suffered from a minor stroke which caused him to go partially deaf, and it promises to be a grand success. The story behind these portraits is as captivating and vivid as the rest of David Hockney's stunning portfolio, as it reveals that deafness did nothing to damage the artist's evergreen, innovative vision - if anything, it only improved it.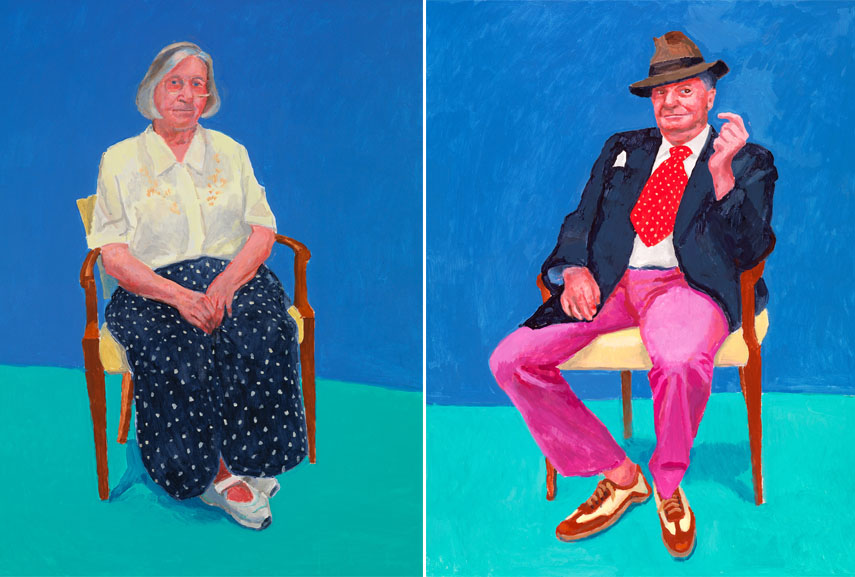 82 Portraits and 1 Still Life at Royal Academy of Arts - A 20-Hour Exposure
Between July 2013 and early March 2016, David Hockney set out to portray 83 people from an inner circle of friends and acquaintances inside his studio in Los Angeles, a city he's been calling home for many years. For this rather demanding personal project (David Hockney never works on commission), the artist imposed certain rules that all his "models" had to follow, if they wished to be in the painting. From returning "muses" like British fashion designer Celia Birtwell and the artist's associate and former lover Gregory Evans, to some very familiar faces like Larry Gagosian and John Baldessari, all participants sat on the same yellow upholstered chair positioned on a platform (so that the artist can be on the same level as the sitter's face, for better perspective), against a plain blue curtain. For the painter himself, there are no photographs to help out, no chair to sit down and no wish of a small talk whatsoever. The models were free to wear whatever they want and chose their own pose, as long as they can keep it up for three days, several hours a day - a period he likes to call "a 20-hour exposure". Mr. Hockney's assistants would even mark the sitter's feet in charcoal on the floor, so they could be back in their original position after breaks.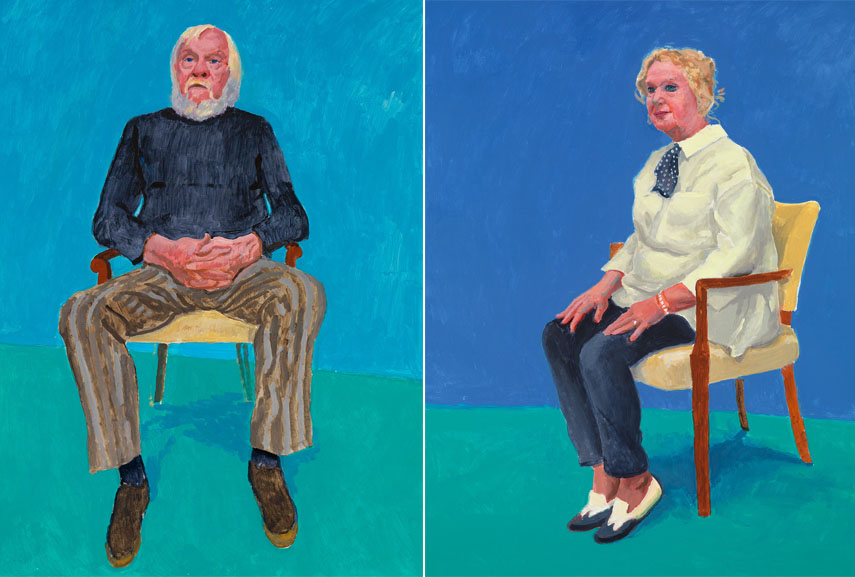 A Glorious Return to Portraiture
At the Royal Academy of Arts, the 82 portraits and 1 still life - which only depicts the yellow chair, as one of the sitters failed to show up - will be arranged chronologically, to show David Hockney's progress and evolution over time. Only recently had he proclaimed painting to be "an old man's art", and these artworks tend to put his extraordinary, rich experience with the medium up on display once again. David Hockney is there to say another thing: painting is not dead and neither is brilliant portraiture, as they defy the predictable era of the selfies and instant imagery. The only saturation present here is the one of color, the hues that his sitters are soaked in, their clothes exalting in subtle, yet masterly executed details that further contribute to the expression of the subjects. It is, indeed, another successful experiment of David Hockney, another ode to the visual and the true in portraiture.
David Hockney Portraits at Royal Academy of Art London, 2016
A Fearless Master of… Everything
Can he really do just anything? He probably can. David Hockney has been experimenting with art and pretty much all its media ever since he created his very first artwork. From that seminal 1960 Young Contemporaries exhibition which gave way to British Pop art and the iconic We Two Boys Together Clinging painting from 1961, in which he openly celebrates his homosexuality, to lithographs of famous friends, photo collages made of Polaroid prints, etchings, stage designs and finally paintings and drawings made with fax machines, photocopiers and iPads, David Hockney is someone who sees no technical limits for his ideas and imagination. For him, art has always been a way to deal with life, a life that sometimes wasn't easy to go through. Nevertheless, after all these years, David Hockney remains young and heart and as innovative as ever, a living legend whose relevance will certainly not face away any time soon.
David Hockney RA: 82 Portraits and 1 Still-life will be on view at the Royal Academy of Arts in London from July 2nd through October 2nd, 2016.
  Editors' Tip: Secret Knowledge: Rediscovering the Lost Techniques of the Old Masters
Yes, David Hockney also wrote a book, and it is actually a bit more controversial than we would expect it to be. In it, he investigates the painting techniques of the Old Masters, such as Caravaggio, Velázquez, da Vinci and other hyperrealists. In this volume, the artist concluded that they actually used optics and lenses in order to create their highly detailed and realistic paintings and drawings. Hundreds of the best-known and best-loved paintings are reproduced alongside his straightforward analysis. Hockney also includes his own photographs and drawings to illustrate techniques used to capture such accurate likenesses. Extracts from historical and modern documents and correspondence with experts from around the world further illuminate this thought-provoking book that will forever change how the world looks at art. Secret Knowledge will open your eyes to how we perceive the world and how we choose to represent it.
Featured images in slider: David Hockney. Photo by Andrew Matthews-PA; Left: David Hockney RA - Dagny Corcoran, 15th, 16th, 17th January, 2014 / Right: David Hockney RA - David Juda, 22nd, 23rd, 25th March, 2015; Left: David Hockney RA - Earl Simms, 29th February, 1st, 2nd March, 2016 / Right: David Hockney RA - Edith Devaney, 11th, 12th, 13th February, 2016; Left: David Hockney RA - Rita Pynoos, 1st, 2nd March, 2014 / Right: David Hockney RA - Jacob Rothschild, 5th, 6th February, 2014. All paintings are Acrylic on canvas, 121.92 x 91.44 cm. © David Hockney, Photo credit: Richard Schmidt. Images courtesy of the Royal Academy of Arts.