Nature and technology are often seen as two conflicting forces but celebrated pop artist David Hockney proved that they can work together to produce finest landscape imagery. Upcoming David Hockney exhibition that will be on display at Pace gallery in New York is inspired by the pride and joy of American West - the grandiose and captivating Yosemite National Park. David Hockney visited the park numerous times but instead of taking his sketchbook along with him, he used his trusty iPad for drawing colorful landscape images. These iPad drawings were later transformed into large-scale prints spanning over several panels that will bring the greatness of nature and the notion of open space into the premier New York venue.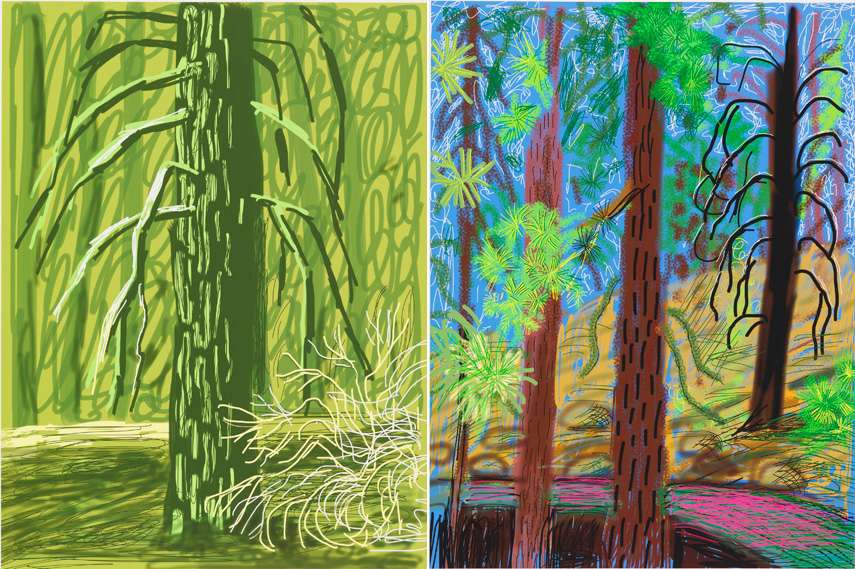 iPad Drawings by David Hockney
David Hockney is known for trying out different mediums and embracing new technologies. He started his career as a painter but has quickly adopted other materials and manners of artistic expression. Throughout his career, he worked with photography cameras, fax machines and photocopiers and even designed automobiles and stages for ballet and opera. The internet revolution brought new ways and ideas and David Hockney quickly adopted the iPad as his latest tool. Acting as a canvas, a brush and a palette, this small electronic device has become an inseparable part of David Hockney's work.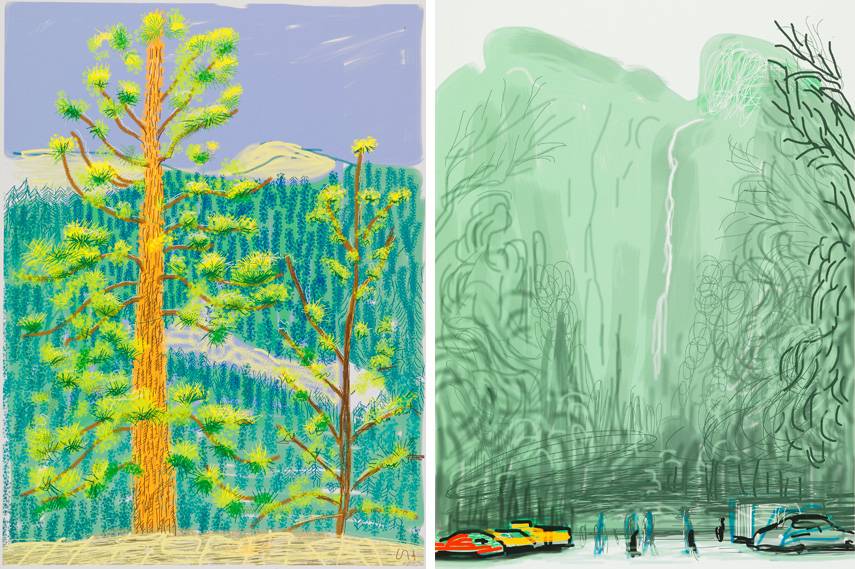 Experience the Immensity of Yosemite Park
The latest body of work by the prolific artist represents a continuance of his landscape explorations that were also depicted in his The Arrival of Spring in Woldgate, East Yorkshire in 2011 (twenty-eleven) series of work that was on view at Pace gallery in 2014. When David Hockney decided to capture the beauty of spectacular granite cliffs, clear streams and giant sequoia groves of the Yosemite park all he needed was his skills and an iPad. This easy-to-use and compact tool has enabled the British artist to create his work on the spot and transfer feelings of admiration toward nature immediately onto his electronic canvas. Knowing that iPad drawings will be transferred on the large panels, David Hockney made sure to carefully calibrate the scale of objects and fill the image with an abundance of colors and details.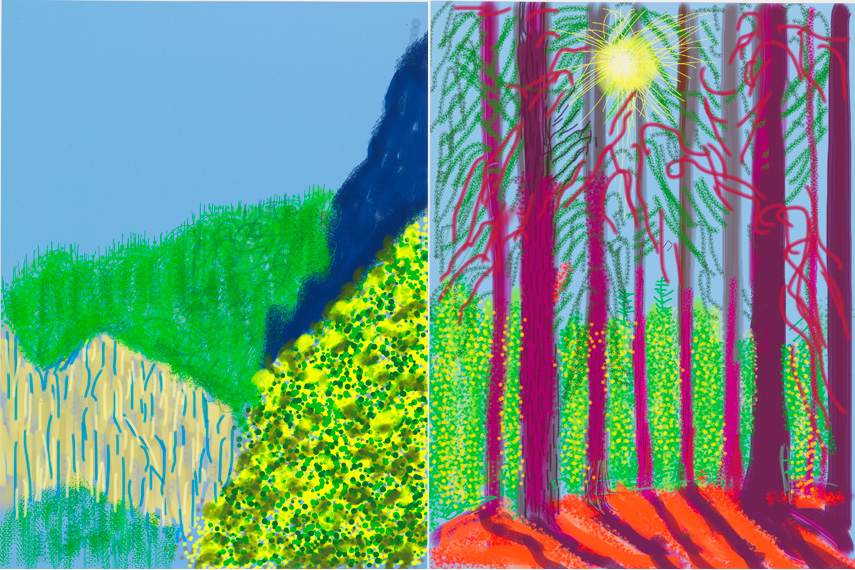 David Hockney Exhibition at Pace New York
The Yosemite Suite exhibition of works by David Hockney will be on view at Pace Gallery at 537 West 24th Street in New York from April 29 till June 18, 2016. The Yosemite Suite exhibition will showcase an array of works that David Hockney made during his 2010 and 2011 trips to the first national park in the world. His 2011 series of iPad works is particularly striking since the artist successfully turned his small drawings into prints spanning over eight feet. Some of his largest Yosemite Valley prints are produced on four panels thus successfully conveying the beauty and the vastness of the captivating park.
Featured images: Left : David Hockney -  Untitled No.9, 2010 / Right : David Hockney -  Untitled No.12, 2010 ; All images courtesy of Pace Gallery