For more than five decades, David Hockney has been celebrated as an extraordinary art figure mostly due to the important role he had in a development of the 1960s Pop art movement. Much is written about his grand oeuvre, yet it is important to underline that the same was and still is fulfilled with various references and expressed through different media from painting, through to printmaking and photography. As a matter of fact, the artist is quite interested in technological advancement which allowed him to experiment with the latest materials or gadgets.
During the 2000s, Hockney started producing digital art on iPhone and iPad - art which perfectly reflect his unstoppable imagination and a need to explore different possibilities of image-making. Regardless of being an elderly gentleman, the artist superbly and meticulously depicts everyday objects and produces colorful, striking and patterned images. Interestingly so, it seems that all of these works reveal Hockney's performative approach since they are produced in a gestural manner of capturing the everyday activity of self-observation and self-articulation.
The simplicity and sincerity of David Hockney iPad and iPhone art is what makes it so interesting, so the recently opened exhibition titled David Hockney: iPhone and iPad drawings 2009-2012 and New Photographic Drawings at Annely Juda Fine Art tends to underline that by exposing a number of twenty seven limited edition prints.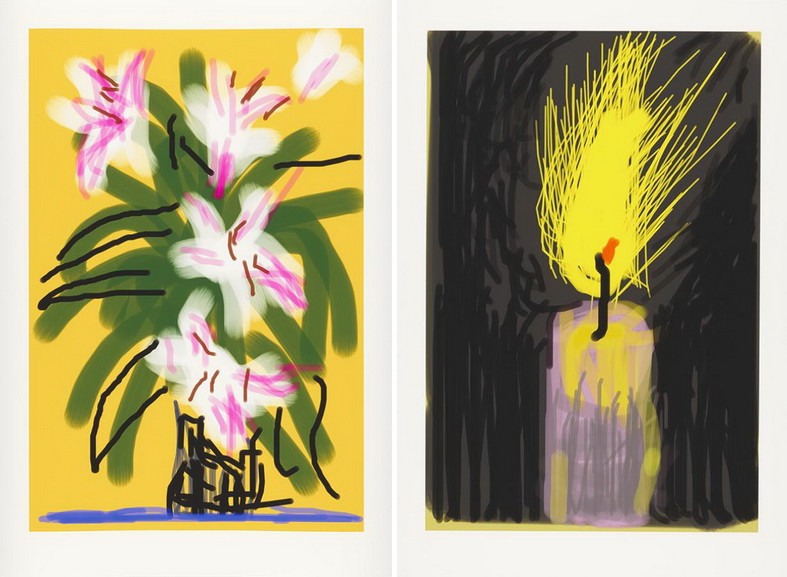 David Hockney's Digital Art
A master of color, David Hockney was quite fascinated by these hand-held devices, since they have provided him with a myriad of possibilities - from multiple coloring to different effect tools.
Hockney started using that Apple gadgets in late 2008, and became accustomed to the iPhone Brushes app, but used an iPad as well, which he explained by stating:
Takes it to a new level - simply because it's eight times the size of an iPhone, as big as a reasonably sized sketchbook.
Since then, Hockney has produced hundreds of images on his iPhone and iPad, and according to the artist, the software is so advanced that goes smoothly with his hand and allows sufficient sensitivity in painterly line and color. The artist's skill becomes accentuated with details and bright colors, while the selection of motifs such as burning candles, a vase of flowers or a phone charger are like pages from his diary and are an effect of the artists' new approach to intimacy and immediacy.
At the same time, the iPad and iPhone images reveal his cheerful mindset, as well as an increasing alienation so typical for the digitized era.
The exhibition reveals Hockney's outstanding ability to present sights which surround him in his own specific style, but with a special take on contemporary moment. Furthermore, the artist underlines his interest in new technology and its ability to expand the human perception of reality.
On the other hand, due to the fact that each image appearing on another device is identical, Hockney's iPad art poses relevant questions of originality and it can be perceived as subversive in the context of art market driven by the idea of authenticity.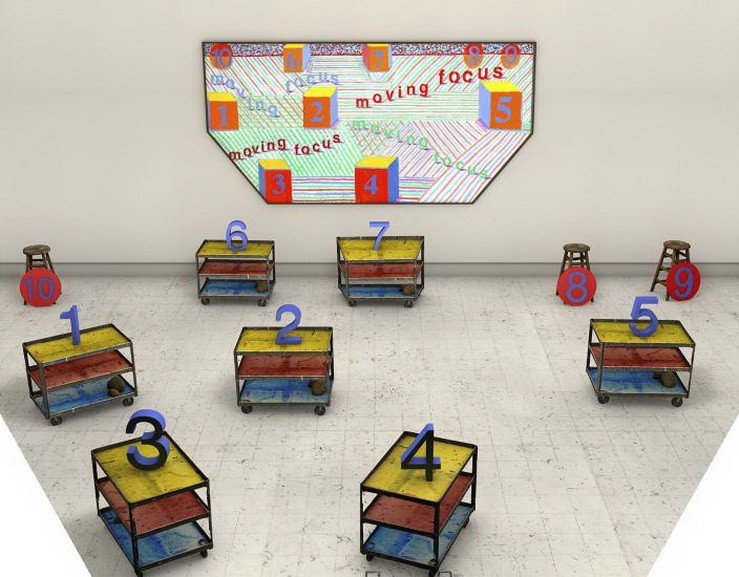 A Few Words More About The Works
Aside from the mentioned iPhone and iPad works, the Photographic Drawings will be shown as well. With this work, Hockney broadens his investigation of the limits of single-point perspective, an important characteristic of his whole practice which is present in his paintings, photo collages, and videos.
Namely, Hockney combines various viewpoints of interior scenes in his LA studio by deliberately altering perspective and by doing so producing composite images. Through these explorations, the artist played around with the form by deviating the standard square or rectangular canvas. Perhaps the best example for this conclusion is the work titled Focus Moving, where the six-sided format is being transformed in the sense of the limitations of conventional space. These compositions are mounted onto Dibond, a type of aluminum, so the final impression provides a sense of three-dimensionality.
Some of the iPhone and iPad drawings from the installment were presented for the first time in Hockney's solo exhibition Fresh Flowers at the Musée Yves Saint Laurent in Paris and other shows, while Jumbo and large versions of the Photographic Drawings' are currently on view as part of the Summer Exhibition at the Royal Academy in London.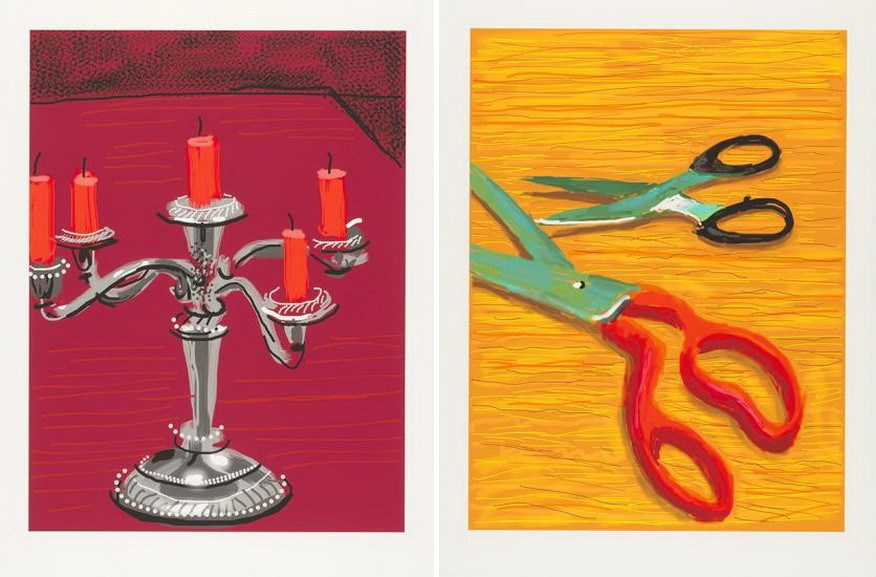 David Hockney iPhone / iPad Works at Annely Juda Fine Art
It is important to mention that this legendary art figure recently had three major retrospectives at Tate Britain, London (2017), the Centre Pompidou, Paris (2017) and the Metropolitan Museum of Art, New York (2018), which tells much about the importance of his practice today and all the possible influences he had on graphic design, visual arts and popular culture.
Finally, this show should be seen as relevant not only because it displays the latest domains of David Hockney's iPhone Art, but because it also provides a new and refreshing insight into the enormous potentials of one of the most recognizable living artists.
By focusing on the fruitful digital iPhone and iPad period in between 2009 to 2012, the Annely Juda Fine Art exhibition wants to underline the domains of David Hockney and his ongoing agenda of pursuing new artistic horizons.
David Hockney: iPhone and iPad drawings 2009-2012 and New Photographic Drawings will be on display at Annely Juda Fine Art in London until 31st August 2018.
Video - David Hockney Draws on his iPad
Featured images: Left: David Hockney - Early Morning, 2009. iPhone drawing printed on paper, Edition of 25. 94 x 64.8 cm, © David Hockney / Right: Eiffel Tower by Day, 2010. iPad drawing printed on paper, Edition of 25. 94 x 71.1 cm, © David Hockney. All images courtesy of Annely Juda Fine Art.