When we think of David LaChapelle, we usually think vibrant colors, glossy fashion editorials and one-of-a-kind celebrity portraits which marked the last 30 years of contemporary art. A decade ago, however, the famous photographer made the decision to change his artistic and critical approach, immersing himself into a renaissance of sorts. In his fifth solo show at Maruani Mercier, the artist will now present brand new series of works, made out of artifacts of our civilization and transcending into parables of enlightenment and the miraculous. Behold, the New World, David LaChapelle style.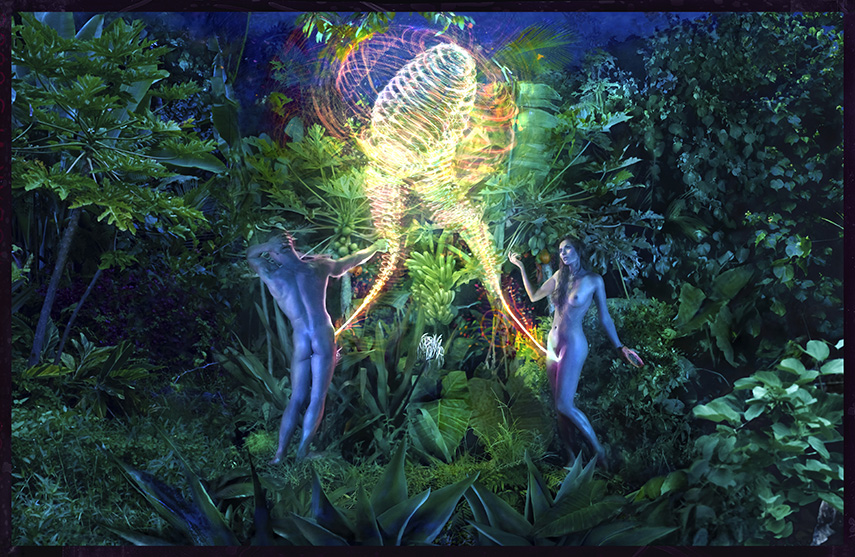 New World
These works by David LaChapelle, despite being recent, continue to carry that instantly recognizable spirit and aesthetics he's been known for his entire career - fantastic scenery oozing in poignant hues, symbolism, eroticism and otherworldliness. The artist returns to the analog process, which has him paint his negatives with photographic pigment. His main focus becomes the human figure, set in landscapes which evoke paradise and places of joy, nature and the soul, scenes of the metaphysical and the eternal. The painted photographs call to mind old masters like Michelangelo and Symbolist painters such as William Blake and Odilon Redon, both because of their structure and their aim to meditate on spiritual, and sometimes even religious questions.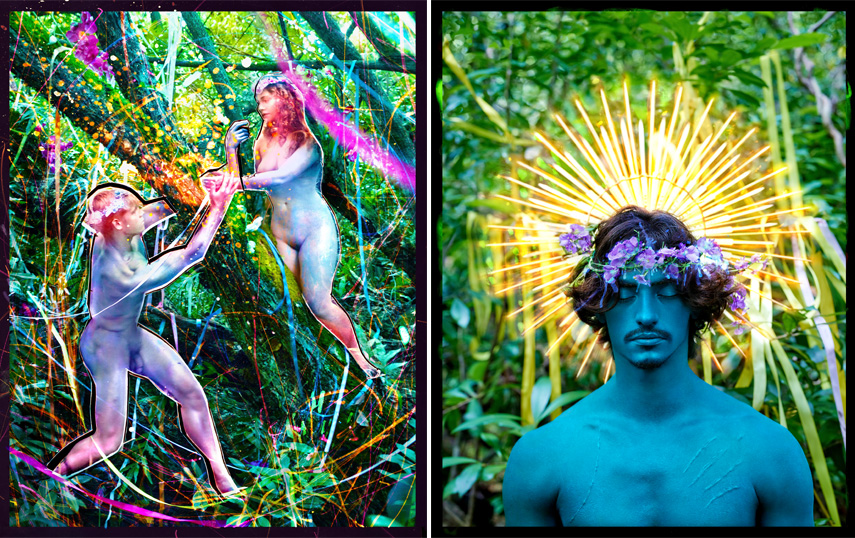 Moving Beyond Mortality
Among the representations of New World, we find different stories. In the series Gas from 2012, David LaChapelle shows us petrol stations set in tropical jungles, deserts and forests. These are the "dazzling spectacle and retro future aesthetic of gas stations distract from the dangers of their function" and are a nod to Edward Hopper and his fantasy of "a future archaeologist uncovering a gas station, as if it were an Incan temple of our day." In Aristocracy (2014), three dramatic scenes of airplanes navigate through heavy atmosphere, depicting the life of higher classes and the parallel universes they live in. On a more personal note, David LaChapelle uses a life-size custom built American house to explore his own experience as dramatized in the building's many rooms, as part of the artwork titled Self Portrait as a House.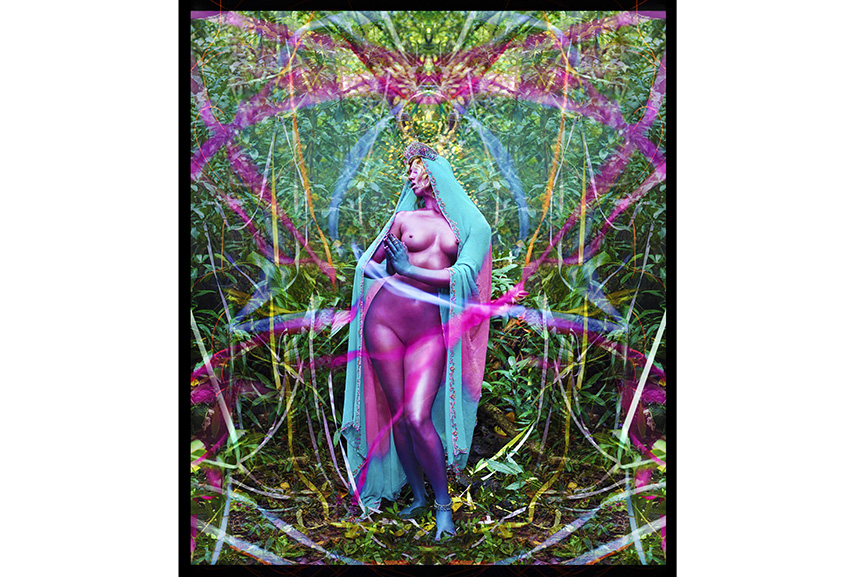 David LaChapelle Photography at Maruani Mercier
Finally, on display in New World, the visitors can also find Icarus, portraying Grecian youth among discarded computers, next to the 2009 Birth of Venus inspired by Botticelli's iconic nude, as well as Nativity from 2012, which talks of the birth of Jesus in Africa. All of these aim to take us from here to the afterlife and show us a brand new place we couldn't even dream of. New World, an exhibition of works by David LaChapelle organized in collaboration with BAM Mons, will be on view at Maruani Mercier Gallery in Brussels, Belgium, from October 11th through November 18th, 2017.
Featured image: David LaChapelle - A New World, 2015. C-print, 66 x 102 cm. All images courtesy Maruani Mercier.