The filmmaker David Lynch is undoubtedly one of the most prolific figures in the history of cinema, who was simultaneously and still is, a visual artist as well. Until the late 1980s, this established figure was known only for his movies. After the first solo exhibition at Castelli's Soho Gallery, Lynch started pursuing a path of a visual artist despite different critical reactions.
The cinematic legend managed to build a surreal and nightmarish aesthetic, as a continuation of his early explorations mostly expressed in animations and short films. The ghoulish images of the American suburbia are constantly haunting Lynch so he has been actively exploring those visions for more than twenty years.
In order to dissect his painterly practice, the Pennsylvania Academy of Fine Art released an extensive retrospective in 2014, while just two years later the documentary David Lynch: The Art Life was released. The interest in his work is apparently rising and at the Los Angeles-based Kayne Griffin Corcoran gallery, an exhibition titled I Was a Teenage Insect featuring paintings, watercolors, and drawings is currently on display.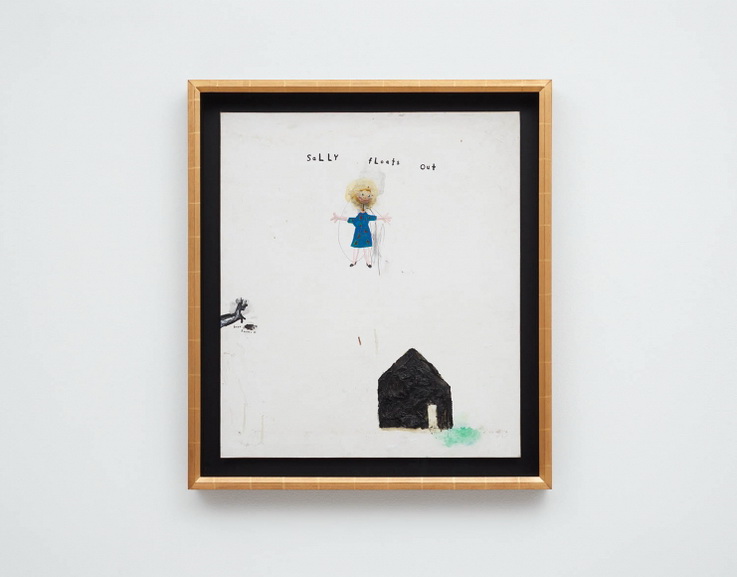 The Domains of David Lynch Art
This great fan of Francis Bacon, a passionate smoker and coffee maker, showed an incredible interest in visual art, first of all for painting in his early childhood. As a matter of fact, David Lynch spent his teenage years searching for an adequate art school, which forced him to travel all over Europe to eventually become a student of the famous expressionist Oscar Kokoschka. He finally found himself in the Pennsylvania Academy of Fine Arts, where he made some of his first short films at the end of the sixties.
The great influence of Surrealism, which largely defines almost all of David Lynch's opus, is noticeable at the very beginning of his work with moving images. One of the best works from that period which embodies his interest in both painting and film is the painting Six Men Getting Sick from 1967 which features the heads of a few men on a panel. It was an actual multimedia work since projection that made it appear as if the men were vomiting was included along with the sound of a police siren.
Often raw and childish, his paintings do not have the primary, psycho-sexual power of his films, but nevertheless reflect the author's insightful dissection of the human mind, above all dreams, deep fears, and hidden passions. The influence of Southern Gothic, Surrealism, noir film and photography by Joel Peter Witkin, a fascination with factory installations and body deformations, as well as a number of other strange motifs and references are all present in his paintings. Lynch's artistic practice is based on painting, so it can be stated that his moving images represent an extension of his painterly experience.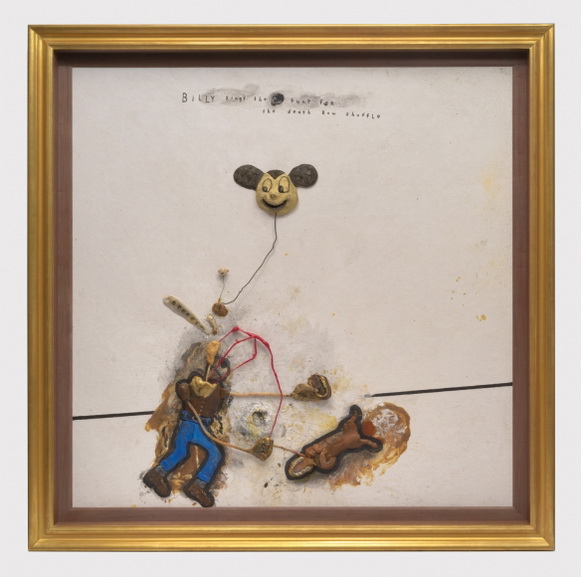 The Mage of Illusion
The works in this new gallery show feature different depictions of odd situations and deformed and hybrid figures (combinations of animals and humans) so typical for his entire oeuvre. Certain works are followed by text such as Big Sheep Did Eat My Brain with a note I have been here before. When? or Every Girl's Dream from 2017 depicting a nude female figure embraced by a shadowy monster, along with the words Sally said this NOT ME!. These messages are not here to demystify the bizarre imagery, yet they are here to offer a sort of a hint for a possible meaning.
David Lynch once explained how he perceives the narrative structure behind his paintings:
Yes, I love a narrative—a little story, a small story, as I say. I like to have something going on with the characters. Sometimes the story comes first, but sometimes the narrative comes out of the work later. It depends how it goes, but again, I like to have the thing feeling a certain way. If it wasn't for words, it just wouldn't be complete.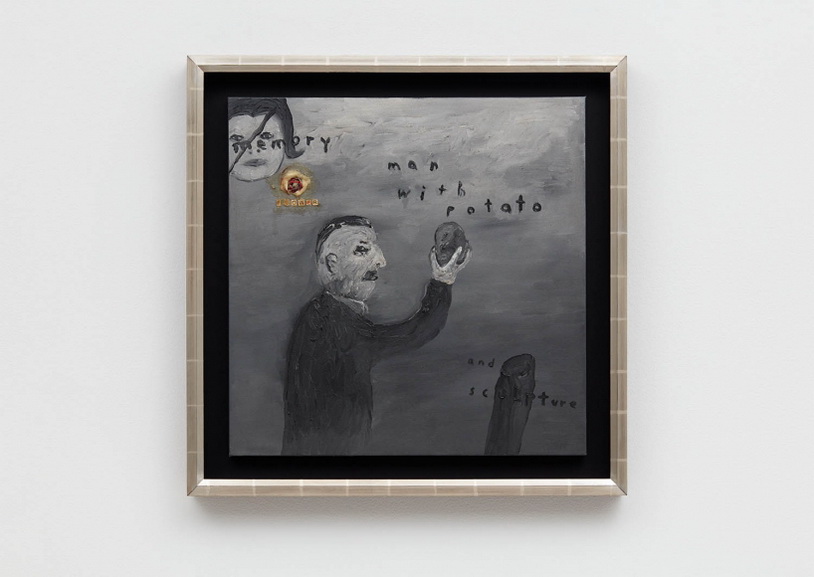 David Lynch at Kayne Griffin Corcoran
The influence of the aforementioned Francis Bacon is quite apparent, while on the other hand, David Lynch claims that he is not much familiar with contemporary art which is best expressed in the following statement:
I don't know anything about the New York art scene, the Paris art scene, the German art scene. In the same way with film, I'm not a film buff.
The artist paints every day, and a practice of Transcendental Meditation to which he is devoted helps him much to maintain his creative process. And he explains that:
People who have this ability to transcend start expanding consciousness with those all-positive qualities, and it serves the work. Ideas flow more freely—you're happier in the work. It's a form of meditation that allows a human being to experience the deepest eternal level of life. And in the field that you transcend is unbounded creativity, intelligence, love, happiness, energy, peace, power. It's a huge blessing, for the work and for life.
Aside from film and painting, Lynch is devoted to music as well. The soundtracks of his films and series are highly acknowledged, especially Twin Peaks one, while his independent musical projects have gained increasing popularity in recent years with a variety of remixes that become underground dance hits.
The practitioner of transcendental meditation, painter, film maker and musician Lynch is an undeniable pop phenomenon, so it is not unusual that his practice is constantly under the public eye. Therefore, the current exhibition I was a teenage at Kayne Griffin Corcoran gallery in Los Angeles encompasses David Lynch art in order to underline the base of his cinematic practice and importance of manual process.
The audience will be able to see the show until 3 October 2018.
Featured image: David Lynch - Ricky Finds out He Has Shift for Brains, 2017. Mixed media painting, 31 x 27 inches, 68.8 x 78.7 cm. All images courtesy David Lynch Kayne Griffin Corcoran gallery.