Since human species has developed the capacity to remarkably change its own course in history without waiting for evolution, the acts of rebellion and revolution are somewhat inherent to the human nature. Throughout the history of social movements and social revolts, art has always had a very important place, whether being inspired by it or acting as a protest itself. The world has lately seen widespread social uprisings that have resulted in political instabilities and transformation, inspiring artists to give their own response to the revolt, oppression and violence creating powerful works of art in various media. Inspired by the fiery mayhem of uprisings and the act of destruction, American artist David Molesky has created a series Riot Paintings that will soon be presented at the Stephen Romano Gallery in New York.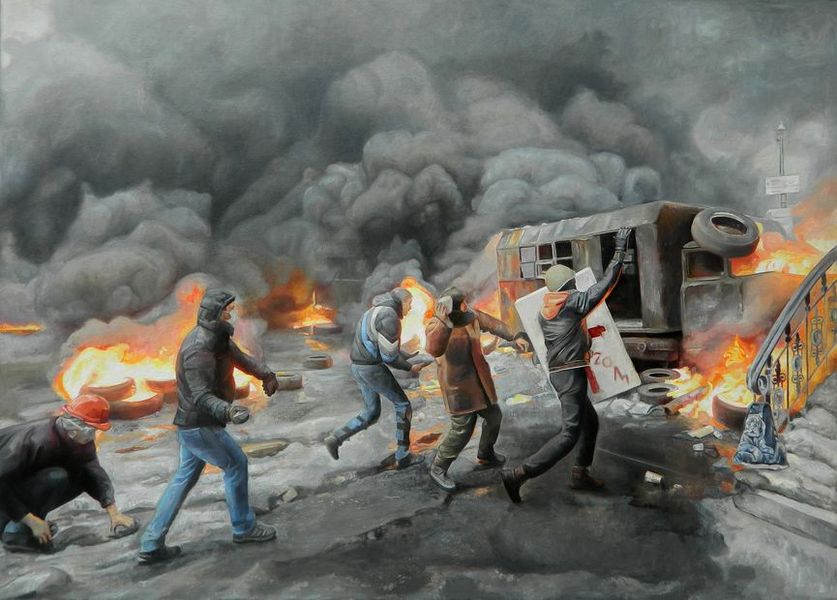 The Disturbance of Nature and Social Order
David Molesky is a fine art painter famous for his landscapes and figurative works portraying very interesting subject matter. He is deeply drawn to the mythological symbolism, ancient cultures, nature, animals, water and fire, and his classical approach shows traces of Rembrandt and Venetian Renaissance style. As a suggestive narrative, his paintings often depict people and animals placed within turbulent atmospheres or disrupting fiery landscapes. Inspired by the past uprising in Ukraine, Molesky has shifted his focus from the turbulence of nature to riots. Even though originally based on media images of the revolution in Kiev, Molesky's Riot Paintings can place a viewer anywhere within globally widespread upheavals.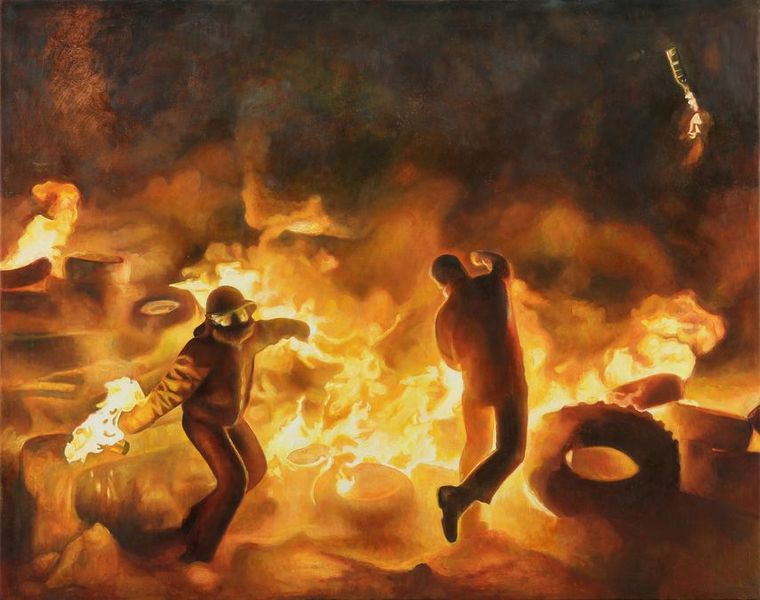 Fires of the Rebellion
Riot Paintings show chaos and stirred up elements, exploring transformation through acts of momentary destruction. Molesky paints motivated and self-willed individuals led with internal forces and caught in mid-act, sharing supporting roles with raging fire and smoke. Humans and roaring natural elements are not opposed in fear as usual, but work as a collaborative force feeding one another in an intimate play, showing a mutual longing for a transformation and change. The fire painted in elaborate detail seems lit from within, and adversaries of the perpetrators hurling stones and Molotov cocktails are not seen.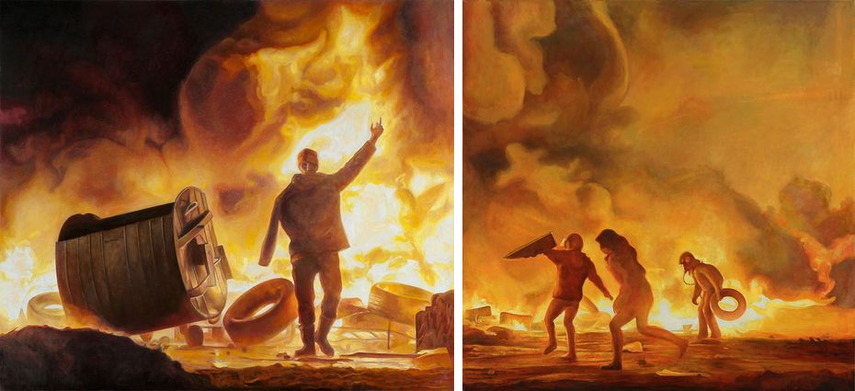 David Molesky Exhibition at the Stephen Romano Gallery
Born and raised in Washington, David Molesky is a Brooklyn-based painter and writer. After graduating fine art and molecular biology at UC Berkley, he has spent 18 months as an apprentice of the famous painter Odd Nerdrum. His works have been featured in numerous museum exhibitions and art publications. The exhibition Riot Paintings will be on show at the Stephen Romano Gallery in Brooklyn from April 1st to May 1st, 2016. This exhibition has previously been shown at The Fridge DC in 2014.
Featured images: David Molesky - Out of Service; David Molesky - Fire Bird (detail); David Molesky - Three Marauders (detail). All images courtesy of Stephen Romano Gallery