A group of prolific artists active in the ten-year period between 1974 and 1984 was described under the term The Pictures Generation. They were focused on representational imagery and mass media while using artistic strategies of quotation, staging, excerption, framing, and in some cases appropriation.
One of the leading proponents of this unofficial group was painter David Salle. Under the influence of the renowned artist John Baldessari, who was his mentor, he developed an authentic approach based on the cinematic patterns of working with images, that later became infused with Pop and Conceptual art, as well as cartoons and graffiti. Through his painterly practice, Salle explored the status of the image, appropriation, and the mass media.
Now, Salle's recent large-scale paintings will be shown at Galerie Thaddaeus Ropac at the exhibition titled Self-ironing Pants and Other Paintings. These series based on advertising with black-and-white cartoons from The New Yorker magazine of the 1950s will underline the continuation of his visual radicalism.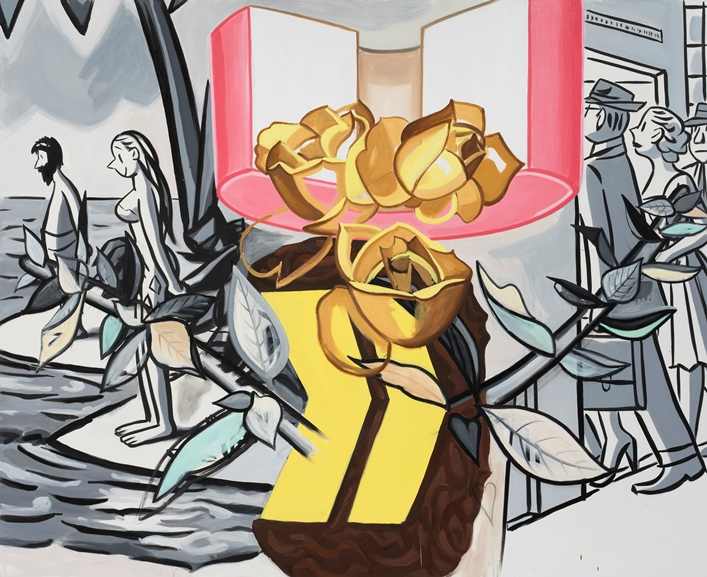 Self-ironing Pants and Other Paintings
David Salle produces works that are operating as hybrid pictorial spaces constructed from his interpretations of Surrealism, Abstract Expressionism and Pop art. The colorful everyday objects such as cars, coffee-cups, and cigarettes are wrapped in a flux of advertising imagery to challenge our perception.
Commenting on this series, David Salle states:
This is not to historicize the present moment or the recent past; it's a recognition that the "great destabilizing" has already occurred.
According to the artist, the painting - like language or poetry - should emphasize the balance of contrasting elements such as juxtaposition, compression, dissonance, simultaneity, resistance to closure.
The Works
The exhibition title indicates David Salle's ironic stance on the contemporary status of painting, underlined by using the witty mood embodied in The New Yorker cartoons.
All the works breakaway with the classical format of narration by presenting stereotypical fragments of the American lifestyle of the 1950s and 1960s without any particular order. The achieved kaleidoscopic effect implies the uncontrollable stream of thoughts, images, and emotions that are presented in the form of a humorous portrayal of contemporary consumerism.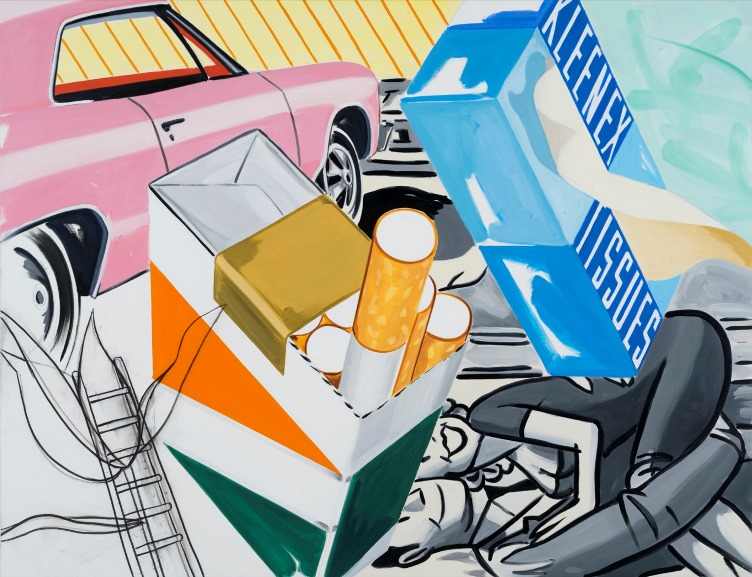 David Salle at Galerie Thaddaeus Ropac
The upcoming exhibition will confirm the domains of David Salle as a painter well aware of the art history and the ways its being interpreted, as well as its relation to the advertising industry and the commodification processes.
David Salle: Self-ironing pants and other paintings will be on display at Galerie Thaddaeus Ropac in Paris from 25 January until 29 February 2020.
Featured image: David Salle - A Night in the Sky with Friends, 2019. Oil and acrylic on linen, 180,3 x 264,2 cm (71 x 104 in). © David Salle / ADAGP, Paris, 2020. Courtesy Galerie Thaddaeus Ropac, London • Paris • Salzburg. Photos: John Berens.