A celebrated master of postmodern painting, David Salle has taken the device of pastiche, which is central to modern art, and made it both the form and content of his work. Incubating his career in the distinct hotbed of post-studio artists under the tutelage of the renowned John Baldessari, he rose to prominence as a leader in return to figuration, reinvigorating the form in bold new ways.
Following his uncanny compositional instinct, Salle deconstructed images through his use of photography and collage. Creating a bridge between traditional figuration and Pop Art's obsession for disparate images, his work rejuvenated Postmodernism and Neo-Expressionism.
A selection of David Salle's earlier works is currently on view at Skarstedt in New York until June 23rd, 2018. Titled David Salle: Paintings 1985 – 1995, the exhibition features historic works highlighting a prolific and experimental period of the artist's career. It showcases a selection from some of his most significant bodies of work, including Mingus in Mexico from 1990, a painting that references the American jazz musician Charles Mingus and Fooling With Your Hair from 1985.
We had a chat with David Salle to find out more about his current exhibition and his practice in general. In an exclusive Widewalls interview, Salle talks about the exhibition at Skarstedt, the composition of his works, the working process, the depiction of the female body, his writing, and much more.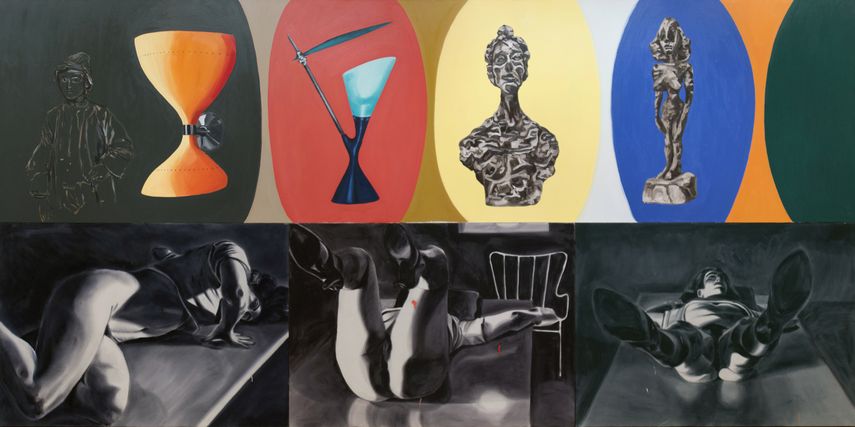 The Exhibition at Skarstedt
Widewalls: The exhibition featuring your historic works is currently on view at Skarstedt in New York. How did this exhibition come about?
David Salle: Per thought it would be nice for people today to be able to see these paintings, either because they weren't around at the time, or in some cases, because the paintings were never shown here, or anywhere. We wanted to give a sense of the continuity of the work. 
Also, we feel it's very important to see paintings in the flesh, not only in reproduction.
Widewalls: Works on view come from a prolific and experimental period of your career. Could you tell us more about this?
DS: It's true, the ideas were flowing like gangbusters in those days. This period roughly corresponds to the time when I was intensely involved in the dance world, in designing for the ballet, and many of the pictorial ideas grew out of, or were influenced by the theater work.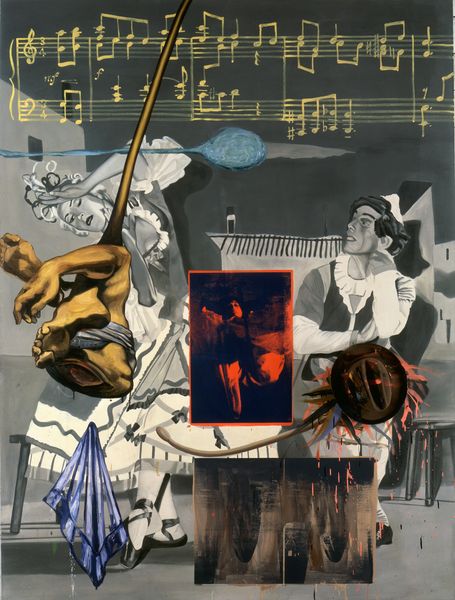 The Working Process
Widewalls: Drawing from a vast range of references and motifs, your early works appear as pictures within pictures, creating endless points of entry for understanding. How do you approach the compositional relationship between different imagery?
DS: It's instinctive, a certain cast of mind. Images - like all forms - have different weights and velocities and associations.
I'm like an orchestra conductor - I have to bring in the woodwinds at the right place in the music, with the right emphasis and inflection. Or maybe orchestrator is a better analogy - the person who decides which instrument is going to carry the melodic line, which one the harmony, etc.
Widewalls: Throughout your career, you have been deconstructing images drawn from disparate places. How does your present work relate to the sea of images in which we swim today?
DS: Well, the "sea" is one thing - but most images fall within certain predictable categories. I work with images that may seem generic but are actually highly specific. They all have a certain formal heft, which is another way of saying, they can be painted.
Widewalls: Could you tell us something about your working process?
DS: Slow. Occasionally less slow. Then slow again.
The Evolution of the Practice
Widewalls: Women have been a recurring subject in your work for decades. How has your depiction of the female body evolved and changed over the years?
DS: For a number of years, I was primarily interested in painting the female body, in painting images of women, to bring a kind of performance-like energy to the paintings.
The images came out of an intimate space of performance, with the models, most of whom were dancers and the like, responding in the moment - the body caught in motion, in mid-pose, and at extreme, highly foreshortened angles; the body in extremis, so to speak. Some of these poses carried an erotic charge, which I took to be a positive force in the paintings.
At the moment, I feel like I've said pretty much everything I had to say on that score, and now I'm mainly painting men. But the men aren't doing anything; they're just heads. It's early yet.
Widewalls: A collection of your critical essays, "How to See" has been published in 2016. How does your writing affect your painting and vice versa?
DS: It's hard to say exactly how they are related, but of course they are. I think the demands of writing - of sorting out what you really think about something - is very good preparation for painting. I think everyone should try it. But you have to write what you really feel, not what you know you're supposed to feel.
Widewalls: Could you reveal some of your future plans and projects?
DS: More paintings. More essays. More life.
 Editors' Tip: How to See: Looking, Talking, and Thinking about Art
How does art work? How does it move us, inform us, challenge us? Internationally renowned painter David Salle's incisive essay collection illuminates these questions by exploring the work of influential twentieth-century artists. Engaging with a wide range of Salle's friends and contemporaries - from painters to conceptual artists such as Jeff Koons, John Baldessari, Roy Lichtenstein, and Alex Katz, among others - How to See explores not only the multilayered personalities of the artists themselves but also the distinctive character of their oeuvres.
Featured image: David Salle, photo by Michael Avedon. All images © David Salle, VAGA, NY courtesy of Skarstedt, NY