A distinct figure in the London art world, David Spiller is known for his inherently optimistic work which presents a predominantly joyful and celebratory view of the world. The artist passed away at the age of 76 this June, at home with his wife Moira by his side, having bravely fought his illness for many months.
Big and bright, but also complex, his paintings combine Pop imagery with material culled from high art sources and printed ephemera. From cartoon characters to song lyrics, the range of material and technique that goes into a single painting is extraordinary.
"This is all the stuff I love," he once said. Indeed, the punky energy and good humor of these works reflect the artist's character in a powerful way.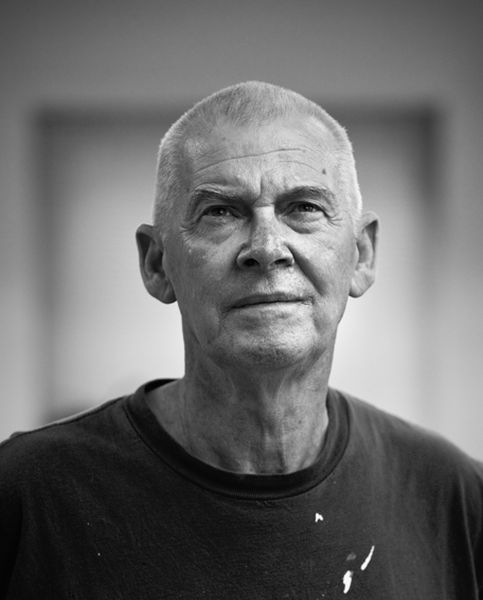 Celebrating Things He Loves
The main drive for the work of David Spiller was a desire to somehow affirm the value of the things he loves and that he surrounds himself with. In line with Pop Art's celebration of popular "low" culture, Spiller applied this approach to his own particular obsessions and enthusiasms, motivated by love only.
In his work, we find a dizzying array of references, from lyrics by Travis, The Sex Pistols, David Bowie, The Psychadelic Furs, Tom Petty, Bauhaus, The Beatles, The Rolling Stones, Bob Dylan and Talking Heads and icons such as Marilyn Monroe, Felix the Cat, Popeye to imagery drawn from prints and drawings by Grimaldi, Michaelangelo, Leonardo and Rembrandt.
In his latest work, the artist has been exploring the possibilities of juxtapositions of wildly contrasting imagery. Densely allusive and poetic, these works can be read in a multitude of ways.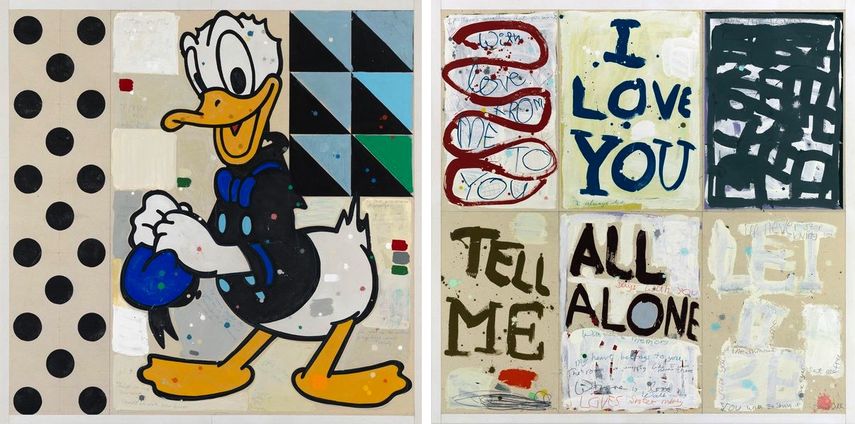 Moira Cameron On the Late Artist
David Spiller will be remembered for a unique openness to his works, coupled with the refreshing and distinctive optimism and sheer joy.
In an exclusive Widewalls interview, the late artist's wife Moira Cameron talks about the brightness in David's work, his awareness of mortality, the visual memories he used in his work, his working process, legacy, and much more.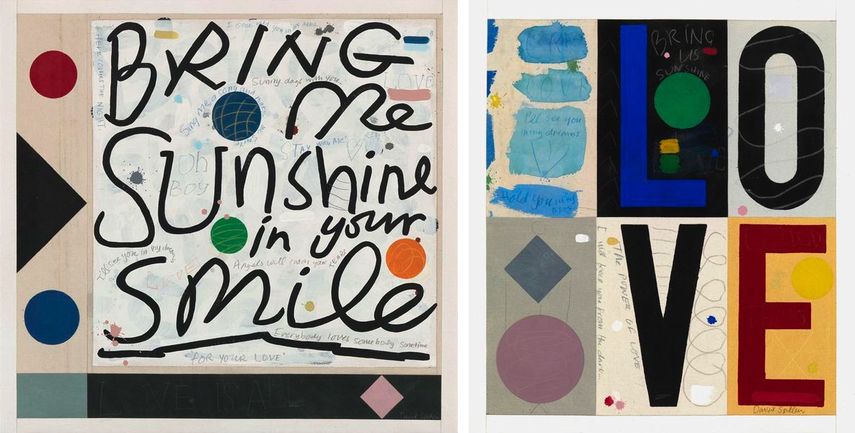 A Surgically Precise Artist
Widewalls: David's art is lively, cheerful, and quite bright. Does it imitate life? Would you say it matched his personality?
Moira Cameron: I'd say there is a brightness in David's work and he always said he would always prefer to walk on the "bright side of the road" - (Van Morrison). David loved colour and putting colour combinations together. Mixing the paints and keeping the colours very pure and clean.
But there is definitely a dark or sad side of the work which he always tried to convey with his planet man image where he is holding a heart in one hand and a dagger in the other. He often expressed that life was a balance between good and bad. And many of his lyrics are about sad times and sad memories. He was acutely aware of mortality and lived life to the full.
Widewalls: In an interview, David said that he didn't want to do anything else but paint. How would you describe his passion for art?
MC: His passion for art was very driven. He was not good at being away from his studio for too long and often took drawing materials on holidays. There was nothing he wanted to do more than create.
His world was all about art. He soaked up culture and events, built visual memories of everything and used them in the work he made.
A song playing in the car in France... Cerne Abbas Giant... Venice... Baptistry in Florence... The Master and Margarita....
To name but a few random influences along his painting timeline.
Widewalls: What was David's working process like?
MC: There were different moods at different times of the processes. Often David worked like a maniac. He was busy and quite frenzied. He had so many ideas and lyrics spinning around his head he could hardly keep up with them.
At other times when he was assembling the canvasses, he was very calm and measured. Millimeter-perfect and described once as "surgically precise". He would measure and re-measure and calmly sew on an old sewing machine the lengths of canvas together. These needed pressing with an iron. I think in these periods he was thinking and processing his next paintings.
David always worked on the floor. He was a perfectionist.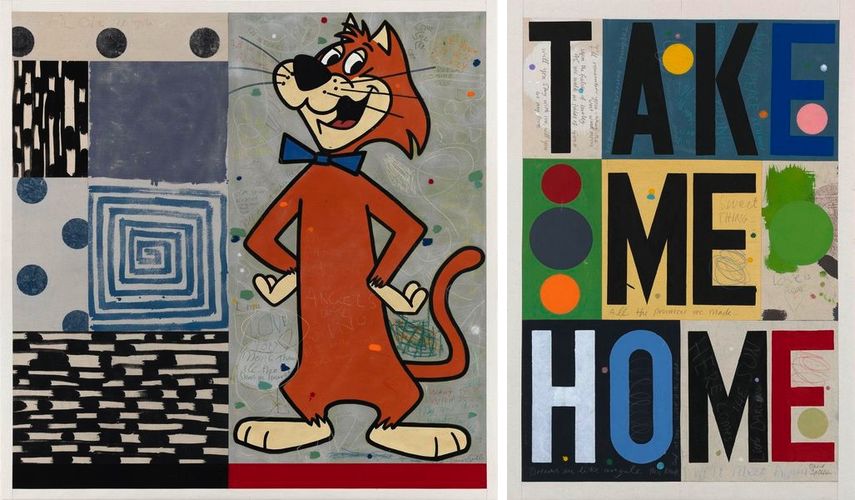 The Legacy
Widewalls: What does his art mean for you?
I have so many personal attachments to the paintings.
It is really hard to read the messages without crying or remembering a reference to a memory or song I know he loved and sang.
The figures often representing the family and like a snapshot of the time he was working on them.
Much of his art was about love and I feel very privileged to know a man with so much love in his heart.
Widewalls: What will be David's legacy?
MC: Following his death, the comments his collectors have made about their personal, individual relationships with his paintings has been so touching. I believe his wish to "make paintings that put some magic on the walls" will be his legacy.
Featured image: David Spiller - Angels Will Sing (detail). All images courtesy of Moira Cameron.