Known for his multi-layered style executed in clashing colors, David Walker has created yet another impressive portrait in the small French town of Boulogne sur Mer. Depicting one of the artist's recognizable color-explosive and chaotic female characters, this gorgeous piece was created as a part of an initiative launched by the local authorities to bring art to unexpected places. Created with spray paint only, the new sky-gazing countenance of a woman took around 150 spray cans and seven days to complete. Realized in collaboration with Mathgoth Gallery, this piece will surely be enjoyed by the local residents for years to come, as well as play an important part in the dialogue of the city.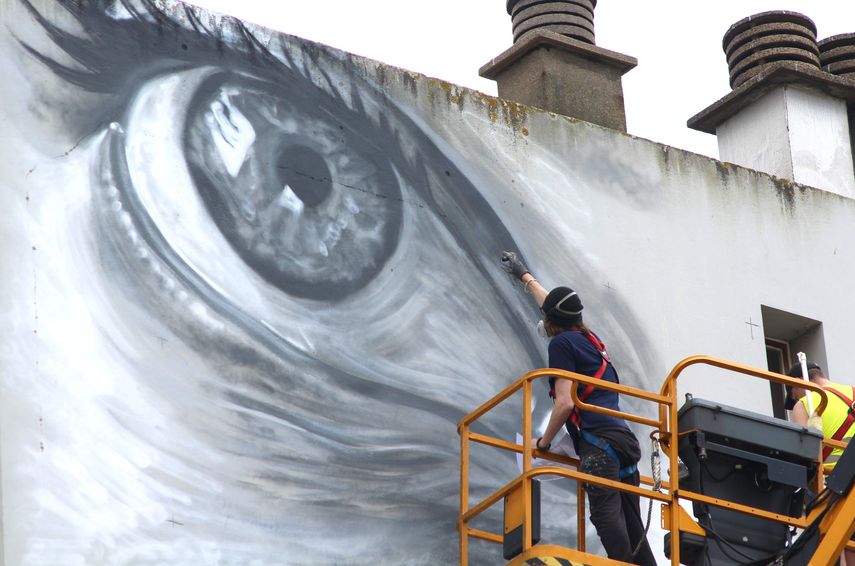 Practice Guided By Colors
One of England's finest urban artists, David Walker has developed his distinctive and inimitable style gradually. Initially drawn to the graphic black-and-white technique, his work is now characterized by a full range of vivid colors. Working only with spray paint without stencils and brushes, the artist is very detail-orientated and has a remarkable level of control to produce shadows, lines, and textures in his work. Mostly painting female characters that are both strong and fragile, his visually rich portraits are mostly based on his own photographs and incorporate graffiti, photorealism and abstraction. Allowing colors to guide his mind and hands, he creates pieces where numerous abstract areas and infinite colorful lines are intertwined with patches of clashing colors, disappearing letterforms and see-through drips. Layered with color, motion, and emotion, his pieces are guided by the idea of creating beautiful out of low-brow materials and methods. He has painted in places such as New York, LA, Hong Kong, Bali, Lisbon or Berlin, and has a very strong fan base worldwide.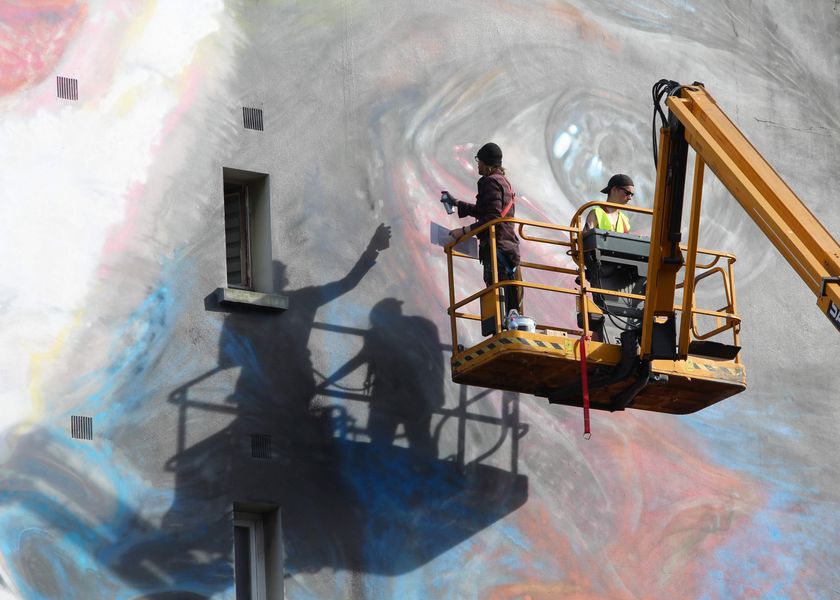 Boulogne Sur Mer Piece
Large-scale mural created on a 15x15 meters wall in Boulogne Sur Mer depicts a female character with dreamy eyes looking at the sky. Her face shows just a trace of color painted amid a gray base. This captivating piece will give a new look to this town with 2000 years of history. Aiming to place art in public space, local authorities initiated an urban art project to transform the city into a real gallery in the open. Taking into account the architectural environment of their location, these pieces will help Boulogne create a more dynamic image combining artistic creation and citizen participation. With this project, the city continues to reflect its heritage while continuing to develop the concept of art and history.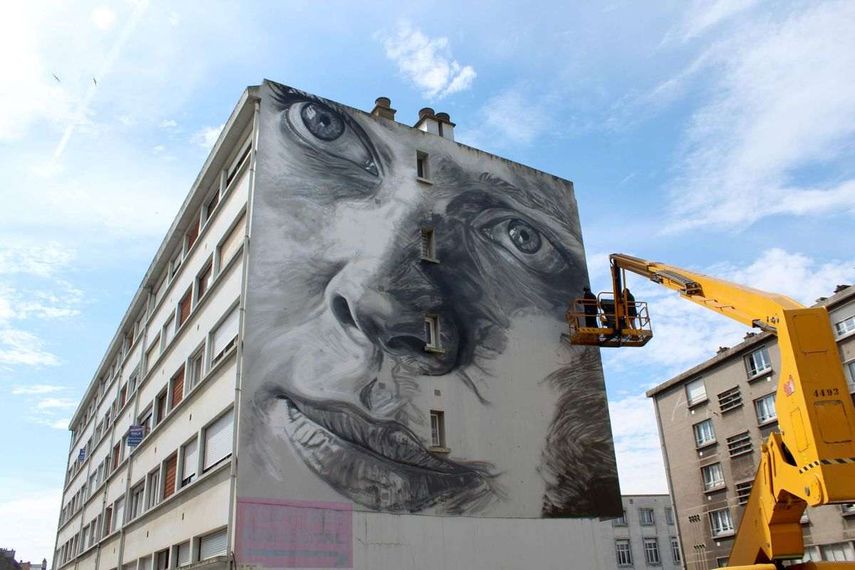 David Walker Talks About the Mural
We have had a chat with David Walker regarding his latest piece and the story behind it.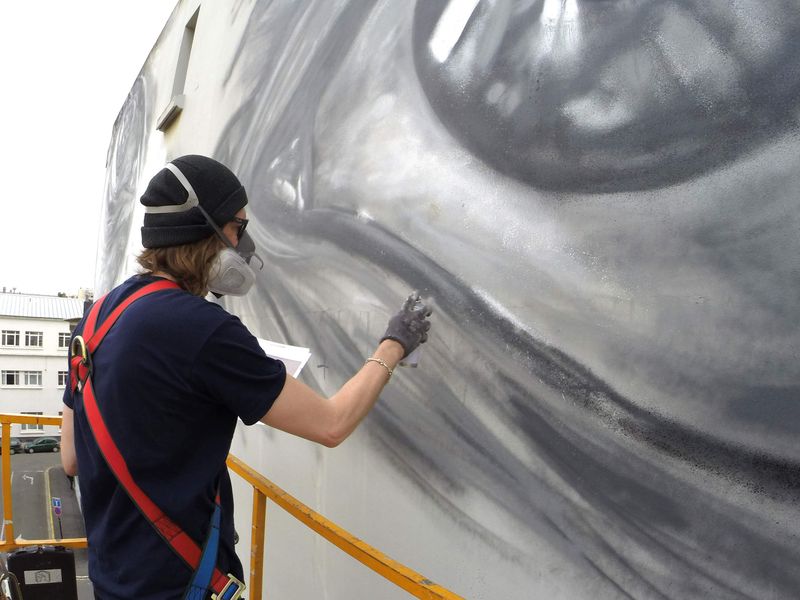 Widewalls: Boulogne sur Mer is a small town with rich history, but without any real street art scene yet. How did you end up working there? Does your mural there (followed by another four murals by your colleagues) signify a new art scene in this little north French town?
David Walker: I was invited to Boulogne sur Mer through Galerie Mathgoth who I have worked with for many years in Paris and across France. Over the last few years, more and more cities and towns are assigning budgets for public art, the new mural movement I would say is delivering some impressive, large-scale public art, that is relatively quick and cost effective to action for municipalities. Although there are still many logistical aspects to murals, they are far more accessible than a 5 ton / $500,000 sculpture.
There is a certain appeal to painting somewhere where there is no 'scene' yet, of this nature anyway, although there are classical murals in the town. It's refreshing to paint somewhere where is newly open to it, since the work can have more impact. Like anything, if there is too much of it, it can become just like wallpaper. Whether the trend will really continue is down to the public and their reaction to the works.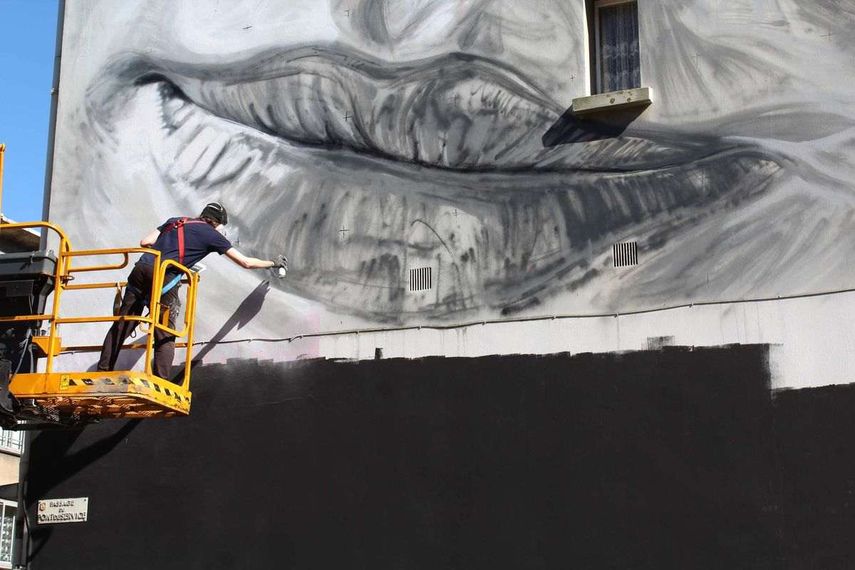 WW: Can you describe your week while working on the mural? How was the reception of the locals or your personal experience during this time?
DW: It's not like 'real time' or a 'real week'; it's almost like a continuous meditation but with loads of adrenalin. You need long days to make it happen and there is generally no time of day or night when you are not thinking about the project. The deadline is rarely negotiable due to logistics and you want to deliver something worthwhile, for yourself, the others involved and for the public. I'm not complaining, it's a very interesting zone to step into. Sometimes I can't finish a 1m canvas in 7 days, but I have to deliver a 12m wall in that time. I am always surprised what can be achieved in a short space of time when you focus. Painting murals is a good reminder.
The locals were very welcoming, we stopped by the nearby bar every day for food, coffee or beer. It was a very old school locals spot. The people were interested and passionate and much discussion was had about the wall. I think in France the people are closer to art somehow, regardless of your medium, there is some regard for the artist. I don't know if this is the truth but I have felt this over the years in my many visits.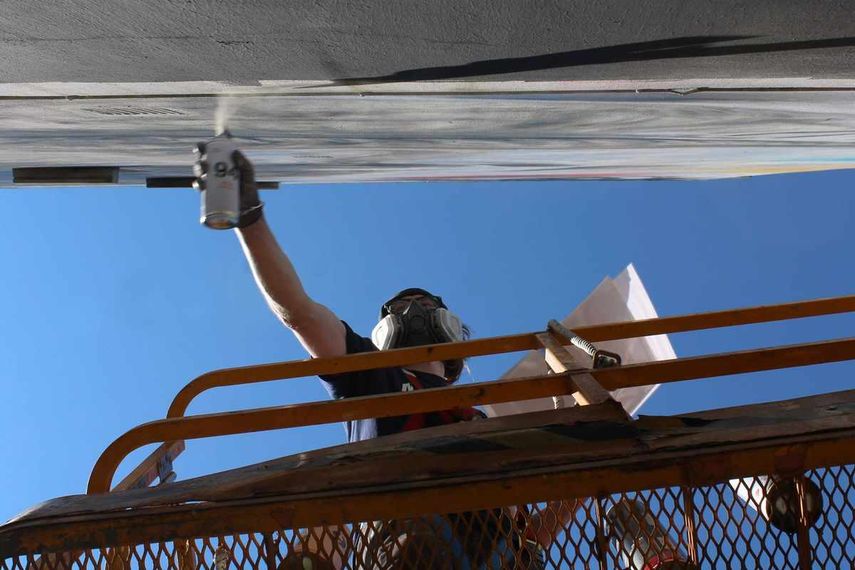 WW: Portraiture is a signature element of your work. What is the inspiration for this particular large-scale portrait?
DW: I felt conflicted about painting in France at this time, given the current climate with the on-going attacks. My work is not political so I wanted to create something that looked hopeful, something simple and human that people could easily connect with. I think that's a recurring theme in my work, but I did feel more pressure with this one. In all the murals I've painted this year the subjects are looking up, this has been a conscious decision. Today, in this world, I feel a little lost. I, as many at the moment are looking for answers and like the people in the murals, I want to remain hopeful.
WW: 150 spray cans were spent in the production of the Boulogne sur Mer piece. Did you encounter any particular technical challenge you had to answer?
DW: The organization and team were great, so it went very smoothly, which is not always the case. Since the town is on the coast, the only real obstacle at times was the wind. I was fighting with it, as it was taking the paint before it could hit the wall. There is nothing you can do, the elements are king.
WW: The photographs show your mural as if it's connecting the town with the cloudy sky. How do you feel your work here fits the environment?
DW: The wall is in a great spot, it reveals itself as you come through a small tunnel off the main high street. It's somehow hidden but then easily seen and I like this. I think the piece has added to the visual dynamic of that street for the better and the greys and colours work well with the quick changing coastal skies. For those who make their way through the town and discover it, I'm sure it will be spark some curiosity.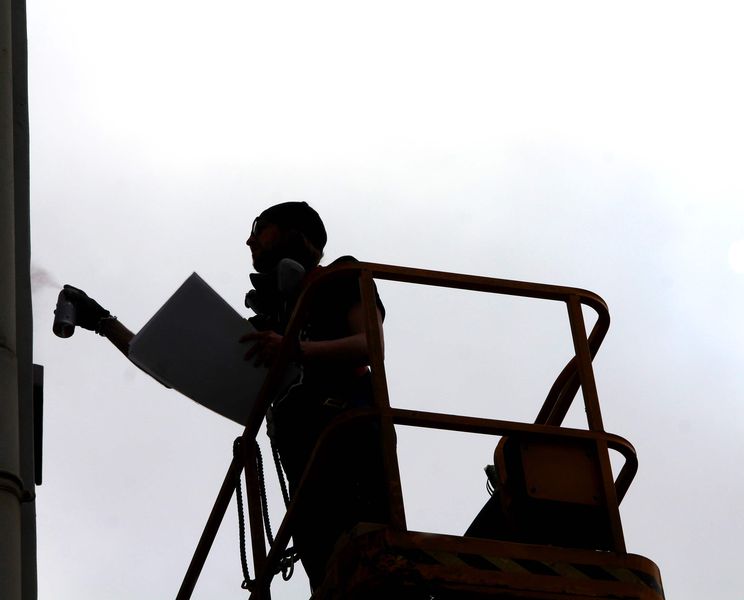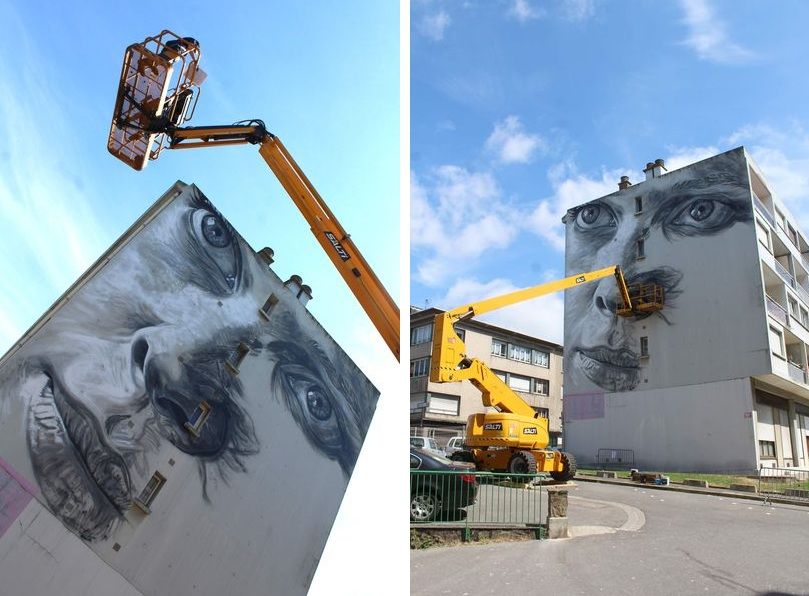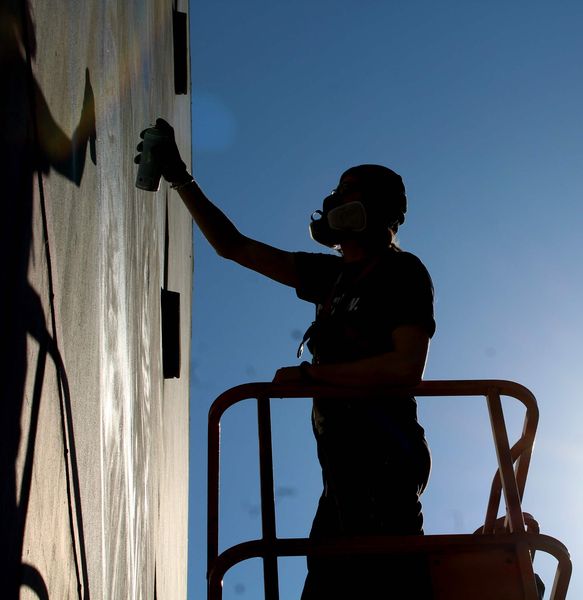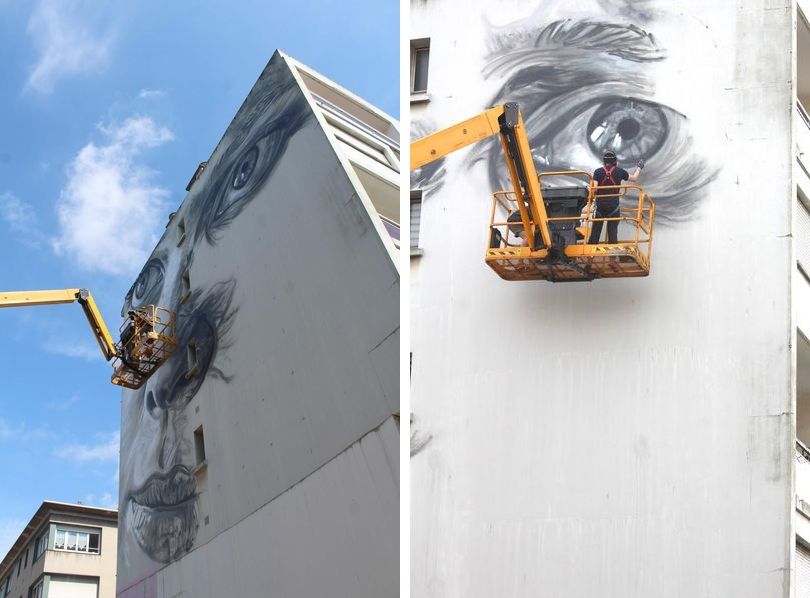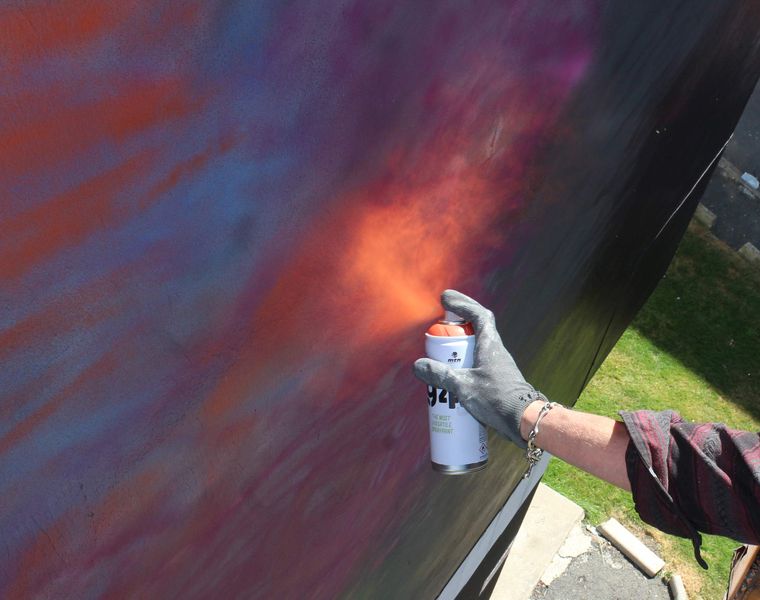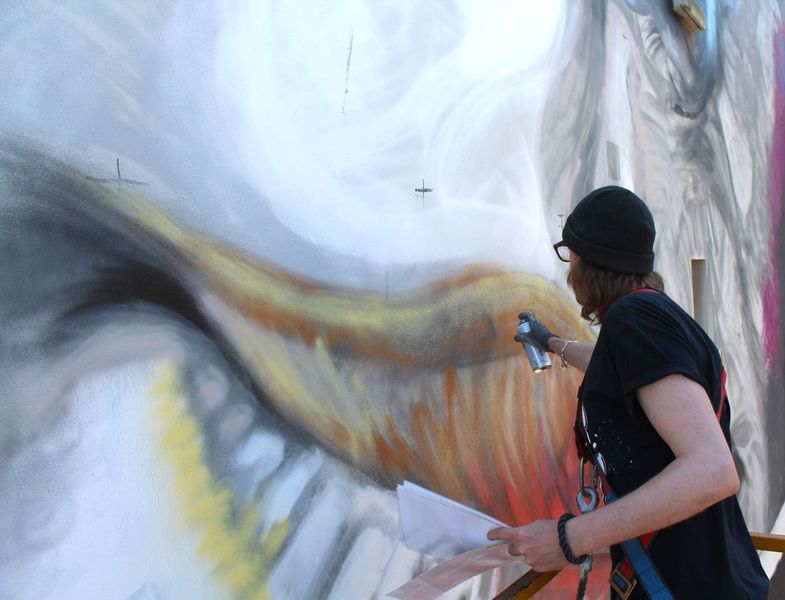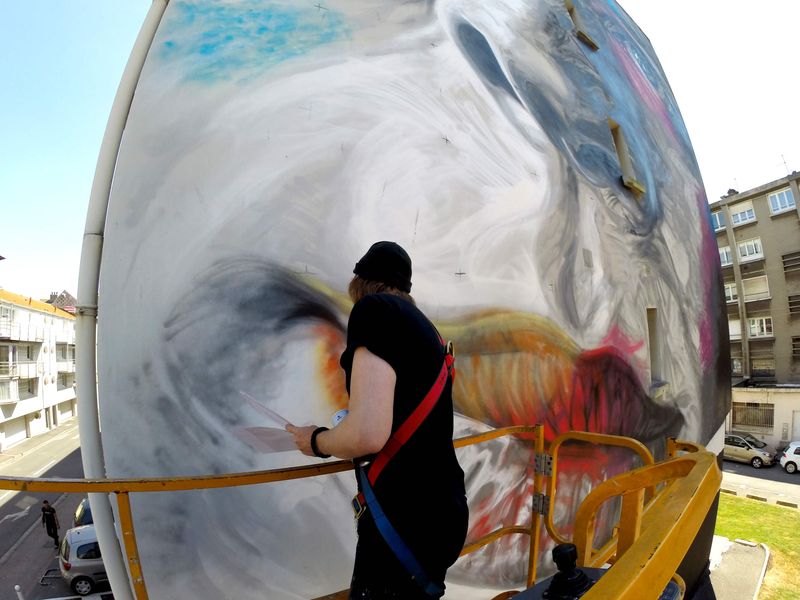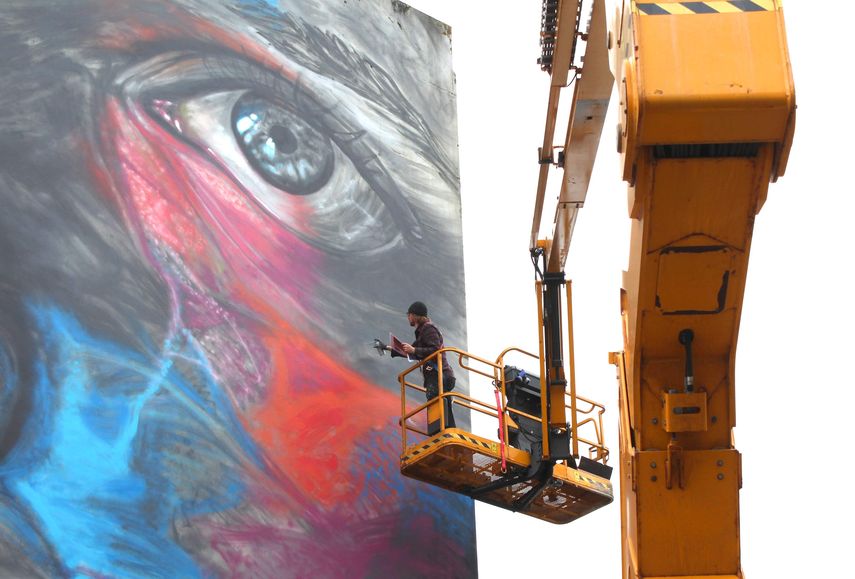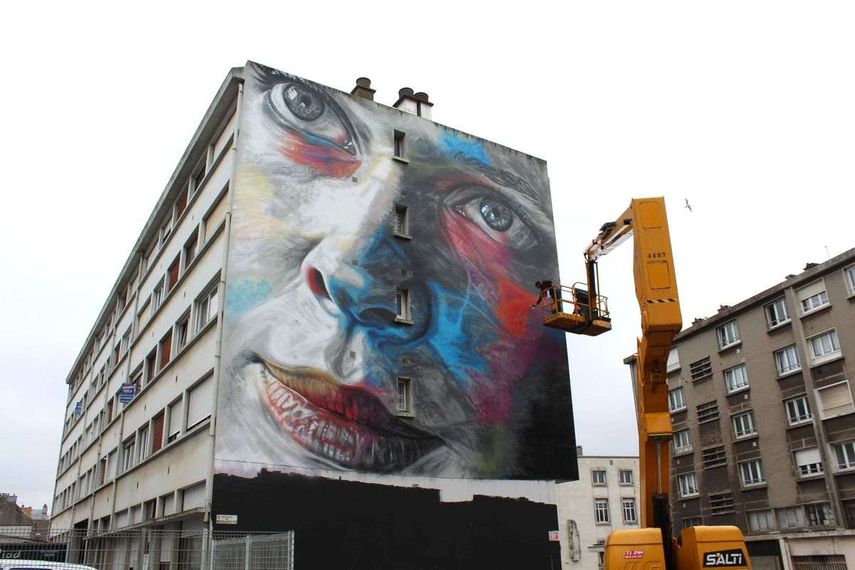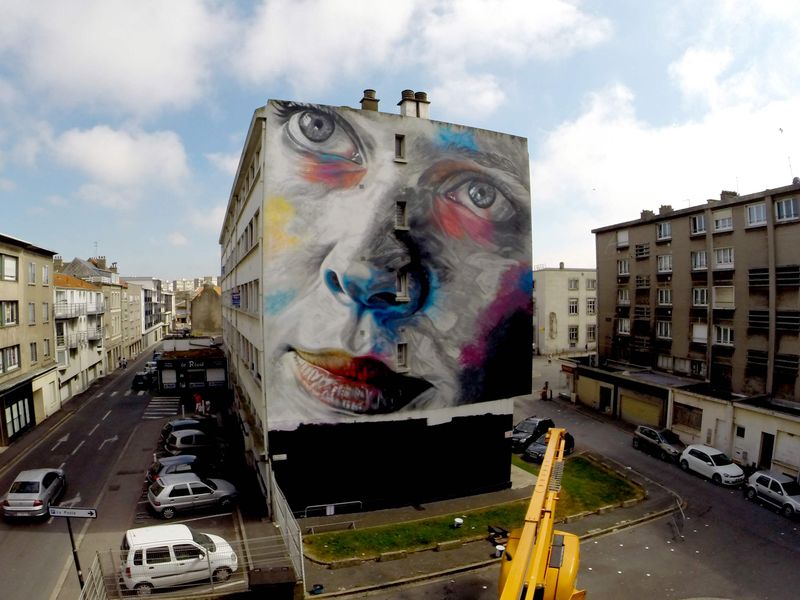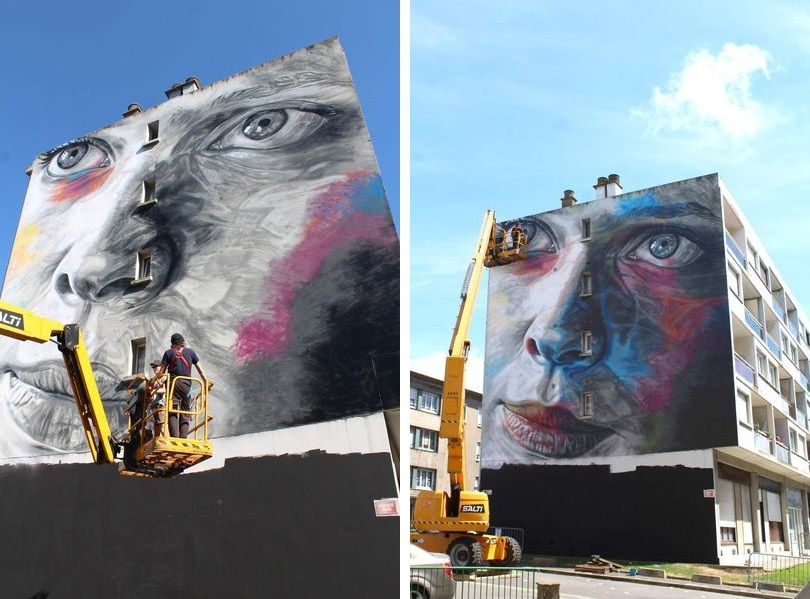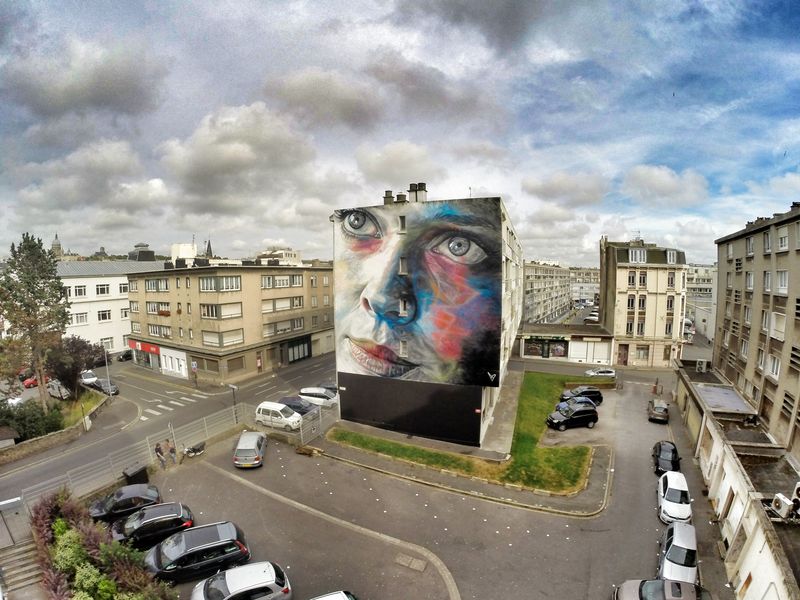 All images courtesy of the artist.