It's a common perception that mythology is exclusively related to a collective, to a large group of people. Myth is usually defined as a traditional or legendary story, collection, or study, and it often has its roots in irrational thinking or collective unconscious. Still, an individual can also have its own mythologies. And these personal mythologies have been an inspiration for many great artists for centuries. We recently wrote about several exhibitions with great artists using their own personal mythology as an inspiration: Joe Machine exhibition at CNB Gallery (on view until March 13, 2016); The Kindly Ones group exhibition at Last Rites gallery in New York (summer 2015); exhibition of Mear One at White Walls Gallery in San Francisco (also summer of 2015). However, a great exhibition is about to open at London-based Gallery 8. An amazing artist – Dean Melbourne – is bringing his brilliant paintings to this London art space.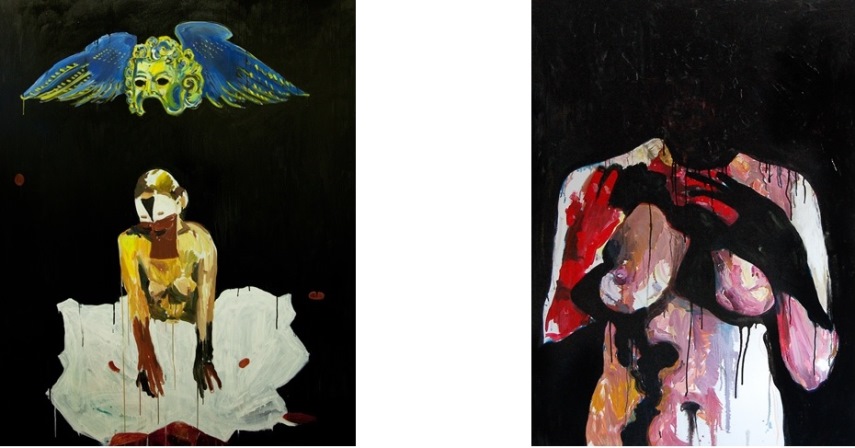 Mythology in the Art of Dean Melbourne
Dean Melbourne is a painter based in the Black Country, United Kingdom. Drawing together influences from mythology, art history and philosophy, the paintings of Dean Melbourne are sensuous investigations into the complex relationships between the body and the landscape. Forests and foliage are recurring motifs within the work and are always richly painted, whether brightly lit and saturated with color or shrouded in darkness. Hovering between the figurative and the abstract, his skillful brushwork brings to life a series of theatrical, dream-like views of unknown forests and other things. Melbourne's paintings are invitations into secret, forgotten and imagined places, places where nature runs wild and people live at the very edges of life. His work harks back to more ancient times imbued with magic, mystery and urgency, re-enchanting our view of the natural world in relation to our own bodies.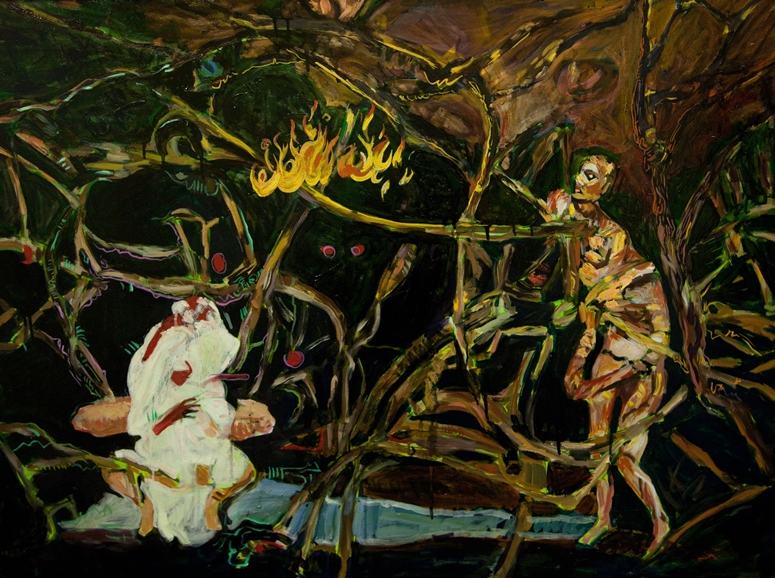 Myth, Sex and Metamorphosis
Exploring the dark corners of his subconscious and fragments of mythology, Melbourne's earthy oil paintings evoke a realm of otherworldly figures in the midst of a wild Bacchanal.  Creating hybrid creatures that play on myth and legend, Melbourne connects the bodily with the natural as foliage and figures transform into one. A nude female figure in Wudubeam is caught in the midst of blending into the bark of a tree, as a tangle of branches seem to grow from her torso to become a part of the forest. Pulsating with life, The Weight draws us in with its nocturnal, dreamlike quality as vivid foliage and outlines of body parts crowd the canvas and create an almost hallucinatory effect. Speaking to our primal selves, Melbourne's new works unrelentingly mine the animalistic side of human nature to bring our most hidden desires to the forefront. Works including Black Phosphor depict seductively textural garlands of leaves that tumble down the middle of the canvas, inviting us into a dark forest thicket. Expressive and energetic, Dean Melbourne's paintings draw on the Bacchae and Ovid's Metamorphosis as touchstones in his unbridled exploration of the psyche. As Melbourne says: There is a notion of personal metamorphosis that runs through my process and in the sources of my work. Drawing from Ovid, Homer, Germanic fairy tales and medieval texts, I try to re enchant my world, to enjoy the dark and the unknown. This Myth is an exhibition that seeks to generate a new mythology, one that borrows and reshapes inherited traditions, drawing on the past to create a new lexicon of expression.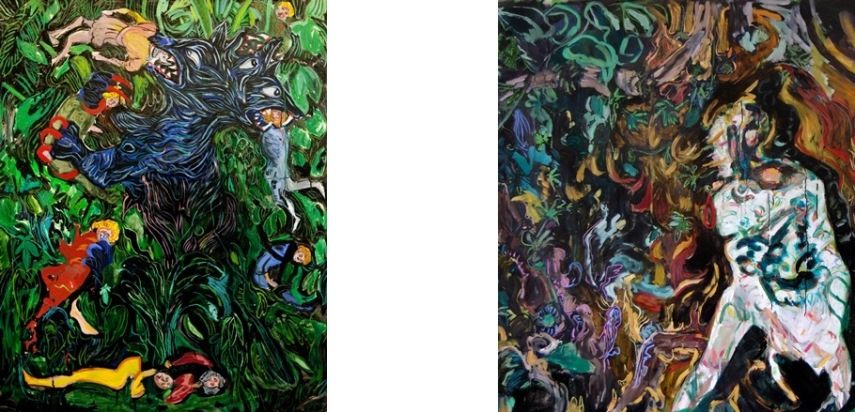 Dean Melbourne Exhibition at Gallery 8
This is the artist's second solo show in London this February at Gallery 8. Curated by Coates and Scarry, This Myth showcases Melbourne's most recent paintings and works on paper. The artist has previously exhibited three times at the Royal Academy. Be sure not to miss this show! The exhibition will be on view from February 28 until March 12, 2016 at Gallery 8 in London. Private view is scheduled for March 3, 6-9pm.
Featured Images: Dean Melbourne - Wudubeam(detail); Dean Melbourne - Vitalforce(detail); Dean Melbourne - Juno(detail); Dean Melbourne - Blackphosphor(detail). All Images courtesy of Gallery 8.