The renowned Chicago based Vertical Gallery, recognised for its exhibitions containing urban, contemporary and street art, is soon to present the debut US solo exhibition by British urban artist Dean Zeus Colman. Zeus, whose middle name provided him with the perfect graffiti tag, is a veteran of the London graffiti scene, where he gained his reputation as a prolific graffiti during the 1980's. His debut US solo exhibition at Vertical Gallery, entitled Flying High, will give US fans of Zeus the chance to experience first-hand, his innovative techniques which fuse graffiti writing, typography, sculpture and fine art. British urban artist Zeus has 30 years of graffiti experience on the streets and his dynamic and experimental artworks are said to have re-defined graffiti art. Vertical Gallery recently celebrated its second anniversary with the excellent 2 for 2 group show which included works by Blek le Rat, Inkie, M-City, Herakut, Etnik, Tank Petrol and Chad Hasegawa.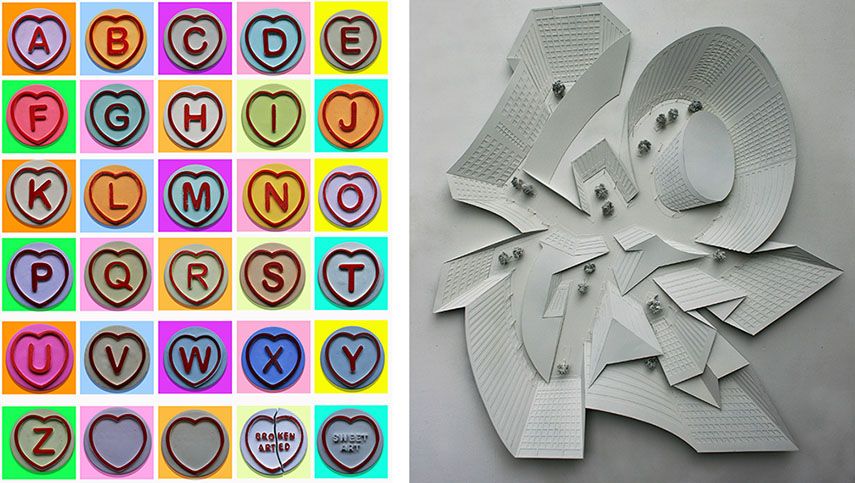 Flying High at Vertical Gallery
Flying High will see Dean Zeus Colman present his innovative visions of graffiti writing and typography for his debut US solo exhibition with Vertical Gallery. Over the years the British urban artist has honed his skills from working on the streets of London and his formal training in fine art sculpture at Chelsea College of Art. These wide ranging skills come together for Zeus in the Flying High solo exhibition, via graffiti writing inspired sculptures, such as the Love 3D sculpture that doubles as a fish tank, to works such as Love 3D Cityscape, which combine sculptural elements with traditional graffiti writing and his impressive paintings, which again combine typography and 3D visual effects. With a background inspired by 1980's hip-hop and creating graffiti on the trains and streets of London, British urban artist Zeus has allowed himself to move graffiti writing and typography into new directions with his experimental and innovative techniques. For more hip-hop inspired art take a look at Bust a Move by Taku Obata and our article Street Art and Music: Who Likes What?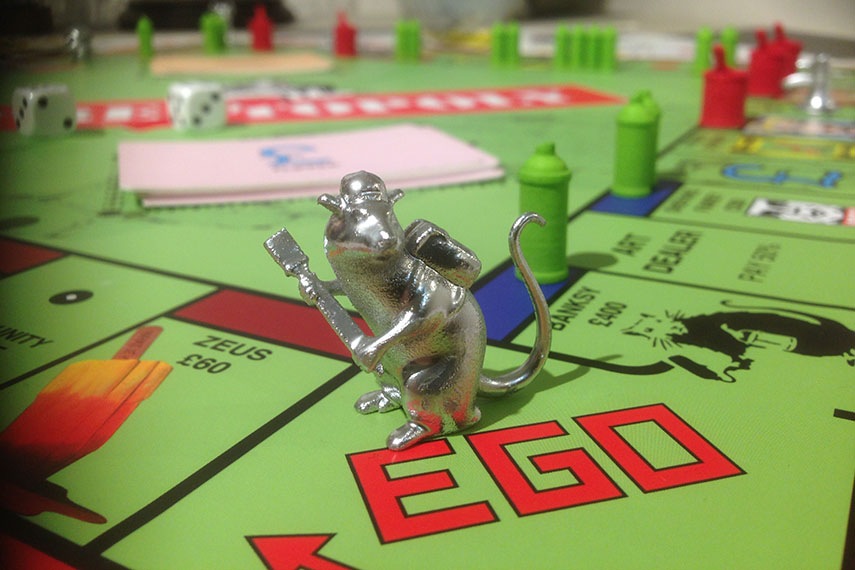 Graffiti Art of Dean Zeus Colman
The graffiti art of Dean Zeus Colman has developed over the last thirty years, with the urban artist drawing inspiration from his urban culture in London. Zeus started out tagging his middle name on the streets of London back in the 1980's, his prolific graffiti writing eventually gaining the attention of well-known people in the hip-hop scene, such as Tim Westwood, for whom he created designs for a hip-hop club. Zeus went on to work for Paul Oakenfold and the infamous Def Jam record label, producing graffiti inspired posters for the likes of Dougie Fresh and Whizz Kid. Zeus also returned to education, studying for his degree in fine art sculpture at Chelsea College of Arts, which resulted in his graffiti writing inspired works moving into a sculptural form. The innovative Zeus has gone onto to develop his own unique style of combining graffiti writing, typography and sculpture while also working in community centres around London, teaching young offenders graffiti techniques, enabling the street art form to be a positive creative outlet. You may also be interested in the 3D graffiti work of Peeta, Ben Eine and Jan Kaláb, who did an interview with us recently.
Flying High by Dean Zeus Colman opens at Vertical Gallery, Chicago, on 2nd May, 2015 and runs through until 30th May, 2015. Opening reception with Dean Zeus Colman is on Saturday 2nd May, 2015. 6-10pm.
For all the latest exhibition news sign up to My Widewalls today!
Images courtesy of Vertical Gallery.